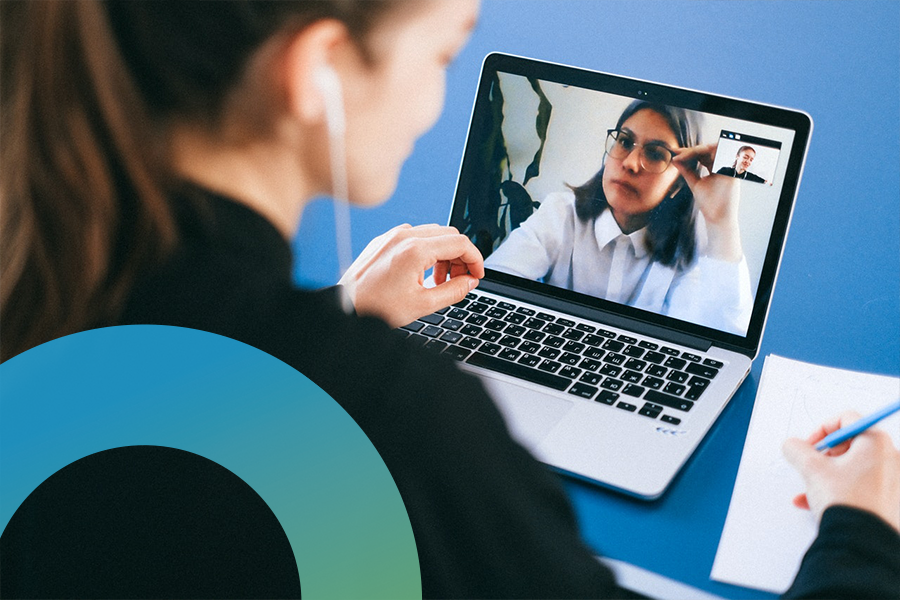 Last week, we hosted the first-ever Generosity Exchange, a two-day long virtual event that fostered connection, discussion, and transformation between over 600 nonprofit professionals.
This exciting opportunity gave us a chance to create a space for open dialogues between our team and our amazing clients. It also gave us a chance to give attendees a peek behind the curtain, so they can see what's in store for their orgs, and the future of nonprofit technology.
We want to extend that welcome to all nonprofit professionals, consultants, and technology providers by unveiling the next chapter of our product vision. Here's what's next for Neon One.
The Neon One Product Vision
At Neon One, we believe that hope in a brighter tomorrow can inspire action today. That's why we centered our product vision around three key concepts:
Software products should complement each other

, providing a single best solution for any given problem. We want to offer a set of tools that cover the most critical use cases for nonprofits of all types and sizes.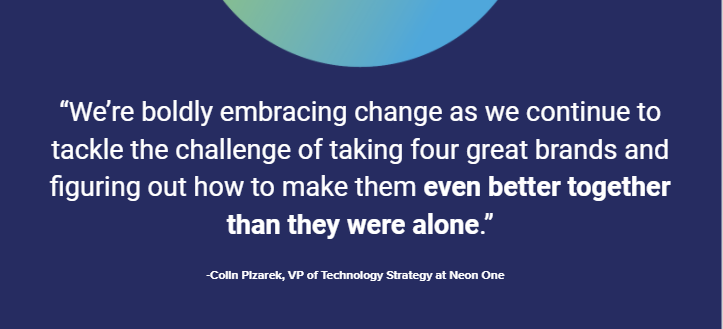 Each product should provide best-in-class features for its specialization

. Our goal is to optimize the products we offer and reduce unnecessary overlap between them.

We aim to provide a seamless user experience across multiple products

. New products should feel familiar, and slot in alongside our current products exactly where you think they should.
What's Next for Neon One
Over the past year, we've made strides toward our vision by investing in a few key initiatives. For example:
The Titan User Interface Kit:

This unified design aesthetic is responsible for creating a more modern, user-friendly experience across many of our products, including NeonCRM, CiviCore, and NeonRaise

NeonSSO:

SSO stands for 'Single Sign On'. This secure login process creates links between our products, so users can toggle between them with ease. It's currently used in NeonCRM, NeonPay, NeonRaise, and certain CiviCore clients.

NeonPay:

Our integrated payment processing system allows us to provide our clients with the best possible customer service and security, and is currently available across all our products.
This work has been foundational to uniting our ecosystem, but it's only the beginning. There's a lot more in works, including personalized content hubs, a new peer-to-peer tool, the next step in virtual events, and an enhanced email marketing suite.
Personalized Content Hubs
According to a study by Nonprofit HR, 45% of nonprofit employees intend to leave their position within the next 5 years, with 23% intending to leave the industry all together. The constant cycle of staff turnover creates a wealth of lost knowledge on best practices, software adoption, and other key resources that increase success.
Enter Neon Hub, a new user portal for nonprofits using Neon One software. This content library is designed to encourage year-round fundraising success through exclusive content geared toward ongoing professional development.
Neon Hub will launch exclusively with CiviCore Giving Days clients in Q4 of 2020, and then will be extended as an offering across all our products through 2021.
A New Peer-to-Peer Tool
We are enthusiastic about peer-to-peer fundraising and with good reason. Our client's giving days have seen a year-over-year increase of 119.92% in revenue from peer-to-peer fundraising alone. When a fundraising tool can make that kind of impact, it's worth some extra focus.
Currently, we have peer-to-peer offerings in three of our products: NeonCRM, CiviCore Giving Events, and of course, Rallybound.
While Rallybound focuses heavily on peer to peer campaigns, our offerings in CiviCore and NeonCRM are more secondary to their respective products. Neither have received significant updates in quite a few years. When we revisited these features, we found that they needed a substantial amount of work.
So instead of trying to overhaul the peer to peer features in both of these products, we're going to start over. We will be building a new peer to peer fundraising platform, aimed at small to mid-sized nonprofit organizations.
This new platform will emphasize getting campaigns up quickly, and enabling fundraisers to engage supporters in a fun and effective way to raise money within moments of launch.
It will also allow us to focus on Rallybound's enterprise offerings, giving us an opportunity to develop more sophisticated features not found anywhere else in the industry. Rallybound customers will continue to receive product enhancements and best-in-class peer-to-peer fundraising. We expect these features to begin rolling out in early 2021.
The Next Step in Virtual Events
Virtual events are becoming the new normal, and let's face it — they're here to stay. A recent study found that 48% of donors are waiting a minimum of 6 months to attend an in-person fundraising event.
To fill this new need in the industry, we're developing a new feature set for Rallybound users, called Neon Live. Neon Live is designed to help improve fundraising for organizations running online events that are typically video-based that includes real-time constituent participation.
This feature set would provide an optimized donation flow that works alongside an embedded video stream. We're pairing this with a live dashboard that displays real-time data for staff members to monitor the performance of their event.
We expect this to be a real game-changer for organizations running telethon style events, and we're aiming to have the first version out toward the end of summer 2020.
Enhanced Email Marketing Suite
Email marketing is a core feature that nearly every Neon One customer uses. Based on customer feedback, it's clear that this is an area we need to give some more attention to.
We are currently addressing these shortcomings by designing a new email building tool that emphasizes ease-of-use for users as well as being capable of modern, beautiful designs. This communications suite will support rich content building tools, including image uploads, call-to-action buttons, responsive layouts, multi-column layouts, and, probably most exciting for NeonCRM customers, auto-save.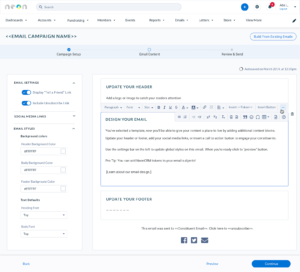 What makes this tool really exciting is that it will become available in multiple Neon One products, including both NeonCRM and CiviCore, with more possible in the future.
We anticipate that you will begin seeing this tool appear in products as early as Q1, 2021.
We're also exploring the possibility of building out a unified communications suite that combines the tools of an email marketing platform with a text messaging system. Text-to-give was our top request in our 2020 ecosystem expansion survey, and we are excited to deliver.
We're exploring text messaging features to help with inbound text-to-give campaigns as well as outbound promotional messaging blasts and expect this to realistically be released toward mid-2021 for these features.
Looking to the Future
We've been hard at work already revisiting the heart of Neon One — exploring our customers, our team, our purpose, and the nonprofit sector — and re-discovering how we can tell this story and our unified vision better through the Neon One brand. In the coming months, you'll see some changes to visual identity to better reflect our new unified structure.
At the end of the day, we're on a mission to help you achieve yours. In the coming months, we'll be reintroducing ourselves as a new Neon One, built to better empower nonprofit teams of all types and sizes. We can't wait to show you what we've been working on.
Join the discussion in our Slack channel on connected fundraising