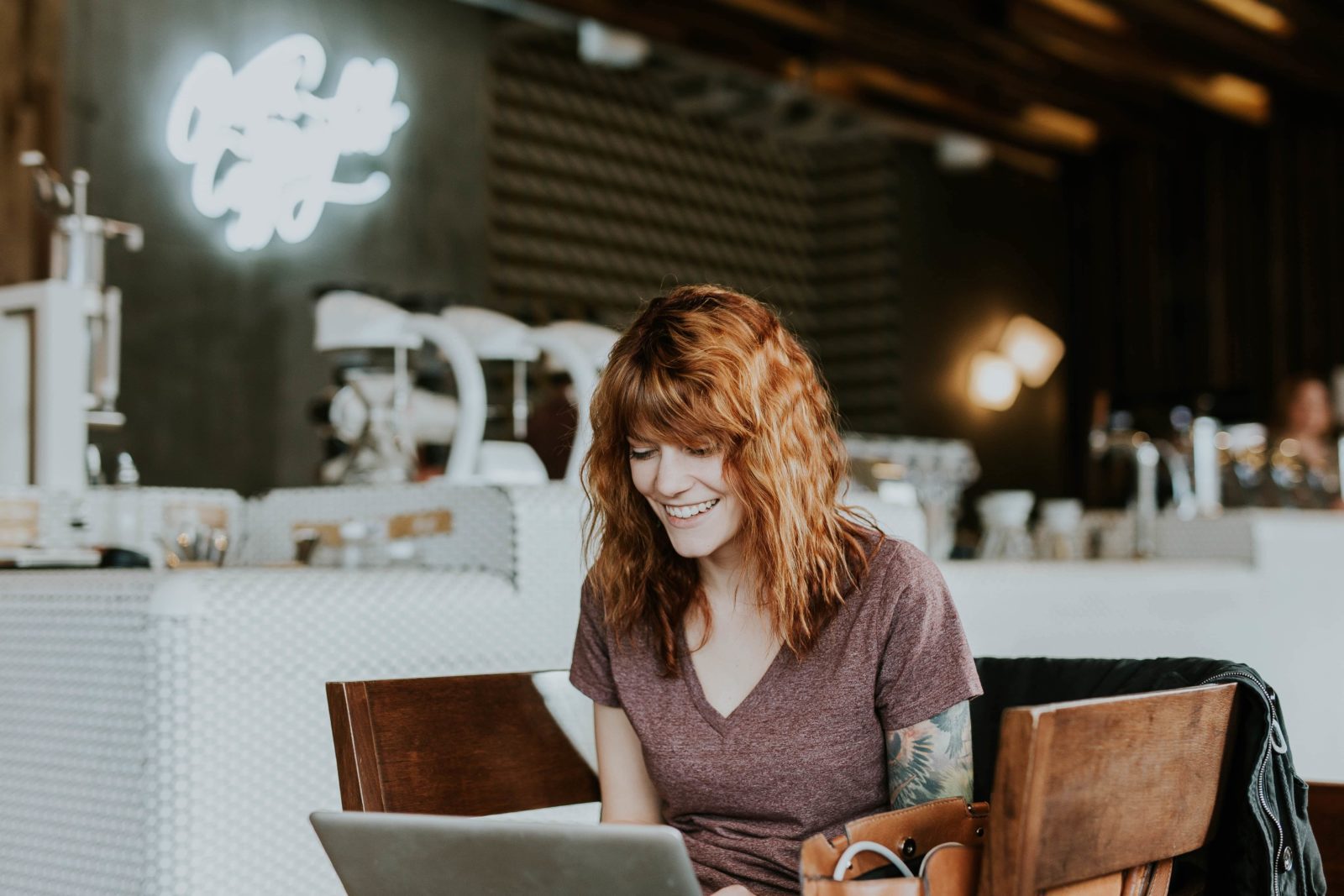 This year's Generosity Xchange took place October 19-20, and it was one for the books! Over 1,500 nonprofit professionals registered for two days of inspiring speakers, hands-on workshops, coaching sessions, and connections. Outstanding speakers like April Walker, Edgar Villanueva, Erica Waasdorp, Cherian Koshy, and dozens more shared their expertise, and hundreds of nonprofit professionals connected with each other, learned from each other, and encouraged each other.
We wish we could recap every session from the conference, but there were dozens of them! Instead, we chose a few of our favorite lessons from a variety of sessions. Here are seven takeaways from GX22 you can immediately act upon at your organization.
Takeaway: Ditch the Virtual Backgrounds
In her session Amplify Your Authenticity Through Accessibility, Katie Murch, CEO of 52 Alliance, gave attendees lots of different ways to make their work and online presence as accessible as possible. One standout recommendation was to skip using virtual backgrounds for video calls.
Virtual backgrounds make virtual meetings less accessible to attendees who are deaf or hard of hearing or people who rely on facial cues or body language. Instead, just show people the room you're sitting in! This will reduce accessibility issues, but it will also make you more appealing to others. Katie shared that using your room as a background makes you seem like more of an expert, and that people perceive you as being more authentic, innovative, and trustworthy.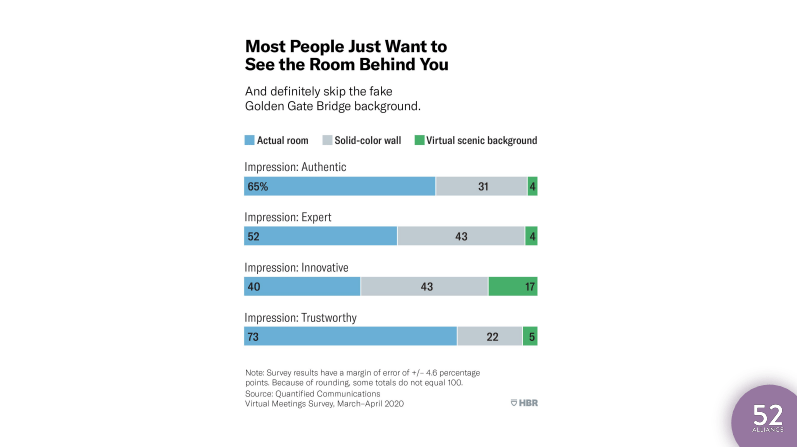 How to Apply This at Your Organization
Next time you fire up your webcam for a virtual meeting, gathering, or event, skip the virtual backgrounds. Instead, spend a couple of minutes making sure the room in view behind you is tidy and nicely decorated. People will love seeing you in your own space: As a matter of fact, they'll care more about your background (60%) than they will your clothing type (47%) or clothing color (39%).
Related Resource
To complement her session, Katie provided a roundup of resources on accessible design. Keep these links handy as you work on making your nonprofit more accessible to everyone!
Takeaway: Create Consistency in Your Year-End Campaign by Writing Your Main Appeal First
In the session Building Your Year-End Campaign: Strategy, Storytelling, and CRM Setup, Laura Block of Neon One shared a simple strategy for creating a cohesive campaign: Write your main appeal first, then build the rest of your campaign around it.
Creating a comprehensive campaign that feels consistent across different channels can be tough. Instead of trying to build separate strategies for each of your fundraising channels, take elements from your primary appeal and work them into your other communications. You'll create a consistent narrative that helps your donors connect with and remember your campaign.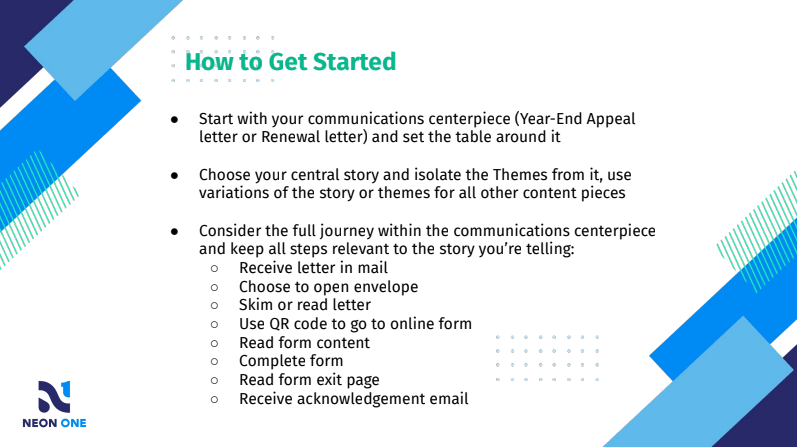 How to Apply This at Your Organization
As you create your year-end appeal, start by writing your mail appeal. After you've written it, take a close look at it: Identify story elements, themes, and even recurring words and phrases. Then, use those elements in the emails, posts, letters, and other communications you use to support your campaign.
Takeaway: Use Nurture Emails In Your Communication Strategy
Mallory Erickson, CEO of Mallory Erickson Coaching and host of What the Fundraising, presented From Fundraiser Action to Donor Behavior: Top 3 Fundraising Strategies to Prioritize Right Now. She shared tons of phenomenal insights into how fundraisers impact the way their donors respond to appeals and build relationships with the nonprofits they support. One of the many ways to connect with donors that Mallory shared is to create nurture emails and build them into your overall communications strategy.
Nurture campaigns are series of emails that are sent to an audience over a predetermined period of time. They're a powerful tool that helps you regularly communicate with your donors while saving yourself some time; instead of trying to remember to create, build, and send individual emails at a particular cadence, you can do it all at once. That consistent communication with your donors helps educate your supporters about your work, establishes relationships with them, and keeps your organization top of mind.
How to Apply This at Your Organization
Create a series of nurture emails you send to your supporters over a long period of time. There are all kinds of nurture emails you can send! Try creating welcome series for new donors, dedicated emails for donors who gave to a new program or initiative, a special series for recurring donors, or nurture emails for major events.
Related Resource
We're big fans of nurture emails, especially for new donors. A well-written welcome email series can educate first-time donors about your cause, keep them engaged, and inspire them to continue their support. If you've never written a nurture email series before (or even if you have), writing one from scratch can feel intimidating. This resource can help! The Fundraiser's Guide to Welcome Email Series is full of tips, strategies, and worksheets you can use to guide you as you create an email series your new donors will never forget.
Takeaway: Help Potential Recurring Donors Understand Their Impact
Erica Waasdorp, President of A Direct Solution, is an expert on how nonprofits can build a base of recurring donors that will sustain your organization for years. In her session How Can You Make a Donor Start Recurring?, she shared a practical tip for inspiring recurring gifts: Help donors understand their potential impact.
In her presentation, Erica reiterated that monthly giving is very donor-centric. Donors can choose a gift that fits their budget regardless of their age, background, and location. Even a small monthly donation can make a huge impact over time—and nonprofits can inspire donors to make those donations by helping them understand their impact.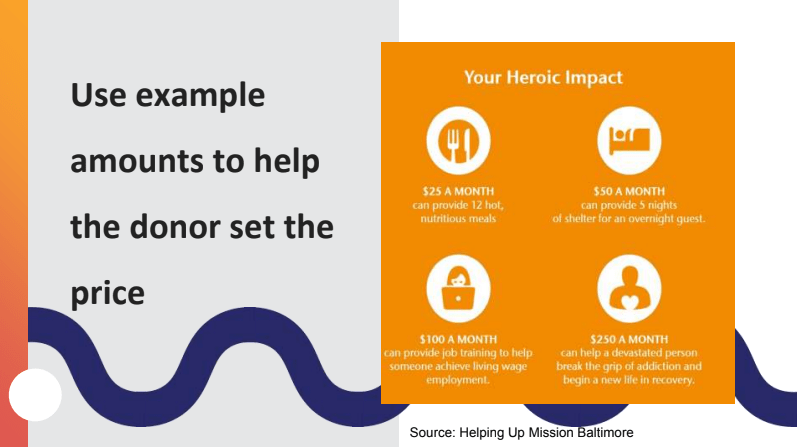 How to Apply This at Your Organization
When you build your donation form—whether you're building a recurring-only form or a general form—add language that helps potential donors understand the impact they can make with their recurring gift. There are lots of ways you can do this! You can try adding an impact statement to the top of your form, add an image, or explore other ways to include that information. Whatever you decide, prioritize helping your donors understand their impact.
Takeaway: Include Key Messaging Components in Your Brand Guide
Claire Taylor Hansen, Creative Director and Member-Owner at Big Duck, and Neon One's Tovah Goodman teamed up to present Build your Brand with a Nonprofit Branding Guide. They highlighted the importance of using a brand guide to keep your messaging and visual identity consistent, and their session included a practical overview of what your guide should include.
When you think about what to include in your branding guide, you'll probably consider design elements like your logo, colors, and image guidelines. All of those things help you create a consistent presence across all of your channels. Your messaging should be included in your brand guide for the same reason!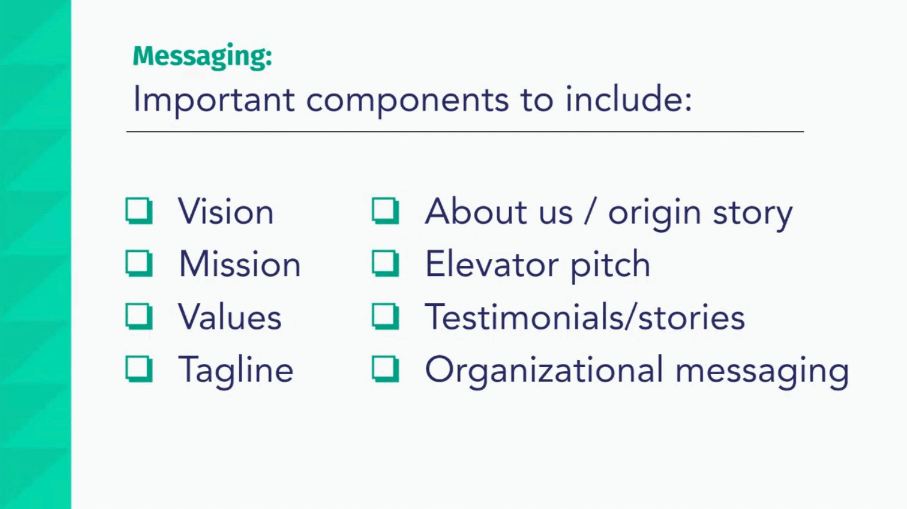 How to Apply This at Your Organization
Take some time to add your key messaging elements to your brand guide. Make sure to include anything your staff and volunteers might need to reference as they interact with donors, create marketing materials, write appeals, and more. Everyone, from a first-time volunteer to a seasoned fundraising professional, will be able to create consistent messaging.
Related Resource
As part of their presentation, Claire and Tovah shared a nonprofit branding guide. It includes tips about what to include in your organization's brand guide, a checklist of assets to update, and lots of resources to get you started. Click below to download your copy!
Takeaway: Build Recession-Proof Revenue by Asking for Non-Cash Gifts
In his session Raising More Recession-Proof Revenue, Cherian Koshy, Chief Development Officer of Endowment Partners, gave attendees a crash-course on the current economic climate. That led into a conversation about how nonprofits can raise more recession-proof revenue regardless of their economic circumstances.
During his session, Cherian reminded nonprofit staff that, even during recessions, charitable donations never go down to $0. Never! People continue to give via traditional methods like check, cash, and card donations. But he also shared how nonprofits can raise recession-proof revenue by taking other donations, like stocks, annuities, IRA rollovers, and bequests.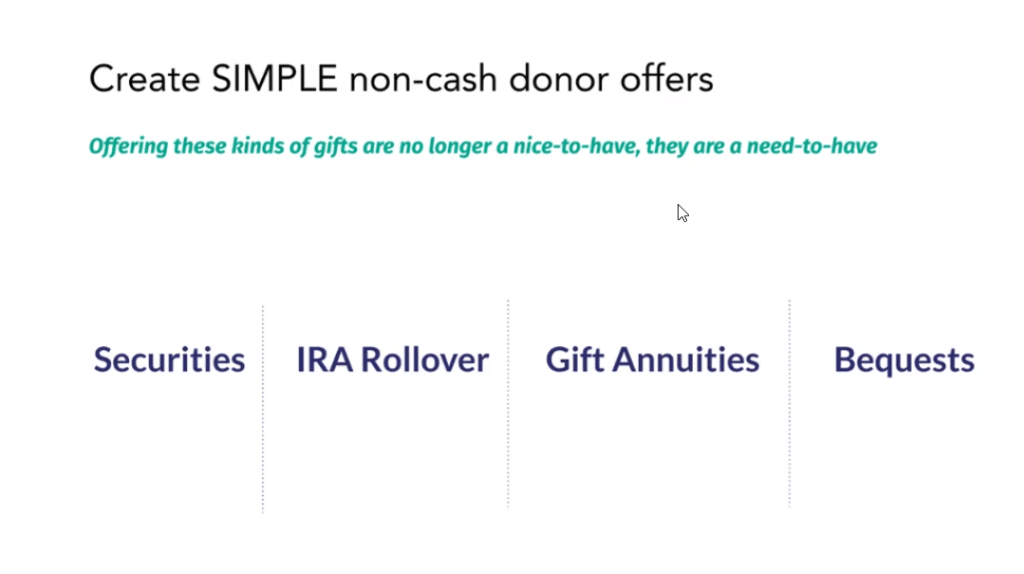 How to Apply This at Your Organization
Recessions are cyclical. Whether we experience a recession next month or years down the road, one is always on the horizon! You can start preparing now by learning about the different kinds of non-cash gifts that may benefit both your organization and your donors. You can also try building relationships with CPAs, financial advisors, and even estate planning lawyers. When their clients come to them looking for the best way to support their favorite causes, you'll be at the top of their minds.
Takeaway: Decolonizing the Nonprofit Sector Starts at Home
This year's Generosity Xchange closed with an inspiring keynote. Edgar Villanueva, author of Decolonizing Wealth, and Denise Barreto, founder of Relationships Matter Now, shared a lively conversation about the Decolonizing Wealth Project and the movement to rectify dysfunction in the nonprofit sector.
Edgar summed up this takeaway perfectly. "I think about 'decolonizing' being synonymous with 'healing,'" he said. "Work is work, and we need to decolonize everything there, but we have to start with ourselves as leaders. Who we are at home and in our community is what we bring to work. If the only time we talk about diversity, equity, and inclusion is at work, that ain't enough. You need to be consumed with this. You should be having these conversations with your children, with your family, and your faith community."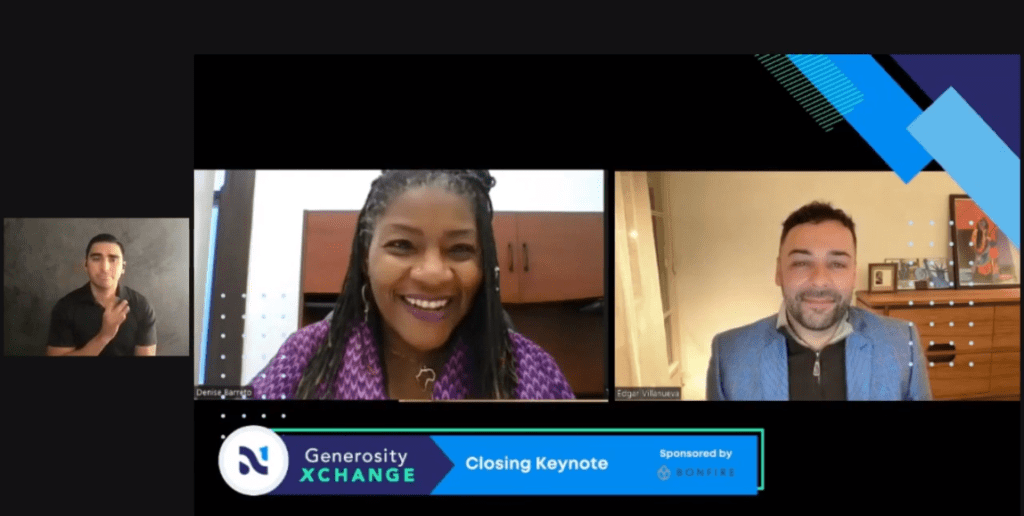 How to Apply This at Your Organization
DEI, deconstructing harmful power dynamics, and reworking the way nonprofits and their communities work together don't begin and end when you're at work. Conversations about equity and steps toward DEI at your workplace must be rooted in your own personal actions. Edgar recommends doing everything you can—reading books, taking workshops, and learning as much as possible—as indispensable steps toward decolonizing the industry both in a professional context and on a personal level.
Related Resource
If you're looking for a way to start decolonizing your nonprofit, Edgar's book is a wonderful place to start. You can learn more about Edgar's organization, find a copy of Decolonizing Wealth, and learn more about the movement at DecolonizingWealth.com.
These Generosity Xchange Takeaways Are Just The Beginning
Generosity Xchange was two days of outstanding sessions and workshops. But, even more important, it was two days of personal connections and conversations. The conference may be over, but the sense of community lasts all year in our Connected Fundraising Slack Community. Sign up and join hundreds of other nonprofit professionals in a supportive group forum.
Join the discussion in our Slack channel on connected fundraising