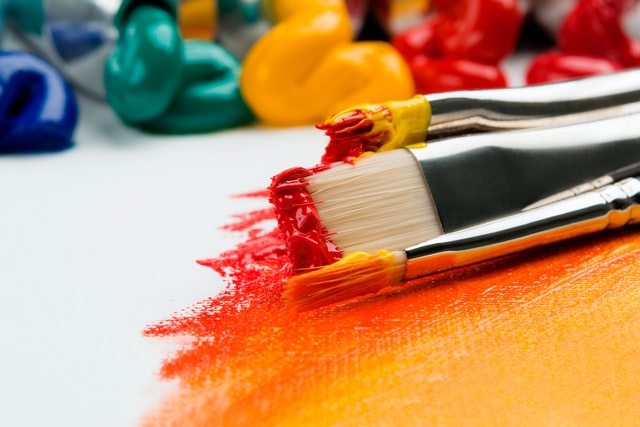 At Neon One, we have the opportunity to work with thousands of nonprofits who do amazing work. Each month we spotlight one of our clients doing something particularly exciting!
This month, we're honored to spotlight Concord Center for the Visual Arts — a nonprofit, founded over 100 years ago, offering galleries and classes that are well regarded throughout New England. With four galleries, a sculpture garden, classes, and events, Concord Art serves 850 members and 800 students.
What They Do
Concord Art was founded in 1917 by Elizabeth Wentworth Roberts, an American Impressionist and philanthropist. Her mission — to promote and advance the visual arts, artists and to sustain the cultural community—still stands today. Concord Art provides a place for contemporary art exhibitions, art education, and a variety of topically relevant programming for everyone.
Each year, Concord Art hosts 16 separate gallery exhibitions. That includes 3 juried shows featuring regional artists, 3 curated shows with local and national artists, and one exhibit devoted to the talented students from Concord-Carlisle High School. In addition to their 80 classes each year, Concord Art also organizes and hosts artist lectures, panel discussions, and artist-led international painting trips.
Why It Matters
Concord Art represents 100 years of history in their community. As they enter their second century, the organization reflects back on their tremendous growth. Serving 850 members a year and the public at large, they are bringing art to not only their local community, but throughout New England. They own a permanent collection of artwork featuring paintings and lithographs by their founder, Elizabeth Wentworth Roberts, as well as other artists significant to their history.
How They Do It
Concord Art came to Neon One in 2015, operating with a custom built system that was originally designed for sports registrations. Beginning to experience growth and wanting to plan for their future, they came to Neon One based on a referral from another Neon CRM client. They were looking for a database that could accomplish not only the online registration they were accustomed to using, but also track their memberships, events and fundraising.
Nan Rogers, who is responsible for membership, said that her best advice for other nonprofits looking for software is to not only look for something that fits your immediate needs, but plan for the future. When Concord Art was making the database switch, they considered other, more expensive, CRM platforms — but, as Nan explained, those were beyond what they needed. Neon both met their current needs and offered room to grow.
For juried exhibitions at Concord Art, more than 375 visual artists come with their art to apply for approximately 100 openings over the course of two days. During this time, many of these individuals need to establish or renew their membership as well. Before Neon, Nan and the team had to do this with paper and handwritten receipts for each artist. Now they can use Neon to process memberships live with email receipts sent to the member, functioning quickly and efficiently in this limited timespan.
Although they intake many memberships in conjunction with their juried shows, Concord Art says that one of Neon CRM's greatest benefits has been the ease of use for their students and members. More people are registering online for memberships and events than ever before. 
When they transitioned to Neon CRM, they were already in a period of growth, and were putting the tools in place to facilitate that growth. In the past 4 years, they have seen a 10% growth in overall membership; more importantly, fulfilling a team focus, they are seeing a sharp increase in the memberships that are purchased online. Before Neon, between 7% and 8% of their members joined or renewed online; in their first year with Neon CRM, that number grew to 20%, and is now at 44%. This represents a significant reduction in the required data entry and manual payment processing by Nan and the Concord Art team.
Concord Art's classes have always been popular, but Nan tells us that, with Neon CRM, they are capturing a better experience for their students. Now, when they have a phone inquiry about a class, prospective students often choose to go online to sign up, instead of over the phone. Their participants have learned that signing up for classes is easy and user-friendly, so they choose to register in that way.
In 2013, Concord Art offered 36 classes and 294 people enrolled. In 2017, they offered 79 classes and had 787 people enrolled. Not only are the classes more popular, but more classes are filling to the maximum capacity. During those 4 years, enrollment increased 165% and revenue increased fourfold. Neon provided Concord Art the tools to support the growth they were experiencing. Nan explained, "Neon certainly makes the registration process go more smoothly from both our perspective and theirs, as students are able to register at their convenience day or night."
We are so proud to support the work of Concord Center for the Visual Arts and other nonprofits promoting art throughout our local communities.
To support Concord Art, consider donating, becoming a member, or attending a local event. Visit their website for more information.
Join the discussion in our Slack channel on connected fundraising