We recently held Dream Big 2021, our virtual gathering of community giving day hosts. We had dozens of giving days around the country represented. Events like this lead to discussions that can have a major impact on the giving community.
The point of this specific event was for community giving day hosts to learn from each other. Hosts could discuss perspectives that may challenge assumptions on how to run giving day operations.
Throughout the two-day event, we covered a wide variety of topics. This blog will give a recap in case you missed it (or wanted a refresher).
Day One of Dream Big 2021
We kicked Dream Big 2021 off with a session that overviewed the fantastic impact we've already seen in 2021. So far this year twenty giving days used our Neon Giving Days software. 
The numbers above can be broken into the following:
373,307 donations
91,515 new donors
300,000+ volunteer hours pledged
We also want to include a few additional impact statistics that other giving day hosts can use as a benchmark. Compare your giving day success to what we've seen so far in 2021:
14% average growth in nonprofit participation
23% growth in peer to peer fundraising participation
10.5% year over year growth rate overall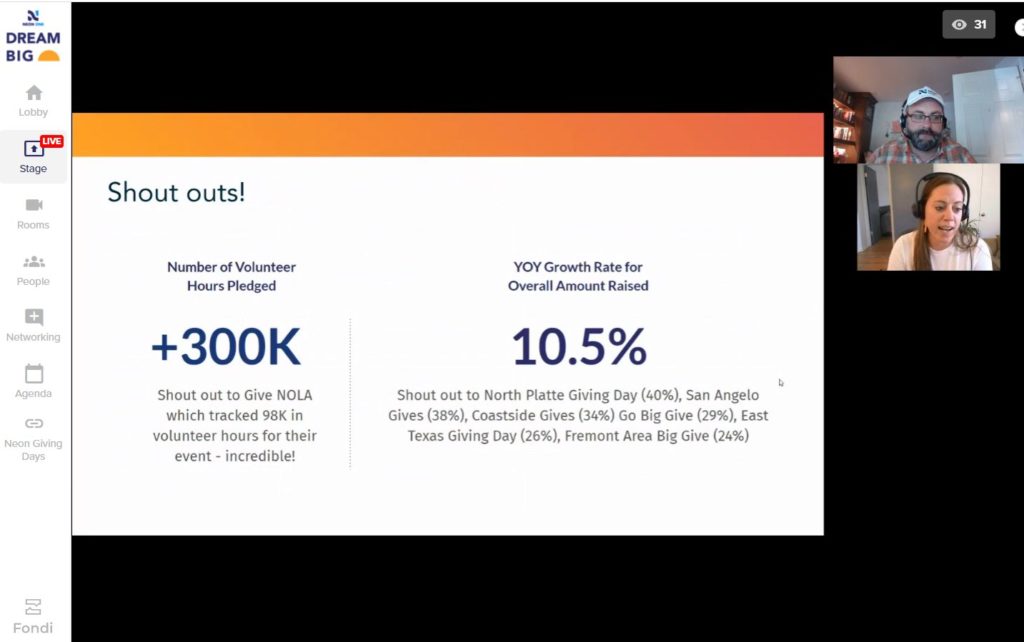 It wouldn't be a giving day conference if we didn't take the time to celebrate the growth of giving days, including North Platte Giving Day (40% growth), San Angelo Gives (38% growth), Coastside Gives (34% growth) Go Big Give (29% growth), East Texas Giving Day (26% growth), and Fremont Area Big Give (24% growth).
After our event kickoff, the rest of the first day centered on collaborative discussions between participants. Event participants were even able to utilize a full event chat interface or join a video discussion with fellow giving hosts.
Business Sponsorships
We held a discussion session on how to best engage businesses looking to support the giving day.
Some of the great suggestions included:
Sponsoring the peer-to-peer fundraising portion of the giving event.
Providing employees the opportunity to raise funds for their favorite nonprofits.
Speaking opportunities at training sessions and workshops.
Thank you support letters to the businesses from participating nonprofits.
Dedicated landing pages for sponsoring businesses.
Innovating Marketing
One of the most critical discussions was around marketing the giving day itself.
Without people knowing about the day, donors won't flock to the platform to support. Some nonprofits may leave the next year because they feel it isn't worth their time.
With an ever-changing landscape, there is an important need to personalize marketing. Here are some of the takeaways our discussions led us to:
Social media is becoming more vital for the overall marketing of the giving day. Instagram, in particular, was cited as being excellent in engaging a younger audience, while Facebook tends to attract older audiences.
Consider hiring a marketing firm that focuses on your strategy and implementation. Some hosts either had their firm's emphasis on traditional marketing while they kept social media in-house. Others handed all marketing to a firm.
Recruitment of ambassadors is critical, especially when it comes to peer-to-peer fundraising campaigns. Providing templates for adoption can accelerate this for interested individuals and businesses.
It's important to use live streaming and other engagement techniques to make things interactive.
Breakout Sessions
We then shifted to some quick-fire sessions that focused on highly specific topics.
Here are a few takeaways attendees had when joining those more intimate conversations.
Prizes
The biggest discussion items were around what size prize to award, when to award the prizes, and how to actually choose the winners.
The most important part of any giving event is getting nonprofits involved. Involvement includes the lead-up to the event and during the event itself. Prizes can be a great way to encourage active participation!
Tip – Consider only offering your training sessions to those participants who register, not to anyone who you may have on an interest list around the event.
Matching Gifts
The biggest discussion items were around how to approach matching gifts in the first place. Many times these are going to need to either be secured from individual donors or businesses in your community.
Tip – Have a set policy that is worked out with your finance and reconciliation team on what the process is, if at all, for nonprofits to offer externally matched gifts that run outside of your platform. And take into consideration your prize award system with matching gifts!
Social Media Engagement
This conversation focused on how to use social media best to meet your pre-existing goals.
If your goal is to get more donors, be sure that you are using platforms where you can share links. If your goal is to gain more awareness of your giving day, try creating more sharable images or videos and tagging other community businesses to boost engagement.
Tip – Be sure to pick the social media channel or channels that your audience is already on. There is no point in having a TikTok if you aren't going to be reaching your audience. Try sending out a survey to find out what social channels will be the most successful.
Day Two of Dream Big 2021
We kicked the second day of Dream Big 2021 with a welcome message from new Neon One CEO Steve Kriter.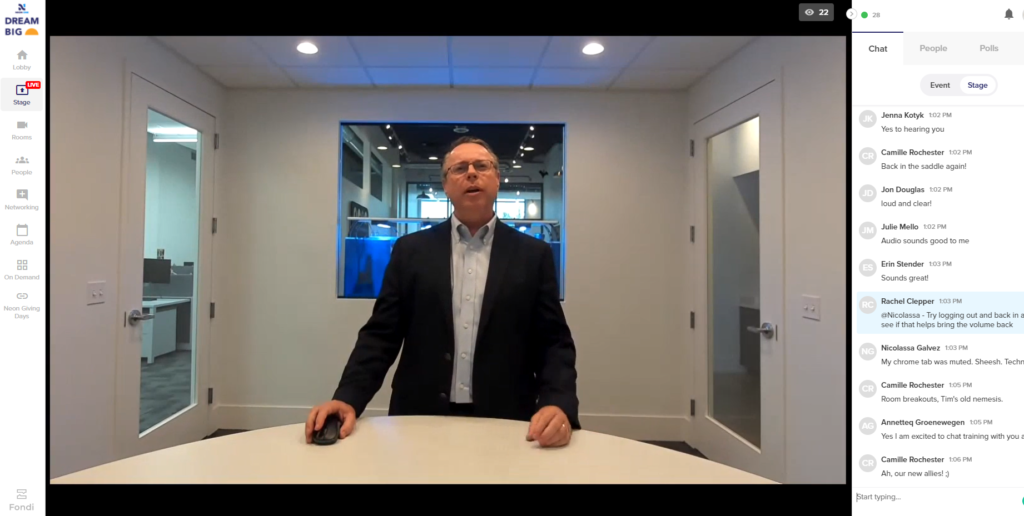 Here's an excerpt of his remarks:
I would like to share a few personal thoughts on Giving Days and the importance of the work you're doing for our communities. On a personal level, I've witnessed the impact that my own community giving day, Midlands Gives, makes every year. It's a privilege to be part of a community that has the support and passion that the Central Carolina Community Foundation provides.
On a professional level, Neon One exists only to help further the mission and impact of our customers. You'll hear more about where we're headed as an organization in the coming months, but please know that my vision for this company is deeply rooted in our history and deeply influenced by our thousands of customers — which obviously includes you and your voice.
Neon One & Neon Giving Day Product Updates
Neon One runs the largest and most successful giving days in the nation. We approach our work as a true partnership between product and process with our clients. 
Peer-to-Peer Fundraiser Templates
We were excited to debut a few features that were rolled out during our spring days, based on feedback from our clients. The most impactful of these was our Peer-to-Peer Fundraiser templates that came with our new offering.
Neon Raise
We also reviewed the new peer-to-peer fundraising platform as a whole, Neon Raise. This platform is an exciting addition to the Neon One ecosystem since it serves as the industry's only sync between a community giving day and a CRM. 
Spring community giving days, working with Neon One, were given access to the new platform for peer-to-peer fundraising. Also, all Neon CRM users who participated in a Neon Giving Day can sync all their historical and current giving day donations into their CRM without any work on their part.
New Neon Giving Day Features
Besides the improvements around page design, we also debuted two new features that we think will make a major difference for giving day hosts.
Donation Button Embed. Hosts can provide nonprofits with a customizable button to drive traffic toward their giving day page, which can be especially powerful for small nonprofits on a year-round platform who do not offer their own online donation page.
Repeat Your Donation. Increase giving day donor retention while increasing revenue with a specialized email that indicates the previous donation amount the giving day donor had supported the year before. Multiple donations? No problem, all are included with a suggested increased donation amount.
After these initial presentations on the future of community giving day technology, we shifted back into a collaborative focus with two high-impact sessions. 
Learn more about Neon Giving Days
Training Nonprofits
One of the most highly anticipated sessions for Dream Big 2021 was the training nonprofits session, which had a flood of fantastic resources provided in the chat.
Getting nonprofits comfortable with the platform and fundraising around a community giving day is where many growing giving day hosts are concentrating. Still, there was also an exciting evolution discussed around enabling year-round capacity building.
A few of the takeaways were:
Toolkits are an excellent way to encourage participation, where a wide variety of resources are pulled together, being a helpful way to engage nonprofits. Offering this both on the giving day website publicly and the internal Resource Center drive adoption.
Offering training, such as webinars, has been a critical evolution during the pandemic. Many giving day hosts had to shift to digital engagement but found that their attendance rates went up. After switching to virtual, more organizations could participate instead of just relying on in-person.
Many hosts will invest in hybrid training that may also feature a live stream Q&A format on key topics. Hybrid is here to stay!
Creating pre-made images for social media, peer-to-peer fundraising, and other usages by the nonprofit, business sponsors, and even donors can be quickly accomplished with a platform like Canva.
Here are some of the public training resources that community giving day hosts provide their nonprofits:
Supporting Marginalized Communities During A Giving Day
We've been working with Nikki McCord of McCord Consulting Group since May 2020 on a training and conference planning framework, including Dream Big 2021, that centers on diversity, equity, and inclusion.
To help put that into practice and allow our hosts to share their own insights, we invited Nikki to facilitate a discussion on how to approach DEI during the management of a community giving day.
Here are some of the top highlights:
Establishing a policies and procedures plan around diversity, equity, and inclusion is not only a requirement but should be applied in a way where it does not just sit on the shelf.
Considering asking equity-centered leadership questions during the registration process for nonprofits to help flag any special initiatives that your organization may be focused on, such as a special grant or prize payouts for BIPOC and/or LGBTQ-led organizations.
Consider adding filters to your giving day based on the data collected so donors can be intentional about supporting marginalized communities.
Some of the work that community giving days are supporting around DEI include The Miami Foundation's Racial Equity Fund and the Community Foundation of Middle Tennessee's Give Black, Give Back program.
Summary of Dream Big 2021
Community giving days represent one of the most important evolutions of philanthropy in the nonprofit sector, genuinely democratizing the ability for any sized nonprofit to stand out and be supported.
Dream Big grew out of the original collaborative meetings that early clients of our giving day platform would have in Denver, Colorado.
We have always been blown away by the creativity, innovation, and sense of cooperation and community that our giving day hosts brought to these meetings, including in this year's Dream Big 2021.
We are excited to think about bringing Dream Big back to include a physical event as well! Yet as we learned, hybrid training is the way forward.
Where should we host Dream Big 2022? Let us know in the comments below!
---