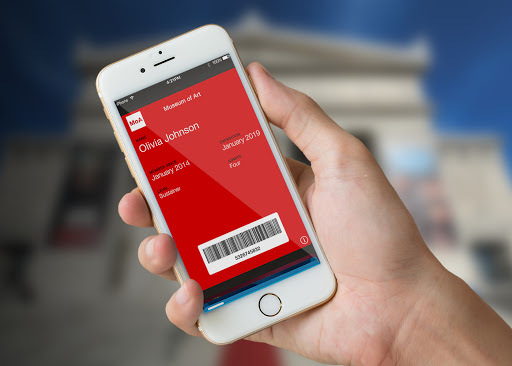 Membership cards and their associated programming represent the oldest approach sustaining loyalty in the nonprofit sector, and while their purpose is as needed as ever, the approach is due for a digital makeover!
The nonprofit sector is currently experiencing a retention crisis, so there is no better time for a change in strategy. Nonprofit customer relationship management (CRM) systems have fully embraced the digital age, and now membership programs can too with Cuseum's digital membership cards! Fully integratable with organizations that use NeonCRM, digital membership cards allow your organization to provide your members with the best membership experience possible.
What is a Digital Membership Card?
Digital membership cards are conveniently downloaded and saved to your members' smartphones. They display member names, member levels, and scannable barcodes, just like physical cards do, however, they are also able to update changes and renewal notifications in real time. Cards can be customizable to match various membership levels and even feature reciprocal benefits and partner institutions.
Digital membership cards are an attractive and innovative solution for membership programs.

Here Are Five Ways That Digital Membership Cards Can Improve Your Membership Program Today:
1. Prioritize Convenience For Your Members
Your members will love digital membership cards! Digital membership cards mean that they don't have to worry about losing their membership card ever again! It will always be conveniently saved in the Wallet App on their phone, and they're even shareable amongst multi-person memberships. Our simple and easy to use digital membership cards will be your members' new best friend!
2. Save Money and Time
54% of nonprofit organizations identified lack of resources as their largest challenge in 2019, which is where technology like digital membership cards can make a significant impact. Going digital yields huge opportunities to not only be more environmentally friendly by reducing paper use, but also cost-effective by reducing administrative costs. Cuseum's digital membership card system centralizes member information and then efficiently distributes digital cards directly to each member. Snail mail will no longer determine your membership interaction!
3. Send Information Efficiently
The back of digital membership cards is the perfect place to keep your members updated on all of their benefits and ongoing programs. When you flip the digital membership card over, there is space for text which can be used to display anything from upcoming events, special promotions, and member benefits. Rather than sending this information out by mail, or even by email, cards automatically update with new information when needed.
4. Emphasize Digital Presence
Donors and members value an exciting digital presence. By implementing appealing and attractive digital membership cards, you can show your members that your organization is on the forefront of engagement.
5. Increase Renewals
Not only will your nonprofit be able to track how your members are interacting with their digital membership cards, but you are also able to send reminder messages to your members when their membership is about to lapse to increase renewals. This direct line of communication is the best method to face the retention crisis head-on.
Ready to Bring Your Membership Program Into The Digital Age?
We encourage all organizations using Neon to take advantage of this opportunity. Recently, NeonCRM user, The Minnesota State Horticultural Society partnered with Cuseum to distribute digital membership cards to their members. Their Membership Marketing Manager explains "It's been a much smoother transition than I ever expected." Going digital has never been easier!
"[We] would absolutely recommend digital membership cards without hesitation. It's a fantastic way to move away from burning up resources, like paper, postage, printing, and staff time…Before using digital membership cards, I was spending so much time printing and resending cards. It's really saved us a lot of resources and money."

The Minnesota State Horticultural Society

The Minnesota State Horticultural Society
Does Your Organization think that Digital Memberships are a Good Match?