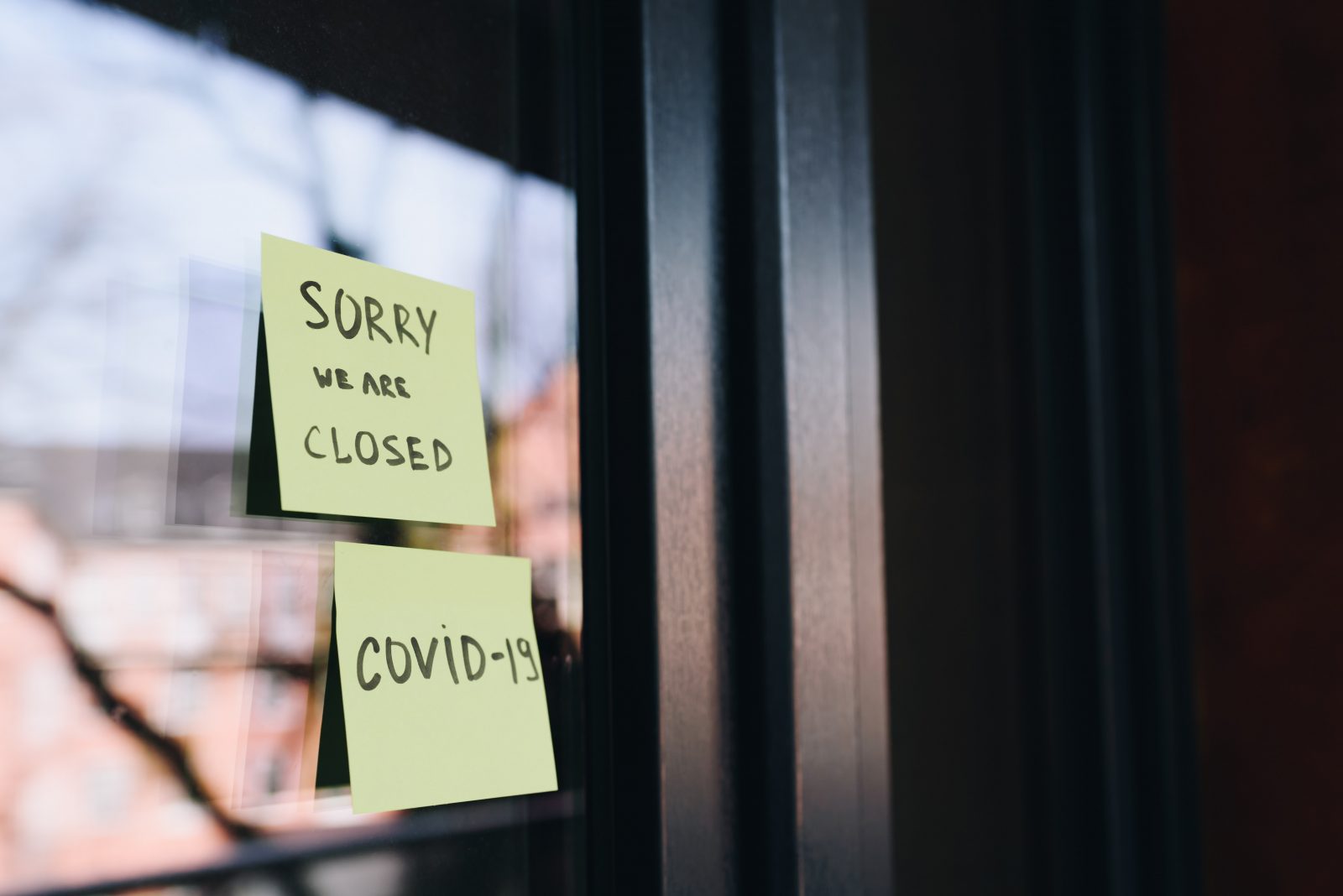 As the coronavirus pandemic stretches deeper into the year, it is becoming increasingly clear that extraordinary measures will need to be taken to ensure our communities survive and thrive well beyond 2020.
Although economic impacts have been immense across all parts of our society, recent analysis is predicting that nonprofits, in particular, will be significantly affected. That is why many community foundations are establishing dedicated coronavirus relief funds for the nonprofits that they serve.
How to Add A Coronavirus Relief Fund to Your Giving Day
There is a fear that adding a coronavirus relief fundraiser as part of your giving day will distract from the other nonprofits and fundraising.
There should be no worry or fear that your emergency relief fundraiser will sidetrack the of nonprofits that you support, on the contrary, it should be added as an aspect of your giving day campaign. Giving days are created to support your community and local nonprofits, and an emergency relief fund will do just that.
Is your giving day thinking of adding a coronavirus relief fund? Follow along for five tips you need to know to set up a successful coronavirus relief fund, fast.
Get the fund set up – the right way
One thing that donors want now more than ever is making an immediate impact with their contribution. That means that any emergency relief funds need to have a different approach.
This is not "business as usual" when it comes to how funds are managed and distributed.
If it's not business as usual, what needs to change? Vu Le has been forcefully imploring foundations to change their practices. In a recent post, he broke down ten practices that need to change. Let's unpack how to show your donors that their contributions will have an immediate impact.
Unrestricted giving.

Nonprofits need to do whatever they can to survive right now. Relief funds should mirror that need.

Digital submissions.

Allowing nonprofits to submit electronically is essential during this time. Even better is when the applications are short and easy like the

North Texas Cares application

, a standardized application process across dozens of funders.

Make a quick decision.

Now is the time for decisive action, so messaging a clear response timeline that doesn't drag on is key to any relief fund.
Some giving events are even forgoing the application process entirely and equally distributing the money donated to the fund directly to all nonprofits who are on-boarding for the giving day itself. This is an excellent incentive for nonprofits to sign up for your upcoming giving event.
Communicate clearly
There is an enormous amount of information flying through the world today. To stand out and make a big impact, the messaging around your emergency relief fund needs to be clear and concise.
Creating a messaging plan for your relief fund is a vital step to take.
Here are a few key things to include in your communications around your coronavirus relief fund:
Central landing page. Don't link out to too many areas to explain what is happening with the relief fund. Keep things focused on your key audiences — nonprofits and donors.
FAQ. Since there's going to be a lot of questions, cut down on staff time by answering them upfront. Create a section or page just for your FAQ. Use headers to separate different audiences and organize the information.
Impact. Demonstrate why the emergency relief fund is needed with key facts and figures. Prove that this fund is worth your donor's attention. For instance, Arizona Gives outlined the devastating impact that coronavirus has had on the nonprofits that they support.
Treat it as its own campaign
Ensuring that the relief fund gets its own dedicated page on your website is a great way for your organization to tell a story about the impact.
Here are a few great examples of what you can do to enhance your giving day to include your COVID-19 relief fund:
Omaha Gives
Omaha Gives added peer to peer fundraising opportunities on their fund's campaign page.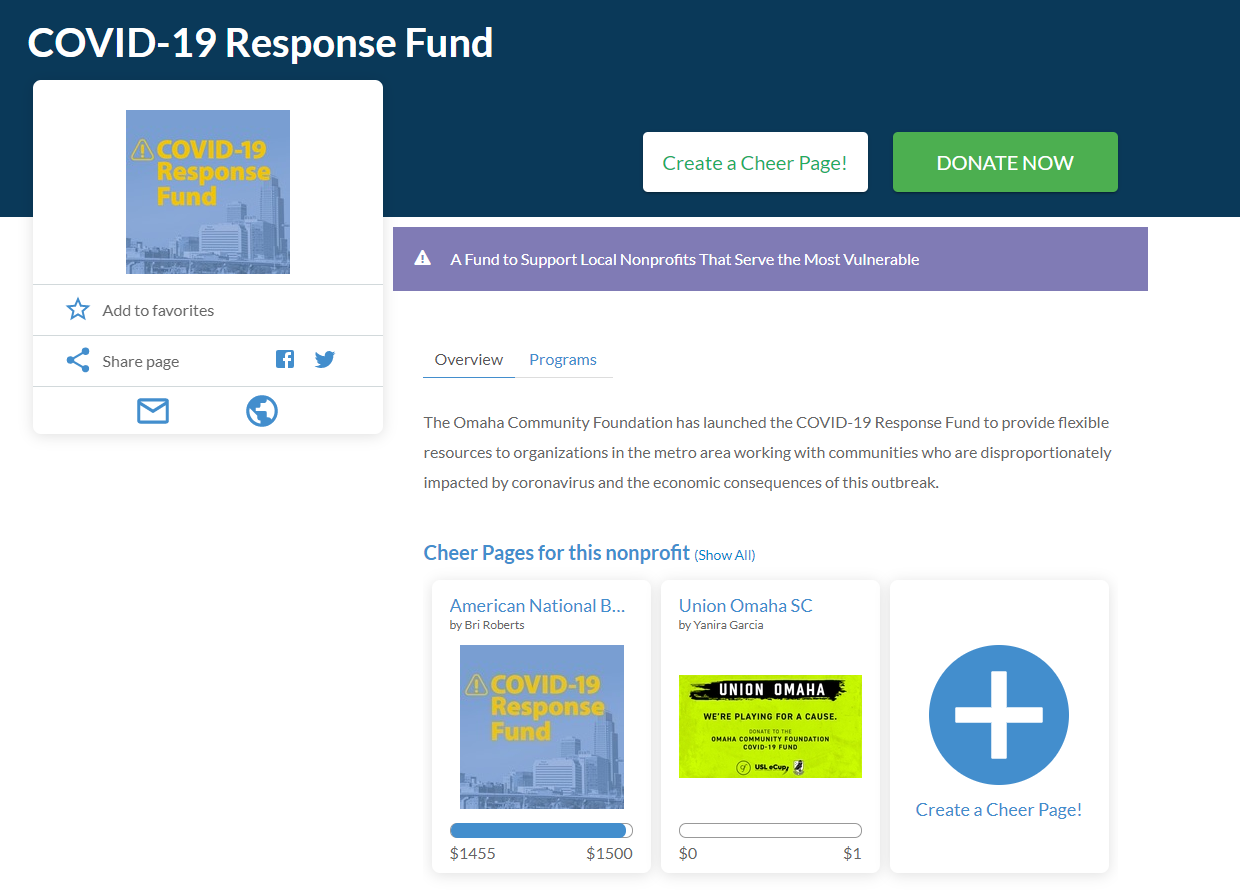 East Texas Giving Day
You can see a prominent banner message with bold colors linking the campaign, the second you enter the East Texas Giving Day website.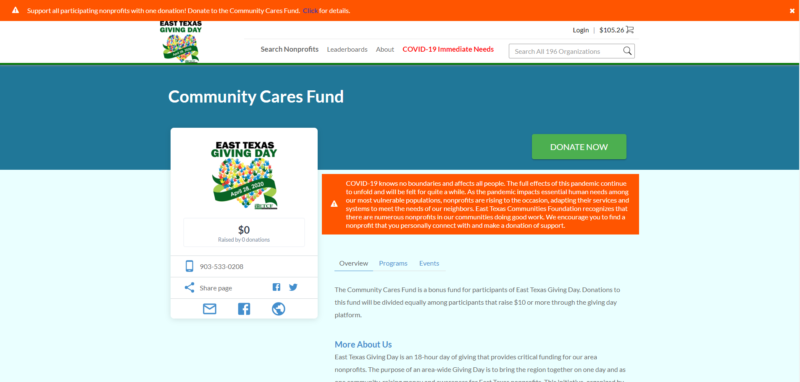 Salvation Army of North Texas
The Salvation Army employed a matching gift extension to their relief efforts by partnering with the Dallas Cowboys. Along with a matching gift extension, they have also opened up early giving before their North Texas Giving Tuesday Now campaign on May 5th.
Tell people
In order for your emergency relief fund to be successful, you need to tell people about it.
Once you've established the basic talking points and process, start making it a natural part of your day's marketing campaign.
You can integrate your emergency relief fund into your campaign by doing the following:
Send a dedicated email blast about the fund

Send out a press release and recruit local media to highlight the fund

Put a banner or splash message on your giving event site that direct people to the fund's landing page or donation page

Recruit your board members and other key leaders in the community to set up a peer to peer fundraising page for your fund

Dedicate an hour block of time during your giving day to you emergency relief fund on a live stream or social media
Make it an add on to donations
One of the most powerful ways to ensure that your relief fund is front and center in your community's mind is by adding it to the checkout process.
Either through early giving or on the day itself, a donor seeing a prominent call to action during the checkout process will spur more donations for your relief fund.
Check out how easy East Texas Giving Day has made it to donate to their own relief fund.
These are unprecedented times, and all organizations are needing to think and act faster than ever before.
Getting an emergency fund dedicated to your community can be a powerful way to showcase the work that your organization is doing to help nonprofits survive and thrive in the coming weeks, months, and years.
Join the discussion in our Slack channel on connected fundraising