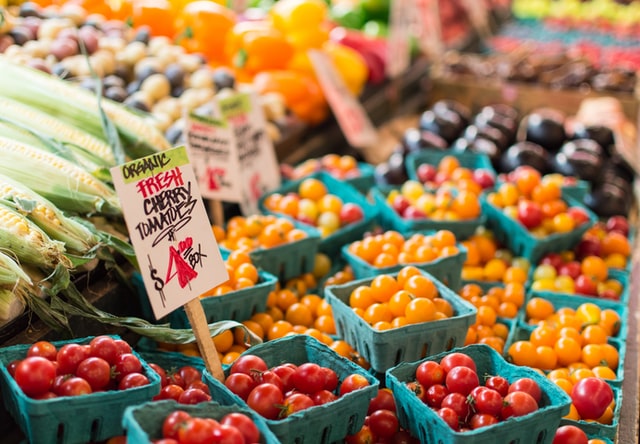 At Neon One, we have the opportunity to work with thousands of nonprofits who do amazing work. But each month we spotlight one of our clients doing something particularly exciting!
This month, we're honored to spotlight the Michigan Farmers Market Association — a nonprofit founded in 2007 to work for and with farmers and farmers markets to create a thriving marketplace for local food and farm products. They currently have nearly 500 members, with those members representing numerous farmers at each market, as well as the thousands of visitors to that market.
What They Do
The Michigan Farmers Market Association (MIFMA) celebrated its 10-year anniversary this year and has experienced significant growth since its inception. In the past 10 years, the number of farmers markets in Michigan have grown from 90 in 2006 to more than 300 today. On their website, they have a Find a Farmers Market feature that includes a map of all the markets throughout the state.
Today, MIFMA continues to carry out its mission to advance farmers markets to create a thriving marketplace for local food and farm products, placing farmers markets at the forefront of the local food movement and works to ensure all residents have access to healthy, locally grown food and that Michigan farmers markets receive policy support.
Why It Matters
When MIFMA was founded in 2006, only three farmers markets in the state were accepting federal food assistance benefits through the Supplemental Nutrition Assistance Program (SNAP). Now, 164 farmers markets accept SNAP, and many participate in the Double Up Food Bucks Program, created by fellow nonprofit Fair Food Network, which allows SNAP clients to double their farmers market purchases up to $20 per visit, increasing consumption of fresh, local fruits and vegetables. This incentive program is now operating nationwide.
One of the most successful and important programs of MIFMA is Hoophouses for Health. This program helps families with young children get access to fresh, nutritious food, such as fruits and vegetables. The program is a collaboration between MIFMA, the Michigan State University Center for Regional Food Systems (MSU CRFS) and the Michigan State University Department of Horticulture. Funding for Hoophouses for Health is currently provided by the W.K. Kellogg Foundation.
What is a hoophouse? Don't worry, I had that same question! A hoophouse is a structure that is used to extend the growing season. With the harsh winters of Michigan, many crops can't be grown outside for several months a year. However, with a hoophouse, farmers can grow plants directly in the ground, protecting plants from the elements while using the heat of the ground to grow plants year-round. 
Why is this important?
$46,712 in farm to school sales in 2016.
More than 9,000 pounds of food distributed to schools including tomatoes, winter squash, cucumbers, lettuces and mixed salad greens and onions.
190,000+ square feet of hoophouse growing space has been funded since 2011.
$118,098 worth of local food distributed to vulnerable Michigan families through Michigan farmers markets.
In 2016, the food supplied through farm to school sales provided 30,041 ½-cups of fruit and 46,399 ¾-cups of vegetables, for a total of 76,440 servings.
1,400+ families with 5,500+ individuals receive Hoophouses for Health incentives each year.
This is only one of the very valuable programs that MIFMA works on each year. But it is a great example of the innovative work that they are able to assist and support.
How They Do It
Since becoming a Neon CRM client in 2014, MIFMA has experienced tremendous growth. When they started with Neon CRM, they had 286 members and have grown to 493 (and counting)! Emily Beutel, Design and Branding Specialist at MIFMA, explains that she "feels like they are just getting started with Neon CRM."
For MIFMA, one of the biggest benefits of investing in Neon has been the ability to grow and innovate. Prior to using Neon CRM, all of their online payments went through a simple PayPal button. They didn't have an effective way to designate membership levels, donations, and the cost of events. The system wasn't working for them. They had a custom-built Access database to track and manage membership, but it wasn't flexible or easy to use for staff. That meant they couldn't run reports effectively, and simple tasks like printing membership packets were a major time and resource investment for staff.
Emily said it best: "If we wanted to grow and innovate, we had to better communicate with our members. We needed to change."
Even when they purchased Neon CRM three years ago, the system was an all-in-one approach to what they needed: tracking memberships, taking dues payments, registering for events, sending individual and mass emails, and collecting donations and sponsorships. Now, the system has continued to grow and change, allowing them to expand their operations as well. Emily continued to explain, "We are using Neon CRM in some complex and less traditional ways, and everyone [at Neon One] has been at looking at our data and figuring out how to make it work for us."
Since making use of the tools in Neon CRM, they have not only seen their membership grow, but they have seen an increase in donations and event registrations. As Emily explained, "As an organization that relies heavily on grant funding, we are looking at fundraising and individual donorship more. Giving has increased, and we are looking to encourage that." In 2014, they had $18,500 in donations, compared to more than $30,000 so far this year. Their event registrations have increased by 57% in the last 3 years.
Advice for Other Nonprofits
When they started with Neon CRM, the staff at MIFMA was five people; they have now grown to 12. Emily recommends, "From the beginning, make a plan for the modules you plan to use and decide on a timeline. Make sure your staff is well trained and make sure they can access the information in the system. It's meant to be user-friendly, so everyone should be able to go in and get the information they need."
When they became a Neon One client, MIFMA didn't have the funding to have Neon CRM do the data migration. They had an amazing intern who was able to do the self import, but it took them some time to get the data ready because it was so messy. But, that being said, "it was a really good way for us to go through our data and sort through it." Emily recommends to other organizations that, if they are able, have Neon One do the import, that can be a helpful tool to getting up and running in the system. Her overall data advice is: "Go through and clean your data before you move to the system, don't pull information you don't need or want."
Here at Neon One, we are so proud to support the work of MIFMA and other nonprofits serving families throughout our local communities.
Join the discussion in our Slack channel on connected fundraising