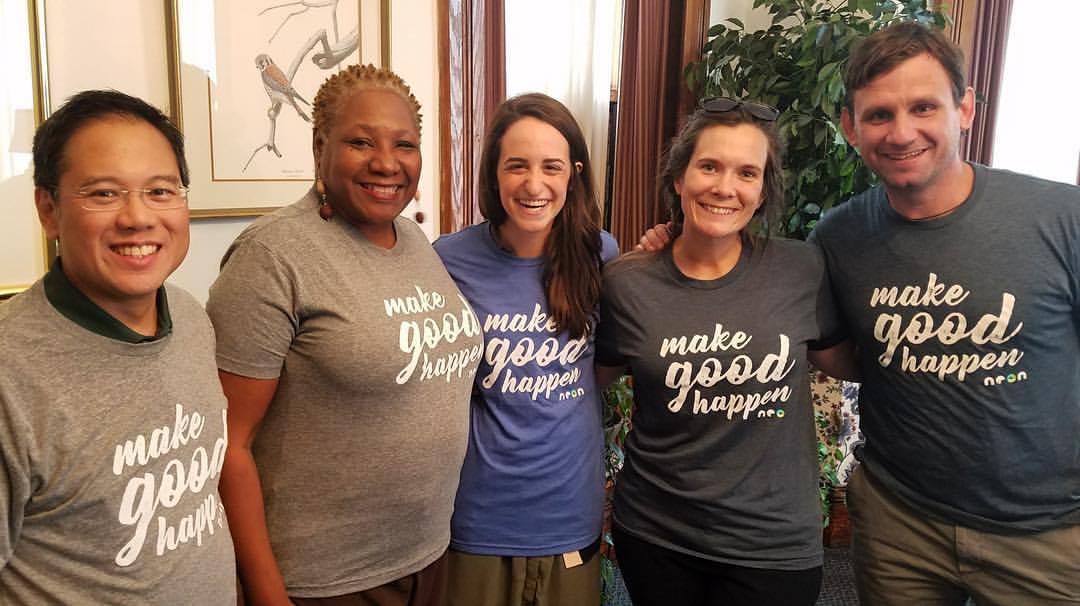 At Neon One, we have the opportunity to work with thousands of nonprofits who do amazing work. Each month we spotlight one of our clients doing something particularly exciting!
This month, we're honored to spotlight Midtown Educational Foundation — a nonprofit in Chicago that helps the city's low-income students and their parents through their Metro Achievement Center for girls and Midtown Center for boys. The organization's vision is that Chicago's urban youth will be inspired and guided to positively transform their lives, families, and communities. They serve 1,100 students in grades 4 through 12 throughout Chicago as well as their families.

Who They Are
Midtown Educational Foundation's (MEF) mission is to guide low-income urban youth in Chicago along pathways of success. They have a uniquely special approach best captured when they say "our proven enrichment programs embrace the dignity of the person by focusing on academic excellence, virtue development, individual attention, and parental engagement."
In 1965, a group of businessmen founded MEF as a summer sports program for low-income boys. They aimed to support academic and personal growth through character lessons taught on the field.
This program grew to include structured after-school programming, and in 1985 the organization opened its Metro Achievement Center for girls. In the same year, the parent organization – the Midtown Educational Foundation (MEF) – was founded to provide general management and fundraising for the two centers. Since opening its doors, "MEF has helped thousands of inner-city youngsters rise above their environment, steering them toward lasting success."
What They Do
The programs at MEF offer after-school and summertime growth opportunities that help students of average academic ability achieve above-average results. Supported by over 10,000 volunteer hours each year, MEF's programs supplement the good work being done in Chicago Public Schools with very low-cost programs designed for low-income families that complement students' school curriculum.
MEF uses the acronym A V.I.P to describe their work because every child they serve is A V.I.P.
A: Academics. MEF enables children to enroll and compete in college-prep high schools and then enter good colleges.
V: Virtues. Civic virtue and moral character are taught along with academics.
I: Individual Attention. MEF believes the best motivation is personal friendship and they attribute a large part of the success of their programs to the individual mentoring each student receives.
P: Parents. MEF operates on the principle that parents are the primary educators of their children. We provide valuable support through educational seminars on parenting, one-on-one consultations, and more.
Midtown Education Foundation was named by Philanthropy Magazine as "one of sixteen cutting-edge programs . . . doing exceptionally effective work" in the United States.
How They Do It
When they came to Neon CRM in 2017, Margaret Archibald, Director of Advancement, described their previous Raiser's Edge System as a "glorified Rolodex." Consisting primarily of static pages of data tracked in different places for many years, their previous database was cumbersome to use and took much more time than it needed to to perform basic functions. It was great at providing a snapshot of a single donor but not helpful for driving the organization's development and strategy.
As MEF began to look toward the future of their organization, they began researching nonprofit CRMs and considering switching to a new database. They needed to ensure that they were able to meet their current funding needs, but also to grow.
MEF had a tremendous resource in the Kellogg School of Business Board Fellow Program from Northwestern University. This program provides a graduate student to sit on their board and provide ongoing assistance. Their fellow took on the task of researching and recommending a new donor database to the MEF team.
The board member researched their requirements, including conducting internal and external interviews, and he eventually narrowed down the list to a shortlist of potential systems. The MEF team then scored the options, looking at cost, ease of use, ongoing support and training, syncing with financial software, mapping to organization contacts, intuitive reporting, wealth screening, and more. These were all items that had been identified as major needs by the MEF team.
Once the team ranked their choices, Neon CRM came out on top. Margaret explains: "There is no database system that is perfect, but Neon is the system that works the best for us."
Above all, Margaret praises the customer service at Neon CRM. In MEF's experience, when their team has trouble or gets frustrated, the Neon CRM team is there to help, whether to point out where they are making a mistake or provide a workaround if needed. Most importantly, Margaret said that her team feels validated.
"Customer Service is the deciding factor in why Neon One is so much better than everything else," Margaret says. "Anytime we're frustrated, we feel validated and heard, rather than getting more frustrated."
For Margaret, the biggest success in moving into Neon isn't found in statistics, but in a change in the team attitude. Instead of having 1 or 2 people in their donor management system, their entire team of 8 works in the Neon CRM database. It has created a collaborative approach among the team — people are not siloed, keeping data separately using personal systems to house information in different places.
"Neon serves as our communal brain," Margaret says. "It allows for enhanced communication throughout our team. You've helped us change a way of thinking and a way of working together that isn't displayed in metrics yet. If we want to raise more money, we have to take a step in that direction."
Recently, as they closed their fiscal year, MEF was able to easily see the goals they set and their progress. "Because we took the time to do the goals, we were able to be able to have things dynamically update throughout the year. It made the end of the fiscal year way easier for us."
When asked what advice she would give to another nonprofit looking for software, Margaret says: "Do your due diligence, be confident and comfortable with your choice. Neon is perfect for a small nonprofit like us. It isn't a perfect product, but the way the customer service works is what is important – they are a part of our MEF team and family."
Here at Neon, we're proud to support the great work that Midtown Educational Foundation is doing — and to have them as part of our community.
Join the discussion in our Slack channel on connected fundraising