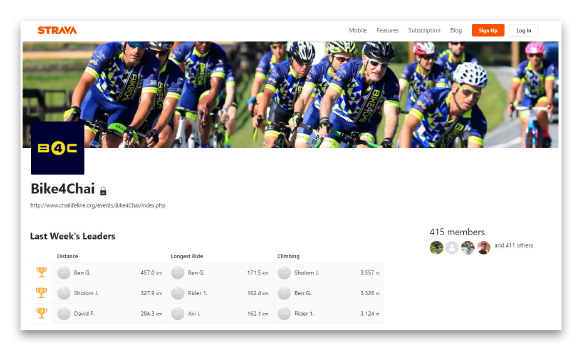 Many peer-to-peer fundraising events are designed around an accompanying endurance activity. These endurance challenges can vary between a low-intensity walk to a high-intensity bike-a-thon — the choice is up to you. 
Regardless of what endurance activity you choose, the main goal is to engage fundraisers using an activity they enjoy. Engaging fundraisers in an endurance activity can boost their advocacy efforts and increase their fundraising success.
But what happens when you take in-person endurance events out of the equation? How do you continue to encourage fundraisers to raise more leading up to and during an endurance fundraising event virtually?
Neon Fundraise's new integration with Strava takes our Endurance Challenges feature to the next level, allowing more virtual visibility into individual and team progress — bringing back the competitive energy and encouraging communication that you get participating in an in-person event.
Update: We've rebranded! Our Neon Ecosystem is now Neon One. Same great products, new cohesive names.
What is Strava?
Strava is an internet-based service that uses GPS data to turn your phone (or GPS watch) into a sophisticated running and cycling tracker.
Now you may be thinking, "My nonprofit has an annual 5k fundraising event, but why would I need Strava?" Let us explain.
The forcing changes of 2020 have brought on a lot of adjustments for endurance events. What used to be an annual in-person fundraising event has now turned into a partial or entirely virtual event. This means you may no longer be running or biking beside fellow participants.
That is where Strava comes into play. Strava allows participants to track their endurance challenge by monitoring heart rate, total distance, average speed, and more!
Strava also functions as a social network to see how their team members (or competitors) did on races or longer endurance challenges and leave comments on each other's activities. That means more interaction and community building for your virtual endurance fundraising events.
How does it Work?
Neon Fundraise's new integration with Strava allows fundraisers to automatically import their Strava activities into their endurance activity log and counts the progress towards their endurance goal.
To connect the Strava App to a Neon Fundraise fundraiser, click the "Connect with Strava" button on the left side of your Neon Fundraise application. This button will prompt a login with existing Strava credentials and ask for access for Strava to pull activities into the Neon Fundraise fundraiser.
Once Strava has been authorized on Neon Fundraise, fundraisers are presented with a lightbox to configure the connection settings. At any time, fundraisers can click the "Strava Settings" button on the left to return to the settings lightbox to update connection settings.
Fundraisers can even opt to auto-post their fundraiser feed whenever an activity is imported in Strava.
More stats. More visibility. More community. More funds raised.
Pro Tip: For Neon Fundraise clients who have white-labeled campaigns, the Strava-integration app can be white-labeled as well so that Strava users see your organization's name and logo when connecting their accounts.
Strava + Neon Fundraise in Action
This summer, Bike4Chai used Neon Fundraise's virtual technology to motivate fundraisers to surpass previous efforts with leaderboards, team goals, a searchable rider database, and Strava!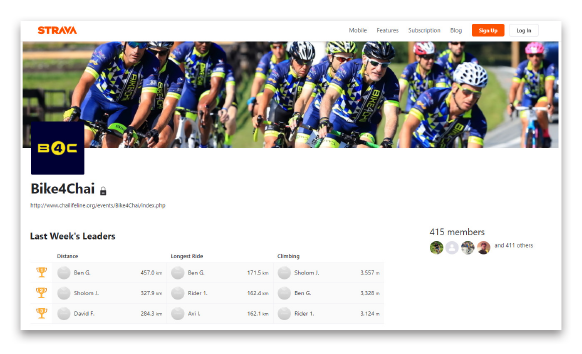 Over 400 riders used Strava Club to track performance and analyze results for their annual cycling challenge. This allowed team members and donors to follow individual and teams' progress and results to keep the competition alive, even while remaining socially distant
Learn More About Endurance Challenges
And how to apply it to your next fundraiser. Schedule a demo below to get started
Join the discussion in our Slack channel on connected fundraising