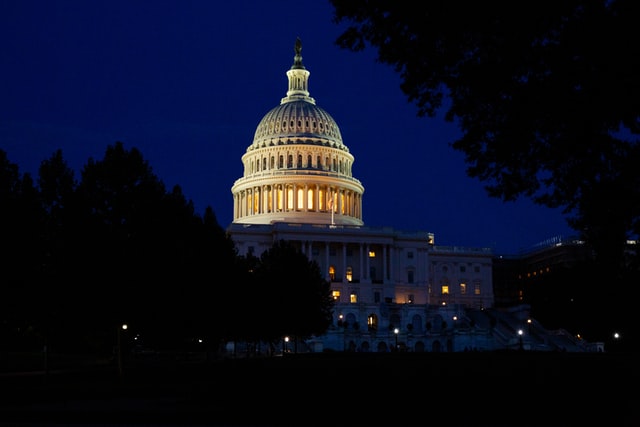 Where better to learn and confirm nonprofit trends of 2021 than the Giving Institute's annual Summer Symposium? In late July, over 100 thought leaders from around the nonprofit sector came together in Washington, DC, for the Giving Institute's Summer Symposium to unpack the impact of the pandemic on the social good sector.
They came together to learn about what will be affecting nonprofits moving forward and how those changes will impact nonprofits in 2022.
We wanted to give you a look into the discussions that affect organizations just like yours. We will also include information about the work consultants and tech vendors are doing to support nonprofits through the initiatives of The Giving Institute.
Who is The Giving Institute?
The Giving Institute consists of member organizations that have embraced and embodied the core values of ethics, excellence, and leadership in advancing philanthropy.
The Giving Institute member organizations embrace the highest ethical standards and maintain a strict code of fair practices. They are also the parent organization of the Giving USA Foundation™, which endeavors to advance philanthropy through research and education. 
They also produce the annual report on charitable giving in the United States, Giving USA: The Annual Report on Philanthropy. Neon One is a proud member of The Giving Institute and supports its work to unpack the issues impacting the social good sector.
Now let's dig into the nonprofit trends of 2021 that you should be paying attention to.
From Philanthropy to Generosity, Nonprofit Trends of 2021
In the session "What Does Resilience Mean in 2022-2025 for Giving and Voluntary Action in America?," there was a panel discussion with Jane Wales of Aspen Institute, Asha Curran of GivingTuesday, Nathan Dietz of University of Maryland, and Stephen Heintz of Rockefeller Brothers Fund.
The discussion focused on our sector's definition of generosity and philanthropy to better understand the difference.
What is the Definition of Philanthropy?
Philanthropy is undergoing a deep analysis of its role in society, with varying points of view looking to critique or amend whether people should be focusing on philanthropy or generosity.
The difference comes down to the role of individuals and the power dynamics that revolve around money.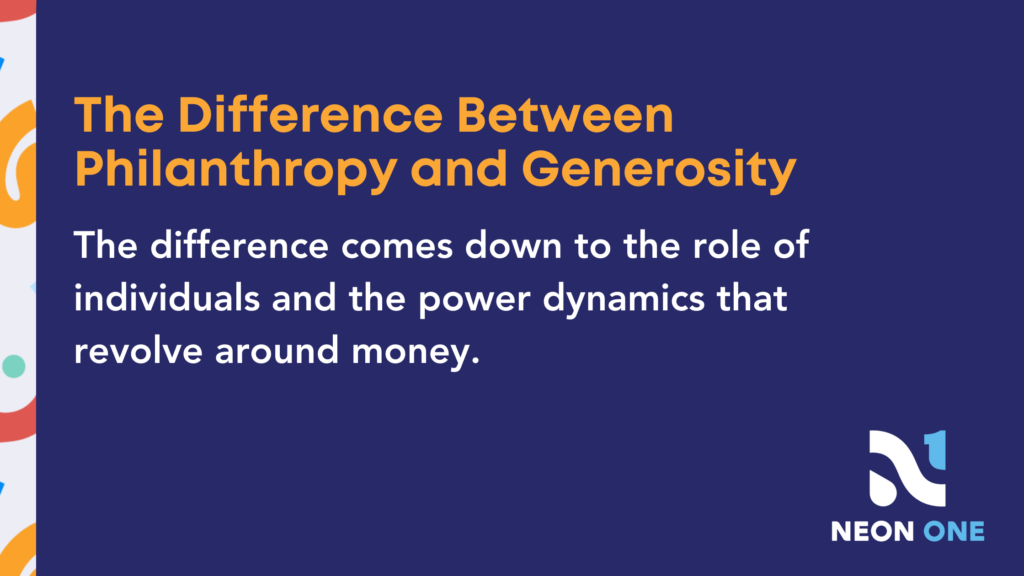 Organizations like the Institute for Sustainable Philanthropy and Community Centered Fundraising have started working through big questions, including the following.
What is the role of the donor? What is the amount of money they give when it comes to driving an organization's mission?
Are there other forms of giving beyond money and volunteering? Can we expand the definition of our sector to focus on generosity instead of philanthropy as its core output?
What is the role of our sector in driving and influencing civic engagement? Is giving a democratic act in and of itself?
These are very big questions, and the Giving Institute has embraced the definition of change by beginning to focus on generosity as part of its core strategic mission. This is expanding the types of work that it will do now and in the future.
Nonprofit Sector Legislation
Gathering in Washington, DC, was a very intentional choice this year. There are significant shifts in legislation relating to the nonprofit sector that was discussed.
Several sessions touched on critical legislative changes being considered that organizations of all sizes need to pay attention to.
The Nonprofit Sector Legislation Should You Know About
The Giving Institute is also helping push forward the much bigger vision of the Generosity Commission impacting nonprofit trends in 2021.
Their focus is to be a nonpartisan, cross-sector, broadly diverse group designed to bring together a breadth of stakeholders, voices, and expertise to explore profound questions that will shape the future of giving, volunteering, and civic engagement in the United States.
Diversity, Equity, and Inclusion are Vital for Growth
Michael Garner, Chief Diversity & Inclusion Officer, Metropolitan Transit Authority, State of New York, hosted a fireside chat about diversity, equity, and inclusion, shaping many of the sessions during the symposium.
DEI Tips & Lessons Learned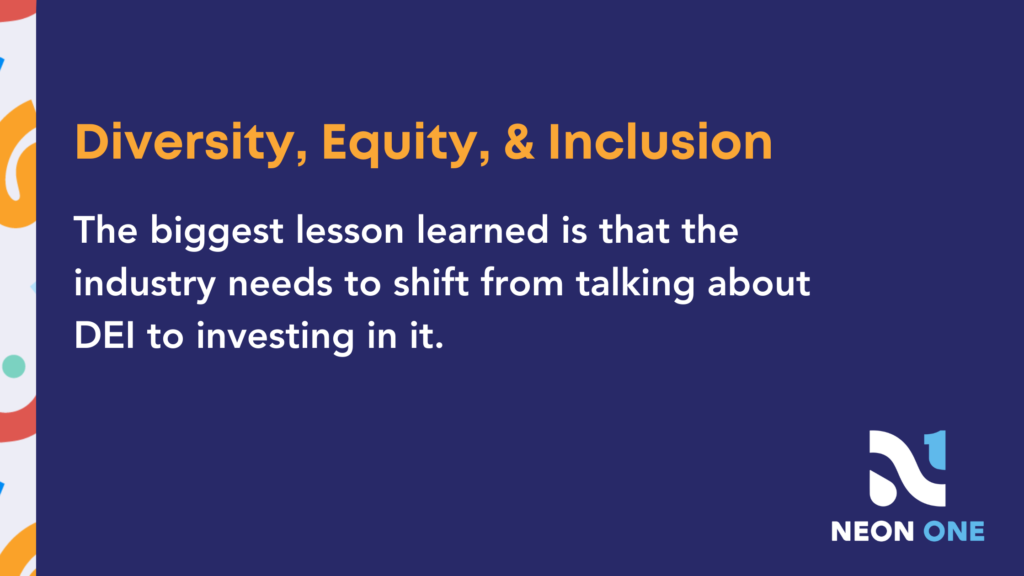 The biggest lesson learned is that the industry needs to shift from talking about DEI to investing in it.
Nonprofit Trends of 2021 for Fundraising, Data, & Beyond
Some other sessions and discussions directly related to the work that Neon One is investing in for the thousands of nonprofits we support. What is that, you ask? Technology.
Trends on the Future of Nonprofit Technology
What are people talking about? Data ethics and the role of artificial intelligence in our sector. Ensuring that donor data is secure and encrypted is vital for ensuring the ongoing trust of both donors and nonprofit organizations in technology. The emerging evolution of AI in the social good sector is already happening.
Has COVID-19 changed donors' behaviors? Understanding the shifting behavior of donors through vital research by the Fundraising Effectiveness Project and Giving USA will enable nonprofit organizations to have the right benchmarks and data to inform their immediate decisions on what to focus their revenue efforts on.
While you may not know who the Giving Institute is, it is one of the most important entities of change for our sector.
Being able to gather with fellow thought leaders to help understand what the future of generosity means ensures that we make the right technology and service investments to empower nonprofits of all sizes.
We've learned one thing for sure in this last year, that making and maintaining connections matters. The Giving Institute will be meeting again later this year. We look forward to gathering in Chicago with the membership to help push forward our goals of a more supportive and sustainable industry for organizations big and small.
Join the discussion in our Slack channel on connected fundraising