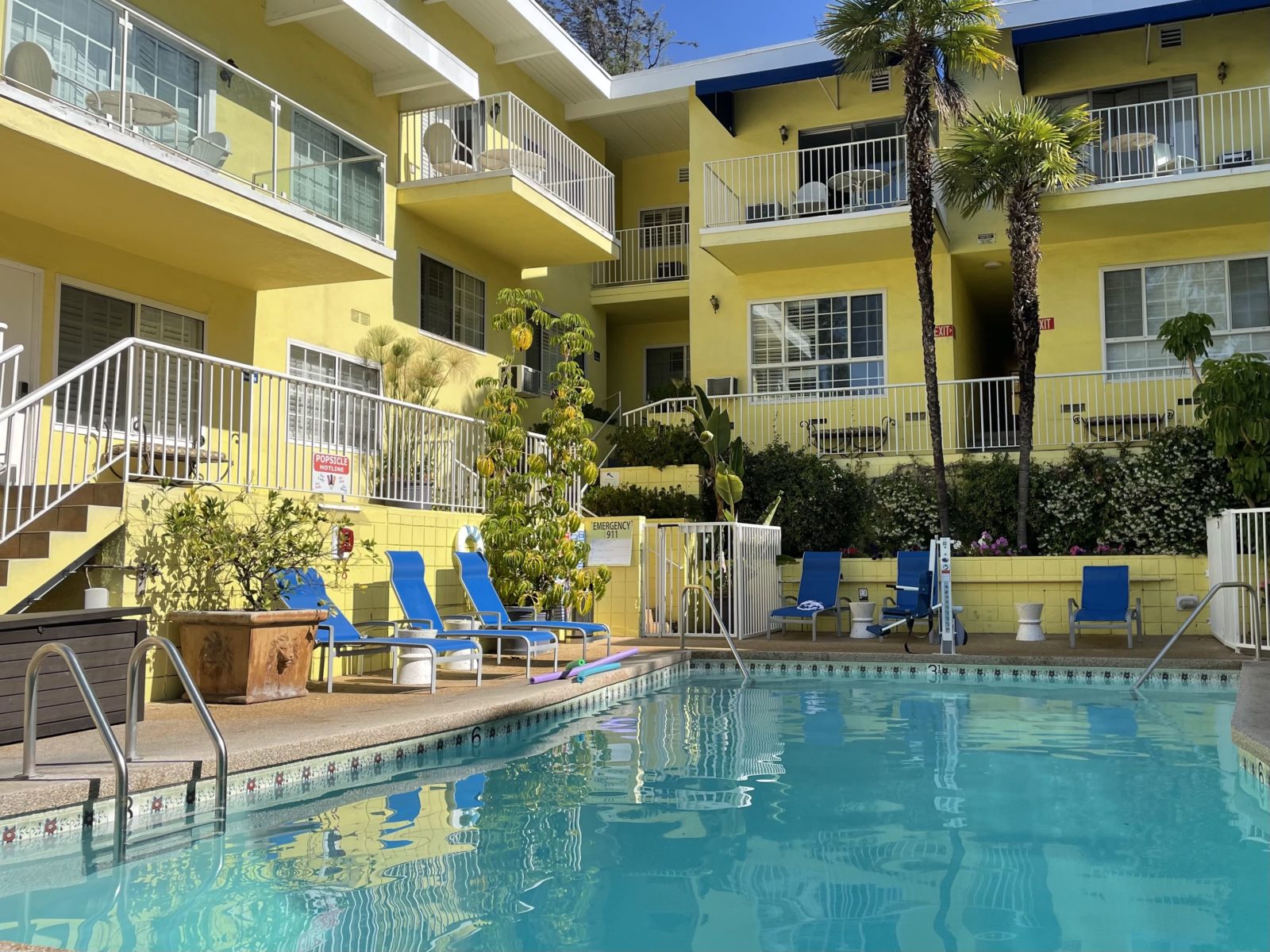 There is a hotel in Hollywood, California where the rooms are dated, the furnishings are sparse, and the walls are bare. To call it a hotel is, frankly, a stretch. Its real name is The Magic Castle.
But it's not a castle—it's a 1950's converted 2-story apartment complex painted canary yellow. Next to its tiny pool is a cherry red phone. Pick it up, and you'll hear someone on the other end say, "Hello, popsicle hotline!" Name your flavor and, moments later, a waiter wearing white gloves delivers your orange, cherry or grape popsicle to you on a silver tray. For free.
Did I mention there's also a snack menu full of goodies from Kit-Kats to Reese's Peanut Butter Cups (king size, just in case you were wondering) to root beer to Cheetos that can be ordered at no cost?
Of course, there are much nicer hotels to stay at in Hollywood. But The Magic Castle has rapturous reviews and is ranked #4. (And it's awesome, I've stayed there myself!)
Why is a converted canary yellow 2-story apartment complex the 4th-highest-rated hotel in Los Angeles?
Simple. Most customer experiences are forgettable. Few are remarkable. But a popsicle hotline at a hotel? That's a pretty memorable moment in a vacation.
All experiences are just a series of moments.
You will enjoy moments in your life more memorable than others. Like your high school graduation. Or prom. Or the moment your partner proposed. Or when you took your firstborn child (or in my case, twins) home from the hospital. Some moments are just more meaningful and memorable than others.
As recipients of experiences, we get it. But, as creators of experiences, we ignore it—to our detriment.
Why leave our most memorable moments to chance when we can create them?
Nonprofits don't invest nearly enough in moments for donors (but also for staff).
Humans remember the best (or worst) moment of an experience, as well as the last moment and forget the rest.
Typically, a good Executive Director will do their best to steward donors and retain staff. They try to resolve complaints but never get the luxury of getting around to creating a "peak" moment.
But moments matter.
Research done by Chip and Dan Heath, authors of Moments that Matter, show that people's most positive moments share certain traits in common. Picking up a mysterious red phone and hearing someone answer, "Popsicle Hotline, may I help you?" is a perfect example of elevation, or being lifted out of the ordinary.
Two other keys traits are insight (which shapes how we view the world) and connection (which deepens our ties with others).
Your very own wedding ceremony (unless it was a drive-thru wedding chapel in Vegas) may have included all three:
The elevation of delicious food, dancing, and fancy clothes
The insight given to you by those who love you most via toasts
The whole experience enveloped in love and connection sharing these precious moments with your loved ones
You see, all moments are not created equal. Our experiences are mostly forgettable and occasionally remarkable. But those remarkable moments don't create themselves.
What if we didn't just remember the standout moments of our lives and work but MADE THEM? We can be the designers of moments that deliver elevation and insight and pride and connection. These exceptional minutes and hours and days—they are what make life meaningful. And they are ours to create.
Are you making the most of them? Because you should—for the two most important investors your nonprofit has: your donors and your staff.
There's nothing accidental about a great organization (or a great boss).
A fantastic customer experience fuels loyalty and increases engagement, which drives sales and retention, increasing customer lifetime value.
A great employee experience also drives loyalty and boosts employee engagement, which drives staff retention and increases productivity.
Who doesn't want loyal and generous donors and dedicated, highly productive, satisfied staff?
In the end, this all goes back to revenue. Unhappy donors won't give again, and disgruntled employees do not create fantastic client or donor experiences.
The for-profit world knows that one bad moment can taint a customer's entire outlook on a brand, but one great moment can do the opposite.
The Magic Castle understands that to make guests happy you shouldn't spread yourself thin resolving tiny complaints. Guests will forgive sparse furnishings and a small swimming pool as long as you deliver some "magical peak moments."
What kind of memorable and meaningful experiences are you creating for your donors and staff to make them not just loyal, but generous?
On Tuesday, July 26, our special guest Rachel Muir, CFRE presented her new workshop, "On Top of the Word: Give Your Donors Moments That Matter" at Neon One's Dream Big Summit—watch the recording to discover:
Eye-candy inspirational examples of creating "moments that matter" for donors
How to get your communications to stand out like a beautiful magical rainbow unicorn in a sea of bland, beige sea
Easy ways to make donors feel like the heroes they are (and stay loyal fans!)
What an ask-to-thank ratio is and how to calculate yours
How to audit your current donor communications
Low-tech and high-tech tools to maximize the personal touch for donors
Sample stewardship plan templates to make it easy
About Rachel Muir
Rachel has worked every side of the Rubik's cube that is the nonprofit sector. When she was 26, she launched Girlstart—a nonprofit empowering girls in math, science, engineering and technology—in the living room of her apartment with $500 and a credit card. Several years later, she had raised over $10 million and was featured on Oprah, CNN, and the Today show. Today, Rachel delivers keynotes and workshops and offers a monthly membership, League of Extraordinary Fundraisers, transforming people into confident, successful fundraisers.
Join the discussion in our Slack channel on connected fundraising