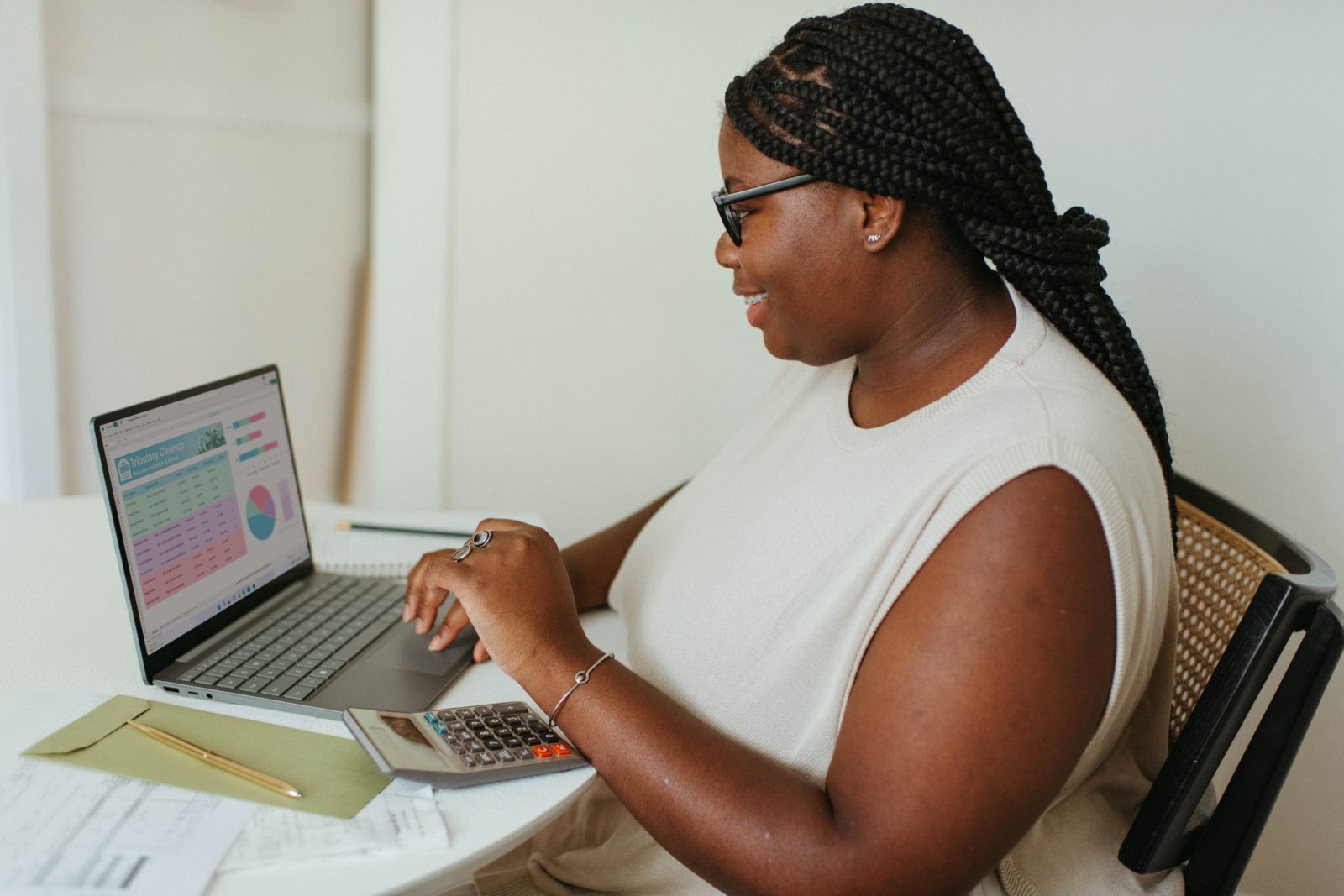 Year-end fundraising campaigns are some of the biggest revenue drivers for nonprofits. 31% of all annual giving occurs in December. 12% of all giving happens in the last three days of the year alone!
Running a successful year-end campaign happens in stages. Whether you're finishing the last details or haven't started planning yet, here are the tips and resources to help you make the most of your campaign. We'll cover seven steps to building a year-end campaign, including:
Let's take a look!
Step 1: Segmenting Your Campaign Audience
In order to send the most effective appeal possible, you'll need to create messages that resonate with your donors. Segmenting your list of donors into various smaller lists, each of which are defined by certain characteristics, will help you send relevant messages that make donors feel like you're speaking specifically to them.
Here are some different steps you may want to take as you work on creating your year-end campaign's messaging.
Create Donor Segments
The key to resonating with your audience is to create the most personal message possible. This will make your donors feel like you're speaking directly to them, which is one of the most powerful ways to ensure someone reads and responds to your message.
Although personalized messages will get you the best results, there's realistically no way your organization can send a unique appeal to every single person on your list.
This is where segmentation comes in. Dividing your list up into groups based on different characteristics—otherwise known as "donor segments"—will help you create targeted messages for each group.
What Donor Segments Should I Include?
At the very least, you'll want to segment your audience into three main groups: Current donors, lapsed donors, and prospective donors. You may also decide to create different segments for:
Recurring vs. one-time donors
Long-time donors vs. new donors
Small-dollar, mid-tier, and major donors
Donors who have given to specific funds or programs
As you write messages to each of your donor segments, try tailoring your message to them based on their history with your organization. If you're sending an appeal to a recurring donor, reference the impact they've made so far this year and ask them to consider upgrading their gift amount or making an additional one-time gift.
When creating an appeal for different levels of donors, you can tailor your ask to their history: You can try asking a small-dollar donor for a $50 gift while sending a major donor an appeal for $1,000.
Identify Targets & VIP Prospects
As you're segmenting your list, there may be some supporters that stick out as particularly likely to make a large donation to your year-end campaign. You'll want to put a little extra effort into those appeals, especially if those donors have a major gift capacity.
If your donor database includes gift rating or gift scoring features, you'll want to use them as you work toward identifying your target audience for these larger asks. You may also want to consider using prospect research tools to identify potential major gifts.
Depending on the potential gift size and your organization's capacity, you may want to make appeals for these VIP donors and prospects as personalized as possible. Consider creating individual appeals or alternative approaches, like phone calls and in-person asks.
Although the extra attention to these certain donors will take up a large chunk of your organization's time, these activities are important when cultivating this kind of relationship. Even if your VIP donor chooses not to make a large gift during the end of the year, they may be willing to support your cause in the future.
Establish Donation Levels
Even the most enthusiastic and dedicated supporters may want to support your mission but are unsure how much they can (or should). That's why including suggested giving amounts on your donation form is so important.
Guiding your prospective donors with specific gift amounts will greatly increase the likelihood that you reach your fundraising goals. This is due to two factors: It reduces decision fatigue, and it often results in a donor giving slightly more than they intended to give in the first place.
Why Should I Include Suggested Giving Amounts in My Year-End Fundraising Campaign?
It's an age-old dilemma: Someone asks you where you want to go to dinner, and your mind goes blank. Suddenly, you can't think of a single restaurant that sounds appealing. You have too many options to choose from, and your brain doesn't know where to start. Now, imagine someone asks you where you want to go to dinner and gives you three choices: Italian, Mexican, and an American diner. How much easier is it for you to make a choice?
The same often happens when a donor lands on your donation form. How much should they give? How much do they want to invest in your cause? Will the amount they were thinking of giving make a difference? What's the average donation amount? They have too many options to choose from, and many people will leave the form without making a gift. But, if they land on a form and see the option to give $30, $75, $100, and $300, making that decision is easier. Even if they choose to give their own amount, you've given them a framework that will help them decide how much to give.
Another reason to include suggested donation amounts is that it can encourage people to give slightly more than they initially meant to give. If a donor lands on your form intending to give $20, they may see your suggested donation of $30 and choose to give that much, instead. It is important, though, always to include the option of creating your own gift amount. If a donor lands on your form and truly cannot donate more than $20, you don't want to lose out on their gift because you only allow gifts of $30 or more.
How Do I Choose My Suggested Giving Amounts?
To create realistic giving levels, you should look at your past donations to see if there are certain levels that come up frequently or if there's a ballpark average among your donor base. If your average small-dollar donor gives a $25 gift, you may want to set a suggested gift amount of $30. That amount is slightly higher than the average, but not so high that it would alienate those smaller donors.
On the other hand, you wouldn't want to use that amount if your average donation is $100 or higher. If your donor base tends to give $25 gifts, asking them for $75 might make them feel like you don't value smaller contributions.
You can also do some number crunching with your year-end fundraising goal and the number of likely donors who will receive appeals. If you need to raise $12,000 this December and you know your average appeal results in 500 responses, asking for a $25 gift should be appropriate. If you need to raise $12,000 this December and only expect about 100 responses, you'll need to spend some extra time planning which donors will receive appeals for different gift amounts.
Consider including impact statements on your donation form that help donors understand the amounts you've suggested on your form. Asking a donor to make a $30 gift is great. Asking a donor to make a $30 gift because they'll help pay for a patient visit at your clinic is even better.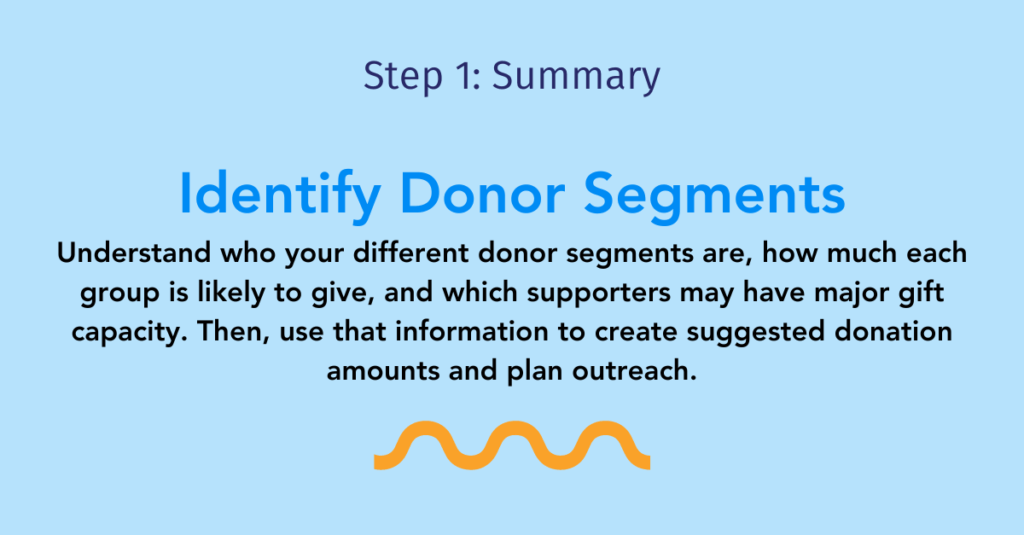 Resources That Can Help
Segment your donors, identify potential major gifts supporters, and use donor data to set suggested giving amounts. These resources can help!
Step 2: Writing Your Year-End Appeals
You've segmented your campaign audience, built a donation form, and identified the donation amounts you'll suggest to your donors. Now it's time for the next step: Making the ask. Your appeal will need to inspire your audience to contribute to your cause, so make it count!
Here are some tips for creating an appeal for your year-end fundraising campaign.
Select Communication Channels
If you're like most nonprofits, you'll probably ask for donations on a few different channels. Picking the appropriate channels — and the content you'll be using for each one — will depend on your audience and their communication preferences.
Of course, each communication channel has its own advantages and disadvantages. Here are a few popular channels you may want to consider:
Direct mail
Phone
Email
Social media
Face-to-face meetings (for any very important donors and prospects)
Identify the type of donor who tends to interact with you most in a given channel, then tailor your activities accordingly. If you've segmented your email lists, you're already making progress!
Think about who tends to interact with you most on social media. If your social media donors tend to be small-dollar donors, you can comfortably ask for gifts at the lower end of your suggested gift amounts. If your direct mail donors tend to give larger gifts than social media donors, adjust your appeal accordingly.
When creating content for each channel, be sure to consider your audience's preferences and what messaging will work best for each channel. Consistency is key, but you'll want to make sure you aren't harassing your audience by repeating the same exact message over email, on social media, over the phone, etc. .
Create Fundraising Appeals
Obviously, the ask itself is the one of the most critical aspects of your year-end campaign. People don't give unless they're asked! Your appeals should communicate a cohesive message that inspires your audience to donate to your cause.
Here are some things that will take your appeal to the next level:
Reference your donors' kindness and generosity. Invite them to join a community of supporters who are working together to make a difference. Tell your donor a compelling story about a client whose life was changed when they came to your organization, and invite donors to help make the same change possible for others.
Inform and inspire. Use an inspiring narrative that can simultaneously communicate what your organization's mission is all about while telling a compelling story. Include imagery, video, and other engaging content that can connect your donors directly to the people who will benefit from their generosity.
Use an irresistible call-to-action. No appeal is complete without a clear and convincing ask. Make your audience feel a sense of urgency. Make sure you link to your donation form so they can give easily!
Write a great postscript. The "P.S." at the bottom of your appeals is often one of the first elements a donor will read after they open your message. Use that postscript to remind donors of the tangible impact they'll make when they give.
Set the stage for the follow-up you'll send later. Your year-end campaign is about so much more than meeting a fundraising goal—it's about building relationships with your supporters. While crafting your appeal, start thinking about follow-ups and thank-you messages you'll send your donors. A simple way to increase the chances that your donor will read those messages is simply to tell them they're coming!
Of course, there are some things you should never do in your appeal. Avoid explaining intricate program details, painting a desperate financial picture, or focusing too much on donations (instead of on the people who are receiving your appeal). Donors don't give because an organization is desperate for money or when they feel like they're being treated as an ATM. They give because they're passionate about your cause.
Connecting your donors to your cause and the people they'll help—not sharing nitty-gritty program details or asking them to get you to your year-end fundraising goal—is the best way to inspire their generosity.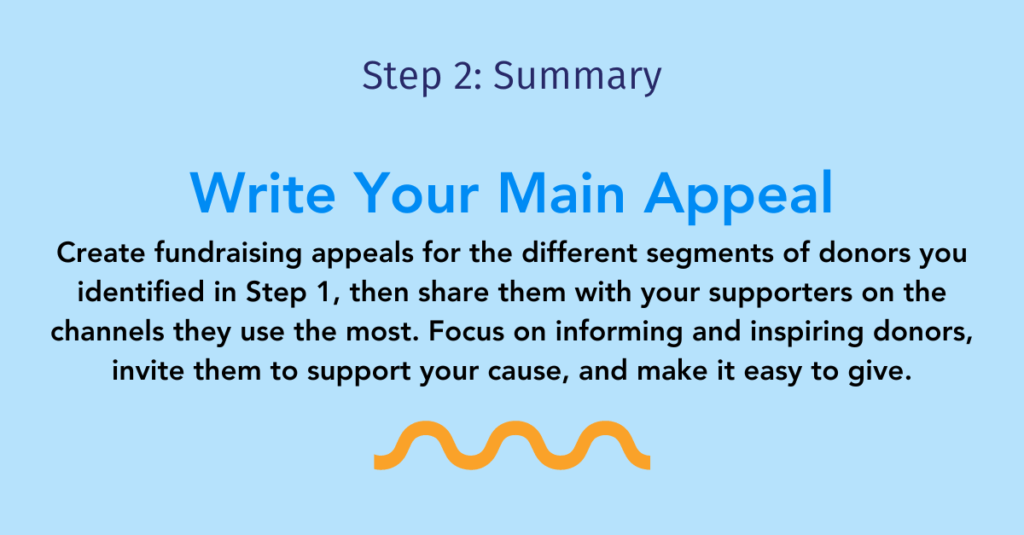 Resources That Can Help
Creating an outstanding appeal that inspires your donors to give can feel intimidating. These resources can help you write the best appeal ever.
Step 3: Launching Your Year-End Fundraising Campaign
You've segmented your list, and written your appeal. It's time to launch your campaign—but when? You know your organization and audience best, so you should pick a launch timeline that you think will be most effective. For many organizations, launching your campaign on GivingTuesday is a great opportunity to reach new and existing donors (more on that later) and build some great momentum around your campaign.
Why Launch Year-End Fundraising With GivingTuesday?
For some organizations, participating in GivingTuesday might seem counterintuitive. The event takes place at the start of the holiday season, and it's right before your year-end campaign—will it cannibalize your donations? Could it distract donors from the rest of your campaign?
Although GivingTuesday is about raising money, it's also about raising your public profile, engaging supporters, and winning new donors. And, because it happens mostly on social media and public-facing channels, it shouldn't interfere too much with the individualized channels you'll be using at the start of your year-end campaign to communicate with your audience.
GivingTuesday gives you the opportunity to reach your audiences and start your campaign with some momentum. Building engagement on GivingTuesday sets the stage for you to reach donors and raise money. Since it falls right at the beginning of the holiday season, there's plenty of time to thank donors and update them on how you'll use their money, then make a second appeal before the end of the year.
Following that formula—asking for support, thanking donors, and reporting their impact before making a second appeal—is absolutely possible if you launch your campaign on GivingTuesday.
Build Your Audience with GivingTuesday
In addition to being a great day to launch a new fundraising campaign, GivingTuesday provides ample opportunities to reach new potential supporters. Millions of people donate to different charities every year, and many of those donors are actively looking for a nonprofit to support that day. Taking some simple steps can help get your organization in front of new donors who are looking for ways to get involved in supporting their community.
In the days and weeks leading up to GivingTuesday, try sharing periodic updates using the #GivingTuesday hashtag (we cover more about GivingTuesday communications in the next section). Write these posts with new audiences in mind: At least some of them should include introductory information about your organization, the communities you serve, and how donating can make a difference.
When donors are looking for organizations to support that day, they won't have to look far to get a feel for your organization and whether or not your values align with their own.
Creating Your GivingTuesday Timeline
If you do choose to launch your campaign on GivingTuesday and use your momentum to drive interest around your campaign for the rest of the year, planning your time is extra-important. You'll need to build excitement about GivingTuesday and send thank-you letters and impact updates quickly so you can make an additional appeal before the end of the year.
For the best results, we suggest building excitement around your campaign a week or two before GivingTuesday. This gives you time to engage your audience and get them ready to participate on the day of the event.
Remember, GivingTuesday is the first Tuesday after Thanksgiving. It comes right on the heels of Black Friday, Small-Business Saturday, and Cyber Monday. Donors will be in the thick of the post-Thanksgiving holiday season. Reminding donors about GivingTuesday before the big day is important if you want to encourage people to support you during such a busy time of year.
What Communications Should Be In My Timeline?
Send reminders to your supporter base asking them to "save the date" and support your work on GivingTuesday. If you have a large base of donors who prefer to give via direct mail, try sending a direct mail appeal shortly before the event. On the day itself, plan a mix of email and social media posts that ask for support, update donors about how much they've collectively donated, and establish a sense of excitement about the work they'll make possible.
As with any campaign, make sure to have thank-you and follow-up materials ready for GivingTuesday. Because all of these donations will be coming in during a 24-hour period, it's important to be prepared! Write your receipts and thank-you letters early so you can get them out as soon as possible. It will make it much easier for you to transition from GivingTuesday to the rest of your year-end fundraising campaign.
Send an automated receipt immediately, send a thank-you letter a couple of days after GivingTuesday, and schedule an impact update for a week or two later. You'll have plenty of time to invite your donors to support your organization in the final weeks of December.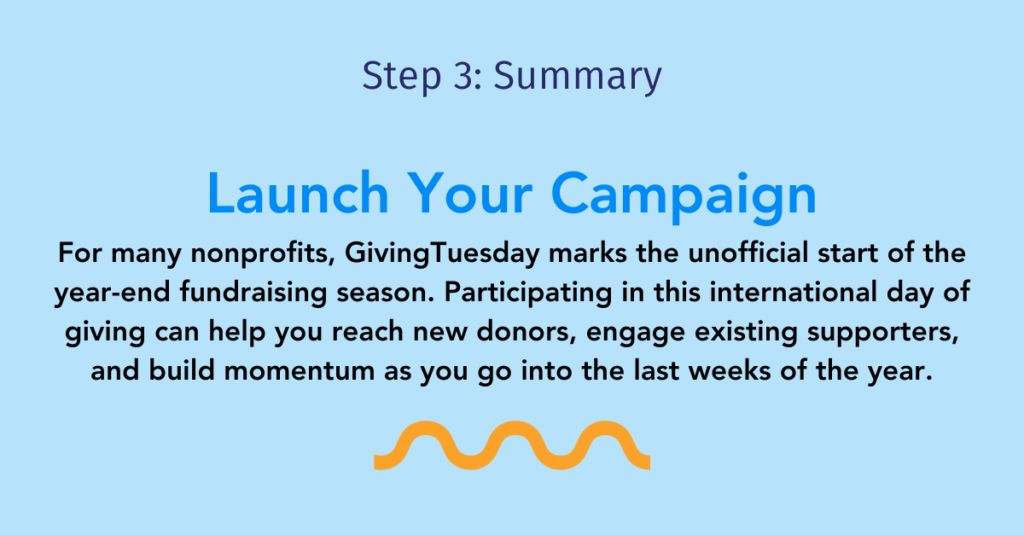 Resources That Can Help
GivingTuesday is one of the busiest giving days of the year. Be prepared! These resources will help.
You can also head over to the GivingTuesday Resource Center for planning sheets, email and social media templates, fundraising tips, and more.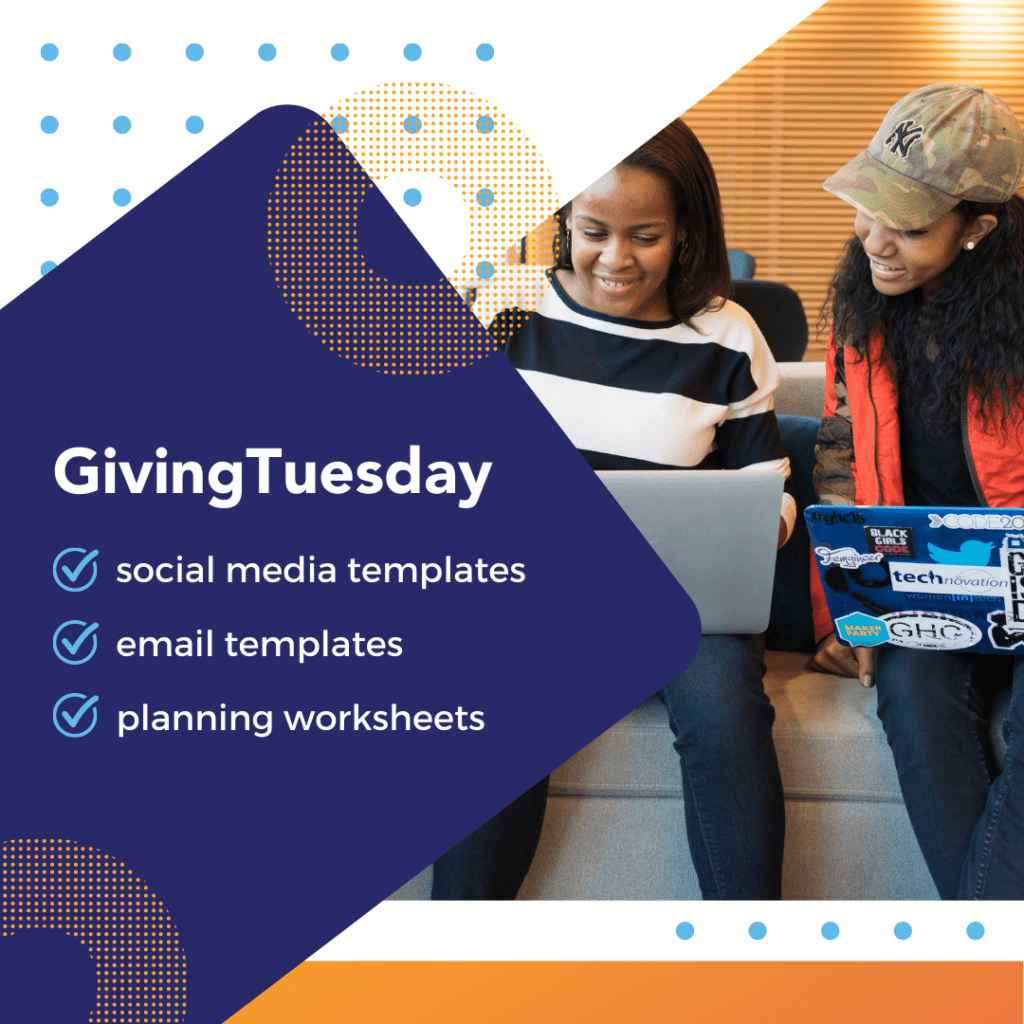 Step 4: Communicating During Your Year-End Fundraising Campaign
You might think the success of your year-end fundraising campaign lies in the appeals you send in the last few weeks of the year. That's partially true: Those appeals will impact your fundraising total for the campaign. But your ongoing communications both during your launch and throughout the rest of the month will make donors feel valued and keep them engaged with your work for years to come.
What's Your Communication Plan?
Even after you've sent your appeals, the campaign is far from over—it's just beginning! Donations will probably trickle in slowly over the last weeks and days of the year. After you've sent your initial appeal and launched your campaign, you'll have two goals. The first is to keep your campaign at the forefront of donors' minds until they contribute. The second is to celebrate the generosity of the people who have already donated. Following up with both groups of donors will be key to your campaign's success.
Here are some methods you may want to use for each group of donors.
Additional Direct Mail and Email Communications
After you've sent your primary appeal, you may want to send additional supporting appeal messages to donors who haven't given. Try to create each subsequent appeal as one that builds on the previous one. Here's an example of what that may look like:
Message #1: Your donor receives a story-centered appeal for a gift to help feed local families over the winter. They read about Sarah, who has received help at your food pantry before, and you invite them to help others like Sarah by donating.
Message #2: You send your donor an update about how much others have donated so far. You reference Sarah again, and you reiterate how many people like Sarah will get the help they need due to your donors' generosity. Your donor is invited to give to help even more people.
Message #3: Your donor receives a final appeal that contains an update about how many people like Sarah will receive much-needed support this winter. You invite your donor to support others like Sarah by making a gift.
When you're sending messages to people who have already given, focus on sending impact updates without additional appeals. You want them to feel excited about their impact without making them feel like you're only contacting them to ask for even more money. Would you send your grandmother a thank-you card for a birthday gift with an appeal for another present? No! Don't do that to your donors, either.
Phone Calls
When appropriate (and possible), try calling potential donors to invite them to support the people who will benefit from your year-end fundraising activities. Here, you may want to prioritize calling loyal donors who haven't given yet, the potential major donors you identified earlier, and maybe even some corporate partners.
Phone calls are also powerful donor retention tools. Dedicate some time to calling donors who support your year-end campaign to thank them for their support. These calls don't need to be fancy! Simply telling someone you appreciate their generosity and wanted to tell them that in person can make a big impression on them.
Calling every donor may feel daunting: If you can, recruit your board members, other staff, and even volunteers to call people simply to thank them for their donation. If you can't, try focusing on brand-new donors, donors above a specific threshold, and donors who set up new recurring payments.
And, if you're concerned about people not picking up their phone, don't be! Leaving a short, heartfelt voicemail is just as effective as having a conversation.
Social Media Posts
Your social media channels are an outstanding place to post follow-ups, updates, and appeals. A well-written post can both share donors' impact and invite others to support the same campaign. When you share details about how much your community has donated and what that money will achieve, try adding an extra sentence to your post sharing how others can get involved. Then, drop a link to your donation form in your post so people can easily act if they're inspired by your message.
Create Thank-You Materials
Even before the campaign officially launches, you'll want to have your thank you materials ready to go. A timely follow-up is crucial to making your donors feel valued, so you should have everything ready to go as soon as the appeals are sent out.
No matter the size or channel of the gift, be sure to send a personalized thank-you message as soon as possible. Your automatic donation receipt is a great opportunity to thank your donors right after they give! Add a high-quality image and a few sentences that reiterate your donor's impact and how their money will make a difference. Then, send a standalone thank-you letter a few days after their gift that includes some more details about how you'll use their money.
It's important to note here that you should not include any additional appeals as part of the receipt or thank-you letter you send your donors. Simply express gratitude now; they'll be more likely to donate again later when re-engaged.
How Will You Celebrate Your Donors?
Thank-you messages are a vital part of the donor retention process, but going above and beyond with public recognition may make your donors feel even more valued. Consider using your social media channels, website, or other communications to honor your year-end donors, especially those who have contributed a large amount.
Remember: Recognition can be a nice perk, but your supporters are most likely donating because they believe in your cause, not for PR opportunities or local notoriety. For some donors, public recognition might even be a turn off if they prefer to stay anonymous. Be sure you know your donors and understand their expectations and motivations behind donating. One donor may be thrilled about getting a social media shout-out for being your newest recurring donor. Others may find the same post deeply uncomfortable. Celebrating your donors when they don't want to be celebrated is counterproductive, so make sure you ask first!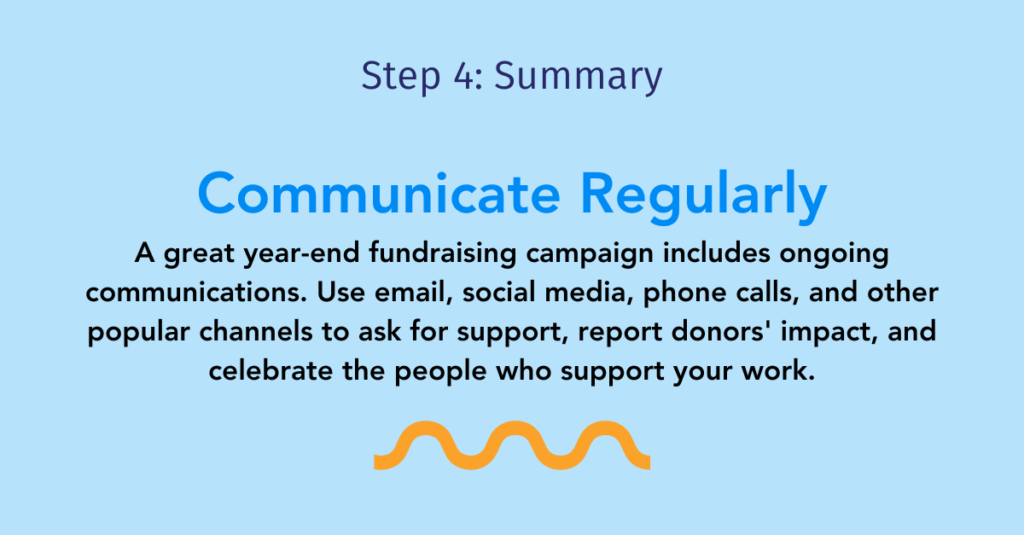 Resources That Can Help
Communicating with the different groups and segments of people in your audience is no small feat—but we're here to help. Dig into these resources and hone your communications plan!
Direct Mail and Email Resources
Resources About Calling Donors
Social Media Resources
Resources for Creating Thank-You Messaging
Step 5: Reaching New (and Existing) Audiences
Fundraising goals aside, your year-end campaign is a great chance to engage your audience. But it's also a chance to think bigger: How can you piggyback off your campaign's momentum and market your campaign—and cause—to a larger audience?
Marketing Vs. Outreach
Although most of the outreach you'll be doing for your year-end campaign will focus specifically on your audience, there's a great opportunity to translate that messaging into a public-facing campaign that can help you reach new audiences.
For every piece of campaign messaging you create for your own audience, think about how you can tweak it for an audience of people who are unfamiliar with your organization. You may also want to consider creating an overall marketing strategy to promote your campaign to people outside your donor database.
Here are some different strategies to keep in mind as you plan how you'll market your campaign to brand-new audiences.
Think About Which Audiences Use Which Channels
Reaching new audiences requires a little planning. Many of the channels you'll use to reach existing supporters will also help you reach new people. That said, you may need to get creative with how you think about speaking to both new and existing audiences on your channels.
Think about your communications plan for GivingTuesday, for example. You'll already be speaking to existing supporters who follow your page, and you'll almost certainly be reaching people who are already donors. How can you speak to existing donors, potential donors who are already aware of your nonprofit, and people who are seeing your organization for the first time?
You'd probably want to plan a mix of posts: Some will speak to existing donors and give them updates on how they'll use their gifts, while others will be higher-level posts about your work and the community of people you serve. Existing donors will see relevant information, and new followers will be able to learn more about your organization.
You may also want to consider the types of audiences you're trying to reach as you plan your year-end fundraising strategy. If your average Facebook fan is in their mid-40s and you want to reach younger audiences, you may want to post more frequently on different platforms whose user bases tend to skew younger. Instagram may be a good place to start. If you have staff familiar with it, you might even try posting on TikTok! If you're looking to reach new clients instead of new donors, the mix of information you post on your channels will look likely different.
Building your base of followers, supporters, and donors is a worthy goal, especially during a time of year when so many people are looking to give back to their communities. As you think through how you'll reach existing donors, plan different strategies for reaching new ones, too.
Year-End Fundraising Events
If your organization puts on an annual event to support your year-end campaign, you've got an outstanding opportunity to reach new supporters and strengthen your relationship with existing ones.
Be sure to include information about your organization and your campaign in any event promotion, programming, and follow-up. This is especially important if your event is open to the public! Make it easy for them to find information about your organization so they can learn more about you and your work if they're interested.
During the event itself, plan on collecting important information from the people who attend. You can easily collect information about donors—you'll have to collect a lot of important details to process their gift. Think through how you can collect information from people who don't give, too. Try having an email signup list, running raffles and collecting information from people when they purchase tickets, or collecting information from people who are interested in volunteering.
Capturing data from event attendees is a crucial step for event follow-up and future promotions. Not everyone who attends your event is a current or past donor, so you'll want to be able to reach them in the future. They may be great supporters of your year-end campaign or future campaigns in the coming year.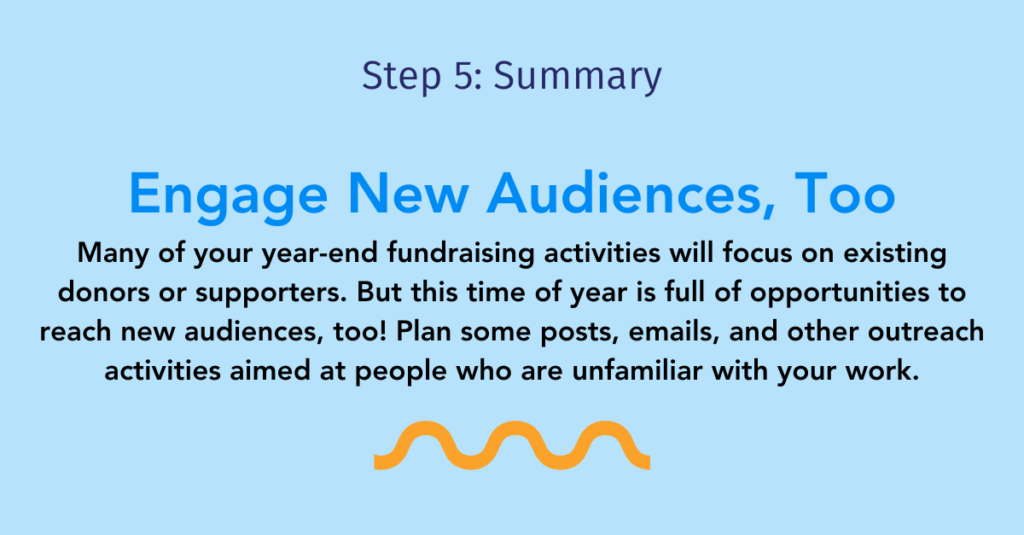 Resources That Can Help
Can you really connect with existing donors and reach new people in your community? Yes! These resources can help you find, engage, and retain new supporters.
Step 6: Analyzing Year-End Results
You've done it! Your appeals went out, the donations came in, and you met your fundraising goal—that's a wrap on your year-end campaign! Right?
Well, not quite yet. Your campaign is over, but there's still some internal wrap-up work to do. Now it's time to analyze, debrief, and plan ahead for next year. Taking the time to do a comprehensive team review of your year-end fundraising campaign will make next year's campaign even better.
Analyzing Your Fundraising Results
If you want to be successful during your next year-end campaign, you'll want to analyze the outcomes from this year's campaign. Understanding your performance this year will help you set benchmarks for your next campaign, avoid tactics that didn't work, and emphasize the strategies that were most effective.
Here are a few areas you'll want to focus on during your campaign analysis.
Did You Meet Your Fundraising Goal?
This is probably the most important question you'll answer during this phase of your campaign. Did you meet your fundraising goals? Why or why not?
This is an important question to ask yourself since it will impact the goals you set for yourself in the future. If you met your fundraising goal, wonderful! You can try increasing your goal next year. If you fell short of your fundraising goal, that means you've got opportunities to improve! Did something outside of your control affect your ability to raise money? Was your community of donors experiencing economic uncertainty? Did a particular fundraising appeal fall flat? All of these factors are important to understand so you can plan for them next year.
Which Communications Tactics Worked? Which Didn't?
Understanding how different channels performed for you during your year-end fundraising campaign will give you valuable insight you can use next year. Take a look at how different audiences reacted to different appeals, updates, and other communications. Did your Facebook activities result in lots of small-donor donations? Tailor your posts next year accordingly! Were your direct mail donors extra-generous this year? Take a look at your direct mail appeal and see what elements may have been extra-compelling, then include them in your appeal next year.
What Does Our Donor Base Look Like?
Did you get an overwhelming response to the appeal you sent your recurring donors? Were your one-time gifts higher on average than they were last year? How many new donors did you acquire? Where did they come from? How many of your existing donors gave? Are volunteers more or less likely to give financial gifts in addition to the time they donate to your work?
Answering these questions will help you spot trends and patterns in your donor base. You'll start to see a picture of which donor segments respond to which messaging, which channels work (and which don't), and how you can inspire your community of supporters in the future.
Making Improvements
Once you've analyzed your data, it's time to share it with your team and reflect on the campaign. Debrief everyone on the results, then have an honest discussion about the campaign and how it went.
You may also want to conduct a SWOT (Strengths, Weaknesses, Opportunities, Threats) analysis, either with the team as a whole or each area of the team individually. This will show how you can improve your strategy for next year, and develop your team in any areas they struggled with.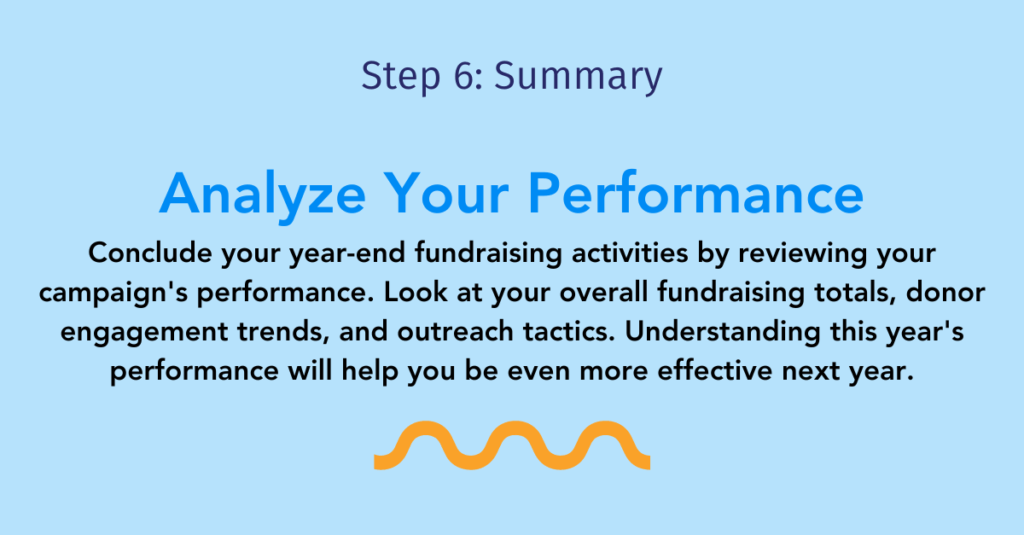 Resources That Can Help
These articles will help you evaluate your performance, manage your data, and set future goals.
Step 7: Say Thank You (Again)
We know, we know. We've mentioned the importance of saying thank-you frequently throughout this article. It's that important! Thanking your supporters and sharing their impact makes them feel like they're more than just a name in your donor database. It makes them feel like they're part of a community of like minded individuals who are working together to make a difference. That feeling will keep them engaged with your nonprofit in the coming year.
Thank Your Financial Donors
A sincere thank-you message and a note about what your donors helped achieve this year is one of the most important ways you can retain those donors in the new year. A thank-you email is great. A handwritten note is even better: Handwritten mail has an open rate of 99%, which means your donor will almost certainly open, read, and respond to your message. If you're worried about your capacity to write a handwritten note for every donor who gave to your year-end campaign, try recruiting board members, staff, and even volunteers to write short, simple notes to your supporters. And spread out the work! Getting a card a couple of weeks after making a gift still makes a positive impression, especially when your donors have already received a thank-you email.
Thank Corporate Sponsors and Other Supporters
Local businesses, people who give in-kind donations, and even some vendors may also warrant some thank-you messages at the end of the year. Did a local event venue give you a great price for your year-end gala? Was your local grocery store a major donor? Did a small business owner donate printing services for your year-end appeal? All of them deserve the same thank-you messages you send your financial donors… and a sincere letter of appreciation may make them more willing to work with you in the upcoming year.
Thank Your Staff & Volunteers
Your donors aren't the only people who deserve a thank-you! Be sure to thank your team of staff and/or volunteers for sticking with it during the notoriously stressful year-end appeal season. Praise them for the success of this year's campaign—and take some time to celebrate! Pulling off a year-end campaign is hard work, and you'll want your team to stick around for next year.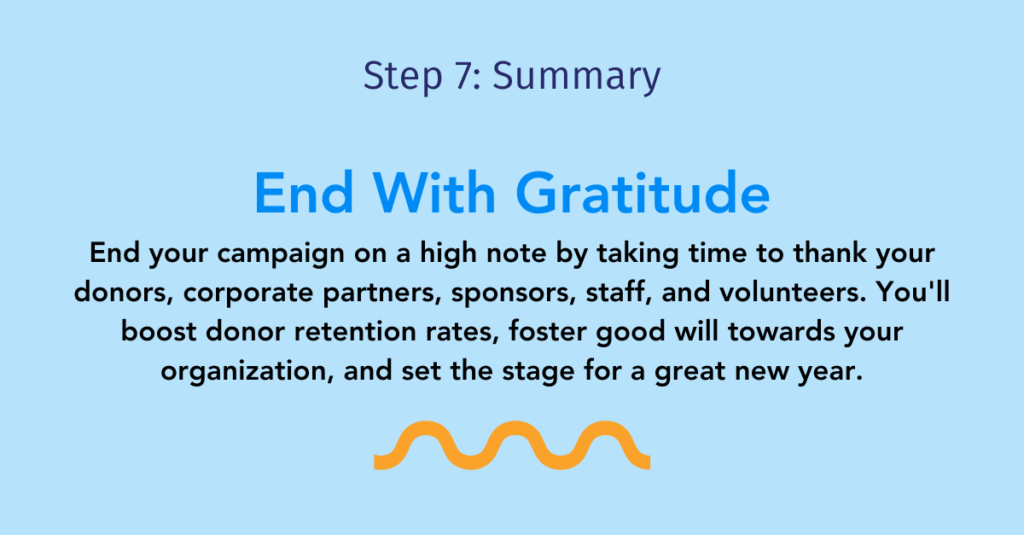 Resources That Can Help
Were there resources to help you create thank-you messaging included earlier in this article? Yes. Are there even more resources down here? Also yes. Everyone loves a good thank-you letter!
Building New Year Momentum
Year-end fundraising campaigns require lots of planning. Start off by getting a feel for the donors in your database and plan your fundraising goals. Next, write your appeal and get ready to launch your campaign. During the last few weeks of the year, be sure you communicate with people who have already donated and people who may want to support your work by making a year-end gift. At the end of the year, wrap up your fundraising activities and take some time to analyze your performance, celebrate your wins, and identify opportunities for improvement. End your year on a high note by practicing gratitude and thanking the generous community of people who have helped you reach your goals.
We hope these tips and resources help you run a dynamite year-end fundraising campaign. And, more than that, we hope you find some time to rest, celebrate, and re-energize before you dive into the New Year. You can do it!
Are You Ready for Fundraising Success This Year—and Beyond?
You can use Neon CRM to do more than just track donor data. You can also build unlimited donation forms, create segmented donor lists, email different groups of donors (right in your CRM!), report on your fundraising activities, automate lots of different tasks, and so much more. Whether you're a small organization looking to grow or a well-established nonprofit with thousands of donor accounts, our tools can help you grow and thrive.
Whatever your plans are for this December and for next year, we'd love to be a part of them. Learn more about Neon CRM or see it in action during a group demo—no sales calls required!
Join the discussion in our Slack channel on connected fundraising