$6.1 Million
Total Dollars Raised
77%
Increase in Individual Donations
913
Nonprofits Registered & Supported
Giving hope to Arizona's nonprofits in just 24 hours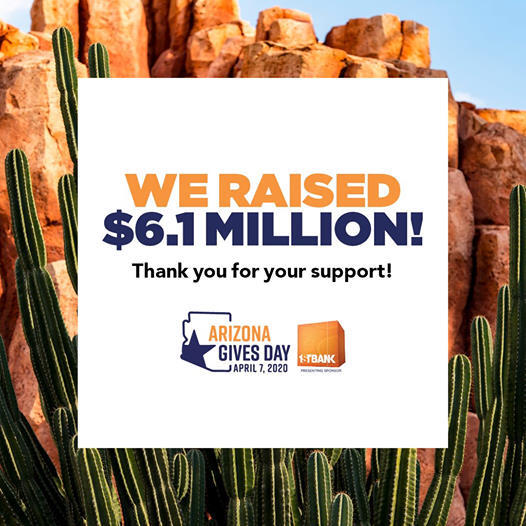 Arizona Gives Day is a 24-hour giving day hosted by the Alliance of Arizona Nonprofits and Arizona Grantmakers Forum. This annual event supports nonprofits across the state by raising both awareness and donations on their behalf.
Since 2013, Arizona Gives Day has raised more than $22 million for nonprofits statewide, building a stronger spirit of philanthropy in their local community.
When the COVID-19 pandemic threatened to completely halt Arizona Gives Day on April 7th, 2020, they relied on Neon One to provide new giving features and enhanced support to make the day a success.
Customer Profile
Outcome
Neon One to provided new giving features and enhanced support to make the virtual Arizona Gives Day a success
---
Their Community Giving Solution
Inspiring generosity when nonprofits need it most
The Challenge
In light of the COVID-19 crisis, the hosts of Arizona Gives had to quickly decide whether or not they were going to postpone, cancel, or continue on with their giving day.
They distributed a short survey to the nonprofits they support to assess the financial impacts of canceling or postponing, and found that 84% of surveyed nonprofits reported decreased revenue from canceled events and contracts. It was clear that day had to go on, so critical funds could be distributed to organizations in need.
The Solution
The Arizona Gives team worked with Neon One to set up an additional Nonprofit Emergency Relief Fund. This allowed donors to give directly a specific fund that will be distributed evenly among all participating organizations.
They also used several of Neon giving day features, such as peer to peer fundraising, scheduled donations, corporate and employee giving, and more.
69%
Increase in Total Donations
$150,757
Raised for the Arizona Nonprofit Emergency Relief Fund
81,862
Hour pledged from 2,097 volunteers
Sign up to get in touch with a sales consultant committed to crafting the best solution for your unique needs.