Neon CRM makes it easy to raise more for your mission
With Neon CRM, running a successful fundraising campaign is easier than ever before. Our features give you all of the tools you need to engage donors, accept donations online, and automate receipts to donors. And since it's all built-in to our CRM, it makes donor cultivation and building relationships a cinch.
Looking to create more robust digital fundraising experiences? Check out Neon Fundraise, a full suite of digital tools including advanced live stream and peer-to-peer features.
DONATION FORMS AND PAGES
Simple, customizable donation forms and pages
Neon CRM helps you create custom nonprofit donation forms for all of your fundraising needs.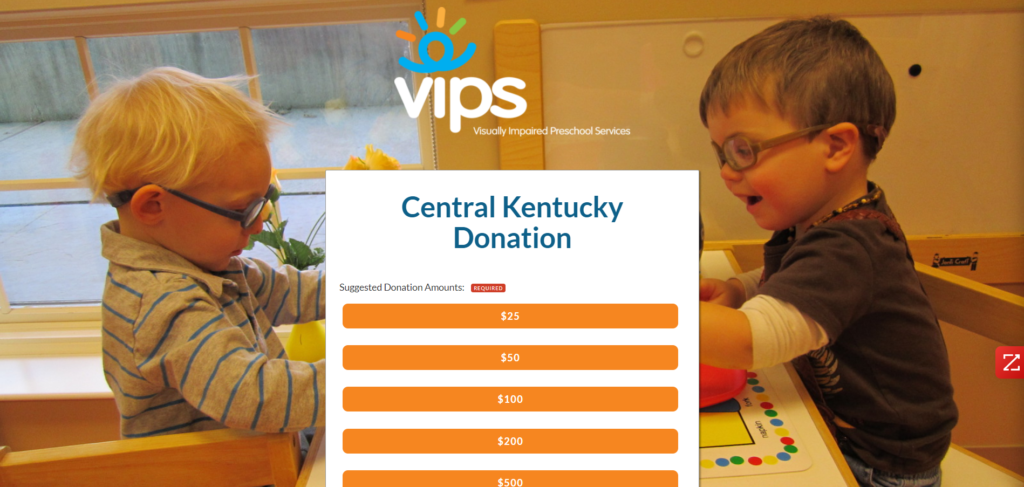 Unlimited Forms
Customize branding, fields, and page content on your donation forms so your organization is at the forefront of your efforts to raise funds.
Process Automation
Neon CRM's online donation forms sync with your system to automate data entry, receipting, and both digital and physical thank yous.
Recurring Donations
Offer multiple payment options to generate donations on a consistent basis, including monthly donations. Neon CRM offers the industry's best option for CRM driven sustainer gifts.
Built for the Future
Forms are user-friendly and mobile-responsive, support team pages and social sharing, come with best-in-class security, and integrate with Neon Pay.
Customer Spotlight
Virtual Fundraising Success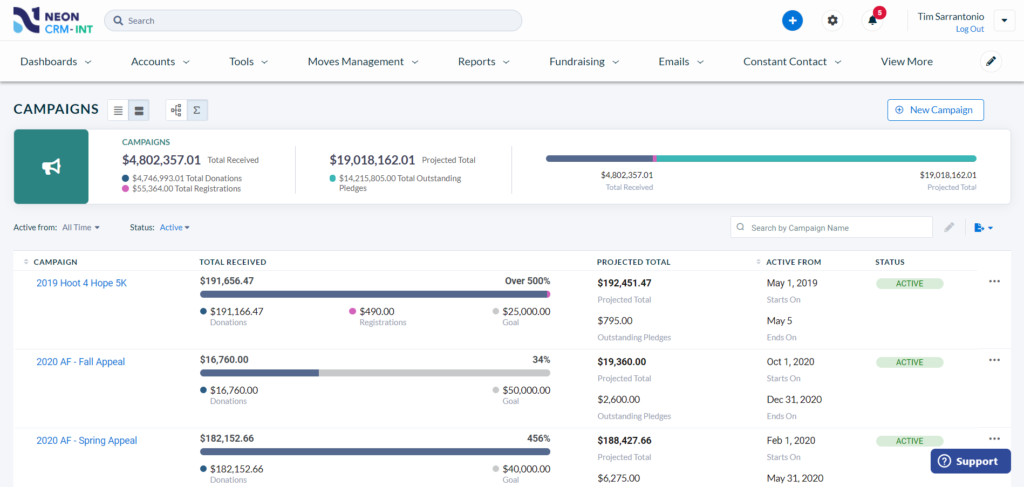 CAMPAIGN TRACKING
Organize and track donations
Manage all your campaigns, appeals, and donor cultivation efforts within one platform. Neon CRM is designed to grow with you.
Donation Categorization
Categorize your donations or event payments through campaigns that can be configured in tiered structures.
Campaign Thermometers
Use the thermometer widget as a visual and evocative way of promoting your campaign.
Moves Management
Manage major donor cultivation with built-in prospect and activity tracking or through our premium mobile app, Neon Moves, to leverage artificial intelligence to flag high affinity.
Multiple Revenue Streams
Now you can see, in greater detail, how your donors, fundraisers, event attendees, volunteers, and members are engaging with you.
RETENTION AND ACQUISITION
Build affinity and connections
Stop being forced to treat donors like ATMs and shift your fundraising toward building relationships that last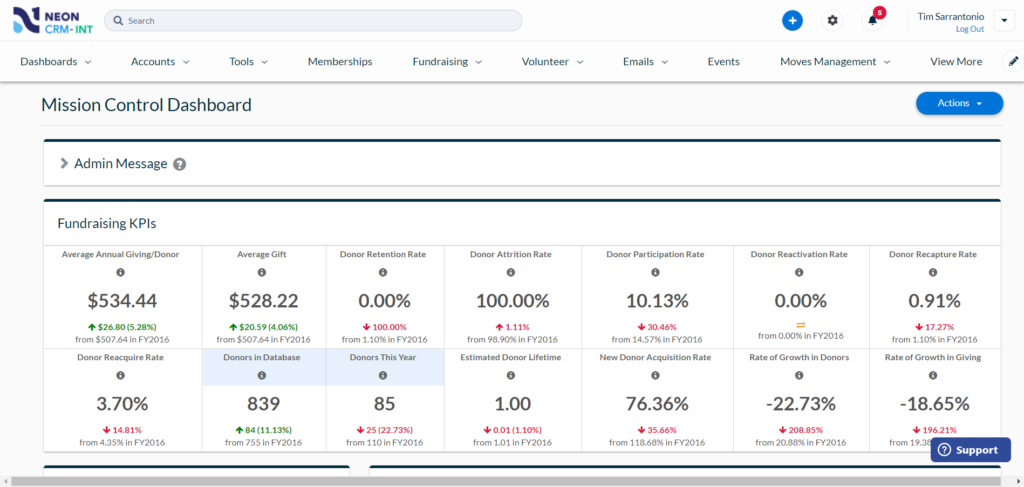 Mission Control Dashboards
With hundreds of widget configurations and industry innovations like our KPI Dashboards, Neon CRM lets you focus on building relationships and not figuring out the data.
Retention Widgets
See real-time results of your retention efforts, including immediate insight into lapsed, retained, and recaptured donors.
Note Tracking
A highly configurable set of note options allow you to track any interaction, thought, or internal staff discussion around how to best engage with your supporters.
Origin Tracking
Stop hunting through emails to figure out how a donor came to you. Deep but easy to understand origin tracking tells you exactly how.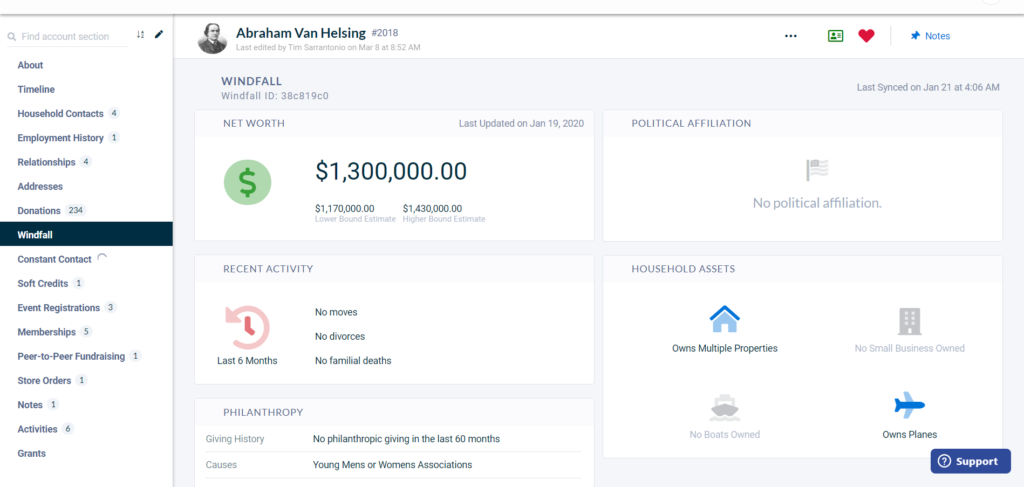 CURATED INTEGRATIONS
The most powerful integration ecosystem the social good sector has to offer
Omni-channel fundraising has never been this easy.
Neon One Integrations
Leverage powerful in-house integrations with tools like Neon Fundraise to take your digital fundraising to new heights.
Windfall Data
Discover hidden gems of giving capacity by leveraging the industry's most comprehensive and accurate wealth and prospect screening integration.
TrueGivers
Tired of getting mail returned because of an out of date address? Leverage this nightly NCOA update that can flag deceased donors and other key demographic updates.
Quickbooks
Save hours of headaches and sync transactions into Quickbooks Desktop and Quickbooks Online with our certified integration, endorsed by Quickbooks Made Easy.
All your favorite tools, united by one powerful fundraising database
Our certified integrations are the best in the industry. We partner with over 50 of your favorite software providers so you can keep what you want and lose what you don't.
Resources & Insights
Leading insights from nonprofit experts
Get the latest on social good industry trends and best practices from our resource hub.
Ready to raise more for your mission?
✓ Better Value ✓ Unlimited Form Creation ✓ Designed to Scale