Make your revenue grow with data driven insights
With Neon CRM, understanding the health of your organization's revenue and relationships has never been easier. With nonprofit reports, fundraising dashboards, and easy-to-understand visualizations, the Neon CRM provides a flexible and a full-circle understanding of your organization and supporters. Embrace the freedom to innovate because we've covered the basics for you.
ONE CLICK REPORTS
Over 50 reports that give actionable insight with one click
Why query when a click will do? Get immediate understanding of important information with no effort.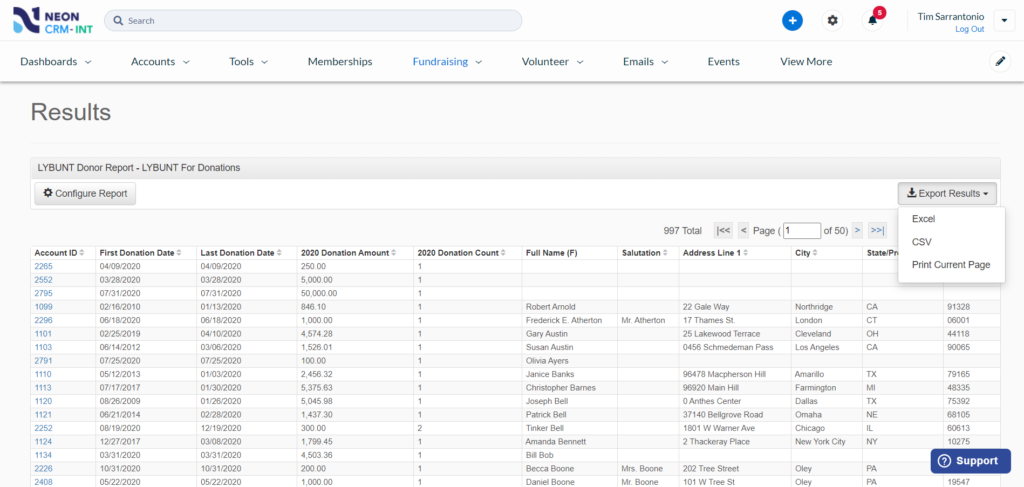 Donor Reports
Worried about retention? No need with industry standard reports for donors who supported you previously but haven't yet this year.
Fundraising Dashboards
Get immediate channel analysis on online versus offline giving, recurring donations, open and match pledges, and more.
Top Supporter Reports
Want to know who your top 25 donors are? Or the top 100 event attendees? How about your recently expired members? Get it in one click.
Transactions and Payments
Need a batch report for finance to reconcile against? We have you covered with our accountant friendly revenue reports.
Customer Spotlight
Data-Driven Success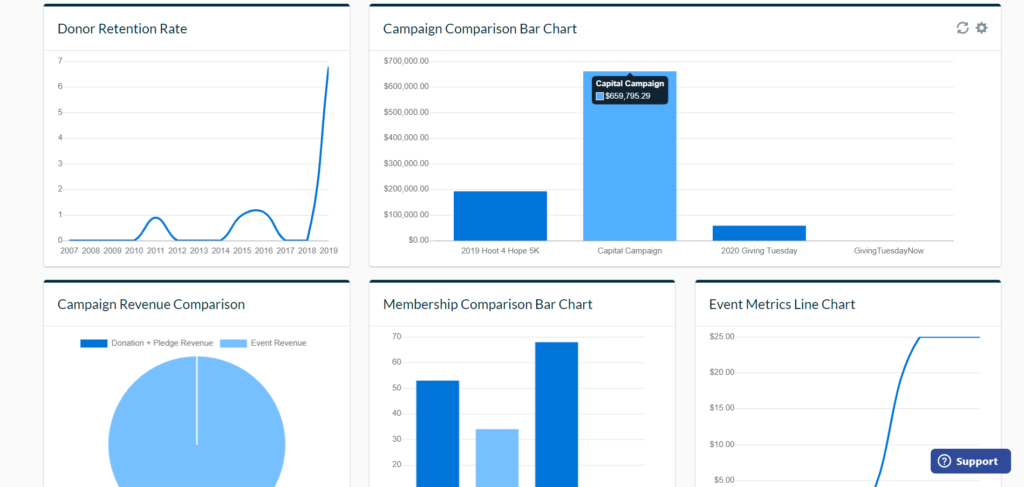 PERFORMANCE DASHBOARDS
See success in real life with built-in dashboards
Our drag and drop dashboard interface means your staff can create the charts, graphs, tables, and quick links that work for them without affecting other team members.
Charts
Automatically generate visual impact to get an understanding on Campaigns, Retention, Event Registrations, and much more.
Lists
Create lists of immediatly actionable data to flag Moves Management actions, top prospects, or members to engage.
Data Maintenance
Never miss a beat by getting automatic flags for mail mergers to be performed, incomplete transactions, account merges, and data syncing with Quickbooks and Eventbrite.
Channel Management
Get detailed dashboards on all your channels to understand campaign and appeal performance, material tracking, email open rates, event registrations, membership drives, and online store sales.
DONOR TIMELINES
Build affinity and connections
Stop being forced to treat donors like ATMs and shift your fundraising toward building relationships that last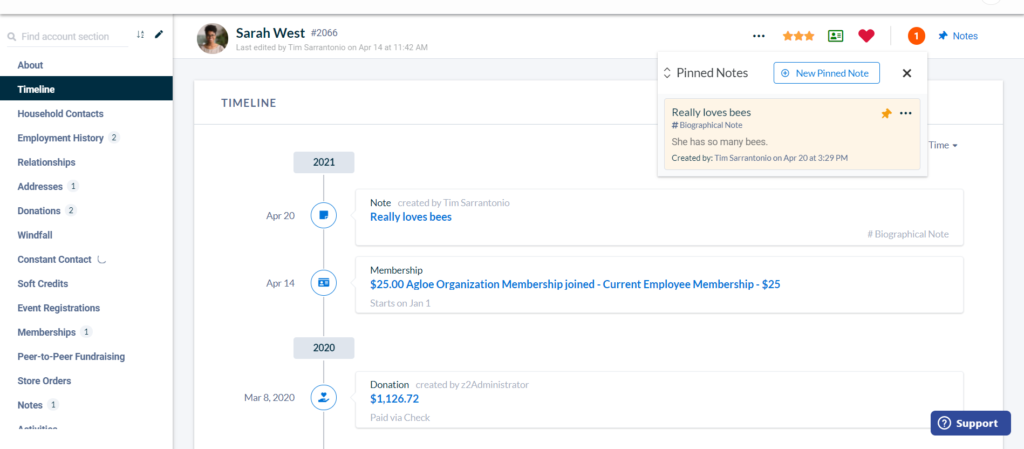 Historical Insights
Forget when you first brought that supporter into your generosity ecosystem? Immediately remember by filtering by newest and oldest actions that have helped build affinity with them over time.
Action Filters
Have a big meeting coming up and want to remember the last event the prospect attended? Filters on the Account Record give immediate insight into what happened and with who on your staff.
Date Filters
A highly configurable set of note options allow you to track any interaction, thought, or internal staff discussion around how to best engage with your supporters.
Colorful Insights
With immediately clickable links to drill into revenue and red flags for bounced emails and rejected transactions, you'll be able to understand immediately if there's an issue with your supporters. Even see the emails you've sent them without leaving the timeline!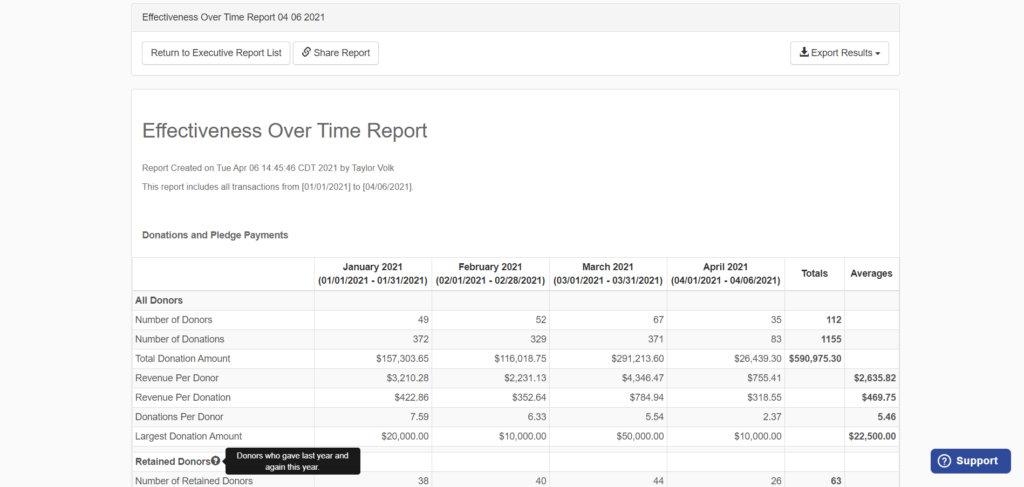 CUSTOM REPORTS
People are complex. Your reporting on them shouldn't be.
Data represents the relationships you have with your supporters. Since they can be connected to you in a variety of ways, Neon CRM's reporting allows for highly flexible yet easy to build custom queries and reports.
Custom Reports
Build an unlimited amount of saved reports to use for segmentation, trend analysis, prospecting, and anything else you can dream of. With the ability to target down to custom fields and third party integration data, Neon CRM gives you true reporting freedom.
Executive Reports
Need that board ready report in a flash? Neon CRM has created some number crunchers for your organization based on Association of Fundraising Professional guidance and standards.
Geo-Radius Searching
Gone are the days where you'll need to figure out all the zip codes you want to segment around. With our geo-radius search powered by the Google Maps API, your organization will be able to put in an address and ask to return any records with a chosen mile radius.
Developer Tools
Sometimes our out of the box configuration just won't be enough to make things perfect. That is why Neon CRM offers the ability to create custom object tables, webhooks, and a fully developed and supported API that is leveraged by all our CRM integration partners.
All your favorite tools, united by one powerful fundraising database
Our certified integrations are the best in the industry. We partner with over 50 of your favorite software providers so you can keep what you want and lose what you don't.
Resources & Insights
Leading insights from nonprofit experts
Get the latest on social good industry trends and best practices from our resource hub.
Ready to raise more for your mission?
✓ Better Value ✓ Unlimited Form Creation ✓ Designed to Scale