At Neon One, we work hard to help mission-driven organizations expand their social impact. A major part of this effort includes curating our software partners to provide our clients with the best of the best. That's why we're excited to announce our newest partnership with Tiltify. 
Tiltify is the industry's premier livestream fundraising platform. Their innovative approach to a developing segment of the philanthropic sector has already generated over $100 million for charities around the world.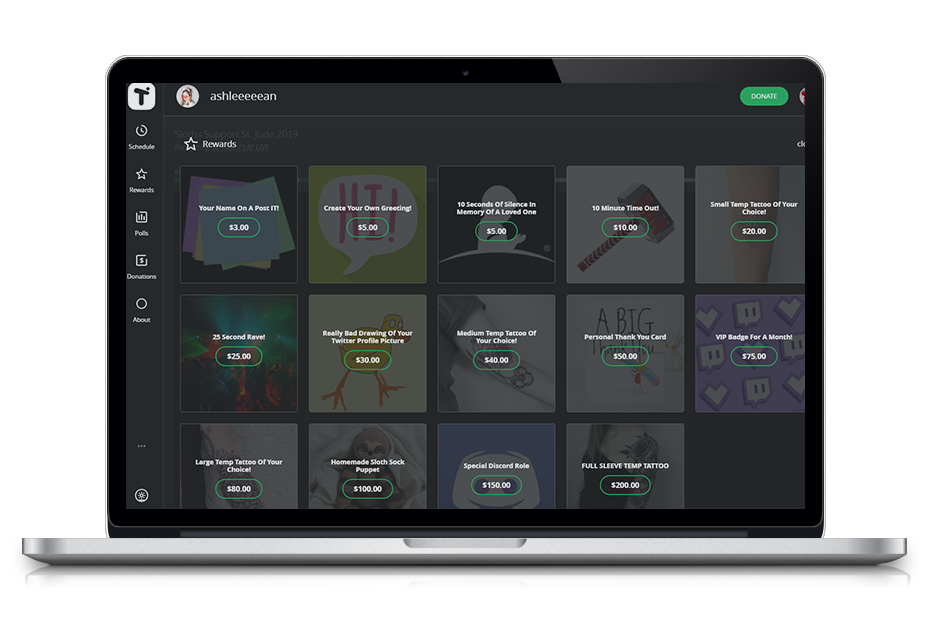 What is livestream fundraising?
Livestream Fundraising is very simply the act of streaming while live.  It's the resurgence of the classic telethon except anyone can create their own personalized version.  Moreover, new livestream technology and bandwidth allow for advanced interaction between the fundraiser and their viewers. This growing segment of peer-to-peer fundraising follows the "do-it-yourself" model, meaning individuals can launch their fundraiser without the involvement of the nonprofit.
Here's how it works: an individual or group will launch a livestream on any number of popular platforms including Twitch, Youtube, & Facebook Live.  During the livestream the content creator (someone who creates content) will perform an activity they enjoy such as playing a video game, music, cooking or creating art. They can then link their stream to a fundraising platform, and begin accepting donations from viewers. Usually, streamers will incentivize the donation process by giving shout outs or other rewards based on certain donation levels.
Platforms like Twitch and Youtube bring in millions of users on a monthly basis and according to market research, those numbers are expected to grow by 55% in 2020.
Who is Tiltify?
Tiltify is the leading platform for livestream fundraising. More streamers and charities use Tiltify than all others combined. Their software provides content creators (or anyone who wants to start a livestream), with the ability to not only accept donations for their favorite charity, but to engage with their audience through unique features like polls, rewards, milestones and challenges. They've been the platform of choice for organizations like DirectRelief, St. Jude Children's Hospital, Make-A-Wish, and more.
Tiltify powers hundreds of nonprofits through its platform and supports tens of thousands of livestreamers, with over 10,000 livestream campaigns being run through their platform in 2018 alone. The average gift size running through a Tiltify campaign is $34. One streamer named DrLupo raised nearly $1 million for his cause in just four hours earlier this year while using Tiltify.
They've also been advocating for the importance of charity in the livestreaming industry as well, establishing the Charity Plaza at TwitchCon, the largest gathering of streamers in the world. The plaza has featured dozens of charities and hundreds of top content creators while becoming one of the most popular areas of Twitchcon.
In short — this is a big deal.
Why are we partnering with Tiltify?
Neon One's vision is to be the global leader in technology and services enabling those who want to change the world and make it a better place. In order to do that, we need to ensure we are curating the absolute best experiences for our clients and the people who support their missions. 
While we have been powering some of the industry's biggest peer-to-peer campaigns through Rallybound, we hadn't dove into livestream fundraising as much as we wanted to. So we started doing research and found that there was a big difference between what Tiltify was doing and other platforms who market livestream fundraising features. 
One of the biggest issues that charities are facing today is an ever-changing landscape of technologies and tools that will appeal to an increasing population of Millennial and Generation Z donors. Nearly every day we see a new think piece on what will appeal to younger donors while traditional fundraisers shake their heads and implore nonprofits to stick to the basics. 
The reality is that by creating a unified platform offering that merges the traditional peer to peer elements that drive in-person engagement, social network sharing, and email and combining that with the revolutionary tools powering livestreaming, we can address the entirety of the fundraiser experience without sacrificing quality in data integrity or delighting our donors. 
Rallybound and Tilitify's respective platforms are the absolute best at what they do and our companies also have developed a deep respect and appreciation for each other's work. By listening to our clients, we will be creating the most powerful peer to peer fundraising platform that has ever existed. 
How are we partnering?
In the coming months, we will be debuting the specifics of the integration between Rallybound and Tiltify as we work with our clients to learn what their needs are, since listening is key to product growth. Some highlights that we are excited to confirm are:

Organization / Cause syncing between Rallybound and Tiltify

Campaign / Fundraising Event syncing between Rallybound and Tiltify

Total fundraising revenue success matching across both platforms
Check out the Rallybound blog to learn more about our unified vision of our integration with Tiltify.
Additionally, our clients will be able to add Tiltify's services directly to their Neon One billing invoice under one joint contract. We understand that integration goes beyond the technical, and we're dedicated to providing a streamlined experience from consultation to ongoing support. 
We are thrilled to welcome Tiltify as our newest partner in the Neon One ecosystem. We're looking forward to changing the future of philanthropy, together. 
Share This Post