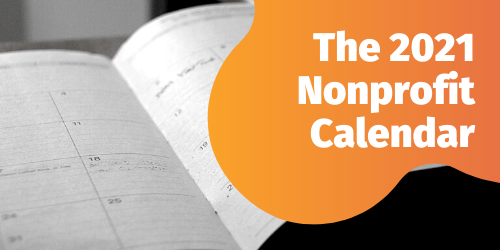 Get Your Copy Today!
Looking for the 2022 Nonprofit Calendar? Click here!
No need to mark your calendars, we've done the work for you. 
This calendar is chock-full of helpful reminders, like how often you should be doing routine data maintenance or when to start planning for your spring fundraiser.
This easy-view monthly calendar will help you decide your daily, monthly, and yearly priorities, leaving space for notes, and important dates related to your specific organization.
In this calendar, you'll find:
Important day, week, and month-long awareness events
Seasonal social good tasks and events
Free resources that you can use all year long, sorted by month!