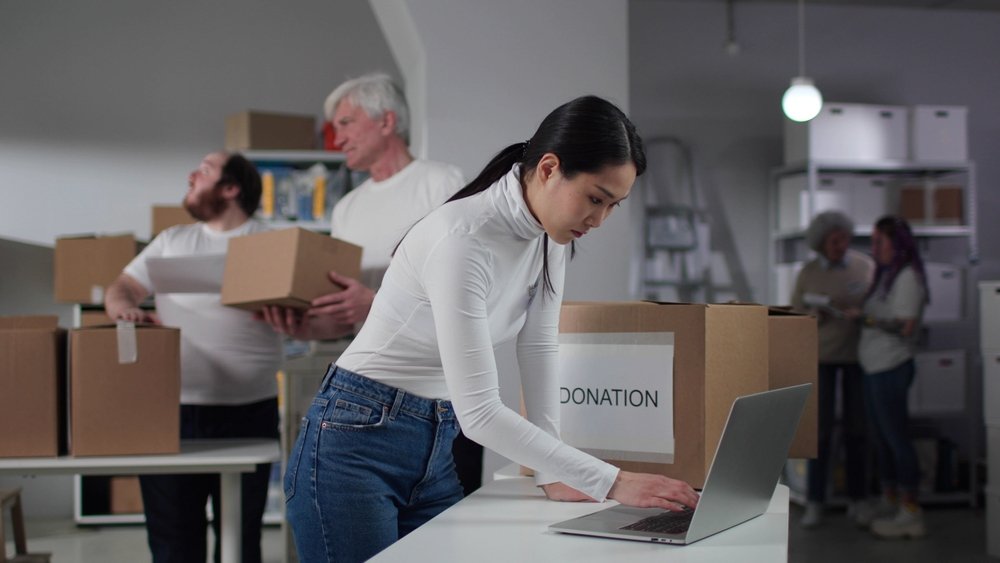 Good donor management software can be a real game changer for a nonprofit. With the right tools at their disposal, nonprofits can develop stronger, more impactful messaging, connect with their supporters, and eliminate many time-consuming tasks. But with all the options out there, how do you know which software is right for you?
Here's what you need to know about choosing the right donor management software for your organization.
Types of Donor Management Software
The term "donor management software" is broad. It incorporates a whole category of products from sophisticated and comprehensive solutions to simple spreadsheets and databases. Here are a few different types of donor management software that nonprofits use to handle their relationships:
CRM: A constituent relationship management system is a comprehensive tool for tracking donor data and interactions. With a CRM, you can connect all of your tools, like your email clients, fundraising software, and pay portals. It's the hub that helps you manage your donors' activities.
Donor Databases: A donor database is the biggest part of your CRM. It's a tool that holds all of your information about your donors and their interactions with your organization. It's the component that fuels the CRM by providing it with information that can personalize communications. 
Fundraising Software: Fundraising software facilitates donations, fundraising events, and other online fundraising activities . This is something that's also often folded into a CRM and used in conjunction with a donor database.
Workflow Management Software: Workflow management software addresses the internal operations of your organization. It's a way of setting up tasks for your volunteers and staff without having to do so manually.
Donor Portals: A donor portal is a constituent-facing software that allows your donors to log in, make donations, and update their information. They're often part of your fundraising software, and they'll usually feed into the donor database and CRM.
You'll frequently hear "donor management software" used to reference all the above tools. However, the one thing they all have in common is the CRM. A good CRM brings them all together.
How Donor Management Software Benefits Nonprofits
Donor management software allows you to create more personalized, impactful messaging. It helps you get to know your donors on a deeper level and track details that are important to your organization. Those that adopt a purpose-built CRM can expect to see the following benefits: 
Improved Engagement
A majority of participants in a focus group from Indiana University reported that they intend to send their donations to organizations that show impact. Specifically, they were most interested in supporting organizations that "make greater effort to educate the donors on what's being done with their money and how it's making a difference." 
A CRM gives you the tools you need to meet this very specific demand by enabling you to show that impact in every message. Instead of a simple "Thank you for your donation," you can use the automated system to send much more specific thank-you messaging. You could say, for example, "Thank you for your donation of X amount. It helped us provide resources for X number of beneficiaries." The ability to send that kind of personalized message through your donor management software is an incredible opportunity because it speaks exactly to what is important to donors. You're showing that their money is making an impact.
Efficient Use of Resources
As a nonprofit leader, you likely don't have a large staff to help you manage all your tasks every day. When it comes to volunteer labor, you want them focused on the mission itself and not the little administrative pieces around it. A CRM can automate many tasks that would otherwise waste your time.
A lot of the things you do every day are repetitive and predictable. Sending a thank-you email is a great example. With a strong CRM, you can automate sending highly-personalized emails without the need to write each one yourself. You can even automate workflows based on donor actions so you never miss an opportunity to reach out to a donor. For example, if someone donated $1,000 to your fundraiser, you could trigger the system to send out an automated but detailed email thanking them. It could even set a task for you to call and personally follow up with them.
Deeper Insights
Understanding your entire donor life cycle is critical to improving your appeals and engagement efforts. But you can only see that end-to-end donor cycle when all of the moving parts that make up your donor outreach are connected. A CRM brings all of the details about your supporters' interactions with you together so you can run detailed reports. Then, you can use those insights to hone your messaging and appeals.
Increased Donor Retention
Donor retention is critical to organizational growth. In fact, one study of top-performing organizations revealed that growth only started when 70% donor retention was obtained. A key part of that retention is consistent, impactful, and timely messaging. A strong CRM can act as the foundation for relationship building by giving you the tools you need to get that messaging in front of your donors. 
Scalability
One issue that nonprofits may run into is sudden surges in donor activity. In our research, we found that up to one-fifth of an organization's revenue is raised in December alone. Sudden increases in new donor accounts or records can make it very hard to manage your donor database effectively, especially if you're only allowed a limited number of donor profiles. Nobody wants to be penalized because they got an influx of new donors! A CRM that offers unlimited records and revenue-based billing can provide scalability for those high-demand periods.
These are just a few of the benefits of donor management systems for nonprofits. The system you choose will impact which of the above tools and tactics you can use.
Top Software Options for Donor Management
There are lots of CRMs out there. Many are specifically built for nonprofits, and many are built for for-profit organizations. While commercial tools like Salesforce are great for for-profit businesses, they don't have the niche focus needed for nonprofits. That's why these software options for donor management focus specifically on platforms that are built for good.
Software
Pros
Cons
Neon CRM 

Neon CRM is a tool that's used across organizations of all sizes. We're particularly popular among small and mid-size nonprofits going through periods of rapid growth. Our CRM works with a wide range of integrations and tools so you can connect all your donor activities in one place.

Best for: Small and midsize nonprofits in high-growth periods.
Automation: You can automate workflows, emails, and other tasks.
Flexibility: You can adapt your fields and templates specifically for your organization's needs.
Scalability: Our revenue-based billing model allows you to manage your CRMs cost as your organization grows.
Unlimited features: We offer unlimited records, users, emails and more to support growing nonprofits.  

Enterprise support: Our platform is typically used by small and mid-size nonprofits, though we've had a few enterprise-level clients.
Advanced features: While our platform is user-friendly, some of our advanced features can be a bit more challenging. Of course, we also offer support and a wide range of resources to help you learn to use these tools. 
Kindful

Kindful is a tool from another platform on the list,  Bloomerang. It provides features like workflow management, general reporting, and tracking, in a good basic platform that is also cost-effective.

Best for: Small nonprofits 
Cost-effective: Plans start at $199 and allow unlimited users, and donation and crowdfunding pages.
Customer service: Customers report quick and effective customer service.
Integrations: As a Bloomerang product, it can integrate with a wide range of other nonprofit software.
Ease of use: Many users report challenges with uploading data, and running reports.
Utility: Many of the features are dependent on integrations with other third-party software.
Customizations: A limited number of customization opportunities are available.
Bloomerang

Bloomerang is a user-friendly database-style donor management system. It's not a highly-sophisticated offering but tends to appeal to smaller nonprofits due to its low cost.

Best for: Small organizations 
Low cost: For small organizations, a $99-a-month price tag is hard to turn down.
Ease of use: Users report it has a simple interface and is easy to learn. 
Add-on features: For an additional price, users can add on support for things like grants, membership management, and other features.
Long-term cost: The long-term cost of Bloomerang could be high as its base plan only covers 1,000 records.
Features: Bloomerang's simplicity works against it when it comes to more advanced options and customizability.
Limited templates: Users complain of limited customization options in templates.
Little Green Light

Little Green Light is designed for nonprofits that are already comfortable using CRMs. It also has a low entry-level price tag with a tiered subscription structure based on the number of records needed.

Best for: Smaller organizations with good internal technical support
Low cost: Little Green Light offers a trial period of 30 days along with a tiered billing schedule that's very affordable for small nonprofits.
Customizability: There are customizable template features that you can use to personalize your donor communications.
Unlimited users: The base program allows for unlimited users from your organization.
Ease of use: While it is a somewhat straightforward program, it's one aimed at individuals familiar with CRMs.
Scalability: Like with most platforms with records-based billing, it can be hard to keep up as your organization grows.
Integration dependent: Using many of the features is dependent on integrations with other tools. There's also limited integration assistance. 
Every Action 

Every action is a political action committee (PAC) focused software with a wide range of features like payment gateways, messaging, canvassing support, phone banking, and more.

Best for: Political action committees and large nonprofits
Comprehensive: Every Action has a wide range of features, automated tools, and predictive analytics options.
PAC compliant: Because it's focused on PACs, it is compliant with the rules and regulations surrounding them.
Customizations: Every Action allows the option to customize complex workflows. 
Complexity: This is a complex program that does a lot and can be difficult to learn.
Integrations: As it's a comprehensive solution, it's less focused on bringing in other integrations.
Niche use: While it's billed as a product that anyone can use, its slant towards PACs is evident.
DonorPerfect

Donor perfect is a comprehensive tool that offers a wide range of features and automation options. As it's Montreal Canada based, it's heavily focused on the Canadian market.

Best for: Small to midsize nonprofits with CRM experience 
User-friendliness: DonorPerfect has a clean, simple user interface and is very easy to learn.
Feature set: The platform offers an array of features that nonprofits can use to manage donations and payments.
Integrations: DonorPerfect offers integrations with a wide range of nonprofit focused tools. 
Data management: Users report challenges with duplicate records and clean data transfer.
Customizability: Limited customizable features are reported.
Reporting: There are a few standardized reporting templates, though many have to be built from scratch.
Network for Good

Network for Good is another straightforward platform that is heavily focused on fundraising. It also has features that are great for peer-to-peer campaigns, as that is what its original software focused on. 

Best for: Small organizations 
Ease of use: The platform is easy to learn and navigate.
Training: Training is offered to help new users learn how to enjoy the program's features.
Peer-to-peer fundraising support: The platform can help you organize your peer-to-peer efforts. 
Utility: Network for Good is a stripped-down version of a CRM that doesn't have a lot of features beyond communication management.
Automated tools: One of the big benefits of having a CRM is the ability to automate a lot of tasks but this platform doesn't have as many of those features as others.
Payment confusion: Some users report issues with the ability to track donations to specific campaigns.
Blackbaud CRM

Blackbaud is a major cloud computing provider, and Blackbaud CRM is its answer to donor management. It combines a wide range of donor management and fundraising tools and has an extensive suite of products.

Best for: Enterprise-size nonprofits
Size: Blackbaud is a large cloud computing company with a wide range of tools that can work with its CRM.
Reputation: Blackbaud is one of the older, more established nonprofit CRM providers with over 40 years of experience working with these organizations.
Support: Users report strong customer service and a detailed onboarding experience. 
Cost: As Blackbaud CRM is enterprise-focused, it has a higher price tag than most CRMs. 
Complexity: This is a sophisticated platform that could prove challenging for inexperienced users to learn.
Integration dependent: While the program is relatively comprehensive, some of the more advanced automation features require integrations.
Why Choose Neon CRM for Your Donor Management? 
There are a lot of great donor management options. What you choose will depend on the needs of your organization. If you're looking for something that will allow you to engage donors, manage workflows, and grow your organization, Neon CRM is an ideal choice. With unlimited records, forms, users, email lists, and templates, nonprofit leaders have the resources they need to manage their donors and improve their relationships. 
Neon CRM is a top choice in donor management software for small to midsize nonprofits—especially ones poised for growth. To learn more, schedule a demo today!
Join the discussion in our Slack channel on connected fundraising