About Texas Catholic Conference of Bishops
The Texas Catholic Conference of Bishops is the association of the Roman Catholic bishops of Texas.
There are more than 8 million Catholics in Texas, and TCCB includes all 15 Texas Bishops on its board. They provide resources to local Catholic pastors, as well as many other community-focused activities in Texas.
The TCCB has 3 major parts of its mission:
Catholic Representation. With specific Catholic-related legislation, the TCCB will lobby on behalf of the 15 Bishops they represent and provide a public voice for the 8 million Catholics in the state.
School Accreditation. TCCB works with the state to accredit and monitor Catholic schools in Texas. Their website also includes Catholic school directories and resources for parents and students looking to learn more about Catholic schools in the state.
Archives. The organization keeps a meticulous record of Catholic activities and history in Texas. Their archival center is open for researchers, and contains documents and records dating back to the 16th century. TCCB also publishes Catholic Southwest, a journal that features essays and cultural pieces about Roman Catholic history and experience in Texas.
Customer Profile
Outcome
Saved equivalent of 1/2 a full-time position due to system efficiency
The Neon CRM + Neon Websites Impact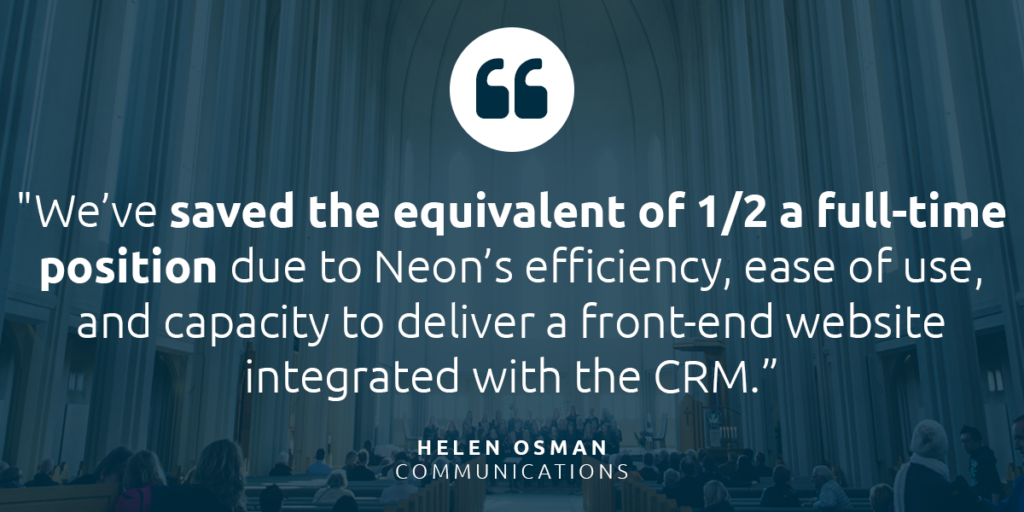 Connnection Between CRM & Website
When they were looking at database options, they needed something that was robust but flexible enough.
The tight integration between their front-facing website and CRM has allowed them to save time. The integration between Neon CRM and Neon Websites makes it easy for staff to update information.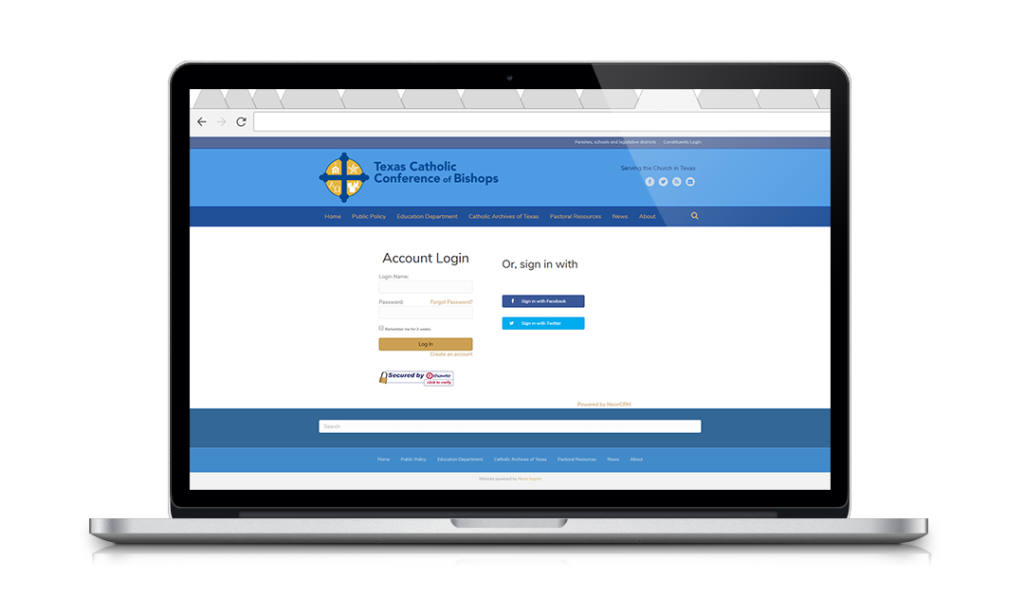 Website that's Easy to Use & Edit
Because their supporters are scattered across the (huge) state of Texas, TCCB relies on their website to communicate and engage with their audience. Constituents from all across the state can get the information they need from TCCB in just a few clicks.
TCCB's Helen Osman says, "People can't break it!"
---
Advice to Nonprofits Looking for Software or a Website
We talked to TCCB's Helen Osman about her best tips for other nonprofits looking for software — and what she wished she knew before starting this process. Here's what she had to say:
Nonprofit Software:
Do a lot of research in the discovery phase.
Understand the long-term goals of your organization, and try to find software that can help you achieve them.
Know that people will want to customize their interface with your organization.
Choose a system that allows people some control over how they hear from you.
Nonprofit Website:
Make it easy for people to find you online!
What are your website visitors looking for? Make sure it's easy to find on your website.
Put your organization's most important information first on your site.
Be smart and invest time and energy into SEO strategies.
---
Neon One's CRM + Websites Help You Connect What's Most Important