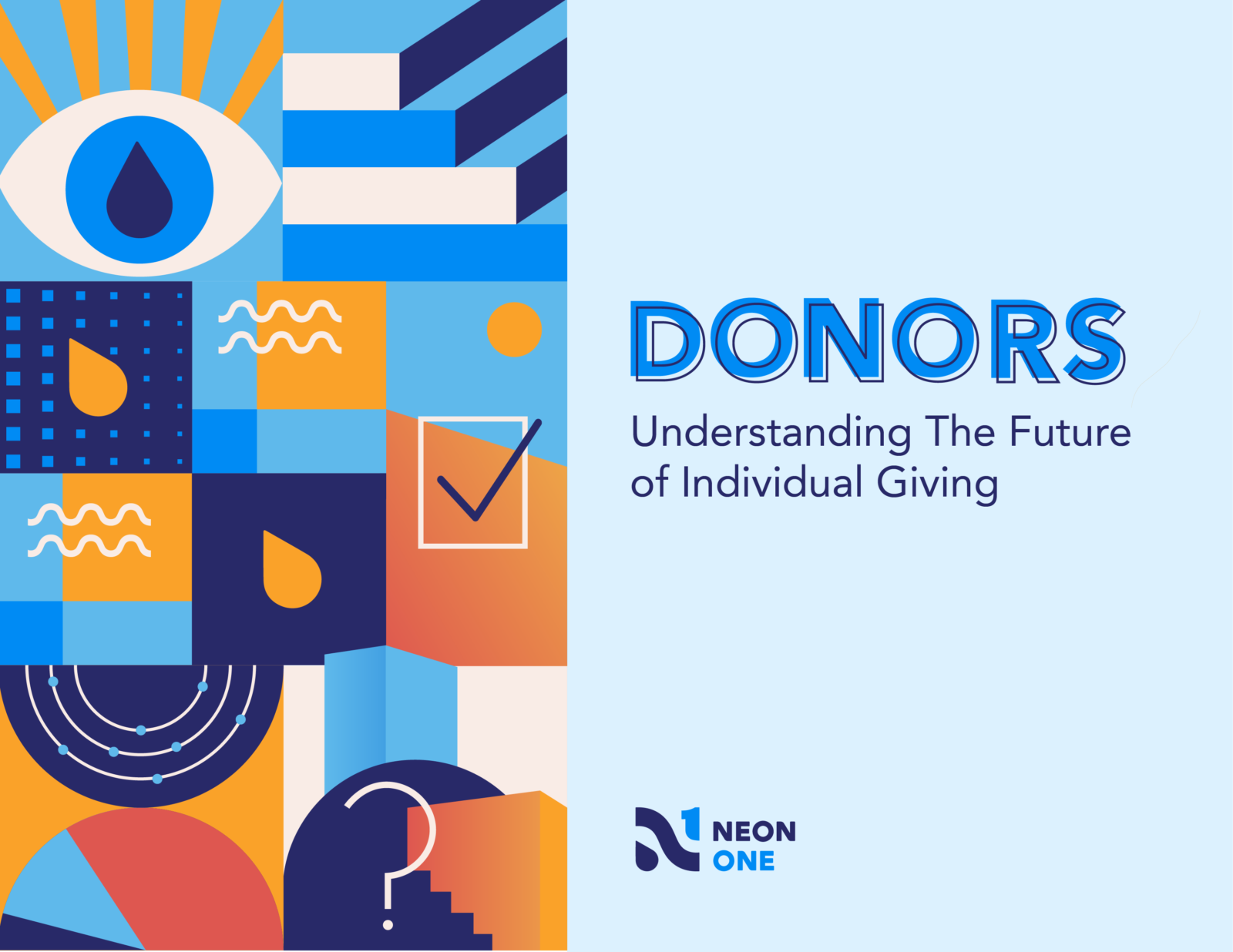 "Nonprofit teams are historically overwhelmed and under-resourced, and the pandemic only accelerated this. To maximize their fundraising efforts, they need actionable donor insights to fuel their decisions. We are thrilled to provide this comprehensive resource to the sector to help embrace a new path forward in how fundraisers create connections with their donors." – Steve Kriter, CEO (Neon One)
Neon One has built its reputation around our ability to give respect to data and critical analysis above all considerations. After combing through hundreds of articles, academic journals, industry reports, and internal data from our company and partners, we have synthesized the overlapping trends into one report answering six primary questions on the future of individual giving.
Industry reports around donor behavior provide insights around transactional behavior but can be difficult to put into practice for the average fundraiser. Donors: Understanding the Future of Individual Giving draws a direct correlation between data and action so that nonprofit professionals can make informed strategies.
How We Can Best Understand Individual Giving Behavior
In order to understand a donor's relationship with individual giving, we need to begin with asking the right questions. These six elements represent the underlying behavior that drives the donor decision making process.
Who are our donors?
What do our donors support?
When do our donors give?
Where are our donors?
Why do our donors give?
How do our donors give?

By breaking down these questions we can better understand overall donor behavior, the potential impact of the pandemic, and what changes we can expect in the future.
Sometimes when it comes to putting our plans in action, thinking about how we think is one of the most important first steps we can take. So to help you think more critically about individual giving, let's draw out some of the more interesting conclusions from the report.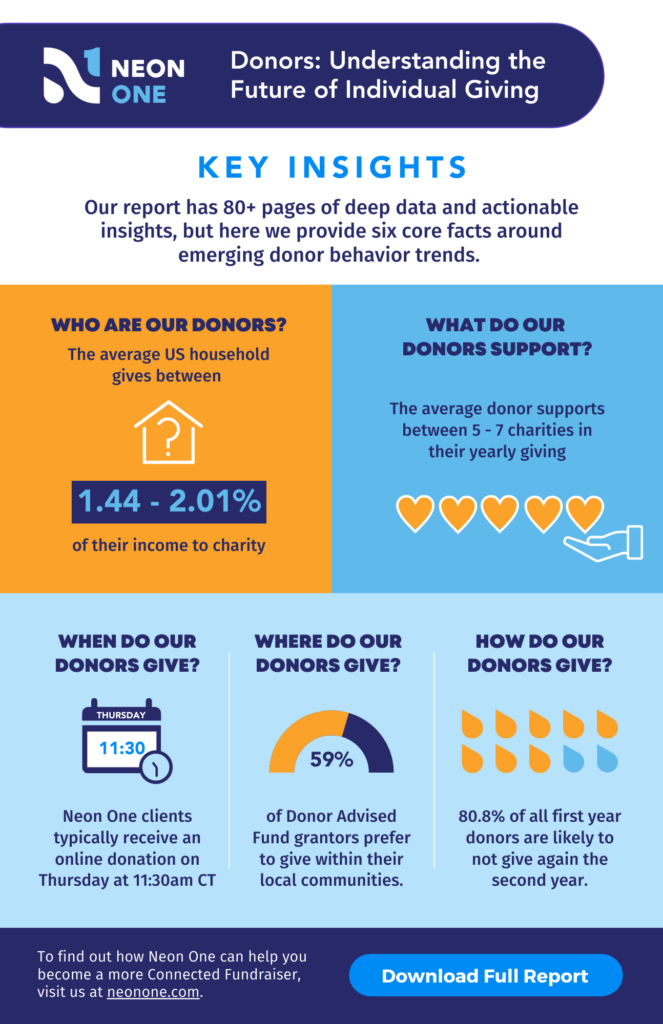 Who are your donors?
The average percent of income donated to charity range across all incomes in the United States. This means that donors can come from anywhere and that your organization's revenue opportunities should not be based around bias that you may have internalized.
What do your donors support?
Donors are on average supporting between 3 to 7 different charities in their yearly giving. As Mark Phillips of Blue Frog Consulting has said "They are not your donors; you are one of their charities." This is an important lesson for fundraising professionals to internalize when developing your communications plan.
When do your donors give?
In our research, we found that the most likely time that a donor was to give a gift online was at 11:30am Central Time on a Thursday. What this means is that your organization should pay attention to what your donors are telling you when they open their wallets, not necessarily what they are saying when you speak with them about their preferences. Pay attention to time data to understand your own donor community's personal preferences.
Where are your donors?
Research shows that the longer someone lives in your community, the more likely they are going to give to nonprofits where they live. Maintaining clean data such as accurate address information on your donors ensures that you can build a deeper relationship with donors of all sizes, not just the large gifts you receive.
Why do your donors give?
Psychologically the strongest affinity you can appeal to is through someone's sense of personal identity. Moving away from transactional relationship communication to identity centered relationships is the best investment you can make into your appeals process.
How do your donors give?
According to the Fundraising Effectiveness Project, nonprofits are likely to lose 80.8% of their first year donors. Acquiring new donors tends to be a loss in the first year of the relationship, which means losing them in year two will have catastrophic consequences for long term revenue growth.
How can donor behavior insights inform your fundraising strategy?
Research into donor retention shows that the majority of reasons a donor stops supporting a nonprofit is because of poor communication. Either they have had a poor experience with the organization or they do not remember giving in the first place.
This is directly related to how nonprofits manage their donor data. Instead of viewing the entirety of a donor's interaction with your organization as an evolving lifecycle, you typically only get snapshots of their relationship. Given that the average nonprofit manages their donor data in multiple data silos, there is no surprise that fundraisers struggle to get a full picture of their donors.
The goal should be to understand the entire lifecycle of a donor's relationship with your organization. In a world where data privacy is fast changing, nonprofits need to keep up with the personalization preferences of their constituents.
Once you understand your donors, then you begin to tailor their communications and provide them with an optimal donation experience to tap into their excitement for the work that you are doing.
How to Prepare for the Future of Individual Giving
The pandemic has accelerated trends that were already occurring around digital engagement while reinforcing that the best way to earn long-term support from your donor community is to build meaningful connections. Your donors are multifaceted and layered, so should be your approach to creating individual giving experiences.
That is why we are so excited to share this report. We have been presented with the greatest opportunity in the past thirty years to change how we interact with the people who support our missions.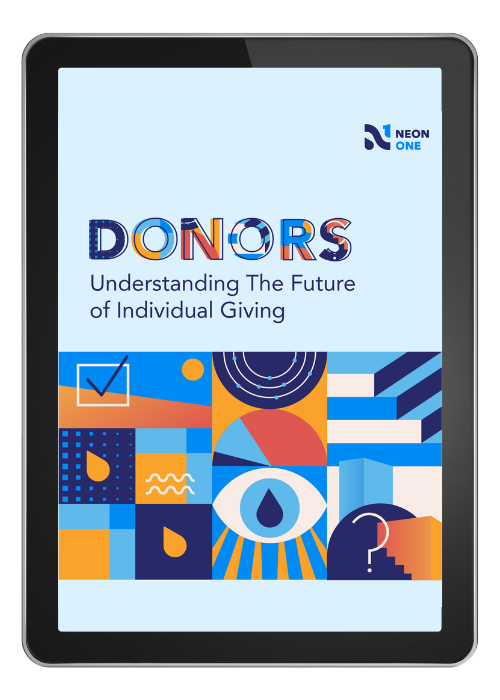 Donors: Understanding The Future Of Individual Giving
Take the first step to understanding the future of individual giving.
Join the discussion in our Slack channel on connected fundraising