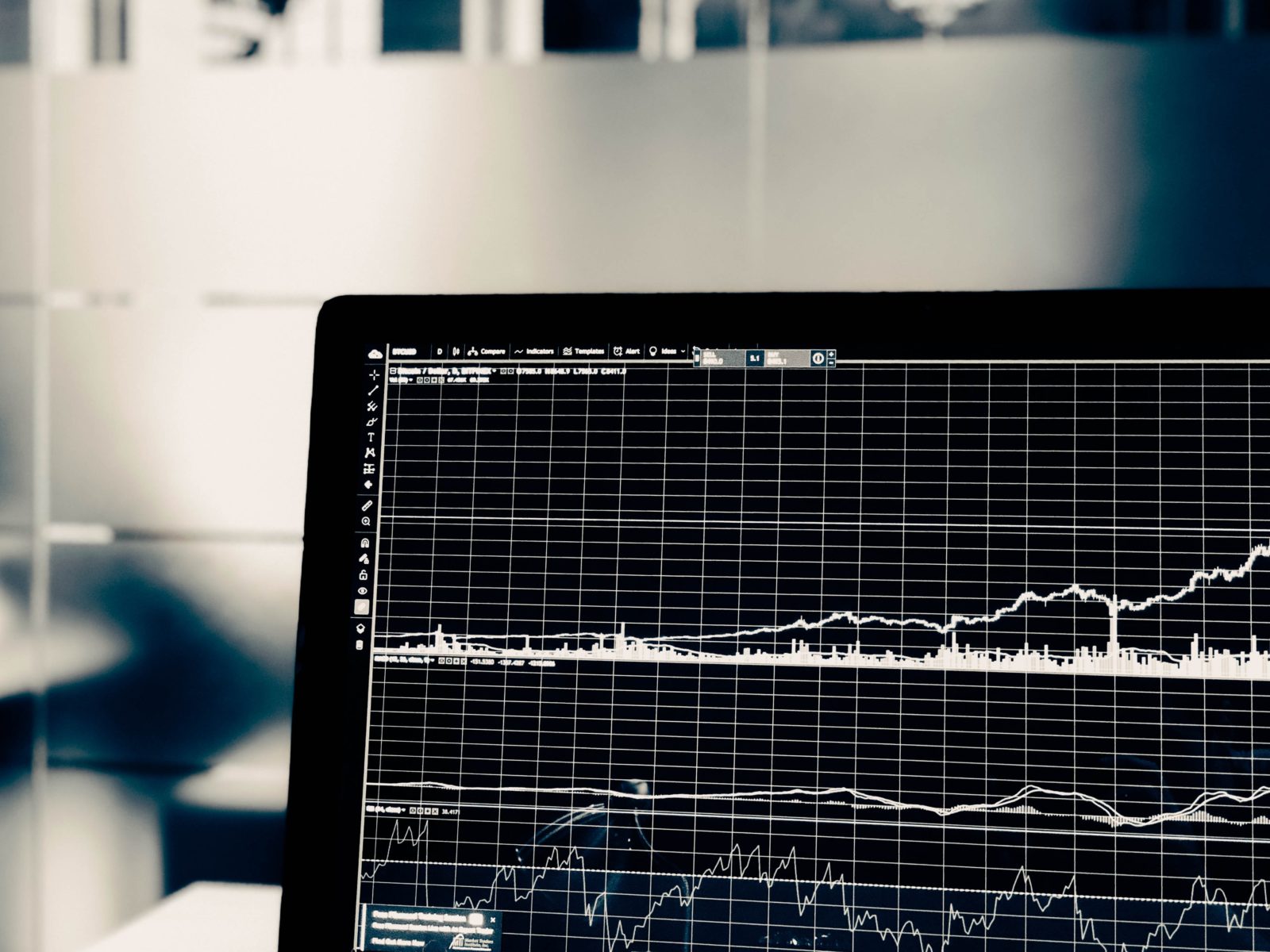 It is critical for nonprofits to have access to quality research.
Research helps to give a greater understanding of operations and programs in specific sectors to advance public policy and fundraising initiatives, and all-around improve the success of an organization.
This year, we partnered with NonProfit PRO for their third ever Nonprofit Leadership Impact Study.
The study provides valuable insights into the future of nonprofit leadership and takes a deeper look into the current trends and challenges in the nonprofit space, including top revenue-producing fundraising strategies.
We've included the top three takeaways from the study. Let's dig into what they mean for your nonprofit.
About the 2020 Nonprofit Leadership Impact Study
NonProfit PRO sent an online survey targeting leaders of nonprofits in February 2020. There were 412 respondents that were broken down into job title, job responsibility, and the nonprofit sector.
Respondents held job titles such as CEO (53%), Chief Development Officer (10%), Board Member (9%), Program Director/Officer (5%), Development (4%), Marketing Director or Communications (4%), Administration (2%), Vice President (2%), CFO/Treasurer (2%), and other (9%).
Of the survey respondents, 76% are responsible for development and fundraising and 61% are responsible for community outreach.
The study also reached a variety of nonprofit subsectors, the highest number of respondents coming from human services nonprofits (25%), health-related nonprofits (13%), education/higher education nonprofits (11%), and "Other" (23%).
The survey focused on asking questions relating to the nonprofit sector and its leaders to report on the current challenges and changes in the sector. Data collected from the study helps to provide insight on opportunities to improve or solve sector-specific challenges.
Takeaway #1: Most nonprofits consider themselves to be understaffed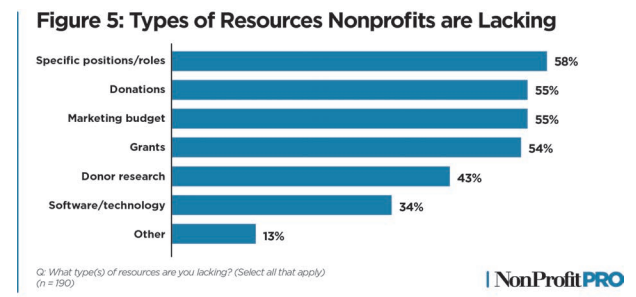 The study found that the most common resource missing was staff in specific positions and roles.
Fifty-eight percent of nonprofits indicated that they were understaffed. Other lacking resources included donations (55%), grants (54%), and software/technology (34%).
To address this lack of resources, only 33 percent invested in tools and software to enable better insights for strategic plans and data-driven decisions.
These findings suggest that there is ample opportunity to save staff time by investing in technology resources. The right platform can cut down on hours of manual tasks, freeing your staff to work on higher-level strategic initiatives.
The right technology is an investment that gives your organization the ability to conduct outreach, research, understand donor activity, and implement crowdfunding campaigns, to name just a few of the most common methods of addressing nonprofit challenges.
Takeaway #2: The top metric for measuring impact isn't a metric at all
Impact reporting is important to your donors.
Most donors want to know what kind of impact their donation or contribution will make for the nonprofit they are supporting. And if that information is not readily available, they may choose a different nonprofit organization to give their support.
We all know that impact metrics are important for donor engagement but what specific metrics matter most? What we found out, surprisingly, is that it's not a metric at all.
The most important outcome for measuring impact is the amount of progress achieved toward the final mission (29%), followed by the number of recipients helped (25%) and the amount of annual fundraising (21%).
The amount of progress achieved toward the final mission may seem like a great metric of success, but let's face it, most nonprofits have long-term and complex missions. Solving world-hunger is not something that can be easily fixed or measured.
Measuring progress can become more useful and digestible when you break your mission down into calculable goals or S.M.A.R.T. goals.
Every nonprofit is involved in a mix of fundraising events, projects, programs, grants, and more! It could be close to impossible to accurately measure the progress achieved towards the final mission, with all of the moving parts.
Using S.M.A.R.T. goals will give you and your donors a better understanding of your mission's progress and overall impact. A S.M.A.R.T. goal is:
Specific

, with clearly defined objectives.

Measurable

, meaning you'll be able to quantify its success with hard evidence and data.

Achievable

, but just challenging enough so that meeting it requires some extra effort.

Relevant

, meaning meeting this goal will help bolster your organization's mission.

Time-bound

, so your goal will be linked to a timeframe that promotes a sense of urgency.
By breaking larger goals into small incremental ones, you are able to complete and measure each goal, while moving toward reaching your overall mission.
Smaller goals also enable your supporters, volunteers, and staff to celebrate milestones, which provides encouragement to keep them moving forward.
Following these guidelines will allow you to adjust your strategies and measure your actions so that you can continue to share your organization's impact in a way that motivates and inspires all your supporters.
Takeaway #3: Major gifts & direct mail fundraising are top revenue generators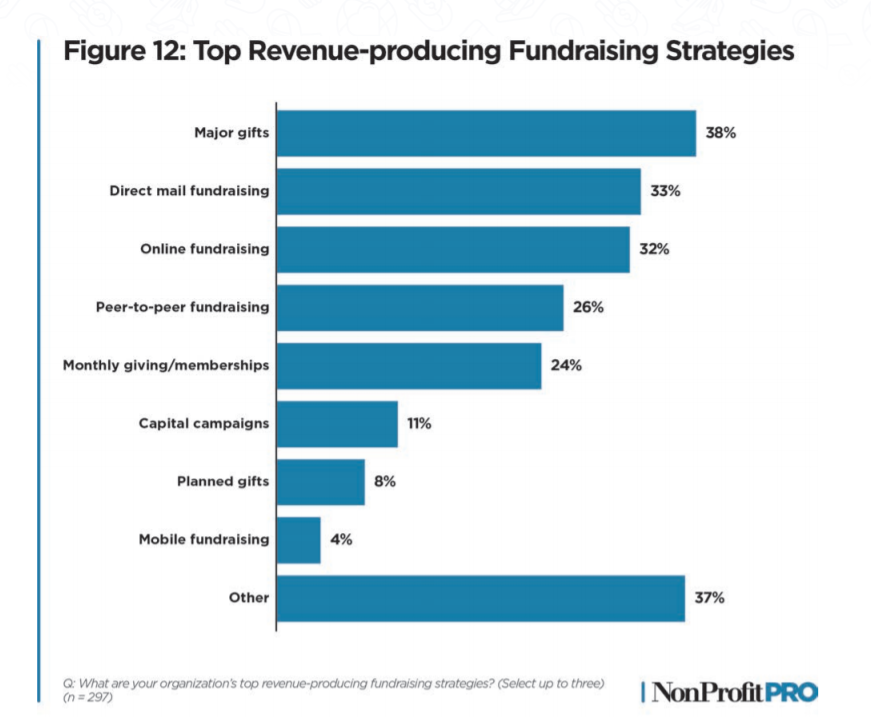 According to survey respondents, thirty-seven percent of respondents report major gift fundraising is their top revenue-producing fundraising strategy, and thirty-three percent report it as direct mail fundraising.
Traditional fundraising continues to be more popular than modern fundraising methods.
Major gifts and direct mail remain on top and are followed by online fundraising (32%) and peer-to-peer fundraising (26%) as top revenue-producing fundraising strategies.
As offline revenue strategies remain a major part of nonprofit's strategies, it's essential to continue to track offline strategy the same as you would for online strategy.
With the right technology platforms, your nonprofit has the ability to accurately track traditional "offline" efforts like direct mail alongside online outreach. For example, our CRM solution, NeonCRM, offers mail merge functionality that allows for a more holistic view of constituent relationships for both offline and online fundraising efforts.
Remember, the most successful nonprofits create fundraising strategies that combine both traditional and modern fundraising tactics.
These key findings, along with the rest of the trends and advice presented in the 2020 Nonprofit Leadership Impact study, can be used to guide you through the ever-changing landscape of the nonprofit world.
You can access the 2020 Nonprofit Leadership Impact Study here.
Join the discussion in our Slack channel on connected fundraising