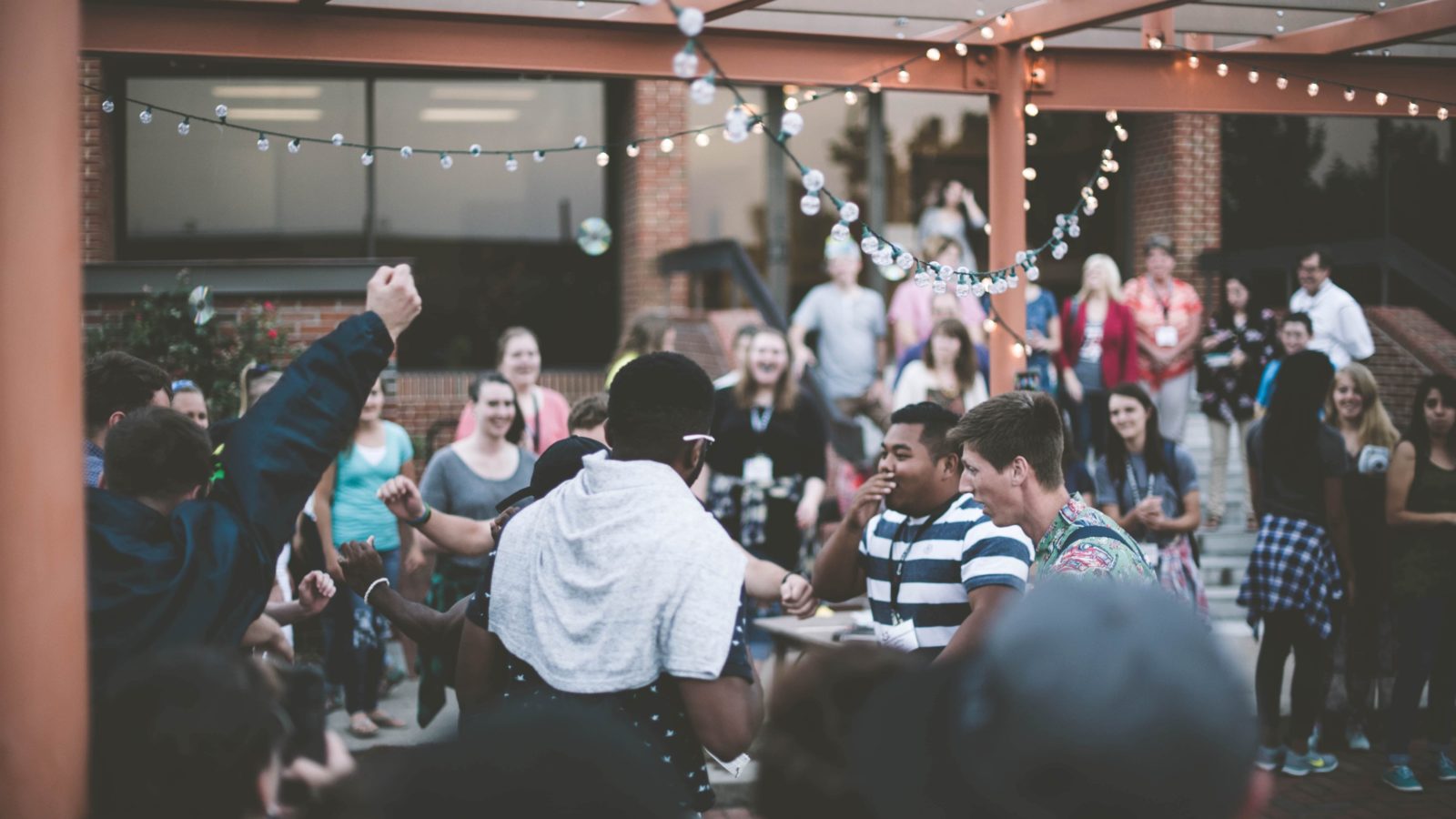 When considering what kind of event your organization could hold, you might find yourself suffering from choice paralysis. There are so many different kinds of nonprofit event ideas out there! How do you choose just one?
The type of events that will work best for your nonprofit will depend on three major factors: Your organization's mission, your available resources, and your supporter's preferences. The best event for your nonprofit is one that serves your mission, delights your community, and doesn't totally burn out your staff.
With those factors in mind, we've put together a list of 52 nonprofit event ideas to help serve as a "vision board" for your organization's next event. We've broken them down into six major categories. Enjoy!
Nonprofit Peer-to-Peer Events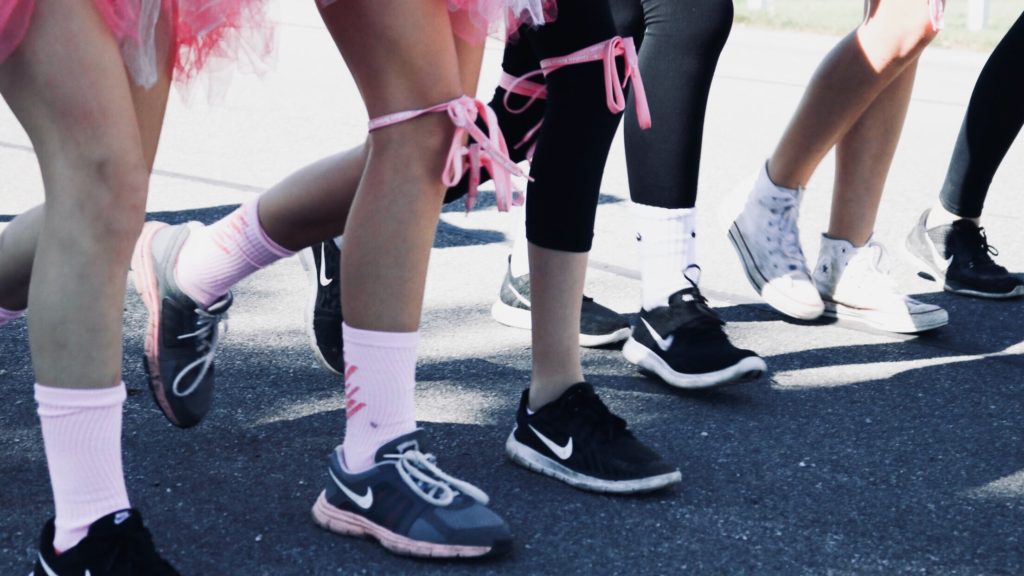 If your nonprofit has never held a peer-to-peer fundraiser, here's how they work: Your organization recruits individual participants who then raise funds directly from their friends, family, and networks.
There are lots of ways to do peer-to-peer fundraisers, and holding events like a bike ride, a cook-off, or a "challenge" (insert first obligatory mention of the Ice Bucket Challenge) are some of the best ones.
The possibilities for peer-to-peer fundraising events are nigh on endless, but here are nine of the most popular kinds:
1. Golf Tournament
Bring together avid golfers and local philanthropists—in many cases, they're one and the same—for a day on the greens. Like many of the fundraisers in this section, your participants can create personal fundraising pages and gather pledges from their network, often tied to their performance during the tournament. A charity golf tournament won't just raise money and build excitement for your cause, it can also be a pillar of your major donor recruitment plan.
2. Foot Race
These are a classic of the genre. Charity Races like marathons, 5Ks, fun runs, or walkathons invite participants to register with your nonprofit and collect donations from their community, making every step count for your cause. If your race is a success, you can pretty easily turn it into an annual tradition—one that your community will love!
3. Bike Ride
Over the past 20+ years, cycling has exploded in popularity; your nonprofit can draft off that momentum by holding a charity bike ride. Cyclists sign up for the ride and seek out people in their network to sponsor their participation. The longer the distance covered, the more funds they can potentially raise. It's a healthy and engaging way to support your nonprofit's cause.
4. Sports Tournament
Organizing a sports tournament can attract local teams and sports enthusiasts to compete in games like soccer, baseball, softball, basketball, and more. If there are any amateur sporting leagues in your area, a tournament will help you tap into that network and potentially expand your donor pool. It's a great way to harness the competitive spirit for a good cause.
5. Challenge Events
Challenge Events encompass a wide range of activities, from weightlifting to hot dog eating to (insert second obligatory mention of the Ice Bucket Challenge). By coming up with an unconventional—and difficult or trying—way for participants to show their support, your nonprofit can raise a lot of awareness and dollars for your cause. One of the reasons that challenge events work so well is something called the "martyrdom effect" which finds people feel better about a thing if they have to undergo adversity to achieve it. Use that to your advantage!
6. Themed Trivia Night
This one's for the nerds! While the five events on this list speak are all about physical activity, hosting a themed trivia night makes for a slightly brainier night out. Teams can pay to participate in your event and can also seek sponsorships tied to their performance. Attendees will enjoy themed trivia questions, compete for prizes, and contribute to your cause while having a blast. You can even make your trivia night a regular event that builds a sense of community and brings in more potential donors.
7. Themed Costume Party
A Themed Costume Party is an opportunity for supporters to dress up according to a chosen theme and enjoy a fun night out. Don't worry too much about tying in the theme too closely to your nonprofit's cause—a goofy "pirate" theme, for instance, will always be appreciated no matter what kind of organization is throwing it. You can up the ante by building your party around a costume contest and encouraging attendees to get sponsorships for their participation.
8. Dance-a-Thon
You and your staff work tirelessly to bring your nonprofit's mission to life. Why not ask your supporters to join in the fun and dance till they drop? In a dance-a-thon, participants gather donations from friends and family based on their hours spent dancing. It's a lively and interactive way to raise funds—just make sure that you have some professionals on hand in case people get a little carried away or don't stay properly hydrated.
9. Cook-Off
Does your area have a special dish that is imbued with a lot of local pride? Whether your community specializes in pies, jams, barbecue, or jambalaya, your nonprofit can create a showcase where culinary enthusiasts can compete for a big prize (and even bigger bragging rights). This is an event where you can sell tickets and food in addition to asking participants to fundraise.
Find Your Peer-to-Peer Fundraising Solution
Neon Fundraise is a powerful fundraising platform that comes with an unrivaled set of peer-to-peer fundraising tools. With Neon Fundraise, you can support peer-to-peer campaigns of any size with customized onboarding, livestream fundraising, personalized donation pages, powerful reporting capabilities, and more.
To learn more about Neon Fundraise, click the button below. If you want to see the system in action, request a personal demo that's customized to your nonprofit's needs.
Arts & Culture Nonprofit Events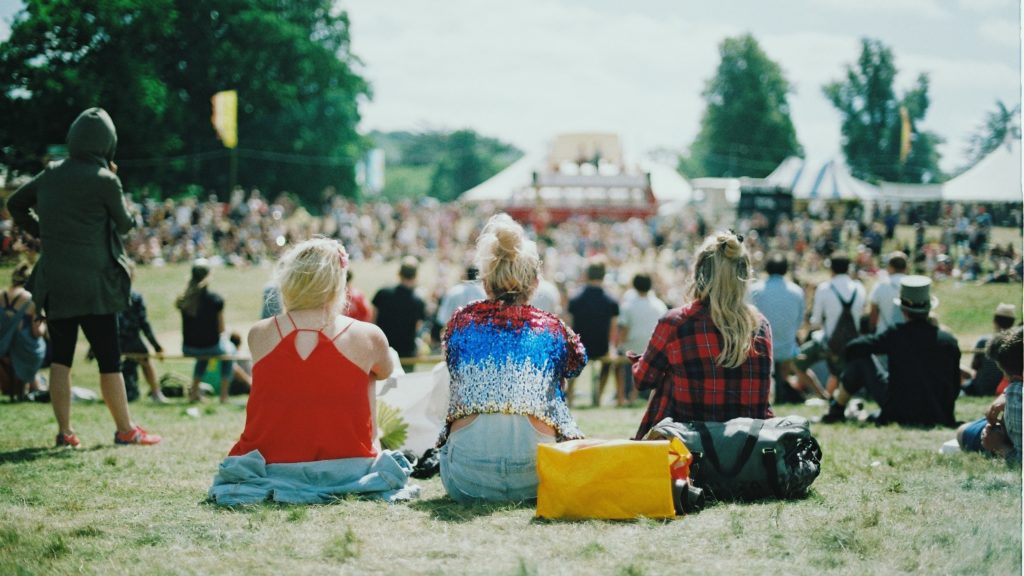 For nonprofits whose missions lie in the arts and culture spaces, many of the events listed here are pretty par for the course. But there are also tons of opportunities for non-arts based organizations to throw an event that showcases creativity.
Here are nine arts and culture-related nonprofit events that blend entertainment, education, and appreciation while creating strong connections in local communities—and raising some funds to boot.
10. Concert
Bring together local music lovers for an unforgettable evening that highlights your nonprofit's mission. And you don't need famous musical groups either: Local acts with local fan bases are a great way to attract audiences and put on a great show. Your organization can attract sponsorship donors and local businesses while charging money for tickets and asking for additional donations during the event.
11. Fashion Show
Hold a fashion show that gives local designers and businesses a change to display their latest styles while creating a theme that ties into your cause. This can work for organizations with missions that aren't arts-related, too! An environmental nonprofit, for instance, might showcase styles made from organic or recycled materials. You can also let your designers set up booths to sell the fashions on display and turn the event into a mini-arts fair.
12. Art Exhibition
You can never go wrong with highlighting local artists. Solicit works from painters, sculptors, and photographers in your area and create a gallery exhibition to show off their works. You can throw an "opening night" fundraiser with tickets to create some buzz and excitement around the exhibit while giving your staff a great opportunity to chat up donors.
13. Gala Dinner Theater
We touch on annual galas later on in the list, but why not create a gala event that's centered around a theater performance? This works great for theater companies, but it can also work as a joint fundraiser between a theater and another organization. Work with local businesses to secure food and catering (possibly as sponsorships). Pick a play that's a fun crowd pleaser, or maybe go with some improv, standup, or sketch comedy!
14. Film Screening
Screen a thought-provoking documentary related to your mission, an independent film from an up-and-coming director, or a cinema classic that both parents and kids can enjoy. The possibilities are endless! Summertime is an especially good time for film screenings as you can turn them into an outdoor picnic event.
15. Arts and Crafts Fair
Hold an arts and crafts fair that celebrates the creativity of local artisans. Vendors showcase handmade crafts, jewelry, and artwork, and a percentage of sales goes to the nonprofit hosting the fair, supporting its cultural programs. This is a great event to build connections with your community as it doesn't require tickets to attend.
16. Storytelling Night
There are two ways to put on a storytelling night. You can either host constituents who share stories related to your cause and your nonprofit's work, or you can provide a stage for local storytellers to share narratives, myths, or personal tales. These events can be a great fit for kids and families. Consider hosting on holidays like Halloween, Christmas, or Veteran's Day for some fun, seasonally-themed tales.
17. Book Sale
Book sales offer a literary haven for bookworms. Supporters can browse through a wide selection of donated books and make purchases, with proceeds going toward the nonprofit's initiatives. You can even host a local author as part of the event, and you should definitely set up a display with works related to your cause.
18. Dance Shows
Bring together dance fans from your local community while showcasing the artistry and grace of local performers. This could be a fundraiser for a kid's ballet group, or it could host a culturally specific dance troupe. Any type of dance show that you hold gives you the chance to sell tickets and build relationships with current and potential supporters.
If you're an arts and culture nonprofit, check out the article below for even more fundraising ideas unique to your mission:
Nonprofit Community Events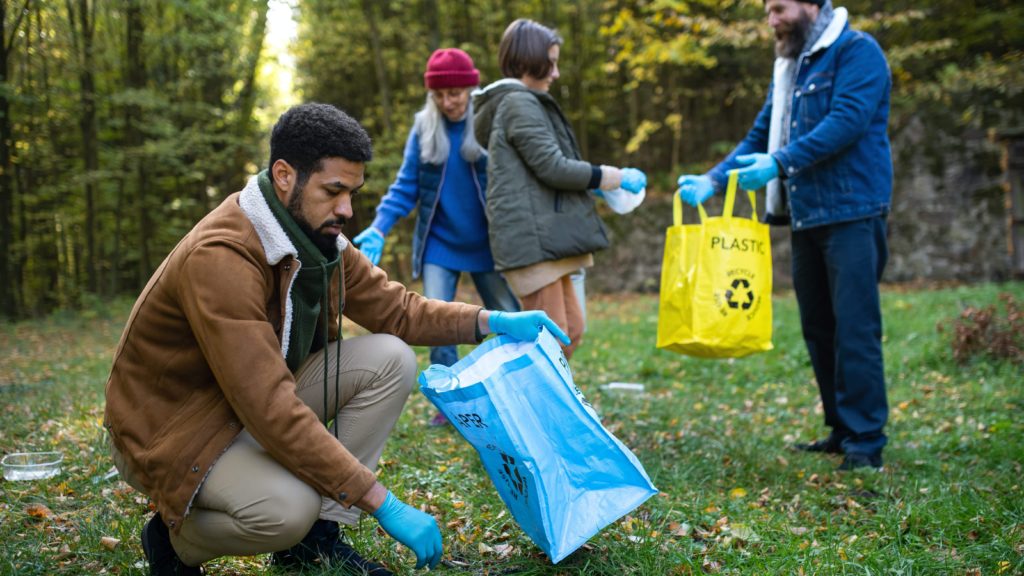 Community events are the heart and soul of nonprofit organizations, providing a way to connect, engage, and give back to the neighborhoods they serve. These events bring people together for a common cause while promoting a sense of unity and goodwill.
You might be saying to yourself: Aren't all nonprofit events community events? Yes, they are! However, the nine events listed here focus specifically on community engagement.
19. Food Festival
Partner with community vendors to provide a feast for the senses featuring diverse cuisines, local delicacies, and culinary delights. You can have vendors set up booths, or you can do a version of this event focusing entirely on food trucks. You can sell tickets to this event or ask for a portion of the proceeds as a fundraiser (or even just to cover costs), but you should also use this opportunity to spread the word about your mission and programming.
20. Neighborhood Block Parties
You can never go wrong with providing an event geared towards kids and families—that's why we have an entire section of such events below. With a neighborhood block party, you'll foster a sense of community by bringing neighbors together for fun and games, food, and entertainment. Nonprofits often host these events to strengthen neighborhood bonds and promote community engagement. Here's a pro tip: You can never go wrong with hiring a shaved ice truck to attend.
21. Volunteer Fair
Your nonprofit likely has a dedicated corp of volunteers that make your work possible. Hosting a volunteer fair will help build bridges between local nonprofits and potential volunteers. These events showcase various volunteer opportunities within the community, allowing attendees to explore ways they can contribute to worthwhile causes. Look at partnering with local civic groups and high schools or colleges to get the word out!
22. Community Clean-Up Days
No matter what sector your nonprofit's mission falls under, holding a community clean-up day will help create strong bonds within your community that further your organization's work. Gather a group of volunteers to pick up litter, plant trees, clean public spaces, and create a cleaner, more beautiful environment for everyone. This is a good opportunity to engage first-time volunteers who might sign up for other opportunities down the line.
23. Pet Adoption Event
Obviously, pet adoption events make perfect sense for animal shelters and other animal welfare-focused groups. But any nonprofit can earn a lot of local goodwill by helping furry friends find loving homes. Have your organization collaborate with local animal shelters to host adoption drives, connecting animals in need with caring families. Just make sure you don't end up bringing back an office kitty cat or three.
24. Community Garden Day
Similar to clean-up days, holding a community garden day is a great way for your nonprofit to build connections in your community. Celebrate the joys of gardening and sustainable living. Attendees can participate in planting sessions, learn about gardening techniques, and contribute to the maintenance of community gardens.
25. Volunteer Appreciation Party
Holding a volunteer appreciation party is an opportunity for nonprofits to express gratitude to their dedicated volunteers. It's a celebration of their hard work and commitment, strengthening the bond between volunteers and the organization. By making this an event that's open to the public—perhaps with free admission for volunteers and their families—you get the chance to celebrate their work more broadly while also creating opportunities to sign up new volunteers.
26. Tree Planting Initiatives
Tree planting initiatives promote environmental conservation and beautification. Volunteers come together to plant trees in parks, streets, and public spaces, contributing to a greener and more sustainable community. If you're an environmental nonprofit, this event is likely already in your arsenal, but other nonprofits can help sponsor these initiatives and enlist supporters, volunteers, and staff to participate. Even if you don't raise a single dollar or get one new volunteer out of it, at least you've planted a lot of trees!
27. Holiday Bazaar
Host a holiday bazaar that brings local artisans and vendors together to showcase their wares, creating a festive shopping experience for the community. Given the general fervor with which people attack the holiday shopping season, this event has a higher chance of success than your average arts or local business fair. If you kick this event off early enough, it'll be a great chance to promote your nonprofit's GivingTuesday campaign!
Need help planning your organization's next big event? Our 12-step guide to event planning for nonprofits has everything you need to know.
Nonprofit Educational Events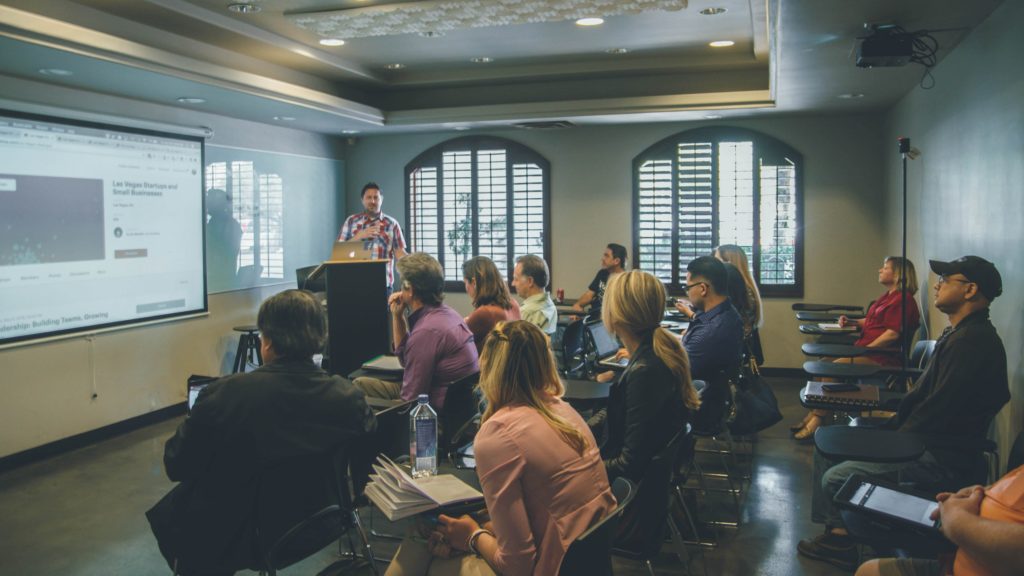 Educational events hosted by nonprofits are powerful tools for sharing knowledge, developing skills, and empowering communities. It's also nice to hold events for your supporters that aren't geared toward fundraising while also reminding them of all the good you do.
These events not only inform and educate; they also inspire positive change. Let's run through eight types of educational events that nonprofits can use to serve their local community.
28. Classes
Nonprofit organizations often offer classes that cover a wide array of topics, from literacy and language skills to financial literacy and job training. Arts-based nonprofits can employ local artists to teach any number of art forms; environmental nonprofits can teach gardening; food pantries can host cooking classes; the possibilities are endless! Depending on your costs and the needs of the community, classes can be an important revenue stream while also operating as the tip of your new donor acquisition spear.
Neon CRM has a bunch of great features to let nonprofits host classes and sell tickets. You can learn more by signing up for a 30-minute, no-pressure group demo below.
29. TEDx-Inspired Talk Series
Host a nonprofit talk series—inspired by the TEDx format— featuring speakers who share inspiring stories, insights, and ideas. These talks should generally align with your mission, but they can take a broad view of that topic. Draw from a wide array of speakers like your nonprofit's executives and board members, your constituents, experts in the field, and community leaders. These events ignite thought-provoking discussions and promote personal growth while shedding light on pressing issues.
30. Health Screenings and Clinics
Health screenings and clinics are vital educational events that provide access to essential health services. Nonprofits can collaborate with healthcare professionals and organizations to offer screenings, vaccinations, and health education, promoting wellness within the community. If your nonprofit has offices or a community space, holding the event there is a great idea. But even organizations without those resources can help sponsor and provide support.
31. Mental Health Workshops
There isn't a community in the entire country that couldn't use more mental health support. Mental health workshops address the critical need for awareness and support. These events provide tools and resources for managing stress, anxiety, and mental health challenges, fostering a more resilient and empathetic community. Similar to health clinics, providing a site to host the workshop is great, but sponsorship and general support help too.
32. Health and Wellness Fairs
Health and wellness fairs are comprehensive events that offer a range of health-related services and educational sessions. They cover topics like nutrition, fitness, preventive care, and holistic well-being. If your nonprofit is considering hosting or sponsoring one, be on the lookout for other local groups or schools that you can bring into the partnership and get this information to the populations that need it the most.
33. Panel Discussions and Forums
Panel discussions and forums bring experts together to address complex issues. These events foster informed conversations, highlight diverse perspectives, and promote community engagement on important topics related to your nonprofit's mission. You can create a series of discussions and invite your supporters to attend, and you'll want to find like-minded organizations in the community who can also promote the series to their audiences.
34. Children's Workshops
Similar to ongoing classes, one-off workshops tailored for children provide engaging learning experiences and create an opportunity to build bonds with local families. Workshops cover various subjects, from science and art to environmental conservation and character development, nurturing a love for learning in young minds. If you have success with children's workshops, you could look into expanding your educational offerings into a full summer camp experience.
35. Leadership Development Workshops
Every community could use more leaders, and leadership development workshops equip individuals with the skills and knowledge needed to lead effectively. Nonprofits often organize these events to empower emerging leaders within the community, promoting positive change and social impact. If you're looking for a good place to start, set up a series of leadership workshops geared towards high school students with an interest in fostering positive change.
Nonprofit Events for Grown-Ups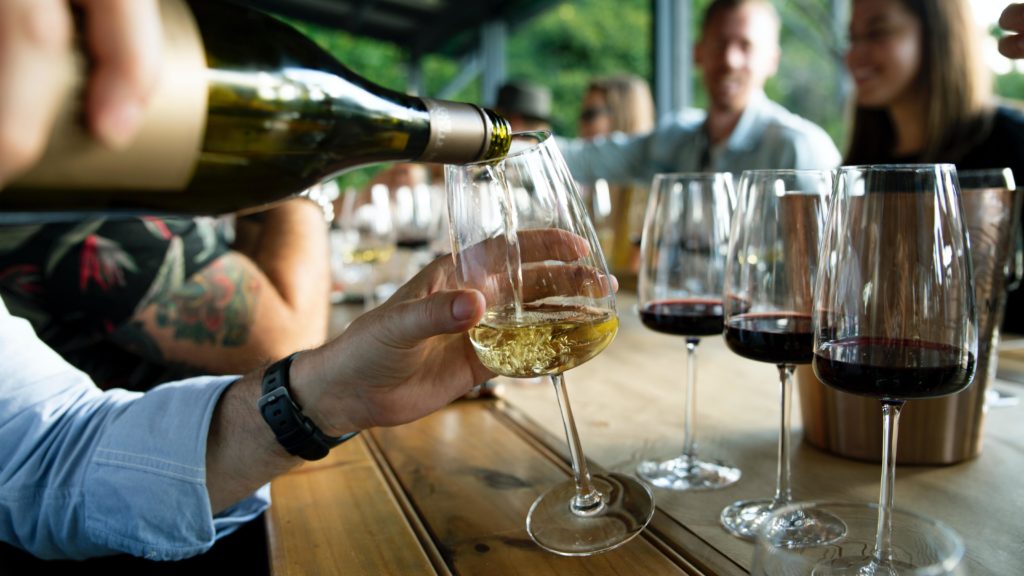 Nonprofit events aren't just for families; there's a wealth of exciting and engaging activities designed especially for grown-ups. These events offer a perfect blend of entertainment, socialization, and philanthropy. And if you're creating an event for major donors, a classier, more adult affair might be just the thing to secure their support.
Let's explore nine fantastic nonprofit events tailored for adults.
36. Annual Gala
Ah, the old standby. Annual galas are usually sophisticated affairs, often featuring live music, fine dining, and a silent or live auction. Attendees dress to impress, all while supporting a nonprofit's mission through ticket sales and generous donations. This is a key hub for developing major donors, and it can also be a good way to solicit corporate sponsors as well.
37. Auction
Auctions are versatile fundraisers where attendees bid on items, experiences, or services donated by local businesses or individuals. They are often held as a part of an annual gala, but they don't have to be. A critical factor is getting awesome items to put up for auction, and that will involve working with your board and reaching out to local businesses and/or local offices of major corporations. For your next auction, why not consider a more casual, community-based affair? Pair it with a picnic or cook-off to create an awesome, family-friendly event.
38. Wine Tasting
Wine tasting events offer a delightful evening for oenophiles and newcomers alike. Participants savor different wines, often with expert guidance, while enjoying appetizers and raising funds through ticket sales and wine purchases. Much like annual galas and charity golf tournaments, wine tastings offer a primo opportunity to court major donors, so make sure your board is heavily involved.
39. Home Tours
Most communities sport homes that are historical landmarks, and home tours provide a peek into these beautifully designed homes, showcasing architecture, interior design, and landscaping. For environmental nonprofits, sponsoring a series of historic home tours can provide a fruitful opportunity to discuss the ways homes were built then, and the more environmentally friendly methods used to build homes now.
40. Cooking Classes
We covered classes more generally in the "Community Events" section, but cooking classes deserve a special shout-out for their ability to create an engaging, adult-focused event. Attendees learn cooking techniques, savor delicious dishes, and often take home recipes, all while contributing to your nonprofit's cause through class fees. You can also offer cooking classes that are more family and kid-focused for an entirely different spin on a fun night out.
41. Paint-Along
Paint-along events bring out the inner artist in attendees. Participants follow a local artist's guidance to create their masterpieces while enjoying a fun, social atmosphere. And if you really want to get the acrylics flowing, pair your paint-along with wine. You can partner with a local winery or tell attendees to BYOB. If you offer regular painting classes, this event gives you the perfect chance to advertise them!
42. Silent Retreat
Offer a tranquil escape from the hustle and bustle of daily life by hosting a silent retreat. What better way to support a local nonprofit than by seeking serenity, reflection, and personal growth in a peaceful, no-phones-allowed environment? Look for local campsites and spas that would consider sponsoring the event. This is one type of event that can't really be modulated to include kids, but that's part of the appeal!
43. Casino Night
Give your supporters a taste of that "Ocean's Eleven" life with an event featuring classic casino games, live music, and a chance to win prizes—all for the benefit of your nonprofit! The most important thing we're going to call out here is that there can be fairly strict local and state laws governing casino fundraisers, so you should definitely familiarize yourself with those—and talk to a lawyer—before you put this night on the schedule.
44. Charity Pub Crawl
Hook up with local pubs and microbrewers to create a fun, slightly boozy fundraiser that combines socializing and philanthropy. As your participants visit local pubs or bars, enjoying drinks, camaraderie, and sometimes themed costumes, make sure you have procedures and staff in place in case anyone gets overserved—and make double sure that nobody's driving. You'll also want to make sure the different stops on your list offer non-alcoholic options for designated drivers and other folks who want to support your cause without imbibing. If you're more interested in doing a standalone brewery fundraiser, check out our article below for tons of great tips:
Nonprofit Events for Kids & Families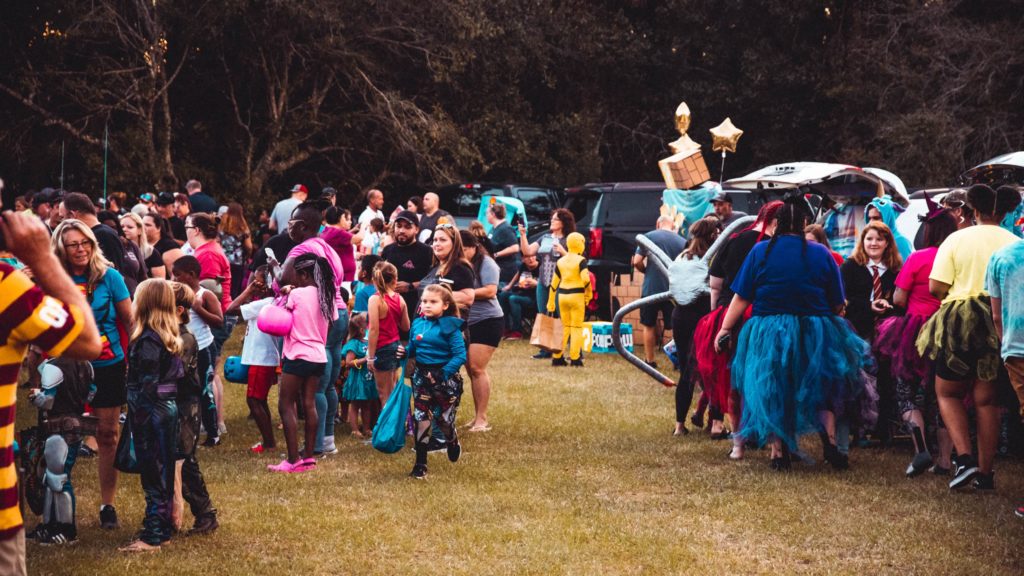 Nonprofit events designed for kids and families offer a fantastic way to bring generations together, promote community bonding, and instill a sense of philanthropy in young hearts.
These events are not just entertaining but also provide opportunities for learning and making lasting memories.
Also, let's be honest, they give tired parents something to take their kids to where they will be safe, have fun, and give their folks a moment or two to sit down and catch their breath. That's a great way to demonstrate value in your community. No joke!
With all that said, here are eight exciting nonprofit events tailored for kids and families.
45. Kids Talent Show
Give young performers a chance to shine by hosting a kids and youth talent show. Children can showcase their skills in singing, dancing, magic, or other talents, as families come together to cheer them on. This is an opportunity to build bonds throughout the community and enroll children from families outside your normal supporter base. Reach out to local schools and youth groups to see who might be interested in participating.
46. Science Fair
Science fairs encourage young minds to explore the wonders of science. Kids and their families engage in hands-on experiments and learn about scientific concepts, all while having fun. If your mission is science-focused, you can create a theme for your event that speaks to that cause and teaches kids even more about the important work your organization does.
47. Youth Sports Tournament
We mentioned holding an adult sports tournament at the beginning of this article—now we're turning to the youths. Bring young athletes and families together for a day of friendly competition that promotes physical activity, teamwork, and sportsmanship. Most communities are absolutely lousy with youth sports leagues, which means a ton of opportunities to recruit teams and build relationships.
48. Family Fun Days
Family fun days offer a wide range of activities, from games and crafts to face painting and entertainment. Families can bond, play, and enjoy quality time together. The great thing about a family fun day is that it will automatically appeal to families in your area while providing a lot of flexibility in terms of what you can offer. Consider making this a non-ticketed event and instead use it as a chance to meet new faces and start creating community bonds.
49. Escape Rooms
Escape rooms challenge families to solve puzzles and mysteries as a team. These events promote critical thinking and teamwork while offering an exciting and immersive experience. Unless you have a true puzzle head on your staff, you'll probably want to partner with a local escape room provider to throw this event. But you can also have a lot of fun figuring out ways to tie your mission into the puzzle's setting and themes.
50. Holiday Parties
Celebrate one of the many festive seasons that happen throughout the year with a holiday party featuring themed activities, games, and treats. There are a ton of opportunities to throw a fun bash within the Halloween/Thanksgiving/Christmas corridor, but look for other chances as well: Valentine's Day, Independence Day, Veteran's Day, Earth Day, and Labor Day all provide real opportunities for the right nonprofit.
51. Trunk-or-Treat
Trunk-or-treat events offer a safe and fun alternative to traditional Halloween trick-or-treating–and they have really grown in popularity in recent years. They're pretty simple: Families decorate car trunks and distribute treats to children in a controlled environment. They're a fairly low lift and are almost guaranteed to attract families from your neighborhood. If your nonprofit has a parking lot, you should seriously consider hosting one.
52. Easter Egg Hunts
This is another event that's beloved by families and is fairly easy to pull off. All you need is a bunch of colored eggs and/or plastic eggs filled with candy, and a nice open area to hide them in. It won't cost much to put on and will offer a prime opportunity to engage with families in your area. Just make sure you get your space secured well ahead of time, lest another local organization snatches it up first!
Not done looking for potential fundraising events? Then keep the party going with this list of 50 fundraising ideas for nonprofits. Happy hunting!
Running Events is Easy in Neon CRM
Phew! That was a lot of events, right? Luckily, once you've picked the right event for your nonprofit, all that's left to do is … well … everything.
Nonprofit events can make a huge impact on your mission—but they require a ton of work! What you need is a platform that lets you sell tickets, assign seats, send receipts and confirmations, add or update donor records, and track your attendees all in one place.
Here's the good news: Neon CRM can do all of that and more! As a part of its robust suite of donor management tools that includes fundraising, email, volunteers, reporting, workflow automation, memberships, and more, Neon CRM has a powerful set of event management features that will make hosting your next class or fundraiser a breeze.
Want to learn more about Neon CRM? Sign up for a 30-minute group demo that walks through everything Neon CRM offers—all with zero pressure to buy. To schedule a group demo, just hit the button below and pick the upcoming session that best fits your schedule. We'll see you there!
Join the discussion in our Slack channel on connected fundraising