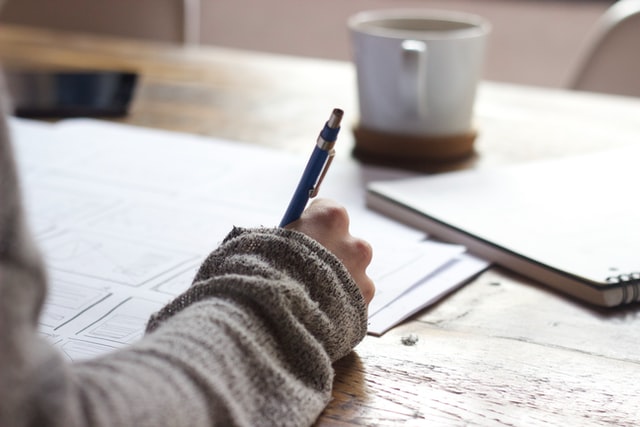 Cougar Mountain Software, an official Neon One Certified Partner, is a comprehensive accounting platform that can manage all revenue and expense needs in a platform built for nonprofits. Today we hear from the experts at Cougar Mountain about nonprofit fund tracking.
Working for a nonprofit organization can be one of the most rewarding jobs in the world. For many in the nonprofit industry, nothing matters more than doing good work, but to make that good work worthwhile, your organization needs to keep track of every penny coming in and going out. This means you need detailed and manageable fund accounting.
But, wait, why is nonprofit fund tracking so important? And are there other requirements? Not to worry, we're going to break it down for you by going over the following:
Why your organization needs to track its funds
The required nonprofit fund tracking reports
Let's get started!
Why does your nonprofit need detailed fund tracking?
A key part of working for, or with, any nonprofit organization is to remember that a nonprofit uses fund accounting, emphasizing accountability rather than profitability. This means that no matter where the money comes from, be it a grant or donation, every penny must be accounted for. This is especially important because potential donors will want to know their money will be invested in an organization that uses its donations wisely.
Donations and grants must be tracked the second they come into a nonprofit organization. Fund tracking should show exactly where every penny is being moved, spent, or saved. A Revenue and Expense report can be pulled at any time to get an overview of the total monies coming in and going out of the organization's varying funds.
Most funds are separated into two categories, those with restrictions and those without restrictions. It's important to know which funds are restricted or unrestricted when you set them up. Restricted funds can only be used for a specified purpose. Unrestricted funds can be used for any purpose at the discretion of the organization.
Remember, fund accounting is about accountability, making sure the board of directors knows what is happening to the money coming in and going out of the organization, plus where it is being spent. By tracking your funds, the trust you gain with those on the board, as well as other outside parties, grows.
What reports are required for nonprofit organizations?
Within your organization, you'll need to create and view all kinds of reports to show the health of your organization. But three key reports are required by the Financial Accounting Standards Board (FASB) for a nonprofit organization to have. They are the:
Statement of Activities
Statement of Financial Position
Statement of Cash Flow

FASB is a private, nonprofit organization whose primary purpose is to establish and improve generally accepted accounting principles (GAAP) within the United States in the public's interest. The intent and purpose of FASB requirements are to bring a measure of uniformity to the financial statements of nonprofit organizations, particularly for the benefit of external viewers.
Many times, FASB reports can also be used internally, though their primary function is for external viewers such as investors, donors (current and potential), and the government.
Each report has its own function to show the current financial state of a nonprofit organization. FASB-compliant reports must show the fund amounts as restricted or unrestricted.
For example, The Statement of Financial Position shows an organization's assets, liabilities, and net assets separated into "with donor restrictions" or "without donor restrictions."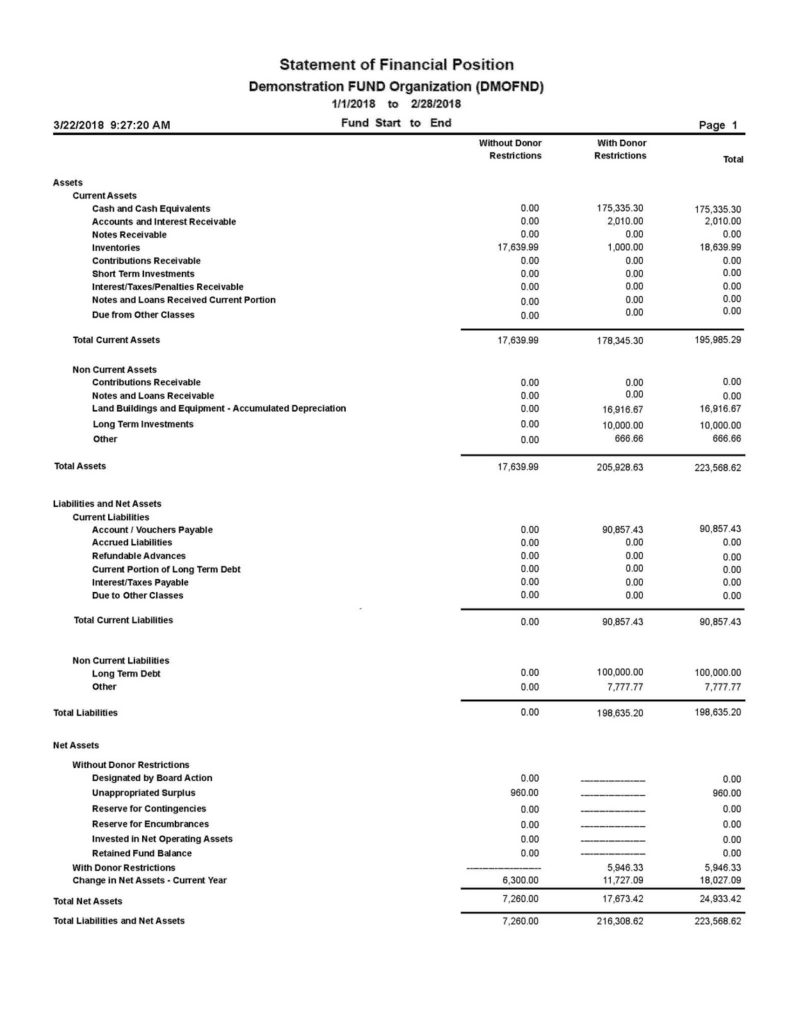 The Statement of Activities shows the changes made in restricted and unrestricted net assets.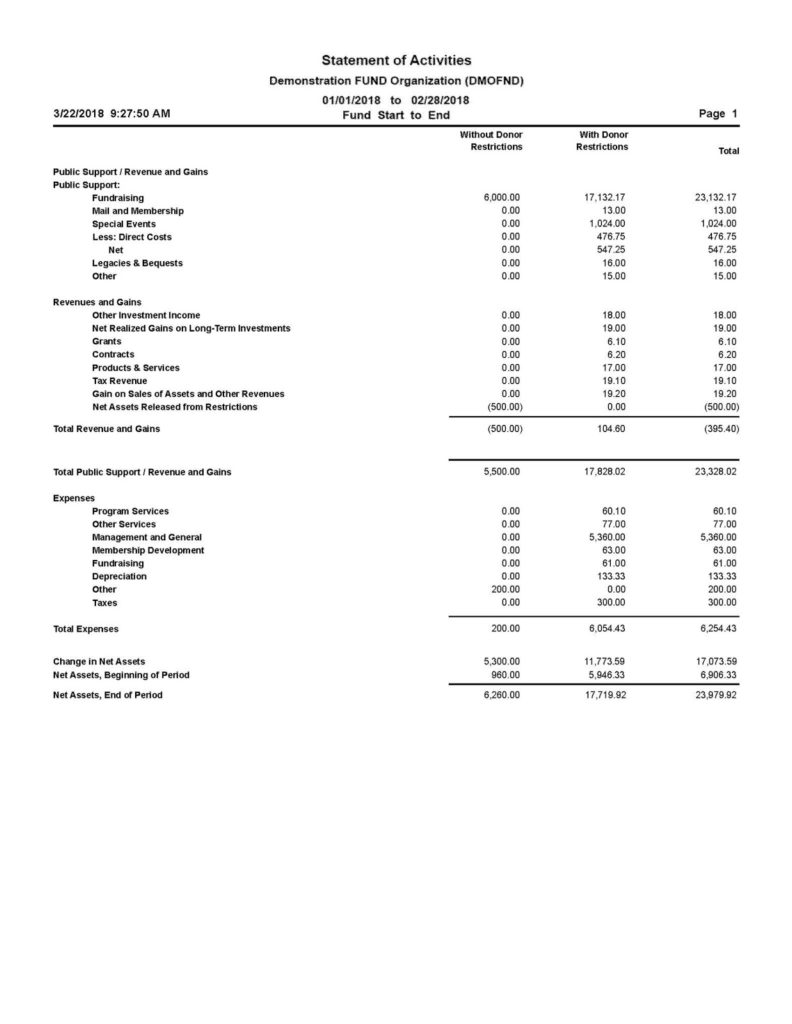 Finally, the Statement of Cash Flow demonstrates an organization's inward and outward flow of cash.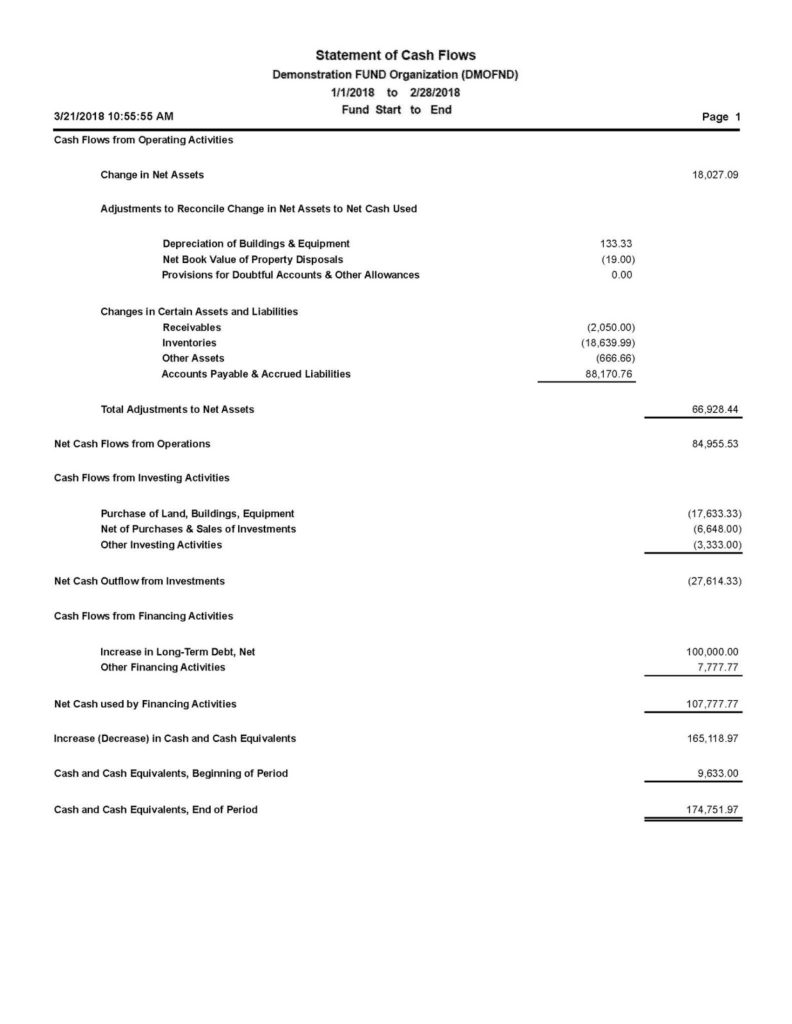 Cougar Mountain Software understands accounting for every penny can be difficult, which is why we developed our on-premises accounting solution, Denali FUND. Denali FUND not only gives you a leading accounting solution, but you can track each fund individually and have peace of mind with FASB compliant reports.
Laurie at St. Peter's Lutheran Church was having trouble with their fund tracking, and here is what she had to say about using Denali FUND, "We are a large (not mega) church, and we began using Cougar Mountain for Nonprofits as of January 1st, 2015. It is perfect for our fund accounting setup and makes it so easy to track how much is in each fund."
With our accounting software and Neon CRM's donor management program, now you can not only get a true fund accounting solution for your organization, but you also get all the benefits of Neon CRM's complete donor management solution.
Some benefits you will receive when you integrate Neon CRM with Denali FUND are:
Import donations directly into General Ledger
Import all accounts into the Accounts Receivable module
Access to Denali FUND's FASB reports
Access to Denali FUND's unbreakable, secure audit trail
An organization might use many different programs, methods, or even spreadsheets to account for every penny given or spent — which is why we do what we do. Designed to be your complete accounting system, Denali FUND adapts to fit your needs. You can rest easy knowing your accounting system complies with GAAP and FASB standards and employs detailed fund tracking.
Learn More About Neon CRM and Denali FUND
If you are a current Neon CRM customer who's looking to integrate your system with Denali FUND—or you just want to know more generally about Cougar Mountain Software and how it integrates with Neon CRM—head on over to Cougar Mountain Software's partner profile.
If you want to learn more about Neon CRM, join the Neon One marketing team for a group demo! These regularly scheduled, 30-minute sessions are held every other Thursday with no pressure to buy.
You'll get an overview of Neon CRM's features and capabilities, including the email builder, donation forms, fundraising dashboards, customizable reports, moves management, volunteer tracking, and payment processing.
Join the discussion in our Slack channel on connected fundraising