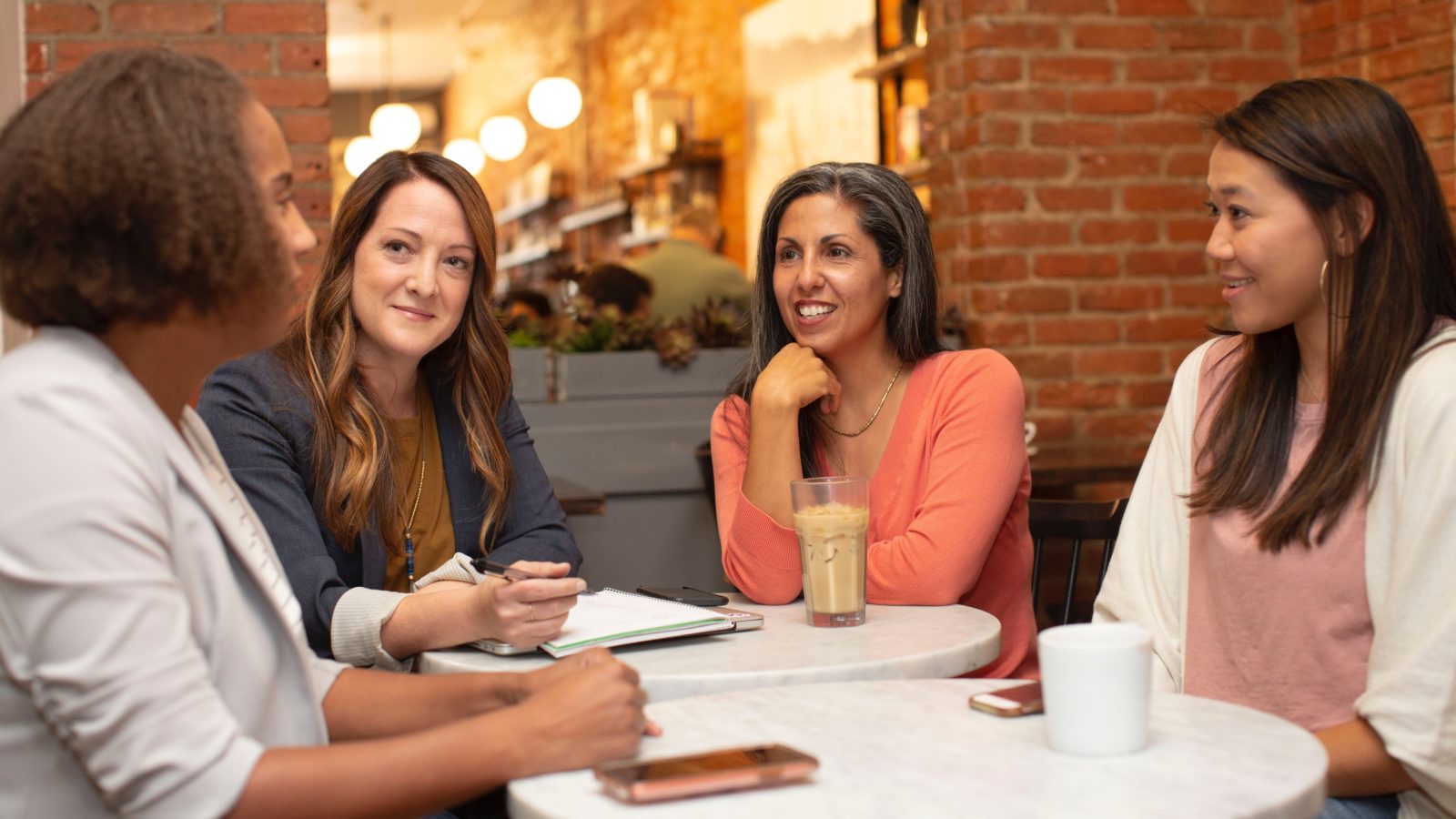 Does this sound familiar? You work for a nonprofit that is totally stuck in the donor acquisition cycle from hell. You work long hours and spend a ton of resources getting new donors in the door, only to then see them never make a second gift, leaving you right back where you started.
If that sounds familiar, then what your nonprofit lacks is a sound donor management strategy. Sure, donor management starts with donor acquisition, but that's only the first step in a very long journey.
By focusing on every step of that donor journey and leveraging supporter data to build better relationships with supporters, your nonprofit can stop focusing so much on acquiring new ones and start reaping the rewards of a loyal donor base. We're going to share how it's done.
Sound good? Then let's get started!
1. What is Donor Management?
Donor management refers to the strategies and processes a nonprofit organization uses to cultivate and maintain relationships with donors. It begins with identifying and engaging potential donors, but it really kicks into gear after the donor has made their first gift.
Effective donor management aims to build strong, long-lasting relationships with donors, increase retention rates, and ultimately, secure ongoing financial support for an organization's mission and programs.
Donor management encompasses a whole host of practices from donor engagement, stewardship, and appreciation to demonstrating your nonprofit's impact. It also involves careful analysis and upkeep of your donors' data. By using data and analytics to track donor behavior and preferences, you can tailor their communication and fundraising strategies to better engage and retain your donors.
Effective donor management is crucial for nonprofits. By building strong relationships with donors and cultivating a sense of trust and loyalty, you will increase donor retention rates and make your organization more financially stable
Ultimately, effective donor management is essential for anyone who wants to achieve their mission and have a positive impact on their communities.
2. Understanding the Donor Journey
In order to craft a winning donor management strategy, you first need to understand the donor journey. It's a framework that outlines the various stages that a donor goes through before and after making a donation.
By identifying the different touchpoints and interactions that donors have with your organization, you can hone your communication and donor engagement strategies to better speak to each step of that process.
The donor journey typically consists of the following stages:
Awareness
This is the stage where a potential donor first becomes aware of your nonprofit's mission, values, and work. This can occur through various channels such as social media, word of mouth, or advertising. This isn't an entirely passive process: A nonprofit that has an active donor acquisition strategy (more on that below) will be working to identify and target potential donors with information.
Evaluation
In this stage, the potential donor begins to consider making a donation to your nonprofit. They may research the organization, read testimonials and reviews, and compare it to other similar organizations. This is an area where your nonprofit's website will be of critical importance. The easier it is for a donor to learn more about your nonprofit, the more likely they are to get involved.
Engagement
This is the stage where a potential donor begins actively reaching out to your organization looking to get involved. No money (or time) is changing hands yet; this step includes actions like responding to your latest Facebook post or signing up for your newsletter. Even though this might not seem like a big deal, it really is a crucial step in their journey. After all, this is where the real relationship-building begins.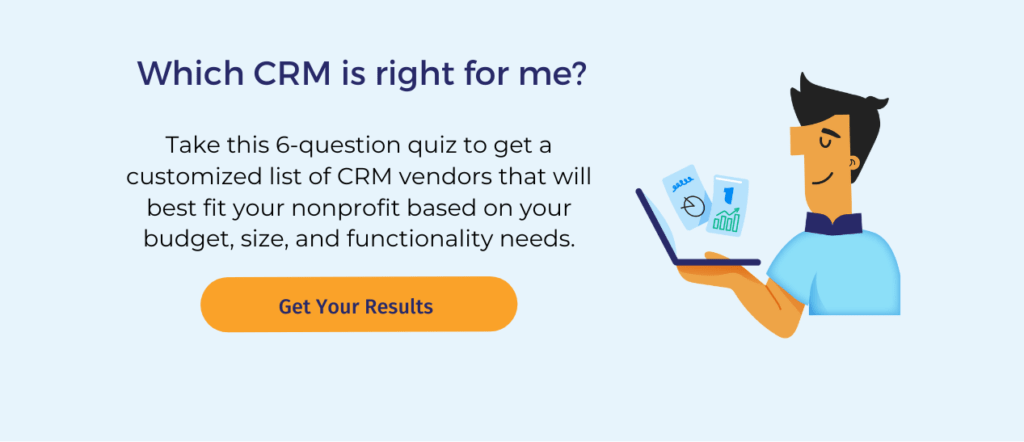 Action
This is the step where a potential donor decides to take the plunge and support your nonprofit. Congrats! It could be a straightforward donation of money, but it could also include volunteering, buying a ticket for an event, or making an in-kind donation. At this point, you and a donor have a real relationship; the goal of having a donor management strategy is to make that relationship last.
Stewardship
Once a donor has made their first donation—whether its of money, time, or in-kind items–-your nonprofit will begin stewarding them towards making a second donation, then a third, a fourth, etc. This is arguably the most important step in the donor journey. By engaging your donors, providing them regular updates on your work and opportunities to get involved—all while leveraging donor data to create a personalized experience—you will strengthen their relationship with your nonprofit and make them feel like they're playing a part in working towards your goals.
Advocacy
In this final stage, the donor becomes an advocate for your organization and shares their positive experiences with others. It might involve a public post on social media, but it could also involve them simply spreading the word in-person, at-work, or in their group texts. While "Action" might seem like the final stage, "Advocacy" is where the real magic happens. Your existing donor is working hard to get even more people to support your mission!
Use the Donor Journey to Map Your Strategy
There are many different kinds of donors, but all of their journeys will ideally culminate in the same result: A personally gratifying, long-lasting relationship with your nonprofit.
By understanding the donor journey, you can develop targeted communication and engagement strategies that speak to your donors' needs and motivations at each stage. And by building stronger relationships with donors, you will increase donor retention and loyalty, creating a stable foundation for your mission to continue.
Even though the donor journey is about people, don't think that data doesn't play an important role. Your nonprofit can use a variety of tools and techniques to track donors' progress through the donor journey, including donor management software, surveys, and analytics.
By regularly analyzing donor behavior and engagement, you can refine your donor management strategies and optimize your fundraising efforts.
3. Donor Acquisition
Donor acquisition is the process of finding and acquiring new donors for your nonprofit—and it's critical that your organization have a donor acquisition strategy in place. While many nonprofits out there believe that simply "doing the work" means that the financial support will come, that's not often the case.
The numbers back this up: According to the Fundraising Effectiveness Project's Q4 2022 Fundraising Effectiveness Survey, The number of individual donors to nonprofits decreased 10% in 2022. Donor acquisition is more important than ever, and nonprofits have tons of opportunities to improve here. The silver lining of what (at first glance) seems like a very negative trend is that nonprofits have lots of room to make a positive impression on new donors.
Without a steady stream of new donors, the realities of donor churn will eventually grind your organization to a halt. As existing donors naturally drop off, you need new donors to take their place. Effective donor acquisition strategies will help your nonprofit build a strong, lasting base of support and increase your capacity to make a difference.
Start by Identifying Potential Donors
Identifying potential donors is a critical part of any donor acquisition strategy. And it's critical precisely because most nonprofits are working with limited resources: Limited time, limited money, limited bandwidth… you name it, it's probably limited.
By identifying individuals, foundations, and corporations that have the potential to give and a potential interest in their cause, nonprofits can focus their resources on cultivating relationships with those who are most likely to get involved.
Identifying potential donors involves research and analysis that highlights individuals or entities that share the same values and interests as the organization. It may include researching individuals' giving history, political affiliations, and philanthropic interests, as well as analyzing publicly available data and market research.

Look for These Characteristics
There are two key features that any potential donor needs to have. The first is a shared belief in your organization's values and mission. The second is the capacity to give. That's it.
Okay, that's not it. Not even close.
There are a lot of characteristics that go into those two need-to-haves. And these are the characteristics that your organization should work to suss out. They include:
Philanthropic history: Individuals who have a history of giving to other nonprofits or charitable causes are more likely to give to your organization.
Connection to the cause: Donors who have a personal connection to the cause or issue that your nonprofit is working on are more likely to give.
Financial capacity: Donors who have the financial capacity to make significant gifts are more likely to do so.
Demographic factors: Donors who fit the organization's target demographic are more likely to give.
Geographic location: Donors who live in the same geographic area as the nonprofit or have a connection to that area are more likely to give.
Interactions with your nonprofit: Donors who have engaged with your nonprofit in some way, such as attending events or volunteering, are more likely to give.
By identifying these key characteristics, your nonprofit can focus your fundraising and engagement efforts on these individuals, achieving the goal that every modern nonprofit strives to meet: Actually doing more with less.
How to Research Potential Donors
To identify potential donors with these characteristics, nonprofits can use a variety of tactics and strategies.
Wealth screening is a process of analyzing publicly available data, such as property ownership, stock holdings, and employment history, to identify individuals with significant financial resources. This information can help nonprofits prioritize their fundraising efforts and target their communication to individuals who are most likely to give.
Donor prospect research involves a more in-depth analysis of individuals who have been identified as potential donors. This research can include reviewing financial disclosures, philanthropic history, and even political affiliations to gain a better understanding of the individual's interests and giving capacity.
Nonprofits can also use subscription-based databases to access information on individuals, corporations, and foundations that have previously given to similar causes or organizations. Those databases include:
DonorSearch: DonorSearch offers prospect research tools and donor screening services that allow nonprofits to identify potential donors based on their wealth, giving history, and philanthropic interests.
WealthEngine: This database provides comprehensive wealth and lifestyle information on individuals, including their philanthropic history and giving capacity.
Foundation Directory Online: This directory offers a ton of valuable information on foundations and other grant-making organizations, including their grant-making history, funding priorities, and application requirements.
And don't forget about your own network! You can use your existing donor network to identify potential new donors. Board members, volunteers, and staff members can all provide referrals to potential donors who may be interested in supporting the organization's mission.
When it comes to researching prospective donors, it helps to have a donor management software that either has built-in tools or offers integrations with outside platforms. Neon CRM, for instance, offers integrations with Windfall Data and DonorSearch that make it easy to streamline your donor research and outreach efforts.
For a better glimpse into how that works, check out this story about how one nonprofit used Neon CRM and WindFall to increase major gift prospects by 20%!
4. Donor Retention
Retaining donors is the primary goal of your nonprofit's donor management strategy. Why is donor retention so important? Not only does it cost less to retain a donor than to acquire a new one, but long-time loyal donors are also more likely to give larger gifts, become recurring donors, and even promote the organization to others.
Here are some reasons retaining donors is so important for nonprofits:
Cost-effectiveness: It is cheaper to retain a donor than to acquire a new one. By focusing on retaining donors, you can save resources that would have been spent on acquiring new donors and redirect them to other critical areas such as program development.
Stability: Retaining donors provides financial stability for your nonprofit. Donors who give regularly provide a consistent, reliable source of revenue, allowing your nonprofit to plan and execute its programs and initiatives.
Advocacy: Donors who have a strong connection to an organization are more likely to become advocates, promoting the nonprofit's work to their networks. By retaining donors, you can develop a loyal and engaged donor base that can help to amplify your organization's impact and message.
Impact: Retained donors have a more significant impact on an organization than one-time donors. They provide long-term support that enables your nonprofit to make more significant investments and achieve more substantial outcomes.
If your organization can keep existing donors engaged and committed, it will set you up for long-term success. A loyal and engaged donor base means a more stable, effective, and impactful nonprofit.
Why Do Donors Stop Giving?
In order to retain your existing donors, you first need to understand why donors stop giving in the first place. There isn't one single answer here: Donors can stop giving to nonprofits for a variety of reasons. But there are a number of common reasons that donors stop giving—ones that can inform your donor management strategy.
Common reasons that donors stop giving to a nonprofit include:
Lack of communication: Donors want to feel connected to the organizations they support, and communication is critical in maintaining that connection. When nonprofits fail to communicate effectively with their donors, they can feel neglected or unappreciated, leading to a loss of interest and eventually stopping their giving.
Lack of engagement: If your donors only ever hear from you when you're asking for money, they're not likely to stay donors for much longer. When nonprofits fail to engage their donors beyond soliciting donations, donors can lose interest and feel disconnected from the organization.
Changes in personal circumstances: Your donors' personal circumstances can change, leading to a reduction or cessation of giving. This could include financial hardship, changes in priorities, or a change in their life circumstances.
Lack of impact: Donors want to see the impact of their contributions. When nonprofits fail to communicate the impact of their work and their donors' contributions, donors can lose faith in the organization and stop giving.
Poor donor stewardship: Donor stewardship involves building and maintaining relationships with donors. When nonprofits fail to provide adequate stewardship elements, such as showing appreciation and keeping donors informed of their impact, donors can feel unappreciated and undervalued, leading to a loss of interest.
Poor fundraising practices: Nonprofits that engage in poor fundraising practices, such as making frequent and aggressive solicitations, can turn off donors and cause them to stop giving.
It is essential to understand the reasons donors stop giving to address any issues and improve your donor management strategy. By focusing on improving donor communication, engagement, stewardship, and fundraising practices, your nonprofit can increase donor retention and build a more loyal and engaged donor base.
Common Donor Retention Strategies
Nonprofits can use several donor retention strategies to ensure that their supporters stick around for the long haul. Here are some of the most popular and effective ones:
Communicate regularly: Focus on communicating regularly with your donors and keep them informed of your organization's work, impact, and goals. Communication can take various forms, including email newsletters, annual reports, and social media updates.
Personalize your message: Personalizing communications can help donors feel appreciated and valued. You can segment their donors based on various factors, including giving history and interests, and tailor your communications accordingly.
Demonstrate impact: Let your donors know how their gift has a difference. Provide your donors with concrete examples of the impact their donation has made, and intentionally share stories of the people or communities your donors have helped.
Provide donor stewardship: Make sure you steward your donors well. Prioritize showing appreciation for their support and keeping them informed of your progress and the outcomes they make possible.
Offer opportunities to engage: Offer donors opportunities to engage with your organization beyond just donating. This could include volunteering, attending events, or joining a donor community.
Conduct donor surveys: Surveys can help you understand your donors' motivations, preferences, and concerns, enabling you to tailor your donor management strategy to better meet your donors' needs.
Use donor management software: Donor management software can help you track and analyze donor data, segment donors, and automate communication and stewardship tasks.
By implementing these methods and strategies, your nonprofit can retain its donors and build a loyal and engaged donor base. Retaining donors will not only help your organization meet its fundraising goals, it will also enable you to create a deeper, more sustainable impact in the communities you serve.
5. Donor Stewardship
Donor stewardship is the process of building and maintaining relationships with donors to ensure their ongoing support and engagement with your nonprofit. It involves acknowledging, recognizing, and thanking donors for their contributions and keeping them informed about the impact they make with their support.
Donor stewardship is a cornerstone of effective donor management because it helps build trust, loyalty, and a sense of community between donors and nonprofits.
Stewardship also plays a critical role in donor retention. Donors are more likely to continue supporting an organization if they feel valued and appreciated for their contributions. By showing donors that their support is making a meaningful impact, you can inspire greater levels of giving and encourage ongoing support.
Effective donor stewardship involves ongoing communication and engagement with donors, granting them exclusive access to your organization, and regular updates on the nonprofit's impact.
You Appreciate Your Donors, So Let Them Know!
Showing appreciation for donors is a critical component of effective donor management. It helps strengthen the relationship between your nonprofit and your supporters. As that relationship strengthens, it will inspire ongoing support and encourage donors to become ambassadors for your organization.
Here are some popular and effective ways that you can show appreciation for your donors:
Personalized thank-you notes: A personalized note from your nonprofit's leadership or staff can go a long way in expressing gratitude and appreciation for a donor's support. You can personalize these messages by including specific information about the donor's contribution and the impact it has made. For postal letters, a handwritten personal note in the corner of a type-written letter can do wonders.
Recognition programs: Your donors support your mission, and you should celebrate that support! Some common donor recognition strategies include naming opportunities for buildings or programs, donor walls, or honor rolls. This type of recognition can make donors feel appreciated and valued and encourage them to continue supporting the organization.
Exclusive invitations: You can also show appreciation for your donors by inviting them to exclusive events, such as behind-the-scenes tours, meet-and-greets with program participants, or VIP receptions. These events offer donors a unique experience and a sense of connection to your nonprofit's mission.
Impact reports: You can provide donors with regular impact reports that highlight the difference their contributions are making. These reports can include stories of program success, testimonials from program participants, and statistics that show the impact of your nonprofit's work.
Social media shoutouts: You can use social media to publicly thank your donors and highlight their contributions. This can include creating posts that feature donors or sharing stories of impact that highlight specific contributions. You can also add shoutouts to your nonprofit's newsletter or blog.
By showing appreciation for your donors, your nonprofit can engender a sense of loyalty, trust, and connection that will serve as a foundation for long-term success.
Show Your Donors Their Support Makes an Impact
Keeping donors informed about the impact of their contributions is crucial for effective donor management. It not only demonstrates that your organization is making effective use of your supporters' contributions, but it also creates positive feelings that will make your donors more excited to give in the future.
Here are some ways that your nonprofit can keep its donors informed about how their contributions are making a difference:
Tailored impact reports: We already mentioned impact reports in the previous section, but creating personalized impact reports for different donor levels might be even more effective. Use the Identifiable Victim Effect to show how their contribution impacted the life of one person. This will create a deeper sense of connection than telling them about all the many lives impacted by your nonprofit's work. When in doubt, tell the story of one person instead of sharing statistics.
Thank-you messages: In addition to thanking donors for their contributions, you can use thank-you messages to update donors on how their support is making a difference. For example, a thank-you message could include a brief update on a program that the donor supported, along with a note of appreciation for the difference their support has made.
Personalized communication: Your nonprofit can personalize its communications with donors to provide updates on the specific programs or initiatives that the donor has supported. This can include personalized emails, letters, or calls that provide updates on how their support is making a difference. This is yet another area where collecting more detailed donor data will serve you well.
Social media updates: You can use social media to provide regular updates on your programs and initiatives. By sharing success stories, program updates, and other news, you can keep donors engaged and informed about the impact of their contributions. And by sharing these updates publicly, you can help your donors become mission evangelists by sharing these stories to their own networks!
By keeping donors informed about how their contributions are making a difference, you can maintain donor engagement, inspire ongoing support, and build trust and credibility. Your organization's donor management strategy should include a variety of ways to keep donors informed, personalized to the individual donor's communication preferences.
6. How to Communicate With Your Donors
Cultivating relationships with donors is a critical part of the donor management process; it's how you turn one-time donors into longtime supporters. Simply soliciting donations is not enough to build long-term support for your organization. To truly engage donors and build a sustainable base of support, you have to go deeper.
So how can you cultivate those relationships? Well, like any relationship, a nonprofit's relationship with its donors has to be built on a foundation of good communication.
By understanding the needs and preferences of your donors as well as the relative strengths and weaknesses of your different communications channels, your nonprofit can tailor its fundraising and communication strategies to be more effective and build stronger donor relationships.
The 4 Primary Donor Communications Channels
There are several different ways you can communicate with your donors. And each one of those methods has particular strengths and weaknesses. The more you understand each communication channel you're using to engage your donors, the more effective your messaging will be.
Engaging with donors through multiple channels will help your nonprofit create a more personalized and engaging experience that fosters a deeper sense of connection and loyalty.
Email
Email is a key channel for donor communication—and it's got a great case for being the most important one, period.
Email is a cost-effective and efficient way to reach donors on a regular basis, providing opportunities to share updates, impact stories, and fundraising appeals. You can use email to send segmented content to your donor list based on behavior and preferences, tailoring your messaging to be more relevant and impactful.
Start with a good newsletter. A regular roundup of everything your nonprofit has going on—from fundraisers to events to notable wins and special messages from your leaders—will be appealing to new supporters and longtime donors alike.
For existing donors, you can create ongoing email campaigns that drill deeper into your organization's impact. One of the main reasons that donors stop giving to nonprofits is that they don't understand how their money was used. By regularly sharing targeted impact statements with your donors via email, you can make them more excited to give again.
Social Media
Another important channel for donor communication is social media. Social media platforms like Facebook, Twitter, Instagram, and even TikTok offer nonprofits opportunities to engage with donors in real-time and share their content to a wider audience. You can also use social media to create a more interactive and engaging experience, encouraging donors to share their own stories and experiences.
Social media is a two-way street. In order to draw people to your nonprofit from social media, you need your existing supporters to share your nonprofit's story on social media. Make sure you have easily accessible social share buttons on your nonprofit's website and emails along with CTAs encouraging people to share.
And don't forget about LinkedIn! While your nonprofit will probably use LinkedIn mostly for hiring, your leaders can use their personal accounts to share important thought leadership and impact statements. If you're looking for a social media network where you can cultivate relationships with larger donors, LinkedIn is the place to go.
Direct Mail
Then, of course, there's the trusty old standby: Direct mail. While more expensive than email or social media, direct mail can be an effective way to stand out in a crowded digital landscape and create a more personal connection with donors.
Your nonprofit can use direct mail in a targeted fashion to re-engage lapsed donors and make an impression on younger donors. (That's right! Young people are surprisingly receptive to direct mail!) If you use direct mail as a strategic "side dish" as a part of your donor cultivation plan—rather than as the main course—you will get the most bang for your buck without breaking your budget.
Direct mail can also be a great way to thank donors! A hand-written note added to a type-written thank-you letter can go a long way towards making donors feel appreciated. And, while we're on the subject of thank-yous, don't forget about phone calls! Studies have shown that calling to thank your donors can have a hugely positive impact.
In-Person/Events
In addition to these channels, you can also engage with donors through live events and one-on-one personal interactions. Hosting fundraising events, offering volunteer opportunities, and running other in-person activities can provide opportunities for donors to connect with your organization in a more personal and meaningful way.
Planning live events is no small task, but it's a wonderful way to build excitement amongst your donors and supporters. Before you start planning your nonprofit's next big event, make sure your events team dives deep into what kind of fundraiser would most appeal to your supporters. You'll not only raise more, but you'll create a deeper feeling of engagement that will serve your mission long after the event is over.
When it comes to volunteers, building an engaged group of supporters who are willing to donate their time and energy to your organization does much more for your nonprofit than providing extra sets of hands. You're also creating mission evangelists who can spread the word throughout your local community. Make sure you treat volunteers as their own supporter segment, with a specialized communication plan. Donating time is often a bigger deal than donating money!
For major donors and key supporters, your nonprofit should also prioritize one-on-one interactions, using these opportunities to share updates and solicit feedback. A great way to engage major donors is by providing them with exclusive access to certain events or early previews of upcoming announcements.
Personalizing Donor Communications
Now that we've covered the importance of communicating with donors and the different channels that you can use to reach them, let's talk about personalization. Personalization is the practice of adapting your messaging to the interests and needs of different audiences.
You wouldn't talk to a longtime donor the same way you would a brand-new donor, and you wouldn't talk to a dedicated volunteer the same way you would someone who donated through their friend's peer-to-peer fundraiser. While it's easy to tweak your message when talking with someone in person, personalizing large-scale communication channels requires more thoughtful planning.
That's what we're here to provide! The better you can target your communications to serve the needs and experiences of your different supporter groups, the more effective your message(s) will be.
Donor Segmentation
Your nonprofit's plan for personalizing your communications starts with segmentation. Donor segmentation involves dividing a nonprofit's donor base into different groups based on common characteristics such as giving history, interests, or demographics. This can help your nonprofit create targeted communication campaigns that speak more directly to each segment's reasons for engaging with your mission.
In order to create donor segments, you're going to need two things: Donor data and a database to house it in.
First, the data: You should avoid collecting too much donor data on your donation form, as that will likely lead fewer people to actually complete the form and make a donation. Instead, you can leverage the Benjamin Franklin effect and send them a donor survey within 48-72 hours of their donation. The warm and fuzzy feelings they'll be feeling post-donation will make them more likely to "do you a favor" and complete the survey.
Next, the database: A nonprofit CRM should give you the tools to create donor segments based on different criteria right there in your database. Neon CRM actually comes with two common donor segments built in: LYBUNTs (Last Year But Unfortunately Not This year) and SYBUNTs (Some Year But Unfortunately Not This year).
Your nonprofit could also segment your donors by giving capacity, donation amounts, prospects, one-time donors, recurring donors, major donors, existing donors, and volunteers. Depending on what information you have, you could also create segments based on event or class attendance, location, employer, or any other important datapoint that you've collected.
Personalizing Your Message
Once you have created your different donor segments, you can personalize your communications to resonate with each individual segment. Nonprofits can personalize their messaging by using language that resonates with specific donor groups, mentioning their past donations or volunteer work, or highlighting their connection to the cause.
While personalization is a practice that can apply across all your channels, you should focus the majority of your efforts on email. Email marketing and donor management software come with features that let you send individualized messages to different audience segments with relative ease.
When personalizing your email messages, you should consider three elements: Your subject line, your preview text, and the body of your email. Your subject line and your preview text are the elements that'll make a donor open your message. What kind of language is going to grab the attention of different donor groups?
Likewise, the body of your email should always contain some kind of call to action (CTA). What actions are you asking different segments to perform, and what kinds of stories or language choices are going to get them there? Once again, the more you know about your donors, the better you'll be able to hone your message.
Communicating with your donors isn't a math problem. There's no one right answer. But you can use metrics and A/B testing to measure how your emails are performing. Tracking metrics like open and clickthrough rates give you tangible ways to measure success, while A/B testing means sending two different versions to similar groups to see which one performs better.
When trying to measure success, it helps to have benchmarks—and it helps even more if those benchmarks speak specifically to your sector. That's exactly why we published The Nonprofit Email Report: Data-Backed Insights for Better Engagement. It's chock full of benchmarks, analysis, and best practices for nonprofit email marketers based on over 37,472 email campaigns sent by Neon One clients.
Download the report now!
Software Can Help You Communicate Better
We keep coming back to the importance of donor data, but that data isn't going to be of much use if you don't have the right software to find, interpret, and use it. And, when it comes to managing donor communication, the two most important types of software you can have are a nonprofit CRM and an email marketing platform—and sometimes those two products are one and the same!
Donor management software can store donor data and provide tools for analysis. It may also include tools you can use to track donor behavior and preferences, providing insights that will help you build personalized communication. Email marketing software can be used to create targeted email campaigns with tools to segment your lists and A/B test your messages with just a few clicks.
Measuring your email campaigns' success is pivotal to improving future communication efforts. You can use data analytics tools to track engagement metrics such as open rates, click-through rates, and conversion rates, then track your progress over time. When it comes to gathering more data, your nonprofit can also use surveys and feedback forms to collect additional information.
So which donor management and email marketing platforms are right for you? It depends! Your nonprofit has individual needs and skill sets that will determine which software suites will best help you fulfill your mission. If you want to learn more about how you can account for your organization's needs during the buying process, check out our guide to choosing a nonprofit CRM!
7. Donor Data Management
We've hit on the importance of donor data time and time again in this article. But once you have that data, you need to make sure that you're handling it properly and effectively. In fact, data management is an important—but often overlooked—aspect of nonprofit donor management for nonprofits.
Because it bears repeating, Here are some reasons why donor data management is so important:
It provides a better understanding of your donors: You can use data to gain insights into your donors' behavior, preferences, and motivations. By analyzing donor data, you can identify important trends, such as which campaigns or channels are most effective in generating donations, which types of donors are most likely to give, and which donors are at risk of lapsing.
It allows you to effectively personalize your donor communications: Once you have gained a better understanding of your donors, you can use that insight to tailor your nonprofit's communication and fundraising strategies. This kind of personalized communication is critical to keeping donors engaged. Personalization can include sending targeted appeals, sharing content that aligns with a donor's (or donor segment's) interests, and providing updates on the impact of their contributions. It can also include using a donor's preferred name or title, referencing their past support, and sending updates about the programs and initiatives they care most about.
It helps you make the most efficient use of your limited resources: Data management can help optimize your fundraising efforts. By analyzing your data, you can identify which campaigns and strategies are most effective in generating donations and allocate resources accordingly. You can also identify which are not effective, which can help you identify areas for improvement or even decide to eliminate that strategy entirely. When it comes to marketing and communications, this data can similarly be used to identify winning tactics that excite and engage your supporters. In both cases, your nonprofit makes the most of its limited resources while maximizing its impact.
It can help you improve donor retention: By tracking donor behavior and preferences, you can identify donors who are at risk of lapsing and take proactive steps to retain them. For example, your nonprofit can identify donors who have not given in a while—or fall into the LYBUNT category—and send targeted communications to re-engage them. This can help you retain more donors over time, reducing the (very expensive) need to constantly acquire new donors.
It helps your nonprofit stay compliant: All nonprofits have a legal obligation to protect donor data. Effective data management can help you ensure that you are in compliance with relevant data privacy laws and regulations. This can help protect your donors' personal information and build trust in them that you are handling their sensitive info appropriately.
Did you know that Neon One products come with a free PCI Compliance program available to all our clients with up to $100,000 in data breach protection? Check out the blog post below to find out more:
How to Track and Manage Donor Data
To effectively manage your donors' data, you can use a variety of tools and strategies, including:
Constituent Relationship Management (CRM) software: A CRM is a software platform that allows nonprofits to track and manage donor interactions and relationships. With a CRM, you can store donor contact information, track donations, and segment donors based on various criteria (such as giving history, interests, and communication preferences). Many CRMs also integrate with fundraising and marketing tools, allowing you to manage all aspects of donor engagement in one place.
Donor surveys: Use surveys to collect feedback and data directly from donors. Surveys can help you understand donors' motivations for giving, their preferences for communication and engagement, and their perceptions of the organization's impact. This information can be used to personalize communication, improve fundraising efforts, and build stronger relationships with donors.
Data analytics: You can leverage data analytics tools to analyze donor behavior and identify trends. These analytics can help you understand which campaigns and fundraising strategies are most effective, which donors are at risk of lapsing, and which segments of the donor base are most valuable. This information can help you tailor your communication and fundraising efforts to maximize engagement and impact.
Data hygiene: To ensure that donor data is accurate and up-to-date, you should establish data hygiene protocols. This can include regular data clean-up (to remove duplicate or outdated records), data verification (to ensure that contact information is accurate), and data security (to protect donor information from unauthorized access).
Poor data practices are a non-starter for anyone looking to build strong donor relationships. By using tools and strategies such as CRMs, donor surveys, data analytics, and data hygiene protocols, your nonprofit can make the most of your donor data and take your mission to a whole new level.
How Donor Data Informs Donor Management
By analyzing the wealth of information available on your donors, you can make the kinds of informed, strategic decisions that best further your donor management goals.
Here are some ways that nonprofits can use data to make informed decisions:
Segmentation: Segment your donor base by various criteria such as giving history, demographics, interests, and communication preferences. By digging into the numbers on donor behavior and engagement, you can identify groups of donors with similar characteristics and tailor your communication and fundraising strategies to each segment.
Donor lifetime value: You can calculate the lifetime value of your donors by analyzing data on past giving behavior, projected giving, and the cost of acquisition and retention. This information can help you prioritize donor segments, allocate resources, and optimize fundraising strategies.
Campaign analysis: Take a deep dive into your past campaigns and fundraising efforts to identify patterns and trends in donor behavior. By determining which campaigns were most successful and which donors were most responsive, you can make data-driven decisions about future campaigns and fundraising strategies.
Donor feedback: Collecting feedback from donors through surveys and other means will help you better understand their preferences, motivations, and perceptions. Use this feedback to improve communication and engagement strategies, tailor fundraising appeals to donor preferences, and build stronger donor relationships.
Data privacy and compliance: You must also ensure that you are compliant with data privacy laws and regulations such as GDPR and CCPA. It's important to establish protocols for data management and security, and ensure that all donor data is collected and used in accordance with these laws.
To do this effectively, your organization should start by investing in the necessary technology and data management systems, then establish clear protocols for data management and compliance. Once you have all that in place, set up a regular cadence to analyze donor behavior and identify trends and patterns.
Neon CRM Is The Donor Management Platform for You
Donor management isn't a one-time strategy, and it's not the kind of thing that you can set and forget. It's a deliberate, ongoing process that your staff will be practicing every day from now into the future.
But if you can focus on using effective data management to improve your communications, retention, and acquisition strategies, you should have no problem implementing a donor management program that yields long-term results.
One of the key decisions you'll make when setting out your strategy is deciding on a donor management platform. In that regard, we think the decision's pretty easy. Choose Neon CRM!
Neon CRM includes a comprehensive suite of donor management tools designed specifically for nonprofits. With robust features and integrations covering email, donation forms, reporting, memberships, analysis, payments, and workflow automation, Neon CRM comes with everything you need to start building your community of supporters.
If you'd like to learn a bit more about the system, sign up for one of our regularly scheduled group demos. This 30-minute session will give you a full overview of the product with zero pressure to buy.
And, if you want to dive deeper, get in touch to set up a personal demo today!
Join the discussion in our Slack channel on connected fundraising