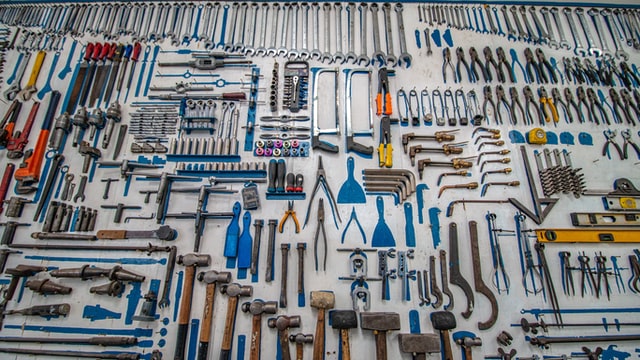 This blog was submitted by Chris Hammond of Corporate Giving Connections (CGC).
Like anything worth building, a peer-to-peer fundraising toolkit is needed to ensure you're laying a solid foundation and constructing a framework for your peer-to-peer fundraising campaigns.
You're asking your most loyal supporters to fundraise on your nonprofit's behalf. Be sure you have the tools and resources ready to support your dedicated fundraisers. You want them to feel supported and informed throughout the campaign.
Here are the four most important tools you should include in your toolkit:
1. The Proper Online Platform
Peer-to-peer campaigns rely on an easy-to-use and accessible fundraising hub for all of your users and donors. That why finding the right platform is step one to building your peer-to-peer fundraising toolkit.
The good news is, there are many platforms set up to do just this. But they do vary in their faculties and costs. So it will be up to you to pick the software that meets the specific needs of your campaign.
Nothing is one-size-fits-all.
Capabilities you should look for in peer-to-peer fundraising software include the ability for supporters to create their own customizable online fundraising page, send campaign emails to friends, and organize pages into teams. You should also consider features your organization can control. Get a complete list of features to consider here.
Depending on the software solution, some have processing fees with broad capabilities, and some have no fees with limited integration for communications. Some assess a monthly payment that includes a robust database for tracking all donors, and some are more cost-effective with a limited reporting scope.
You have many options to choose from, but a choice will have to be made! Make sure you find the one that fits best with your campaign budget and goals.
2. A Dream Theme
A compelling campaign needs to have both a cohesive and timely theme. This should be an idea, phrase, or motto that connects all of your content as a stand-alone effort.
Your campaign theme should be distinct from your overall organizational mission, although it should certainly relate to it.
Homes For Our Troops is a great example of strategically using campaign themes for their various events and campaigns throughout the year to bolster their fundraising goals. Read more about how they use peer-to-peer fundraising to raise more for their mission.
The theme can be based on your organization's program is launching or growing or focused on a needed physical item your nonprofit can acquire. But be specific with a defined start or end date and a stated goal.
Create a content calendar to ensure your messaging aligns and reinforces the theme throughout. Make sure your audience can easily understand why you need to raise money right now.
Make the theme easily accessible to all of your supporters as part of your peer-to-peer fundraising toolkit.
And don't be afraid to have fun with it (if appropriate, of course)! Themes that come off as funny or clever are a great way to drive engagement.
If you're looking for inspiration, check out these peer-to-peer campaign ideas.
3. Targeted Templates
Your campaign will only be as good as the templates you create for your participants to deploy. Easy to use, fill-in-the-blank emails, social posts, and thank you notes are an incredibly effective way to help your fundraisers get the word out and make their asks.
We suggest creating 3-4 email templates with related social media content for your peer-to-peer fundraising toolkit. And don't forget to include some email basics and tips along with the templates.
The first should introduce the campaign, the second should provide a reminder to give, and the third should be a final donation ask with an update on their fundraising goal.
Lastly, don't forget to draft a Thank You email, so your fundraisers can quickly show their appreciation for any support they've received.
BONUS. It is especially impactful if you take the time to film a training video with Zoom to teach your fundraisers how to create their personal fundraising page and most effectively utilize these templates.
4. Pictures with a Purpose
Every message you send or post must have a visual, on-brand companion. This imagery should be an embodiment of your theme. Images and visuals are an essential part of showing your unified voice and should be included in your peer-to-peer fundraising toolkit.
At first glance, a staff member, fundraiser, or donor needs to be able to identify it as an element of your campaign.
Fonts, colors, and photos ought to be consistent throughout. Graphic Designers are obviously trained to create such a library, but if you aren't lucky enough to have one on-tap, check out Canva.
Canva has an extensive database of free layouts and graphics that can simply be resized as email headers, Instagram posts, or printed flyers. It will also keep track of your color schemes and typography, ensuring your designs stay uniform and on-point.
---
Learn more about Chris and CGC.
Chris is the CEO and Founder of Corporate Giving Connection (CGC). CGC is a full-service development, marketing, and corporate social responsibility consulting firm that focuses on strategic planning and implementation for nonprofit organizations and corporations. Chris has 11+ years of event management and 9+ years of nonprofit fundraising consulting & leadership experience. He holds a BA in Political Science and an MA in Public Policy and Administration from California Lutheran University.
Join the discussion in our Slack channel on connected fundraising