Automating tasks in your CRM can improve your relationships with constituents and streamline your internal processes. This 2-part workshop is a deep dive into one of Neon CRM's most useful (and under-utilized!) features: Workflows.
These sessions include detailed training on setting up workflows, including strategy around triggers, criteria for targeting constituents, and using advanced workflow tactics like If/Then statements and conditional triggers.
After watching, you'll know how to:
Identify useful workflows for your organization's needs

Design new workflows from scratch, including
– Prompting recurring donors with expired credit cards to update their information
– A welcome series for first-time donors
– Outreach and reminder series for lapsed members
– New volunteer application follow-up
– Automated donor segmentation
– Using the Windfall integration for prospecting

How to test and troubleshoot a tricky workflow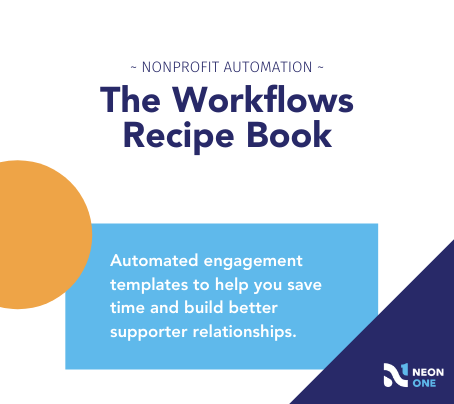 Download the Guide!
Learn 11 workflows that will save you time, increase your revenue, and help you build better relationships.