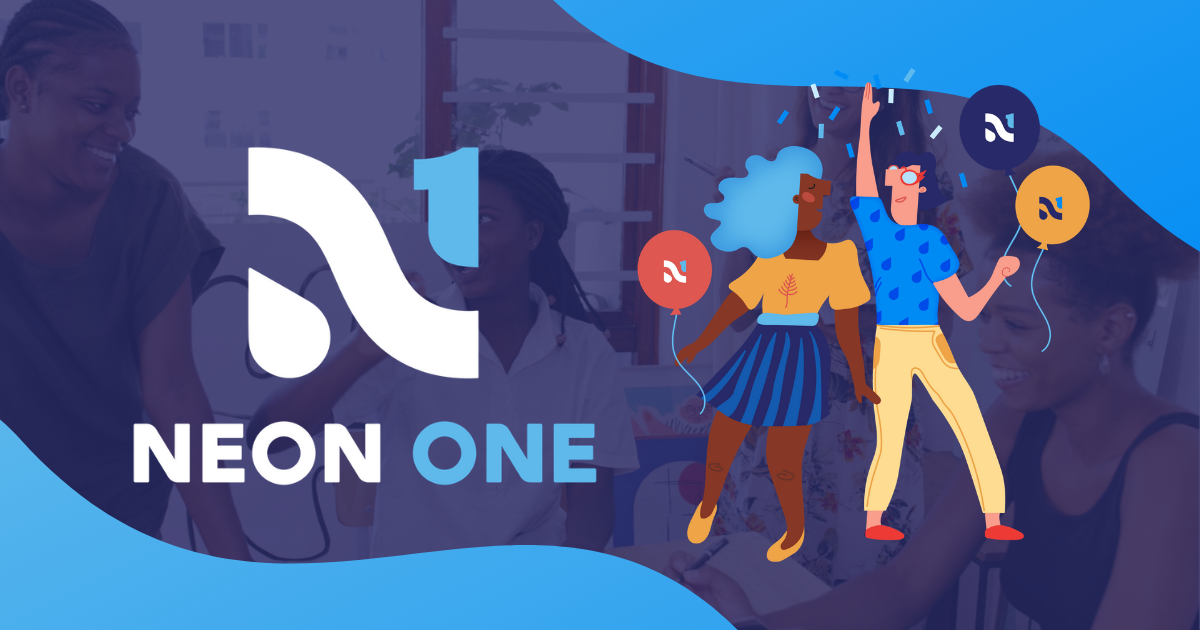 As you may have noticed, we recently unveiled our new visual brand identity.
The changes that we made this month have been in the works since early 2020, and they're far from just cosmetic. This rebrand has served as a chance to revisit how we serve our customers and the social good sector as a whole.
Part of this process involved taking a look at our product offerings. The goal of every Neon One software product is to help social good organizations chart a path for long-term sustainable growth. A large part of our rebranding efforts were spent uncovering how to strategically position each product so that the nonprofits we serve are supported in the best way possible.
In this post, we'll be sharing a deep dive into our unified product suite — including why we did it and how it impacts your staff for the better. Before we get into that, let's take a look at how we got here.
Where We've Been: A Quick History of Neon One
Each of our products have existed on their own for quite some time, sharing the same goal — to make great software tools that help nonprofits do more for their missions.
When NeonCRM and Rallybound partnered to create Neon One in 2018, their vision was to create a future without data silos. For many nonprofits, mission success depends on intuitive, powerful technology.
Over the past two years, our ecosystem has grown to include two other innovative software partners: CiviCore and Arts People.
The beauty of bringing four software companies under one single organization goes beyond integration potential. Our teams have been able to work together and combine to become one new and improved Neon One team.
Since then, our combined teams have worked together to create two additional products, Neon Raise, a lightweight fundraising solution, and Neon Pay, a nonprofit focused payment processing solution.
We've also certified several new software and consultant partners, strengthening our ecosystem with over 30 powerful product integrations.
As we've worked to create something bigger than our individual product offerings, we got a chance to refamiliarize and reintroduce ourselves to our amazing customers. With their help, we create a new understanding of Neon One, formalized under a unified, branded house of software products.
Where We Are Now
In addition to our new Neon One logo, we have also rebranded our products to better reflect how they serve our customers.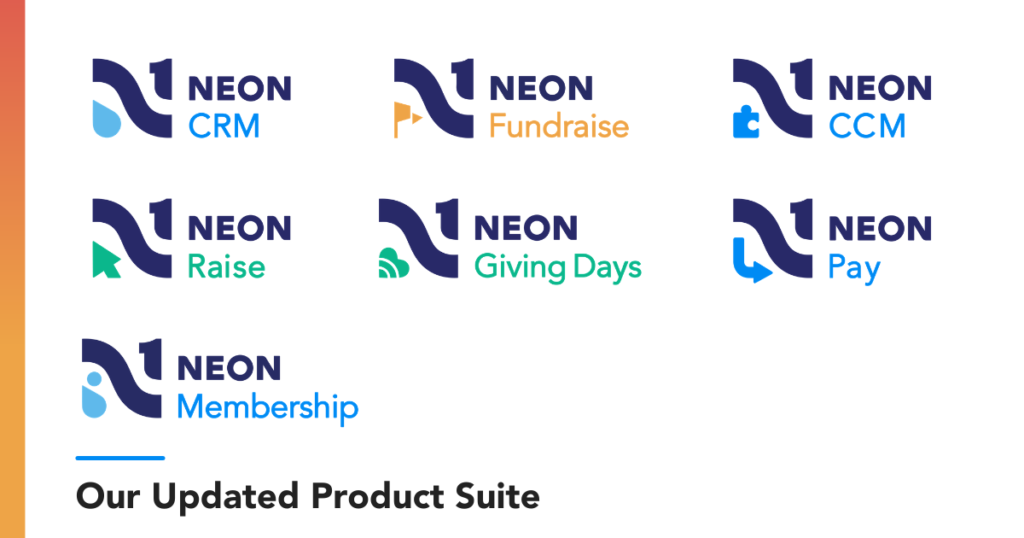 Our full product suite now includes:
Neon CRM: An all-in-one cloud-based data management platform
Neon Fundraise: A full suite of digital fundraising tools, including P2P, DIY, and hybrid event tools
Neon Giving Days: A custom giving day software platform complete with flexible tools for giving day hosts, participating nonprofits, and donors
Neon CCM: A client and case management cloud-based solution for tracking client information and outcome reporting
Neon Membership: A sophisticated membership management solution designed to support both nonprofits and associations increase engagement and drive more revenue
Neon Events: A comprehensive, integrated event management suite complete with ticketing and seat management (coming soon!)
Neon Websites: A full-service website package designed to make your mission shine
Neon Pay: An integrated payment processing product for the social good sector
PLUS, over 30 external technology partners including accounting and messaging platforms, fundraising tools & wealth screening partners
This strategy goes well beyond the look and feel of our website and products. It's a crucial step toward integrating our products and providing a more cohesive experience for the social good organizations we serve.
Our New Product Names
Rest assured — the software and team you love isn't changing. If anything, it's growing and improving at a much faster pace than before. Take a look at our product names and logos for more insights on what these changes mean for your organization.
Neon CRM is still Neon CRM

Our flagship donor database is now represented by a water droplet. In many ways, your individual data points — single donations, a new contact, a retained donor — are like single water droplets. They may not seem like much when looked at individually, but combined, they create the most important asset your organization has: your data.
Neon CRM uses your donor data to streamline and automate time-consuming manual efforts through a relationship-focused approach to acquisition, engagement, and retention.
With deep integrations with other Neon products including Neon Fundraise, Neon Websites and Neon Pay, as well as with several software partners including QuickBooks, Constant Contact, and WIndfall Data, it serves as the central uniting platform for many organizations of all sizes.
This all-in-one platform gives a comprehensive view of a donor or communities ties to your organization, creating limitless opportunities to scale.
NeonCRM for Membership Organizations is now referred to as Neon Membership

NeonCRM's membership offerings are some of the best in the industry. With tools that help increase member engagement and drive more revenue, and integrations with other internal and external products like Neon Websites and QuickBooks, it's a premier offering for both membership organizations and associations.
We used our visual rebrand as an opportunity to segment out our membership offerings to better highlight our offerings in this area of the social good industry.
The difference in the logo is slight because Neon CRM and Neon Membership are ultimately still the same product. The small dot above the droplet looks like another drop of water, but together, they actually make a person waving! This symbolizes the most essential part of any membership organization — the people.
Learn More about Neon Membership.
Rallybound is now Neon Fundraise

Neon Fundraise is an innovative platform complete with a full suite of digital fundraising tools that can support anything from a single campaign to complex national events. From peer-to-peer and DIY to virtual fundraising events, Neon Fundraise is the best in experience-based fundraising.
This product's deep integration with both Neon CRM and Salesforce makes it the perfect add on for organizations looking to take their fundraising efforts to the next level.
The Neon Fundraise logo may look familiar to many of our clients. If you look closely, you'll notice the Rallybound flag is now present in the first leg of the Neon One 'N'. It symbolizes growing to new heights and making your mark, perfect for this innovative fundraising software.
Learn more about Neon Fundraise.
CiviCore Giving Days is now Neon Giving Days

When CiviCore joined the Neon One ecosystem in 2018, we added two distinct, powerful software products to our mix. CiviCore Giving Days has run some of the industry's largest giving events, raising over $600 million since its creation.
Giving events—online fundraising competitions that unite communities around common causes—present a huge opportunity to nonprofits of all sizes, and Neon Giving Days is complete with everything they need to inspire new audiences. Its integrations with nonprofit tools like Neon Raise give downstream nonprofits a full suite of fundraising tools to use year- round.
The new product name, Neon Giving Days, celebrates the community-first mindset that drives this platform forward, with a pulsing heart icon that symbolizes connection.
Learn More about Neon Giving Days.
CiviCore CCM is now Neon CCM

The second CiviCore product offering specializes in tailored, people-first client and case management solutions. This unique platform revolutionizes human services software by molding to existing processes and adapting to rigorous security needs.
Now, as Neon CCM, the platform is represented by a simple puzzle piece. This product can be configured in an infinite amount of ways to fit an organization's needs—-the last piece in securing scalable growth.
Neon Raise & Neon Pay

Neon Raise and Neon Pay are our two products developed by product engineers and designers from each of our individual business units.
Neon Raise is a light-weight fundraising solution that allows emerging nonprofits to spin up donation pages quickly and at no cost.
Our payment processing solution, Neon Pay, is an integrated payments platform that has processed over $200 million transactions since it launched in 2019.
Learn more about Neon Raise & Neon Pay. 
A Quick Note on Arts People
Arts People is the newest addition to the Neon One ecosystem. This ticketing software is developed specifically for performing arts nonprofits, and it can easily and intuitively replicate the box office experience online.
2020 brought unprecedented challenges to the performing arts industry and live events as a whole. As we continue to listen to Arts People customers and understand this space's unique new needs, we will continue to help our arts clients succeed by supporting their technology as is.
What Does This Mean for You?
In addition to integrating our product suite, we have also unified our internal product, support and sales teams to better serve our clients.
Now, when you reach out to a team member for support or more information on Neon One products, you'll be working with a true Neon One representative who can answer your questions on all our software offerings more effectively.
These changes will reduce handoff and streamline your communications with our team, resulting in more clarity for yours.
Uniting our teams has resulted in enhanced development power for each of your products, allowing us to get you the feature releases and bug fixes you need faster.
What's Next for Neon One
On behalf of our entire team, we'd like to thank you for growing alongside us over the past few years. We're currently hard at work on several projects designed to help you make real, lasting change in your communities and the world.
Keep up with our major product and feature releases by subscribing to our newsletter. Remember, if Neon One builds it, it's built for good.
Join the discussion in our Slack channel on connected fundraising