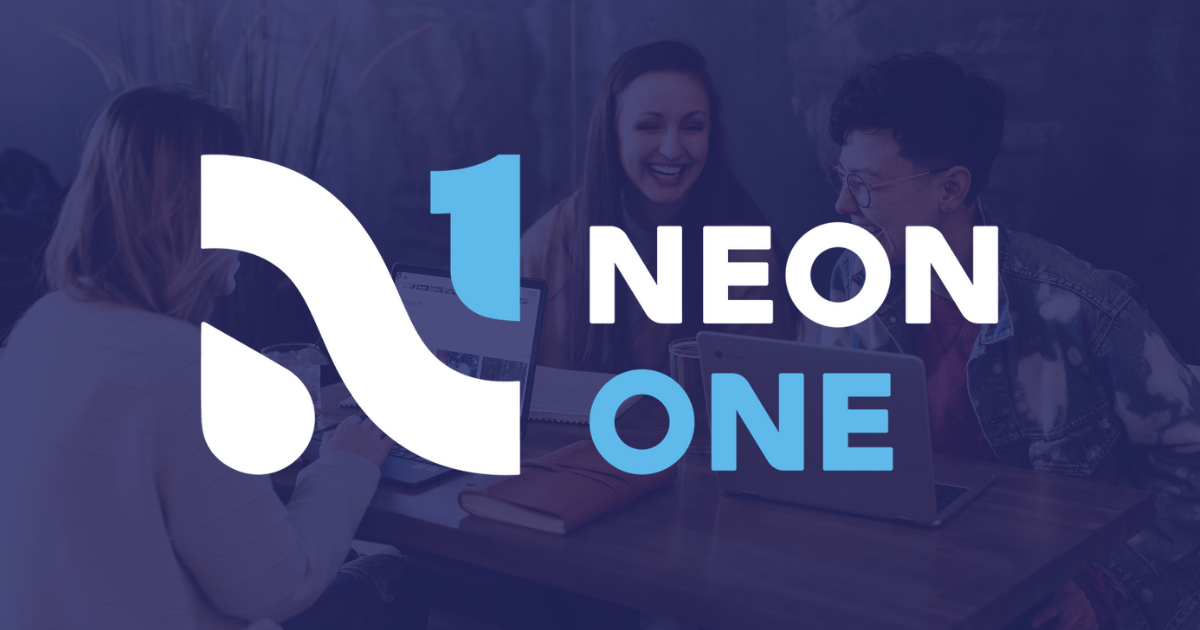 Our rebrand is more than just updating our logo, color palette, and overall look and feel. We went to our roots — revisited our why, our company core values, our reasons to believe, and our product strategy — to ensure alignment, continuity, and relevance to who we are today.
We started by speaking with and surveying our customers, partners, and team members. Neon One worked together and created updated brand values. The refreshed values were used as the base for our company-wide rebrand.
And now we are excited to introduce a new look and feel that visually speaks to the innovation, creativity, and commitment you can trust is behind you at Neon One. Because this rebrand isn't really about us, it's about providing our customers the best value, services, and resources.
Why Rebrand Right Now?
Our company has grown to include four distinct software companies, seven unique products, and over thirty integrated partners under one single organization in the past two years. Our rebrand is a visual representation of the work we have done to combine each distinct company together to create a new and improved Neon One.
We have been working on our rebrand since early 2020, and many of the changes are far from cosmetic. Our rebrand has allowed us to take the time to really understand how we serve our customers and how we can continue to do more for the social good sector altogether.
"It no longer made sense to not recognize the power and integration opportunity of the products within our ecosystem so we needed to connect the dots in a more obvious and natural way," says Erin Stender, Vice President of Marketing at Neon One. "To prioritize a project—and not a small one either—like a rebrand, that emerged in the most organic and customer-centric way possible, is a real opportunity our team was excited to tackle."
These values have been used as the foundation of our rebrand and will continue to shape our business for the better.
As we continue to grow our ecosystem of products, integrations, consultants, and resources, we wanted to create something that is approachable, easy to use, understand, and actually helpful for everyone working in the social good space.
Finding Our 'Why': Our Brand Values & Mission
Our brand values guide all our business decisions, from our hiring choices to our product roadmaps to all the way down to the consultants we partner with.
We've included all six of our updated values below, and you'll see that many of the values are inspired by our customers, social good organizations doing more for their missions.
Make Good Happen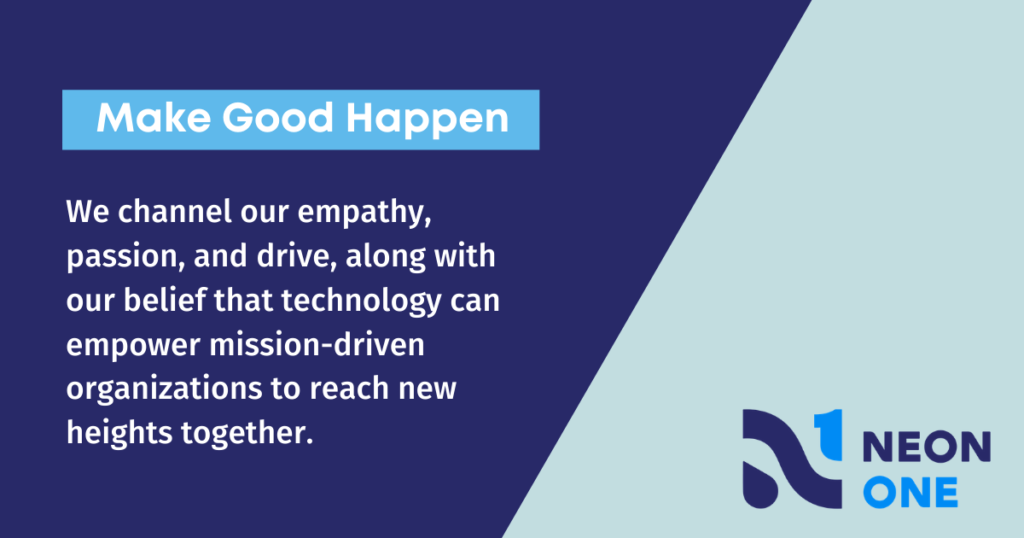 Be Extraordinary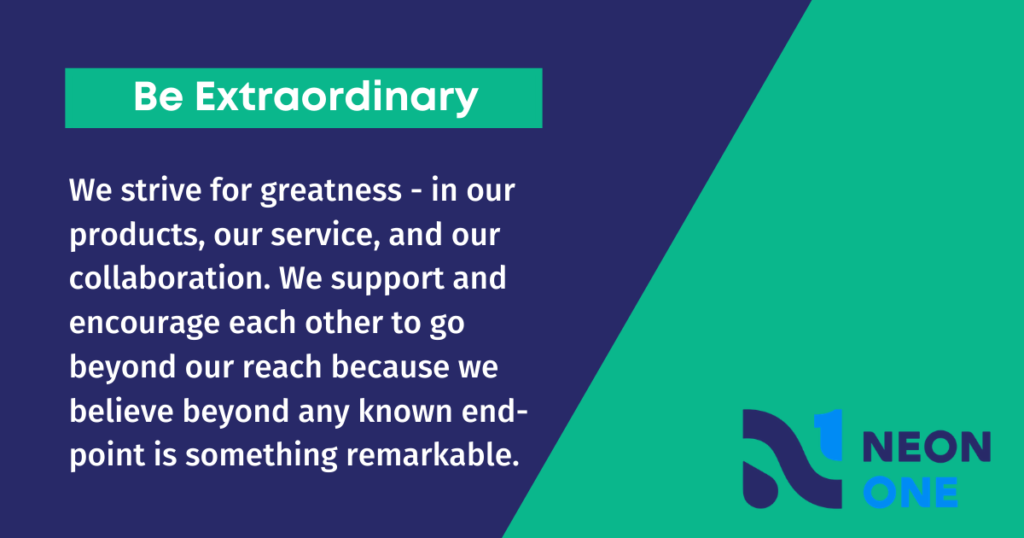 Own the Solution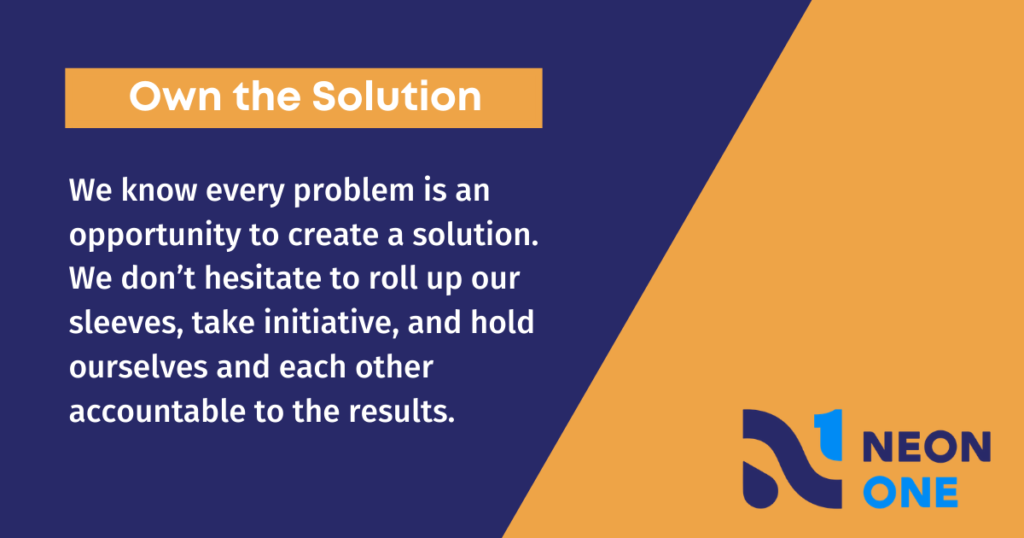 Grow Together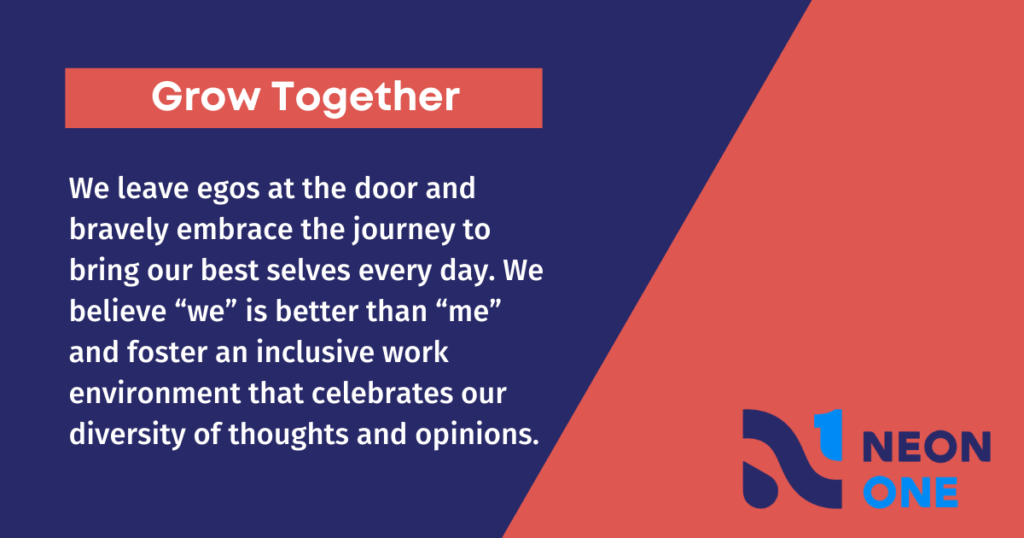 Innovate Fearlessly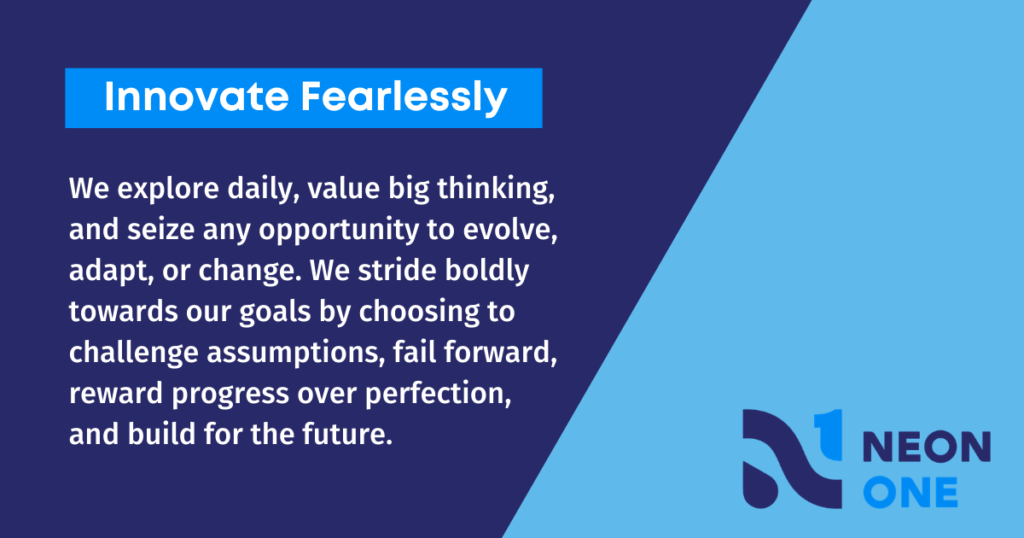 Stand for our Customers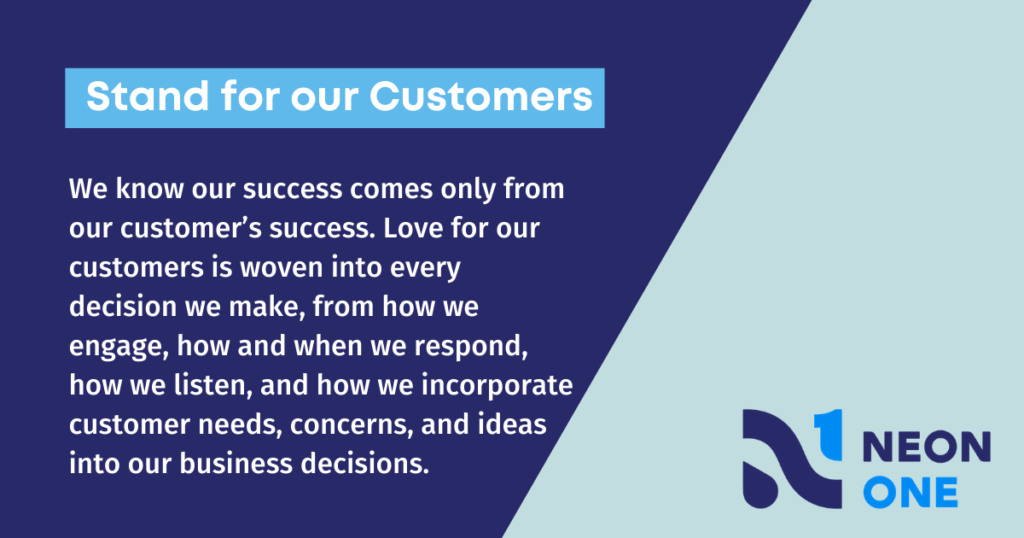 Neon One's mission reflects our purpose, objectives, and plan as an organization—to help social good organizations raise more money and build sustainable, long-term growth. 
Our New Look: Redesigning the Neon One Brand
The first and most apparent change to our brand is our new feature logo and individual product logos.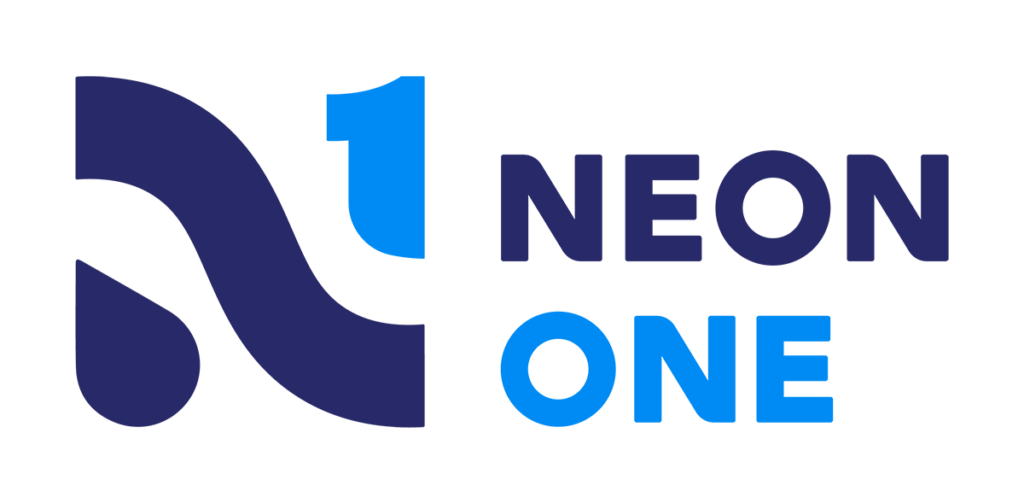 During the concept development process for the new logo, our graphic designer used the letter "N" as inspiration and pushed the envelope on its letter form to exhibit characteristics of a water current.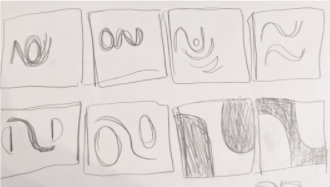 The water current represents the flexibility, innovation, transparency, and reliability we bring to our products. Like water, our ability to bend and problem-solve around our client's daily obstacles is our strength.
Get a more in-depth look at our new visual brand
In addition to our new logo, we're also rebranding many of our products under a unified brand strategy. This means that each product underwent a visual change as well.
This strategy is an essential step toward integrating all Neon One products and providing a more comprehensive ecosystem for our customers and our partners.
The Story Behind Our Color Choices
Our color choices were broken into three different central touch-points: accessibility, our history, and our values.
Accessibility and ADA Compliance
Our colors were carefully selected to be ADA compliant, so our brand choices could be seen together on screens by people with vision difficulties.
Our History
Many of our colors nod to the history of each of the business units that make up Neon One. The color "Rally Orange" pays homage to Rallybound, "Arts Red" nods to Arts People's red, our color "Core Green" hints at CiviCore, and finally, our "Electric Blue" for NeonCRM.
Our Values & Future
Our core values and hope for the future inspired each color choice. We included a mix of cool and warm colors to bring about feelings of warmth, trust, and enthusiasm. Our orange and red show the compassion and enthusiasm we have for the social good sector, while the cool blue hues evoke feelings of freshness and innovation, like our products.
To show you how much we care about each and every color choice we made, we created a color personality quiz. Take the color quiz to find out which Neon One brand color matches your personality.
"Our new brand is an exciting moment for this company since it really emerged organically," states Michael Farb, CEO of Neon One. "Our customers were using multiple products and finding that various tools worked well together to solve for their various needs. Whether it was acquiring new donors with our fundraising tools, increasing recurring donors with our CRM, or expanding their community impact with our giving days platform, the use cases for our products drove the primary need behind the rebrand." 
We're now in the process of updating our products and online presence to reflect our new look. You'll continue to see updates and changes to our systems, website, and social media profiles throughout January.
Very few things changed fundamentally with our rebrand, but instead, everything has been resolidified and connected. And, for the first time, we believe everything works together in concert and puts us in a much stronger position to be your best technology partner to help you create lasting, sustainable growth.
Because at Neon One, we're built for good.
Join the discussion in our Slack channel on connected fundraising