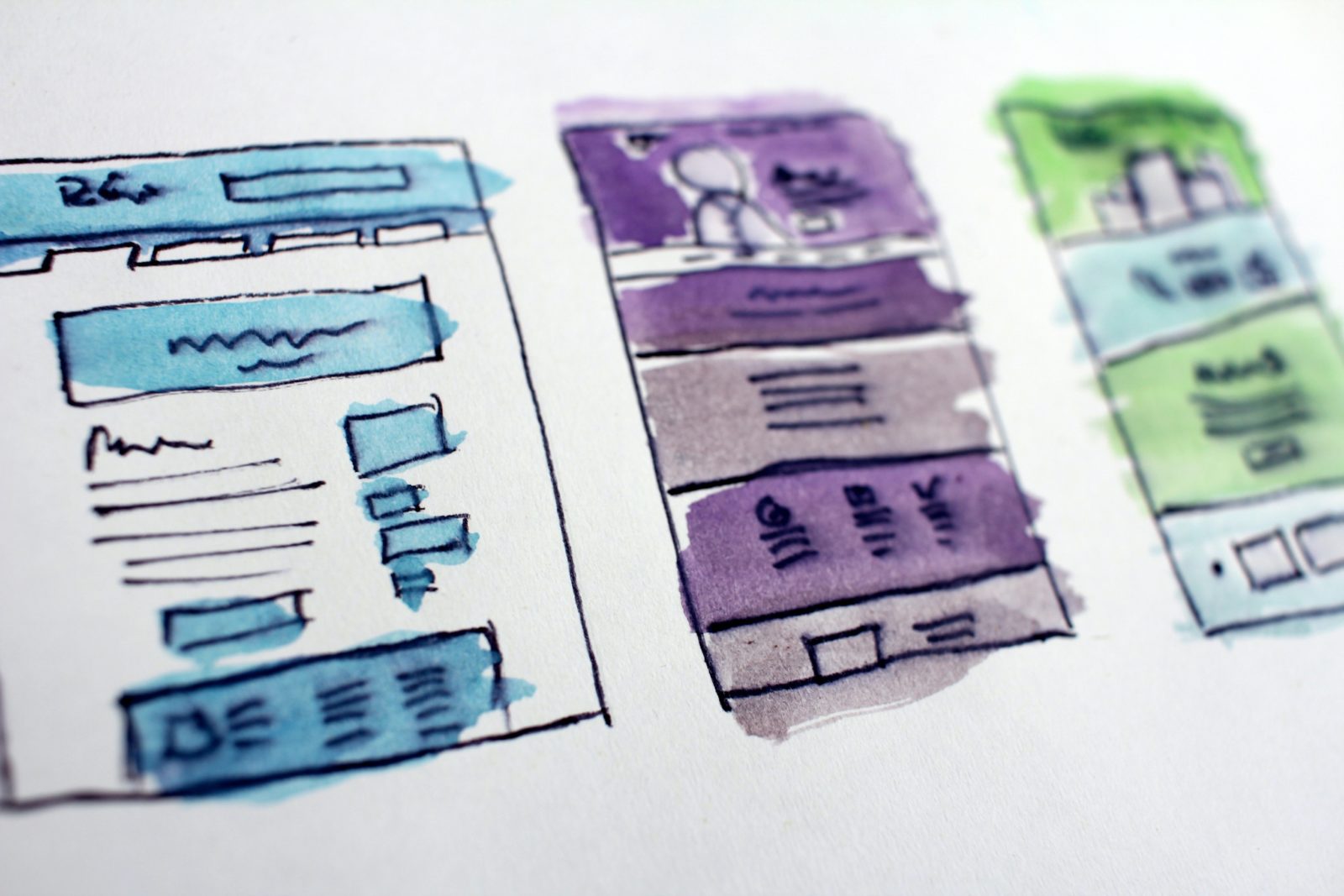 Nonprofit branding is a big deal. Your brand is about more than just your logo: It's the way people feel about you and the experiences they have when they interact with you. Some parts of your nonprofit's brand, like the way you make people feel, are hard to quantify. Other elements are easier to define, like your mission and vision statements; logos, color schemes, and fonts; and the tone and voice you use in written communications.
Creating a brand and using it consistently across all of your different channels to reach your supporters is important. It helps people understand who you are, connect with your work, and remember your messaging! In this article, we'll look at some of the key pieces of your brand and how to use them on your website, social media activities, email campaigns, and more. You'll learn how to build a branding guide, evaluate your website's design, and create consistent content for your site and other channels. We'll also share real-life examples from our own branding guide to illustrate some of the most important tactics.
Let's get started.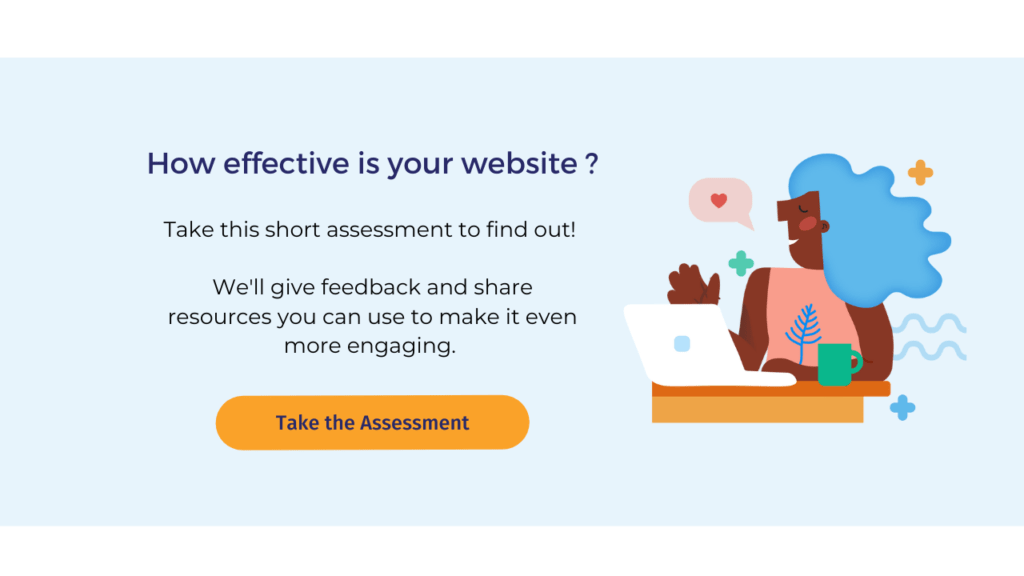 Nonprofit Branding Tip: Build a Branding Document
Consistency is the key to a strong brand identity. One of the easiest ways to stay consistent is by compiling a branding document you and your staff can use as a guide. When someone has questions about how to present your organization or add your unique look and feel to a piece of content, they'll know exactly where to find the answers they need.
Your branding document should contain two types of assets: Visual guidelines and content guidelines. Let's take a look at what's included in each of those categories.
Visual Branding Elements
The colors, fonts, images, logos, and other visual elements that you use in your materials all help people recognize your organization and the work you do. The more consistently you use your nonprofit's visual elements, the more easily people will recognize you. Here's what to include in your branding document's visual assets list.
Your Name and Logo
This might seem basic, but including your name and logo in your branding document is an important step! Make sure you note:
Your organization's full name
Any alternate names or acronyms you use to describe yourself
Guidelines for how to use different names (ex: do you use "The" in front of your name? Do you never use "The" when referring to yourself? Under what circumstances will you use an acronym instead of a full name?)
Logos in various formats (.jpg, .png, .ai, .eps, etc.)
Logos in various colors (ex: full-color, all black, all white, gray)
Guidelines for how to use your logo (ex: how much padding should go around your logo? When would you use a full-color logo instead of a white logo?)
Examples of correct and incorrect usage of your name and logo
This will be helpful for anyone who writes about your organization. Knowing, for example, that your organization is "Cook County Community Foundation" and not "THE Cook County Community Foundation" will make it easier for people to refer to you correctly.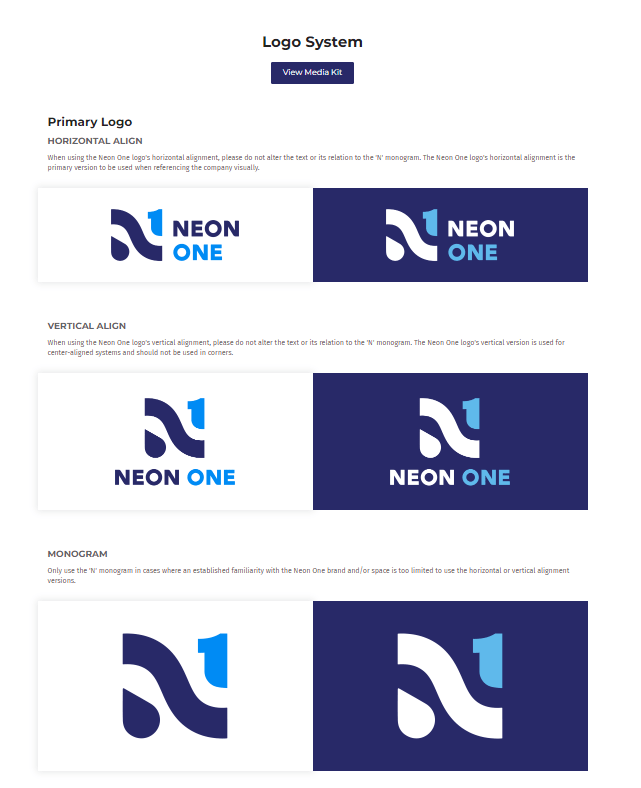 Color Palette and Fonts
After your name and logo, these elements are most helpful in establishing a visual brand identity. It's important to be as specific as possible here so you can stay consistent across every channel, whether it's on your nonprofit's website or in your print materials. Be sure to include:
What colors you use, including hexadecimal codes that will help people choose exactly the right hues to use when creating content for your organization
The different fonts or font families you use
Guidelines for when to use which fonts (ex: You may use your serif font for headlines and sans-serif font for subheadings and content, or you may have a preferred font and an alternative font if it's unavailable)
Guidelines for choosing color combinations that will make your font most readable on different background colors
Examples for the correct and incorrect way to use brand colors and fonts
The more specific you can be about when and how to use your color palette and fonts, the easier it will be for your staff to design both digital and print assets for your organization.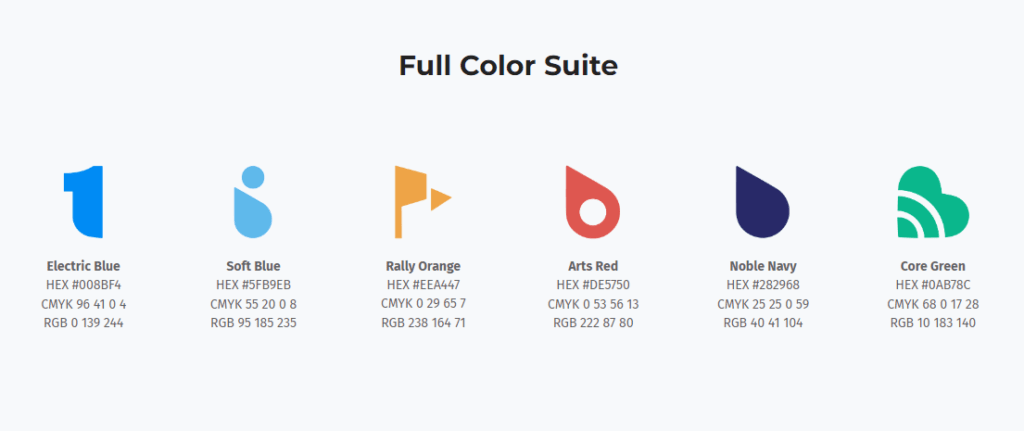 Design Elements and Image Guidelines
You may have collected a variety of design elements other than your logo that are an important part of your visual brand. Some examples may include logos for specific programs, events, or campaigns, or even shapes that you like to use in your design. You may also have some guidelines around photography or other images that are important to people creating content for your nonprofit.
Some elements you'll want to include in this section are:
Recurring design elements (program logos, signature shapes, etc.) in various formats and sizes
Guidelines on when and how to use your brand's recurring design elements
Guidelines for choosing photos and other imagery (ex: what websites you use to source images, the attitudes and emotions you want to convey with imagery, insight into when to use warm- or cool-toned images, etc.)
Examples of correct and incorrect use of recurring design elements
Examples of the kinds of photos you do and do not want to use
If you take your own photos, you may also want to include links to any waivers or documentation you use to get permission from your subjects.
Humans love images—they help us grasp important concepts, they can elicit emotional reactions, and they help us connect with and remember information. Since your brand includes the emotions people feel when they think about your organization, this will be an especially useful tool for anyone choosing graphics for your content.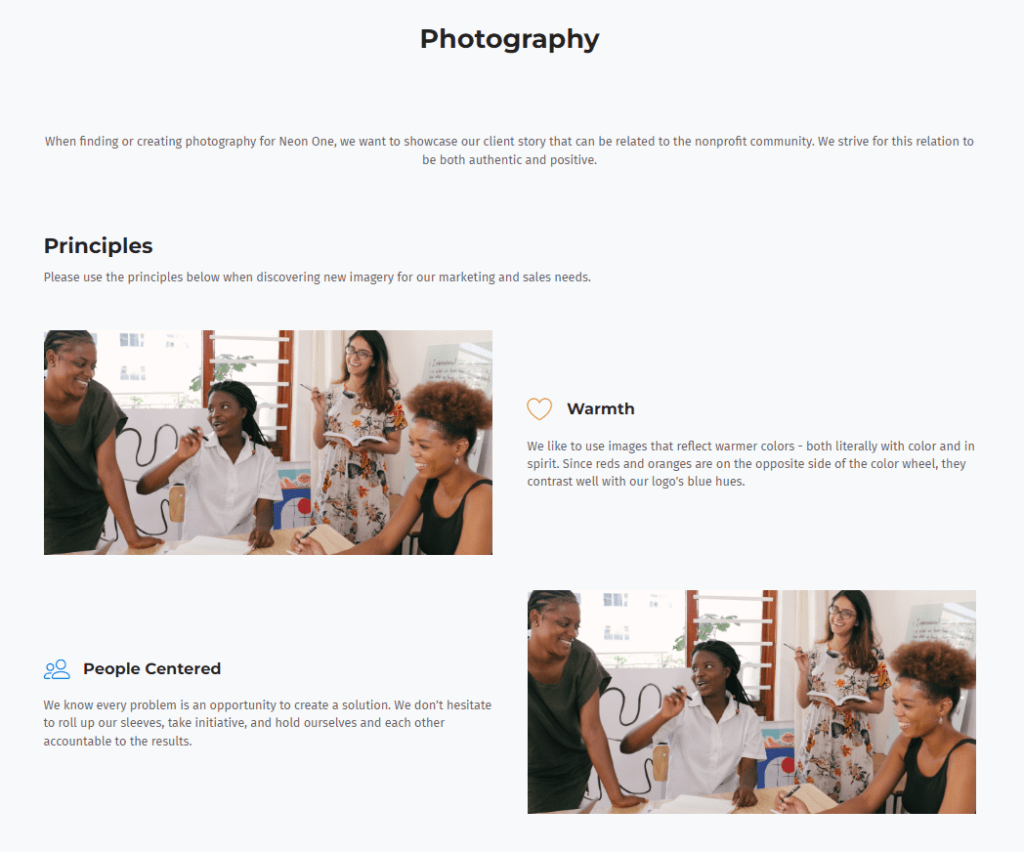 Content-Focused Branding Elements
Your visual brand will often reinforce written content. In addition to including resources and guidelines for using graphics and images, adding some content pieces to your brand document will help you and your team create consistent content. Here are some elements to include.
Your Mission and Vision Statements
Why does your organization exist? What work do you do? When you've solved the problems you were formed to address, what will the world look like?
Including your mission and vision statements in a branding document will be tremendously helpful for your staff. When they get questions from donors or potential supporters, pursue media relationships, or even apply for grants, knowing where to access these assets will make it easier for them to explain your work and its significance.
Boilerplate Copy or Elevator Pitches
Helping your staff, your community partners, and the media understand your work in just a few words is an invaluable skill. And it's not easy! That's why boilerplate copy—a standardized bit of copy that explains who you are, what you do, and the community you serve—is an important addition to your branding document. It will be helpful for employees fielding questions from interested supporters and community partners, writing press releases, or answering media inquiries.
Elevator pitches are like boilerplate copy in that they summarize your organization and what you do. It's usually shorter and less descriptive than your boilerplate copy; it's what your staff will say when someone asks, "What does your organization do?" Help your staff share your organization consistently by giving them some guidelines on how to answer that question.
Writing Guidelines or Style Guides
You know how important it is to be well-spoken when you're interacting with clients, donors, or your community. It's equally as important to present yourself well in writing, too. Consider adding some guidelines about:
Which style guide you'll use (ex: MLA formatting, AP style, Chicago style, etc.)
Keywords and phrases to use, especially when describing your community, work, and programming
Words and phrases to avoid using
Clarification on confusing grammar rules (ex: do you use an Oxford comma? Do you add punctuation to the end of items on a bulleted list?)
Another thing you'll want to consider including is a note about the tone and voice you use when you write. How do you want people to feel when they read your copy? What tone or voice will you use when you create content? Maybe you want to be perceived as passionate and determined. Or maybe you want to come off as calm and reassuring, or playful and hopeful, or educational and respected. Make a note of the tone and voice you want to use; everyone who writes for your organization will appreciate the guidance.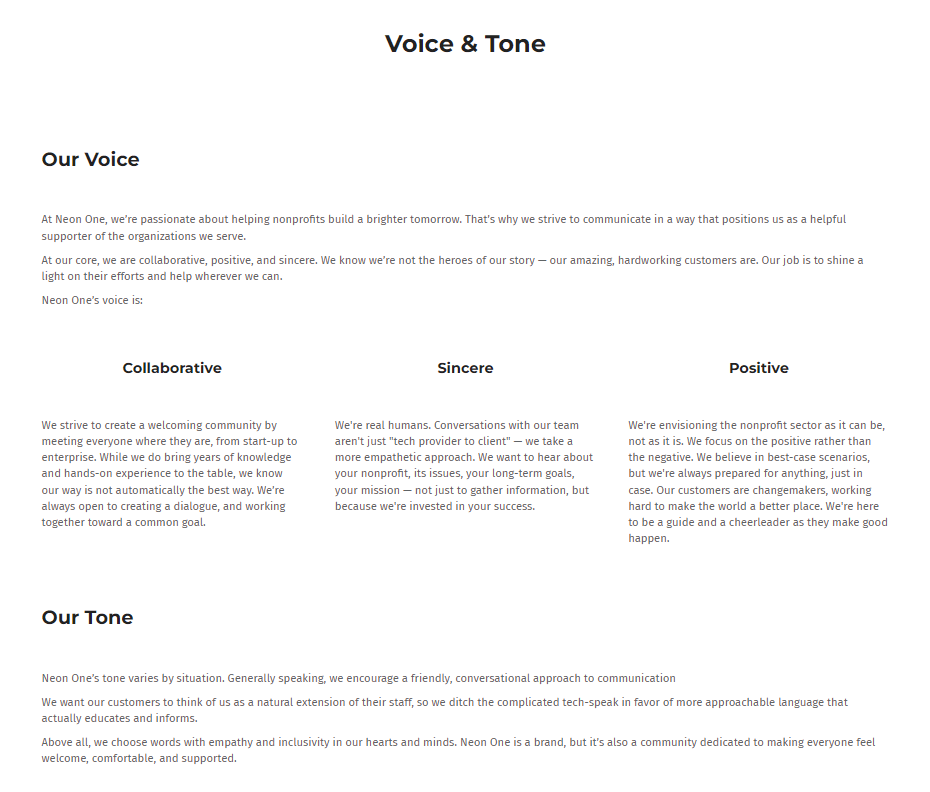 Interested in building your own branding document? Check out Week 2 of our Website Optimization Action Plan. It includes a handy checklist you can use as you compile your own guidelines!
Share Your Branding Document
The goal of having a centralized brand document is to help your team create a consistent brand experience for everyone you encounter online and in real life. But they can only use it if it's easily available.
Make sure everyone at your organization knows where to find your branding document, what it contains, and when they may want to use it. You can store your branding guide in a shared folder, on your intranet, in your task management system, or any other location staff and volunteers can easily access it.
If you do a lot of work with community partners, freelancers, or other third parties, you may benefit from making your brand guide publicly available. Try adding it to your website or hosting it on its own site (Neon One's brand guidelines, for example, are publicly available here).
When someone needs your logo, a blurb about your organization, or guidelines about how to write about your organization, you can simply send them a link to your guidelines online.
Nonprofit Branding Tip: Use Your Branding Guide to Review Your Website Design
Once you've compiled your branding guidelines, take some time to review your website's design. This is probably best done with one or two other people, especially if your website contains lots of pages! As you work, use your branding document to ensure:
The colors on your website match the colors you included in the document
Your fonts are used correctly and consistently across all of your website's pages
Your logo is consistently included on each page of your website according to your guidelines
All images on your website follow the guidelines set forth in the branding document
As you go, compile a list of updates and improvements you want to make. At the end of this exercise, you'll be confident that your website accurately reflects your brand. From there, you can complete a similar evaluation of your social media channels, email design, print materials, and any other content your community will see.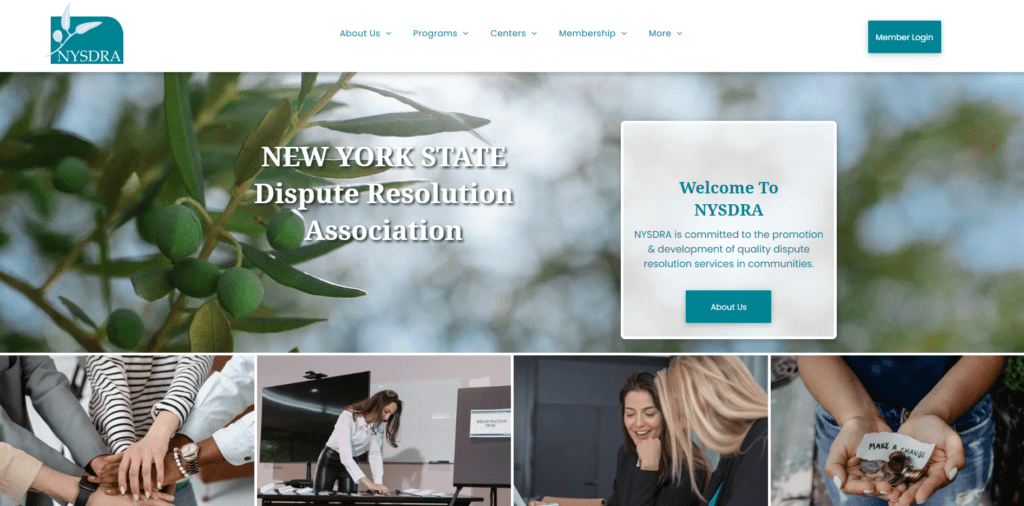 Looking for another way to evaluate your site? Take our Website Optimization Assessment!
Nonprofit Branding Tip: Evaluate Your Content
Your website design is only one part of your online brand. Your site's content is another big component! Once you've checked to make sure your visual brand is consistent across your site, take some time to evaluate your content.
Based on how much information is available on your website, the extent of your print materials, and a couple of other factors, you have some options available to you.
Evaluate and update every page on your site. This is best for organizations that have simple websites.
Evaluate and update key pages on your website and stick to your guidelines for future content. This is a good option for organizations with many pages, blog articles, or updates.
Complete a full content audit. Categorize the different pages, articles, and other content and how you want to handle them. You may choose to update them, leave them alone, or delete them entirely.
This can be a big job! To make the biggest, most visible impact, here are some questions to ask yourself:
Does someone know who you are and what you do when they land on your homepage?
Are your mission and vision statements easy to find and understand?
Do you consistently use the same tone and voice on all of your high-traffic pages?
Can site visitors easily find boilerplate copy that summarizes your work?
Once you've evaluated your website, you can extend your review to include your social media channels, print materials, ongoing email campaigns, and other written materials.
Build a Stronger Website With These Nonprofit Branding Strategies
Your brand is what people think of when they think of your organization. The way your community perceives and connects with your work is heavily influenced by your visual branding and the way you talk about your organization. When your branding is consistent every time they interact with you online or in real life, your community will have an easier time remembering you and how valuable your work is. That's why it's important to create a branding document that outlines the key pieces of your brand.
After you've compiled a brand guide, use it to evaluate your website's design and content. Whether you choose to update every part of your site or focus on the most visible or highest-traffic pages, this exercise will help you establish a consistent brand on your site. From there, you can direct that focus toward other channels, both online and offline.
Need a New Website? Check Us Out
Neon Websites is a website design tool built specifically for nonprofits. Whether you're looking to build your first website or update an existing one, the tools and features in Neon Websites make it easy for people of all experience levels to create and manage a beautiful website. You can learn more about our simple drag-and-drop design tools, built-in image and color pickers, SEO tools, and more right over here.
Join the discussion in our Slack channel on connected fundraising