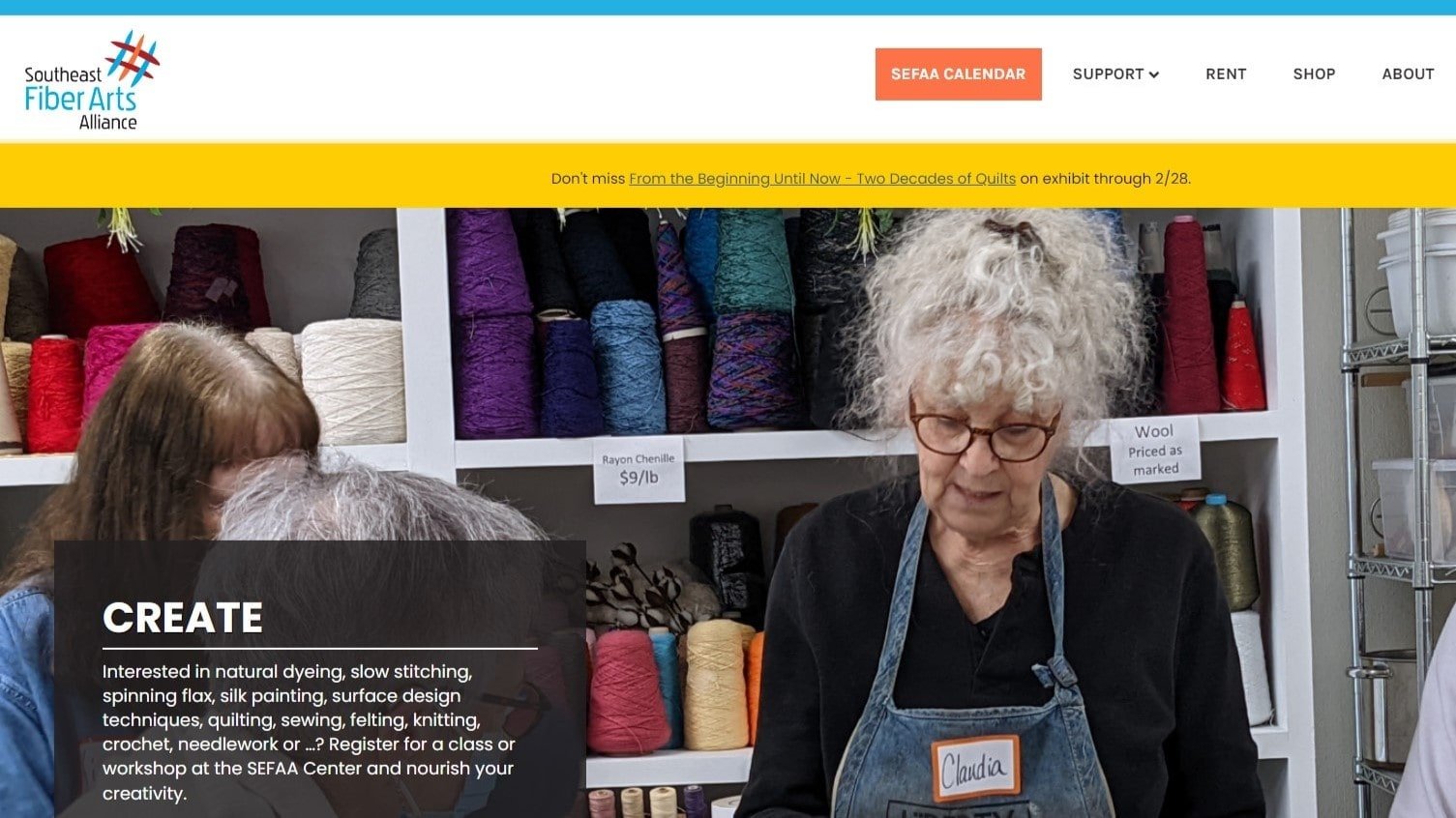 Creating a website for your nonprofit is about more than ticking off a box. Any bargain bin site can list basic information about your organization. But a great nonprofit website—one that's well-organized, responsive, and optimized for a great user experience—can serve as a key pillar for both your organization and your mission.
That's why we're writing this article. We want to help nonprofits looking to build a new website move beyond the bare minimum, because a thriving online presence will be critical to your organization's future. According to the 2022 M+R Benchmarks report, online revenue for nonprofits increased by a whopping 60% between 2017 and 2021.
Whether you're an established nonprofit looking to build a new website or a newer org creating its very first site, there are reams of best practices and helpful tips that your team can use to create the best website possible. Just remember: A great nonprofit website is no longer just a nice-to-have: It's critical to your organization's success.
If your nonprofit is putting off a website redesign, you could end up behind the curve. According to the 2023 Nonprofit Tech for Good Report, 68% of nonprofits have redesigned their website in the last 3 years. If your organization still hasn't refreshed its site, the time is now!
There's a lot of information contained in this article, and it will hopefully be a resource that you'll return to as you create your nonprofit's new website. Here's a breakdown of what's included that will help you easily skip to the most relevant sections throughout the process.
Why Does Your Organization Need a Website?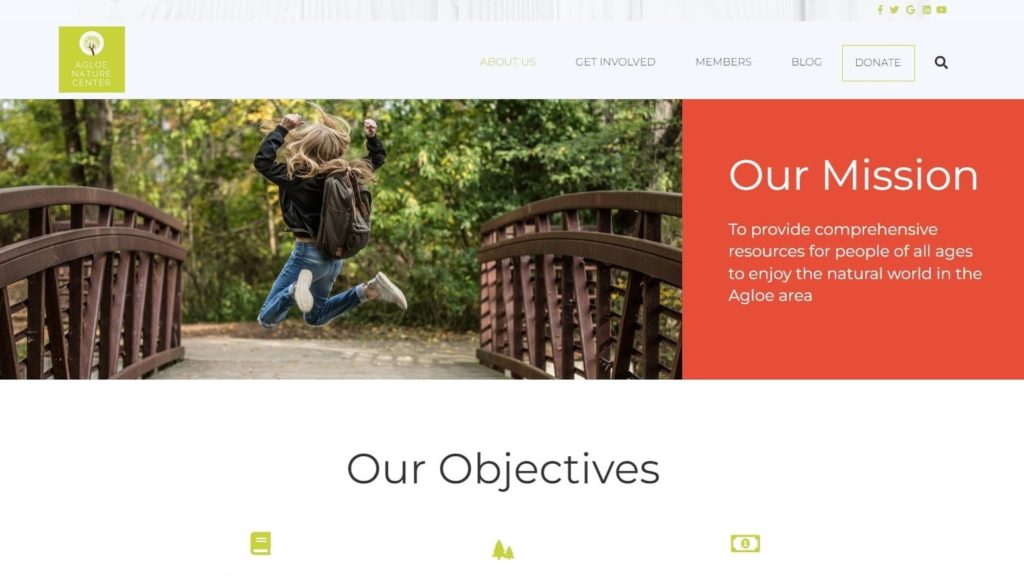 This might seem like a dumb question. After all, it's 2023. Don't all nonprofits need a website for the simple reason that everyone needs a website?
And to be clear: Yes, that's definitely the case. But that isn't really the question that we're asking. What we're actually asking is: What specific goals do you want your nonprofit's new website to serve?
You'll notice that we said "goals" plural. That's because an effective nonprofit website will be accomplishing several goals at once. After all, your nonprofit's clients, donors, volunteers, and staff all need different things from your organization. You'll want your website to be useful to all of them.
Before you start building your new nonprofit website, you need to know what you want the site to accomplish. And when you're thinking through your website's goals, it's helpful to break things down in terms of your different constituencies. That's what we've done here!
How Will Clients Use Your Website?
Let's start with the people you serve. When it comes to your nonprofit's clientele, what information would they need from your organization's website?
This answer will vary depending on the type of your work your nonprofit does. If you operate a food pantry, you'll want to make sure your hours and policies are easily available. If you run an animal shelter, having a robust directory of pets available for adoption will be key.
More than anything, your clients are going to want information about how they can access your services. Break down the info they will need—contact numbers, email addresses, locations, eligibility criteria, program overviews—and how a website could help facilitate your process (like allowing them to submit a form through one of your pages).
During this process, you should interview some of your clients to learn more about how they interact with your organization. You might be surprised to learn what they would want from a new website!
How Will Donors Use Your Website?
With donors, the ultimate goal is clear: Your website should inspire them to give. Online giving currently accounts for roughly 13% of total giving. As younger, digital native generations like Millennials and Gen-Z age up into their prime giving years, the importance of online giving will only increase. Now's the time to focus on creating engaging sites that make it easy to learn about your work and donate to your cause.
To begin with, this will mean making your donation form easy to find. Next, you should ensure that your donation form is optimized for an easy, secure experience that helps donors get through the form quickly and click "submit donation."
But aside from the "how" of donating, your website should also be answering the "why." And that goes for existing donors as well as for new ones.
We'll cover this more below, but you and your team should look at your website as an extension of your fundraising strategy. This means using your site to demonstrate your nonprofit's positive impact and its ability to deliver on its mission.
Take a look at most nonprofit websites and you'll see pages like "our mission" or "our impact." Those are standard, and they're standard for a reason: If you're interested in a cause and researching unfamiliar nonprofits, you'll want answers to questions like "What's their mission?" and "What impact are they making?"
But just because they are standard doesn't mean that they're enough. Don't just check this box and move on. Talk to some of your donors to learn more about why they have chosen to give. They'll help you create a website that effectively tells your nonprofit's story.
How Will Volunteers Use Your Website?
For many nonprofits, their volunteers are a critical part of making their vision a reality. Beyond the work that they do to help your nonprofit fulfill its mission, the vast majority (76%) of volunteers also donate. That's why your website should be useful to them as well: The easier you can make your volunteers' lives, the happier they will be to give their time and money.
For volunteers, adding a list of upcoming events and volunteer opportunities to your site will be important. (Just make sure that you're keeping the list updated once the site is live!) Even better, embed a sign-up sheet that lets them add their name to an event with just a few simple clicks.
For both volunteers and staff, you should also consider creating a private section of your website that they can log into for access to private event details, volunteer requirements, and other information. This will depend on your resources and the scope of your activities, but it can be very useful to the right organization.
Some of the things you might want to consider including in this section are volunteer policies and more detailed event information. And since your volunteers are some of your biggest supporters, you can also include assets, like custom graphics, to help them with peer outreach!
Once again, we recommend that you interview some of your volunteers during this process. What you think they might want to use their site and what they actually want from it might be different.
Make a List of Website Goals
Once you have gone through all your constituencies and identified what they want and/or need from your website, gather your team together and write out a list of goals. Each goal should be a single, direct sentence that states what you want to accomplish with your site.
Here are some examples:
Website Goal #1: Our new website will increase online giving
Website Goal #2: Our new website will be the #1 way that new clients find us
Website Goal #3: Our new website will serve as our primary sign-up and information hub for volunteers.
This list of goals will help you throughout all stages of the website process. Consider getting them printed out and posting them in your office. Any time a decision is being made, you can refer back to them. Is this new idea serving one of your website goals? If yes, then move forward. If not, move on.
Set S.M.A.R.T. Goals to Track Success
One thing you'll notice about the goals above: They aren't S.M.A.R.T. Now, this doesn't mean that they're dumb goals: S.M.A.R.T. is an acronym for goal setting. It stands for Specific, Measurable, Attainable/Ambitious, Relevant, and Timely.
It's okay if your overall website goals don't fit this standard. These are big picture goals that you're using to guide your decision-making. But that doesn't mean that you shouldn't set specific S.M.A.R.T. goals that help you measure your success.
For each of your website goals, create a series of S.M.A.R.T. goals tied to specific metrics and timeframes. Don't set the bar for success so high that success is impossible, but don't set it so low that you don't have to work for it, either. Here's an example:
Website Goal #1: Our new website will increase online giving.
S.M.A.R.T. Goal #1: We will achieve a 25% growth in online giving this year.
S.M.A.R.T. Goal #2: We will see 20 new online donors this year.
S.M.A.R.T. Goal #3: We will have an average online donation size of $50 this year.
These S.M.A.R.T. goals will help you determine whether your nonprofit's new website is doing what you want it to do. And at the end of the year, you can set new S.M.A.R.T goals for next year! If you want to learn more about how nonprofits can use Key Performance Indicators (KPIs) to measure their success, check out the article below.
Registering Your Domain Name
If you already have a website, this likely won't be a problem. You'll have registered your domain name when your original site was established! But if you are a new nonprofit, registering your domain name means that someone else can't swoop in and buy it out from under you.
There are two parts to a domain name; the unique string of letters and numbers that make up your website's name and the top-level domain, aka the ".org" or ".com,"or ".edu" etc. that lets users know what kind of organization they're visiting online.
For instance, Neon One's domain name is www.neonone.com. Our domain name consists of our company name (neonone) and a .com that lets you know we're a commercial (for-profit) business.
Ideally, your domain name would be your nonprofit's name ending in .org. But every domain name has to be 100% unique, and if someone else has registered your domain name, then you're out of luck. If that happens, add a word like "rescue" or "theater" or "pantry" into your domain name—something that clearly relates to your nonprofit's work.
In order to register your domain, you can contact your Internet service provider or you can check out the list of accredited registrars maintained by the nonprofit Internet Corporation for Assigned Names and Numbers (ICANN). Once you've decided on a registrar, you can use their search bar to find an available domain name and purchase it.
It's important to note that domain name registrations aren't permanent! That purchase price you pay will only cover registration for one year. After that, you'll need to pay an additional fee (usually between $10 and $15) every year to renew your domain registration.
By the way: There is no rule stating that, as a nonprofit, you need to have a website ending in ".org." But it's such a common practice that there's no reason not to do it; you'll probably confuse potential visitors if you use a domain ending in ".com."
However, you might want to consider registering the .com and .net versions of your domain anyway. If you don't, someone could register those domains and potentially use them to run a scam on unsuspecting donors.
To Free or Not to Free: How Much Should Your Nonprofit Spend on a Website?
We all know that overhead costs are an incredibly sensitive subject for nonprofits. Between third-party ratings systems like Charity Navigator—which will downgrade nonprofits that exceed 30% spending on overhead and fundraising—and the (very reasonable!) expectations of donors that as much of their money as possible is going to the cause that they're supporting, it's understandable that most nonprofit staffers are used to doing more with less.
But don't let "doing more with less" turn into "doing less with less." Certain investments are worth making. And, when it comes to investing in technology, websites are incredibly cost-effective. Even so, if you want to achieve big things with your nonprofit's website, you're going to have to spend a little more.
Still, there are nonprofits out there who might look at the costs associated with a paid website builder or web host and decide that the limitations of a free website are worth the savings. That's why we're going to spend some time breaking down the differences between the two biggest price points in nonprofit websites: free and not-free.
The Case for Free Websites
A free website will come with fewer design options, fewer interactive features, less bandwidth, and could even come with a cap on monthly visitors. Your site might also come with ads on it, and your domain name will usually include the name of your host (i.e. yournonprofit.webhost.com).
On the other hand, free websites come with little to no cost (it's right there in the name), no contracts, and can be good for experimentation as you figure out what kind of site structure and content works best for you.
It's a pretty clear trade-off. With a free website, you pay less (i.e. nothing), and you get less in return.
The pros of free websites:
Did we mention that they're free?
No contract
Designed to be self-managed
Good for beginners
The cons of free websites:
They're slow (limited bandwidth)
Limited design options or templates
No personalization options
May come with ads
May come with web builder's logo
Limited analytics
Limited customer support
May come with cap on monthly visitors
Might be limited to a ".com"
You should use a free website if ….
Your nonprofit is just starting out and is operating on the most razor-thin margins. As soon as possible, your organization should prioritize a website upgrade. This is especially true now in a world where people are increasingly online. Everyone—from Generation Z users to Baby Boomer donors—will go to your website to learn about and support your work. Having an outdated website may signal to your visitors that your organization is inactive or inattentive to your online audiences.
The Case for Paid Websites
With a paid website, your costs are higher, but you're getting way more. Still, what you get will depend on your price point and the website builder that you choose.
When you compare it to free websites, a paid website is almost guaranteed to come with faster load times, better design options, more personalization, and better security.
As an added bonus, many website hosts have a discount for nonprofits!
The pros of paid websites:
Faster loading times
Better design options and templates
More customization options
Additional functionalities
Options for website personalization
Better security
Better customer support
No caps or higher caps on monthly visitors
No ads
Discounts for nonprofits
The cons of paid websites:
They cost more than free sites
You'll likely be locked into a contract
More complicated/more difficult to manage
If you're relying on a third-party webmaster, updating the site can be slow
You should use a paid website if …
Your organization is anywhere beyond the initial stages of formation. An investment in a website is an investment in your nonprofit's future. In fact, a well-optimized website might be the best money, dollar for dollar, that your nonprofit can spend.
Paid websites are especially important for nonprofits that are trying to reach younger audiences or donors. The first thing these folks will do when they hear about your nonprofit is look up your website. If you have an outdated-looking free website, that could spell the end of their interest.
5 Things to Look for When Shopping for a Nonprofit Website Builder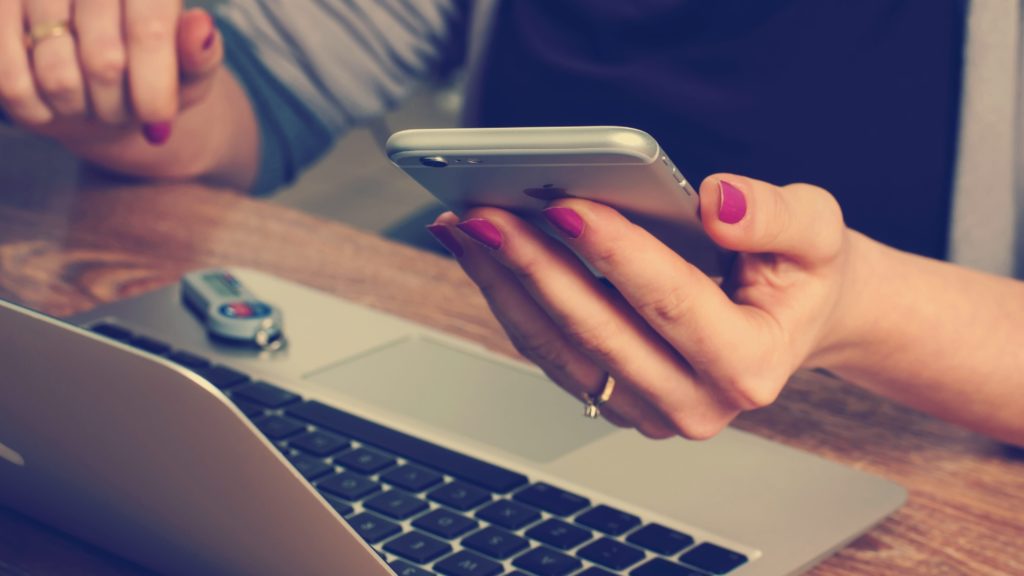 In the next section, we'll cover some of the actual website builders that you'll be researching for your nonprofit. But first, we want to give you a quick guide to some of the features you should be shopping for.
When you're researching a potential website builder, make sure you check for these five things.
1. Self-Service
It's important that your website builder be easy to use. Most advanced web builders have self-service options, but make sure that your website admin (i.e. the employee who will be handling website updates) is on hand during the buying process to actually go through some demos and see just how easy that self-service is to navigate. If going with a potential website platform means relying on a third-party webmaster to manage your site, you should think twice. Relying on a third party will slow down your updates and could make for a real time-suck.
2. Nonprofit Templates
A web builder is going to have website templates available. This is important! After all, what small or medium nonprofit has time to design an entire new website from scratch? But pay attention to the quality of the templates offered and see how they fit your website goals. Specifically, check out what kind of nonprofit-specific templates the web builder offers. Even better, do they have templates that are specific to your mission? The better the templates, the easier time you'll have building and launching your site.
3. Page Speed
A fast-loading website is absolutely critical to success. Who among us hasn't been interested in visiting a site only to lose interest quickly when the page fails to load quickly? Page speed is also critical for search results, as Google prioritizes fast-loading websites over slower ones. If you're talking with a sales rep from a potential website builder, don't be afraid to grill them on page speed and on the ways your nonprofit can maximize speeds on your own site. When it comes to testing your page speed, Google Page Speed Insights is a handy tool you can use.
4. Personalization
Website personalization is a little more complicated than it sounds. It involves personalizing a visitor's experience on your site by using data from past visits. If a website builder has personalization features built in, you can tailor a person's experience on your site depending on how many times they've visited in the past, based on their location, or even by the date or time of day. During your buying process, make sure to ask about personalization features a website builder has available and how easy they will be for your admin to set up and use.
5. Security
It goes without saying that website security is critically important. And yet, we're still going to say it: Website security is critically important! If your website is hacked and your donors' information—especially their financial information—is exposed, that will completely break their trust and could have dire consequences for your organization. As you shop for a web hosting provider, double and triple check to see what security features they offer. Here's a good rule to follow: The less you have to think about cybersecurity with a given provider, the better.
It also goes without saying that price will be a factor when choosing a website builder. Just remember, you don't want to focus so hard on the bottom line number that you lose sight of what you're actually paying for. Even with paid services, some website builders deliver more than others.
Nonprofit Website Builders: Who Should You Choose?
There are a ton of website builders out there for nonprofits to choose from. We couldn't possibly cover all of them. Instead we'll cover five of the most popular website builders—some of which offer limited free versions—and we'll also tell you some more about Neon One's premiere nonprofit website builder, Neon Websites!
Neon Websites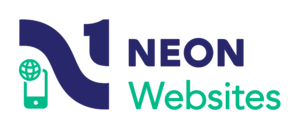 Neon Websites is a website builder and web design service combo that's designed specifically for the needs and challenges of modern nonprofits. With mission-specific templates, an easy-to-use drag and drop interface, and a seamless integration with Neon CRM, Neon Websites can help your nonprofit expand its digital footprint, increase online donations, and deliver a best-in-class website experience to all of your constituents.
Pricing & Features
All of Neon Websites' plans come with the same monthly price that starts at $49/mo. With our "DIY" plan, your team can use our out-of-the-box templates to build your own site with no extra charge. With our "Standard Build" option, your team chooses a template, and our in-house experts build a six-page site for only $350. And with the "Premium Build," our team will build your nonprofit its own unique template and create a six-page site for a one-time fee of $600.
Pros & Cons
Neon Websites is a website builder designed specifically for nonprofits. While other general interest website builders offer "nonprofit" templates, Neon Websites' mobile-optimized templates are categorized by mission. Our platform comes with fast load times; a simple, no-code drag-and-drop editor; SEO features to improve your performance in search results; an analytics dashboard to measure visitor engagement; personalization capabilities; and site maintenance. And, while general interest builders offer additional value through e-commerce features, Neon Websites delivers added value through a robust integration with Neon CRM that lets our customers focus on their donors. Neon Websites may cost more than some of the other options on this list, but we offer a much better value for nonprofits.
Who Should Use Neon Websites?
Current Neon CRM customers (including those that use Neon CRM for Associations) stand to gain a lot from using Neon Websites to build a new site that integrates seamlessly with their database. But organizations of all sizes would benefit from using Neon Websites regardless of which CRM they use. For smaller nonprofits, the professional design services that come with the Standard Build and Premium Build packages are well worth the additional one-time cost. We're obviously a little bit biased, but when it comes to delivering more bang for your nonprofit buck, Neon Websites is the way to go.
GoDaddy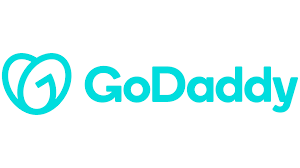 GoDaddy is a well-established company best known for their domain name registration services. But they also offer web hosting and a website builder, too. The company's been around for a long time; it was originally founded in 1997. In the digital age, being an older company has its pros and cons. While they bring a lot of experience and infrastructure to the table, customer reviews on TrustRadius have also shown that they suffer from some outdated tech and processes.
Pricing & Features
While GoDaddy offers a limited free version of their website builder, let's focus on their paid plans. Their paid websites start at $9.99/mo for the first year ($11.99/mo for year two), and their premium plan starts at $14.99/mo ($21.99/mo for year two). Both of these plans come with website templates, SSL certificates, an analytics dashboard, and email marketing tools. The Premium plan also offers online appointments functionality and up to 25,000 emails a month. However, if you want to accept donations through your website, you'll have to upgrade to the Commerce plan, which starts at $16.99/mo ($24.99 in year two).
Pros & Cons
One of the biggest pros to GoDaddy is their price and ease of use. Plus, if your nonprofit chooses to use GoDaddy, it makes sense that you would pair it with their web hosting services and save yourself some hassle. But this is an area where customer reviews express a lot of frustration with up-charging for extra features and large price increases for renewing things like your domain name and your SSL certificate. Plus, while GoDaddy's rates are relatively low, they do not offer discounts for nonprofit organizations.
Who Should Use GoDaddy?
GoDaddy is probably best for small nonprofits who are building their first website. You can use their free option to build your site and, if you like it, you can then upgrade to one of their paid plans before launch. But, if your nonprofit begins to grow and requires more nonprofit-specific functionality, you might find that GoDaddy is no longer a great fit.
Squarespace

Squarespace is a big player in the website building space and a familiar name to any chronic podcast listener. Their website builder is designed for aesthetic beauty and simplicity. With an accessible price point and wide array of templates, Squarespace is a good choice for a nonprofit that's using their website primarily to spread the word about their mission and host content.
Pricing & Features
Squarespace's basic plan (Business) starts at $23/mo. While that plan comes with basic e-commerce functionality, their two pricier plans ($27/mo and $49/mo) come with more advanced e-commerce features. For a nonprofit, the basic plan is probably all they'll need. All plans come with a 3% transaction fee for any transaction made through their e-commerce function. As for nonprofits, you can enter the code "NONPROFIT" at checkout and receive 10% off your first payment.
Pros & Cons
All of Squarespace's templates are done in a minimalist style, but they are uniformly beautiful. But that minimalism also extends to their features. There are limits in their design functionalities—like how many items you can add to menus—as well as limited integrations for third-party apps (unless you have someone who can write custom code). And, for a web builder that seems to be user-friendly, many customer reviews on TrustRadius have listed ease of use as one of their issues they've encountered.
Who Should Use Squarespace?
Squarespace is, like GoDaddy, a good option for smaller or newer nonprofits. If you want a website that will be striking to visitors and doesn't require a lot of extra functionality, a Squarespace website will serve you well. They have dozens of mobile-optimized nonprofit-specific templates to choose from, so you can make your organization's website stand out while still benefiting from Squarespace's design expertise. While their rates are still reasonable, they are slightly more expensive than some other options.
Wix

Founded in 2006, Wix is a widely used website platform. It offers hosting services for free to customers, which can mean some handy savings for organizations who choose to use them. Their website builder uses a drag-and-drop interface for ease of use, and they also offer integrations with hundreds of paid apps through their App Marketplace. With Wix, your costs will be a little higher, but you'll get a lot of value
Pricing & Features
In addition to a free version (that comes with a giant company logo attached to every page—Wix has seven different paid plans listed on their website. Four of those options are focused around personal websites. While those options are cheaper, it's Wix's business-focused options that will probably provide the best value to nonprofits. Their Business Basic ($27/mo) and Business Unlimited ($32/mo) plans all come with the features and storage capacities that nonprofit organizations would need, like secure online payments and lead-capture forms.
Pros & Cons
Like most general interest website builders, a lot of the features that Wix offers center around e-commerce, which a majority of nonprofits are not going to have much use for. They do also tout enterprise-level site and platform security across all their products, which is an important concern for any business, nonprofits included. The most common complaints in the customer reviews found on TrustRadius center around frustrations with their templates—that they aren't enough of them and/or that they are too limiting—and slower load times.
Who Should Use Wix?
While GoDaddy and Squarespace are a better fit for smaller nonprofits, Wix would be more appropriate for a medium to large organization. It's feature rich and comes with a lot of integration opportunities, which is better for more mature nonprofits with larger tech stacks. Of course, those integrations are paid, which could increase the cost—and the cost for Wix is already higher than some of the other options included here. With the frustrations that some of the customers have encountered with Wix's templates, you might want to have a more experienced designer on hand.
Weebly

Weebly is a popular code-free website builder designed for beginners. While the company's sites don't come with the polish that the sites from, say, Squarespace do, your nonprofit can create a professional website using Weebly in no time flat.
Pricing & Features
While Weebly has a free option and a $10/mo plan designed for personal websites, nonprofits shouldn't go any lower than their $12/mo "Professional" plan. With this plan, your nonprofit will get a free domain, unlimited storage, and advanced analytics in addition to limited e-commerce functionality. And, in fact, you probably shouldn't go higher than that plan either. While Weebly's "Performance" plan, priced at $26/mo, comes with priority support, all of the other features it offers beyond that come in the realm of e-commerce. Unless that's a focus for your nonprofit, the higher cost probably isn't worth it. One thing to note: All the prices above are the prices listed for annual billing. If you go month-to-month, it'll be more expensive.
Pros & Cons
Weebly has an intuitive drag-and-drop interface that web design novices should love. But that ease of use comes with the drawback of limited design templates—by far the number one complaint based on Weebly's TrustRadius customer reviews—and a general lack of features. As your website grows, you might find that your site is having a harder time growing with you. Their marketing features, for one, are pretty limited compared to what others offer.
Who Should Use Weebly?
Weebly is another option that's better for small or early-stage nonprofits, while larger, more mature organizations might find themselves quickly outgrowing what their Weebly site can do. Weebly might have a leg up on some of the other general interest companies on this list, however, because there's not much reason for nonprofits to upgrade from their $12/mo plan. If you're going to go with a basic, inexpensive option for your organization's website, Weebly can deliver what you need.
WordPress

Of all the options listed so far, WordPress is the only one that we can clearly state is not designed for beginners. WordPress is a popular Content Management System (CMS) and open-source platform that individuals of all shapes and sizes can use to manage their websites. In fact, it bills itself on its homepage as "the world's most popular website builder" with over 42% of the web built on WordPress. That's impressive!
Pricing & Features
WordPress offers two plans aimed at businesses over individuals. First is the "Business" plan, which starts at $25/mo. The second is the "Commerce" plan, which starts at $45/mo. Both come with hosting, a free domain for one year, themes (aka templates), SEO features, payment collection, and web security features. The difference between the two is mainly focused around e-commerce. This is another instance—like with Weebly—where your nonprofit is probably better off sticking with the lower-priced option. That's good!
Pros & Cons
WordPress is the only option on this list that doesn't use a drag-and-drop builder. Instead, its backend editor will let you do way more to customize your website—but it will also be far more difficult to use. By prioritizing customizability, WordPress sacrifices ease of use; your organization will need someone on staff (or on contract) who knows how to write code. But when it comes to customizing your site beyond WordPress's templates, they sky's pretty much the limit, especially since WordPress comes with over 50,000 available plugins.
Who Should Use WordPress?
WordPress is going to be a good option for medium to large nonprofit organizations—especially ones that rely heavily on their websites. For smaller organizations, the cost of maintaining a WordPress site will probably rise far beyond the actual cost of the service because they'll need to pay someone to maintain and update the site on their behalf. If you're a small nonprofit trying to use WordPress without a lot of expertise on staff, your website will probably end up looking much worse than it might if you were using Weebly or Squarespace.
Nonprofit Website Structure: How to Organize Your Site
Have you ever visited a website and had no idea which page to visit next? It's not your fault: That website was poorly structured! As you build out your nonprofit website, you want to structure information so any user can easily navigate through the site to find what they're looking for.
Website Structure: The Family Tree
When talking about website structure, it's common to use the language of a family tree. At the top are the parent pages, underneath those pages are the child pages, and underneath the child pages are the grandchild pages.
Here's brief description of each:
Parent Pages: Parent pages are the ones that sit directly underneath your homepage. A helpful way to think about them is that they're the pages you're including in your top menu (see more about that in the next section). Your parent pages will contain the broadest categories of information. For instance, if you have multiple programs, an "Our Programs" parent page would contain high level information about all of them.
Child Pages: These are the pages that sit directly underneath all of your parent pages. The content on a child page should be consistent with the theme of its parent: It's not repeating information from the parent page, but it is going deeper on one particular aspect. To return to our example, you would have the "Our Programs" parent page and then a series of child pages underneath, each one diving deep on a particular program.
Grandchild Pages: These are the pages that sit underneath your child pages. Similarly, a grandchild page should contain information that is relevant to the child page that it sits under. Looking at our example with the "Our Programs" parent page, grandchild pages would sit underneath each program-specific child page and hone in on a different aspect of that program. Depending on the complexity of your nonprofit, you might not have a ton of grandchild pages. And that's okay!
Creating Your Top Menu (Primary Navigation)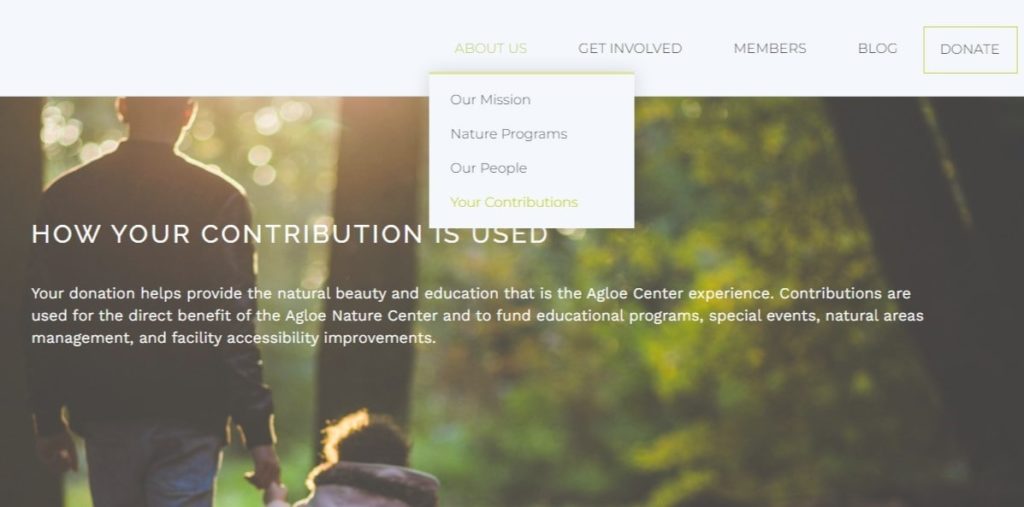 Organizing a website can seem daunting. Here's one way to make it easier: When you're organizing your nonprofit's site, think about it in terms of your website's top menu.
Almost all websites have a menu that runs along the top of every page, which is known as your "primary navigation." This menu lays out three to five topics—-i.e. the most important categories of information on your site. These are your parent pages!
Beneath each parent page menu item, there is a dropdown menu containing the relevant child pages. This is called your "secondary navigation". Depending on how in-depth your dropdown goes, each child listing on that secondary navigation menu could also unfurl to display grandchild pages.
Here are the four basic categories of information that any nonprofit should be including in their primary navigation.
About Us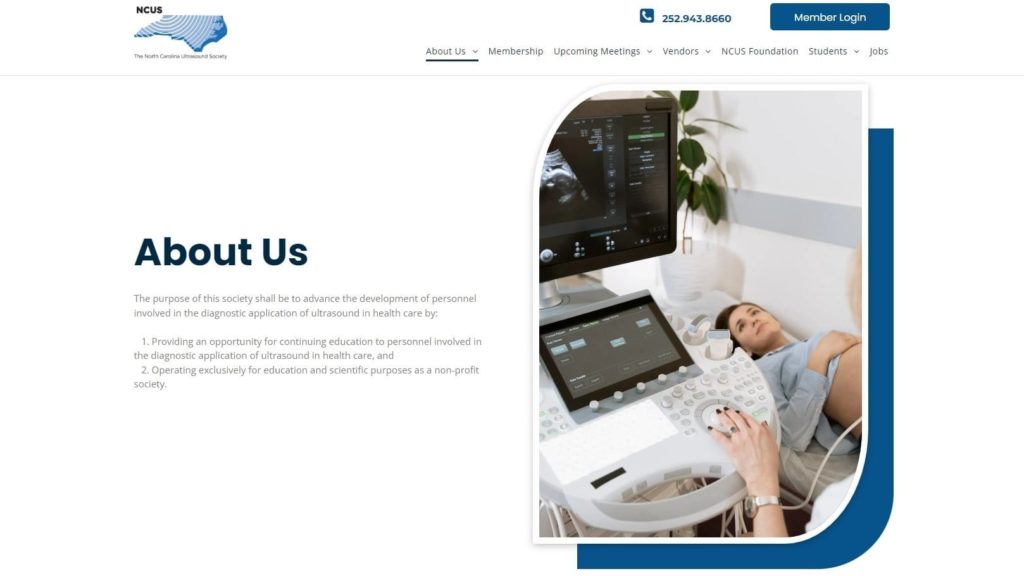 Your "About Us" section provides information on your organization: Your history and mission, your financials and annual reports, and possibly even your staff (though that last one is entirely up to you).
A brief overview and/or history of your nonprofit
Mission and vision statements
Financial statements (especially 990s)
Annual reports and/or impact reports
Our Work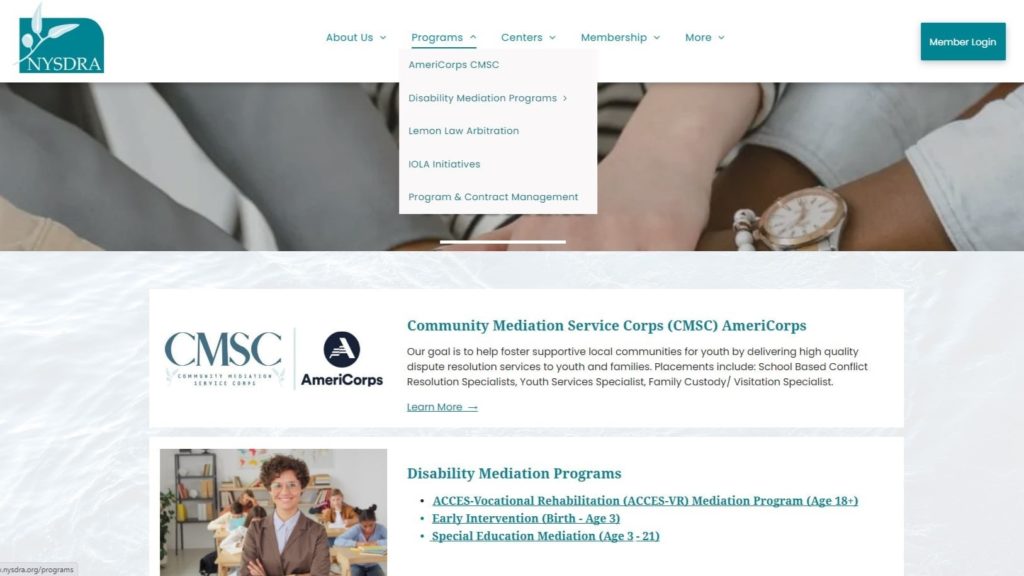 This is one of the most important parts of your website. When prospective clients or donors want to learn more about your organization and the work you do to live out your mission, "Our Work" is where they're going to go.
This section should be dedicated to your programming. It should speak to those looking to access your services and those looking to donate. And don't forget to reiterate your mission and vision statements in this section—after all, they're what dictate the work!
Get Involved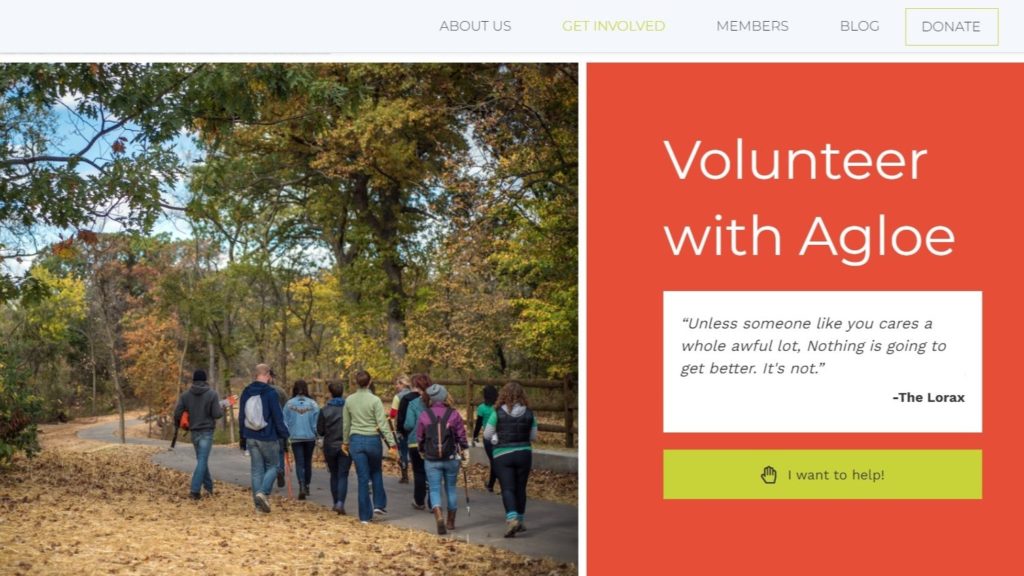 This is another critical section, one that should address the needs of both volunteers and donors. Specifically, "Get Involved" should answer two burning questions: "How do I volunteer?" and "How do I donate?" Each question should get its own child page.
Additionally, your "Get Involved" menu item should address two other questions. It should let people know all the different ways that they can give (in-kind donations, wish lists, contact details for development staff, etc.). It should also let people know how to advocate for your organization.
Most important of all: This menu item should not replace the highly visible "Donate" button that takes donors directly to your donation form and that every nonprofit should include in their primary navigation (more on that below).
News & Updates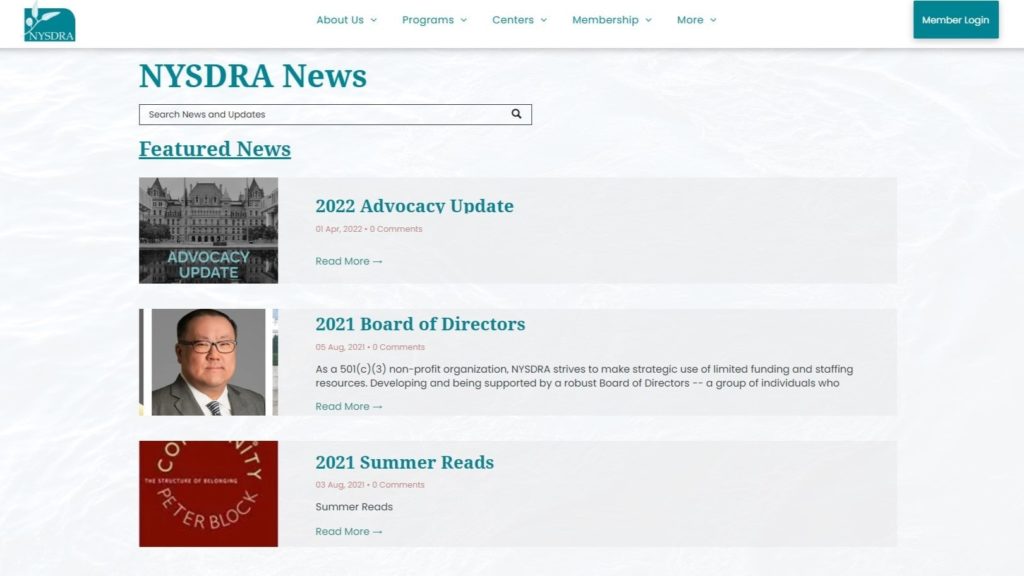 For most smaller nonprofits, this is going to mean one thing: Your organization's blog. For others, it could include sections on press releases, local news stories, etc.
Back to the blog: This is the easiest, most user-friendly way to keep supporters informed about what's happening at your nonprofit. You can post updates, do client and donor highlights, and even share thought leadership pieces that help you stand out from the crowd.
One of the best things about blog content is that it can help fuel your digital marketing efforts. Blog posts can be shared on social media channels, emailed to donors, and included in newsletters. If you want a piece of content to live in multiple places, then your blog is the place to put it. This is especially helpful for content you've written that would inspire donors to give. When they click to your site to read your article, they're that much closer to your donation page.
Blogs are also great for making your website more SEO-friendly! But we'll cover that topic in the final section of this article.
Donate Button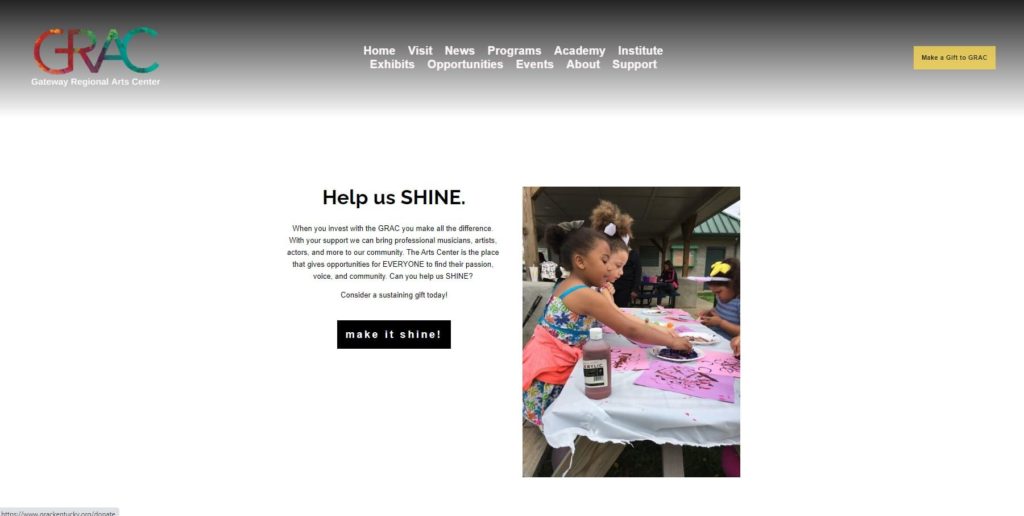 If there is one piece of web design advice we wish we could impart to every nonprofit, it's to include a colorful, prominent "Donate" or "Donate Now" button in the right hand corner of your primary navigation.
This button should stand out from the rest of your items, and it should link directly to your donation form. By including it in your primary navigation, you'll ensure that every visitor, no matter what page they're visiting, is never more than one click away from your donation form.
P.S. Don't Forget About Sidebar Menus!
There are two kinds of sidebars that you might want to include on your website.
The first is a navigation bar that lays out exactly where your current page exists in the parent/child/grandchild hierarchy. Think of it as a table of contents that helps readers orient themselves and easily navigate to related pages. These sidebars are usually best kept on the left hand side of a page.
The other type of sidebar is one that inspires action. This could be a newsletter sign-up widget, or it could be a calendar that highlights upcoming events. So long as the sidebar isn't too distracting, it's always a good idea to capitalize on a user's interest in your nonprofit's work and make it easy for them to learn more.
The only place we don't recommend including a sidebar is on any page where you want someone to take an action, like your donation page or volunteer sign-up page. Keep your supporters focused on completing actions on those pages, then add the sidebar to your confirmation page.
5 Tips for Structuring Your Nonprofit's Website
While every nonprofit's website will be slightly different, there are best practices that can apply broadly to all these sites. Here are five things you should keep in mind when laying out your website's structure:
1. Be Consistent
No matter where a user is on your website, they should have a clear idea of where they are, where they can go next, and how to get there. Be consistent with how you structure your Parent/Child/Grandchild pages, and consider adding a "sticky" navigation as a header or a footer. This means that the menu will stay at the top (or bottom) of the user's page no matter how far they scroll down (or up).
2. Create Multiple Pathways
Don't make it hard for people to find the information they want. Create multiple pathways to information by frequently adding internal links to your content. If you mention a program on a page, add a hyperlink to that program's page. A visitor totally unfamiliar with your nonprofit should be easily able to find what they're looking for, no matter where they start or what route they choose to take.
3. Include a Media Kit
If someone in the local media wants to write about your nonprofit, help them out! Include a media kit in your "About Us" section that includes a brief, boilerplate overview of your nonprofit, your mission statement, information about specific programs, and photos and graphics they can use when writing about you. The journalist will appreciate not having to hunt these items down!
4. Optimize for Mobile
Any good website should have a mobile version that is different from their desktop version. This will likely be included if you're using a paid website builder, but don't take their word for it. As you build your website, frequently check it out from mobile devices to ensure that your site is easy to use. Does the structure of your menus translate to mobile? If not, make adjustments. Some best practices for mobile optimization include turning CTAs into large buttons, choosing good fonts, and making sure your contact info is always easy to find.
5. Keep it Simple, Smartie
When in doubt, follow this advice. Keep your structure as simple as possible. Don't include every single page on your site in the top navigation bar. Include your most important Parent Pages and then, for each one, your three to five most important Child Pages. Don't try to be clever with your categories or your page names, be direct. There's a reason you'll see the phrase "Get Involved" in a lot of nonprofit website menus: it's simple, it's direct, and it works.
Do you want to see how your nonprofit's current website (or your plan for a future site) compares to industry standards? Then take our Website Optimization Assessment quiz! And once you've taken the quiz, download our step-by-step Website Optimization Action Plan, which will give you all the tools you need to upgrade your site.
Nonprofit Web Design: Telling Your Nonprofit's Story
Once you have created your website's structure, it will be time to move onto the design phase of the build. In this section, we'll cover the process of website design, the importance of consistent branding, and seven web design best practices to keep in mind.
The 5 Steps to Designing Your Nonprofit's Website
Designing a brand new nonprofit website can feel daunting. But if you break it into these five steps, it will seem slightly less so.
Create Wireframes: Wireframes are rough outlines of pages that designers can use to create the finished product. As you design your pages, wireframes will help guide your designer—even if the designer is you!
Writing Copy: Every page is going to require copy. Don't be afraid to reuse copy from emails, direct mailers, etc. to help you tackle this mondo task.
Visual Design: This step is about more than adding images and photos to your site—it's about deciding the overall look and feel of your homepage and your individual pages, too. For more on visual design, see the next section.
Coding: If you're using a template, this process will mostly involve dragging and dropping your elements. If you're creating your own site, it will mean writing the code for each element. This step also covers website integrations like your fundraising software or nonprofit CRM. It's critical that your donation form be easily accessible on your site!
Testing: This is the final stage where you and your team go through and use every element of your website to make sure that it works. Make sure to test on different devices, browsers, and operating systems.
Once you've completed all five steps, you'll be ready to launch your new site! In the next two sections, we'll cover how an attention to branding and to website design best practices can help ensure that all your hard work results in a great website. If you want some additional web design tips, check out the article below:
The Importance of Website Branding for Nonprofits
When creating your website, it's crucial that your nonprofit's brand elements are consistent throughout. Brand elements include:
Your name and logo: These are pretty self explanatory. Your name and your organization's logo are the two most important pieces of your brand. Your logo, specifically, will be the centerpiece of your organization's visual identity.
Your color palette and fonts: A good brand will have a series of specific colors that not only capture your brand, but that speak to different elements of your mission. A good brand will also have designated fonts that capture the essence of your organization.
Your mission statement: Yes, this is part of your brand as well! Your mission statement doesn't just spell out the work your nonprofit does and the outcomes you seek to achieve, it is the cornerstone of your organization's identity.
Boilerplate copy: Your boilerplate is a succinct description of your organization, your work, and your mission. It's less aspirational and more practical than your mission statement. A boilerplate should be three to five sentences long.
Your values and your story: Even if your nonprofit's values aren't publicly available, they still guide your work. Your story, meanwhile, is a key part of how you build relationships in your community. A brand that isn't grounded in an organization's values might as well be a bunch of shapes, colors, and random words.
Your voice and tone: These don't dictate what you say so much as how you say it. Voice and tone are vitally important for written communication, and they can include specific terms and phrases for how you talk about your work, your constituents, and your supporters.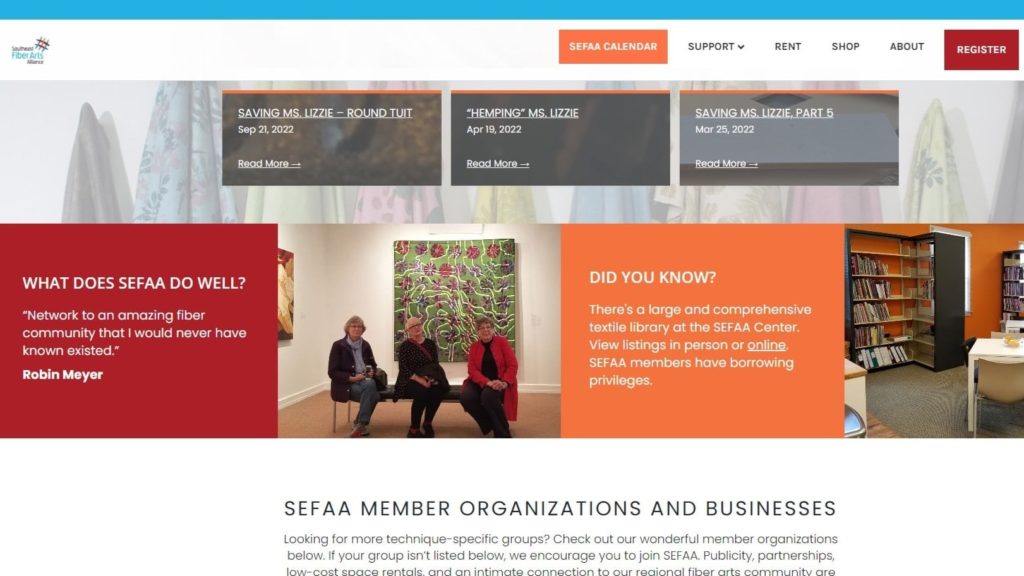 Here are five ways that you can ensure your brand is consistently used throughout your website
Logo: Your logo should be a part of your top menu, either in the right or left hand corner. Basically, every page of your website should include your logo. And if you have sticky navigation so that it's literally always visible, no matter where a visitor is on your page, even better.
Brand Colors: All websites are going to incorporate colors into their look. Your website should include your brand colors—especially in areas like your top menu, backgrounds, and even in your copy. Make sure you have a handle on which colors in your brand are the primary colors and which are better used as accent colors.
Brand Images: Your website is going to include images, and your brand will determine what kinds of images are included. If they are photos, do you prefer color or black and white photography? Are your photos people-centric? Do your images have more of a classical, composed look or a rougher, casual aesthetic? Your brand will dictate this.
Copy: Beyond simply your boilerplate and your mission statement—which will both be included on your website—your website copy will reflect your voice and tone.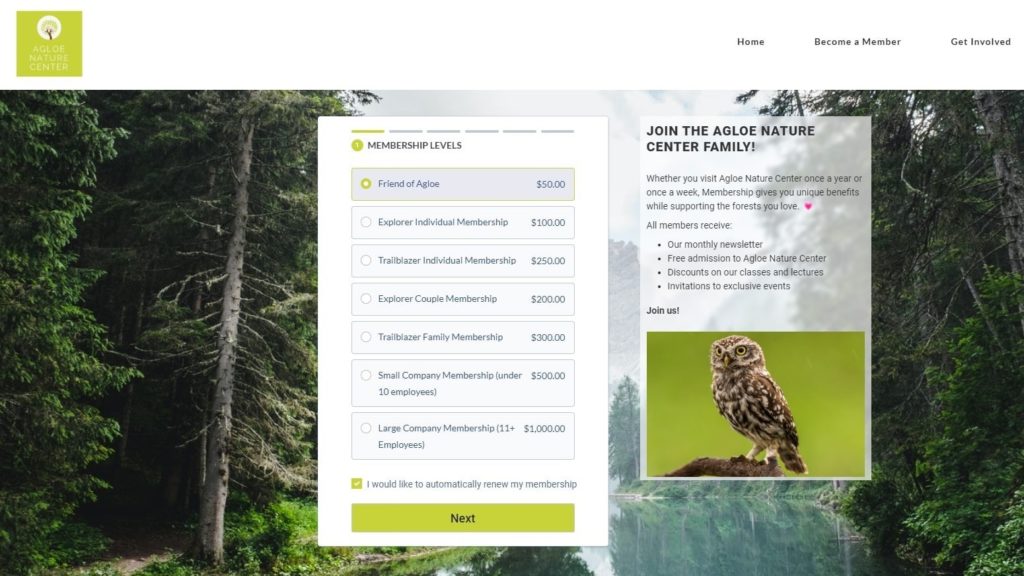 7 Nonprofit Web Design Best Practices
As you design and build your nonprofit's new website, here are seven best practices to keep in mind.
1. Include a "Donate" Button
We've already mentioned this, but it's important enough that we mention it again. Including a large, colorful donation button in your primary navigation will help you capitalize when someone is inspired to donate. Make sure that the color you choose is a contrasting and complimentary one—choose a color from your brand's palette that will really pop. For accessibility, you also need to ensure that the colors you choose maintain a minimum 4.5:1 color contrast (see this article for more information).
2. Focus on Your Homepage
A great website starts with a great homepage. After all, this is where you'll make your first impression on visitors. They should understand who you are and the basic gist of what you do within seconds of landing on that page. Specifically, you should focus on choosing a great hero image that ties to your mission and include a powerful, evocative heading and subheading. Your homepage is your best chance to capture a visitor's attention; make it count.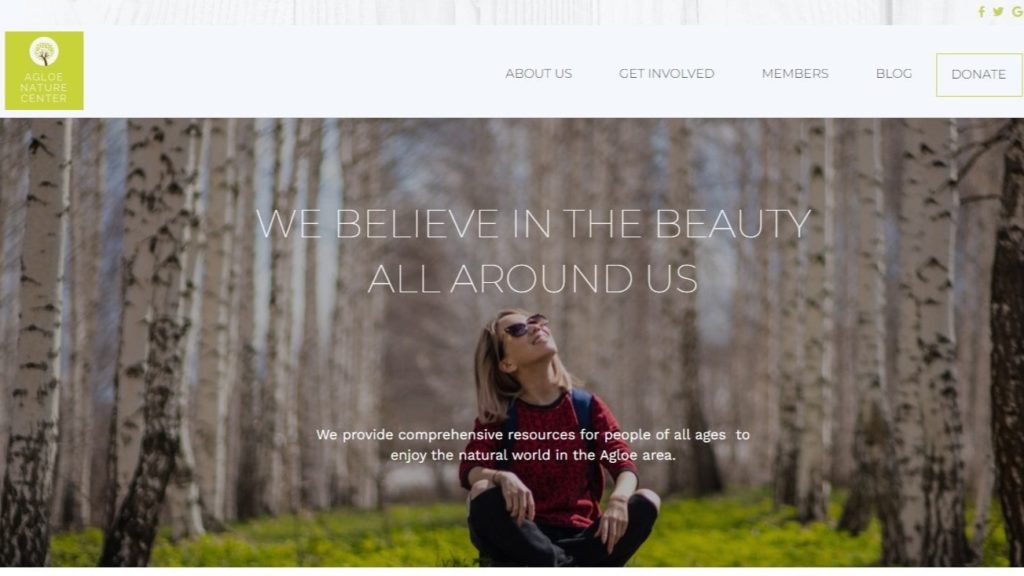 3. Add a Search Bar
There's an old saying (citation needed) that if you visit a website that doesn't include a search bar, you're guaranteed to find yourself needing one. Not only are search bars important for accessibility, but they let visitors search for specific information on your site, which is always appreciated.
4. Use Multiple Calls to Action
While you don't want to overwhelm your visitors with CTAs, you also don't want to be coy. Every page should involve at least one Call to Action—and a lot of them should include more than one! Assume that visitors are interested in your organization and your cause. The last thing you want to hear is that someone visited your site and couldn't find where to get involved. Help them out by offering as many clear CTAs as you can.
5. Write Compelling Copy
This is obvious, but it's obvious because it's important. Don't dash off a bunch of paragraphs and call it a day. Spend time drafting, redrafting, and editing your content so that it is clear, concise, and evocative. From a process perspective, writing an entire website's worth of copy is going to be a major lift. If you leave it all to one person, they will get burnt out and the work will suffer. Make it a team effort that alternates writing and editing duties across different categories of pages.
6. Choose Captivating Images
The best, most powerful image you have should be your website's hero image. From there, do a complete audit of all the images your nonprofit has on file. If you feel like you don't have enough, go out and make some new ones. Make sure that you have a keen understanding of your brand when it comes to imagery—especially when it comes to images involving your clients. If you're sharing images of clients on your website, where they will be publicly available, put ethical storytelling practices first.
7. Make Your Website Accessible
According to Nonprofit Tech for Good, only 22% of nonprofits have websites designed for people with visual or hearing disabilities. That number is distressingly low, and your organization should strive to make your site accessible to all users. In order to do that, you should follow the W3C Web Content Accessibility Guidelines. Those guidelines include properly structuring your headers to make your site usable for e-readers, including alt-text on your images, and maintaining a minimum 4.5:1 color contrast. For a full rundown on this important topic, check out our article on website accessibility for nonprofits.
Security for Nonprofit Websites: Keeping Constituents Safe
Protecting donor and constituent information is critical to the success of your nonprofit. And if you're asking donors to make contributions through your website, you need to make sure your site has all the protocols in place to protect their financial data. A failure to do so could prove disastrous—-for them, and for your organization.
If you're using a website builder, most of them will come with some basic security features built in. Here are some best practices to keep in mind:
Keep Your Website Up to Date
No matter which website builder you end up using, that platform will make periodic updates, many of which are focused on improving website security. When they release those updates, make sure that you install them ASAP. If your website is out of date, that makes it more vulnerable to hackers. It's a simple step, but it's the kind of simple that's easy to overlook. Don't make that mistake.
Get Your SSL/TLS Security Certificates in Place
If you look at the URL for most websites, you'll see the beginning of the address reads "https." Those five letters stand for "Hypertext Transfer Protocol Secure," and they mean that the connection between the user's computer and that website's server is safe from third parties.
Most web hosting providers (including Neon Websites) provide the necessary SSL/TLS certificates that secure these connections. If your host doesn't provide those certificates, you will need to get one in place. Check out this article from Google to learn more.
Otherwise, if you don't install these certificates, your site's address will begin "http" and visitors will receive a full screen warning that their connection isn't private. There's no better way to discourage users from visiting your site than Google literally discouraging them from visiting your site.
Maintain PCI Compliance
Not familiar with PCI Compliance? Don't worry, most people aren't. "PCI DSS Compliance" stands for "Payment Card Industry Data Security Standard." It's a standard put forth by all the major credit card companies to keep consumers' personal and financial information safe when handling credit card transactions.
Staying compliant with the PCI standard doesn't just protect your donors financial information, it also helps protect your nonprofit in case of a data leak. All of Neon One's systems are PCI-DSS Level 1 compliant, which is the highest-possible compliance level. It means our systems are regularly evaluated to ensure they're secure.
Neon One also automatically enrolls all our customers in a free PCI Compliance program that includes $100,000 in protection in the event of a data leak. Want to learn more about PCI Compliance and Neon One's free program? Check out the article below:
SEO for Nonprofit Websites, Part I: Technical SEO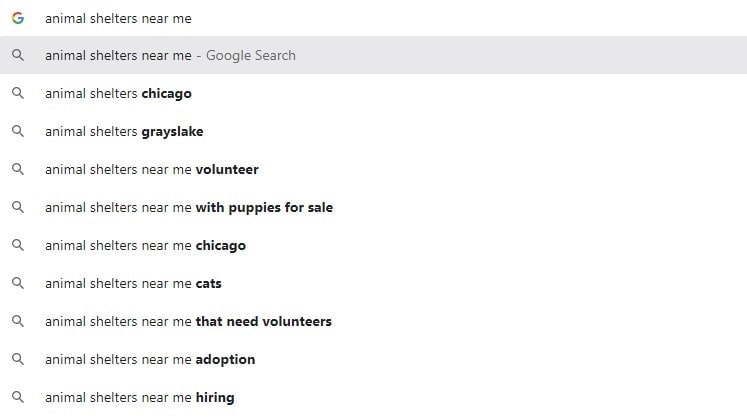 SEO is an important—and under-utilized—resource for nonprofits. It stands for Search Engine Optimization, and it's the practice of creating content that ranks well in search engines like Google. By utilizing SEO best practices, you can help your website stand out and draw more visitors who are interested in supporting a cause like yours—even if they don't know anything about you!
There are two sides to SEO: Technical SEO and Content Strategy. We'll cover content strategy in the next section. For now, let's focus on technical SEO.
Technical SEO refers to the ways you structure your site, your pages, and your code in order to stand out to search engines. A website that has slow loading speeds, poorly structured pages, and a ton of duplicate content will signal to search engines that this site will make for a poor experience for its users.
While most of the steps laid out here won't automatically vault your site to the top of the search results, they're the sort of "must-haves" that keep a site from being unnecessarily punished.
8 Steps to Optimize Your Website for SEO
There are eight steps you can take optimize your website for search engines:
1. Focus on Page Speed
We already covered this topic earlier in the article, but we're talking about it again because page speed really is that important. A slow loading page will automatically get dinged by Google and other search engines.
There are a ton of ways to improve page speed, but some of the most important include compressing your images (sites like CompressJPEG.com can do this in a jiffy), hosting videos and other large files on third party sites (like YouTube), minimizing redirects, and using a plugin to enable caching.
To test your site's speed and get some recommendations, use Google Page Speed Insights. You'll receive a Largest Contentful Paint score (LCP) that measures how long all the elements of your page take to load; you want an LCP of 2.5 seconds or less.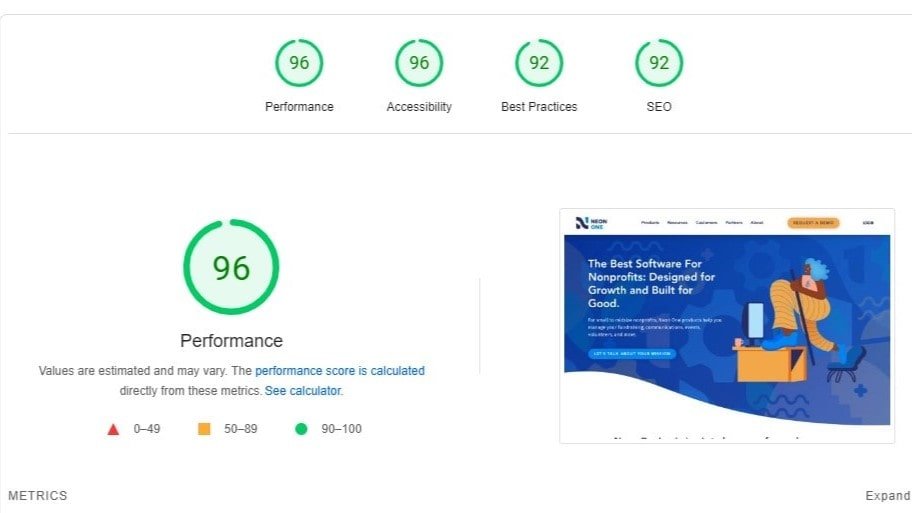 2. Optimize for Mobile
This is yet another topic we covered earlier in this article, but we're once again repeating the information because it's super critical (don't worry, this is the last repeat item). More than 60% of Google Searches happen on mobile devices, so it makes sense that Google prioritizes websites that will perform well on those devices.
Hopefully, you've chosen a website builder like Neon Websites that automatically adjusts for mobile formatting. Either way, you should use Google's Mobile-Friendly Test to see where your site could be improved—not to mention that your team should test, test, and test again before launching your new site to ensure a smooth mobile experience.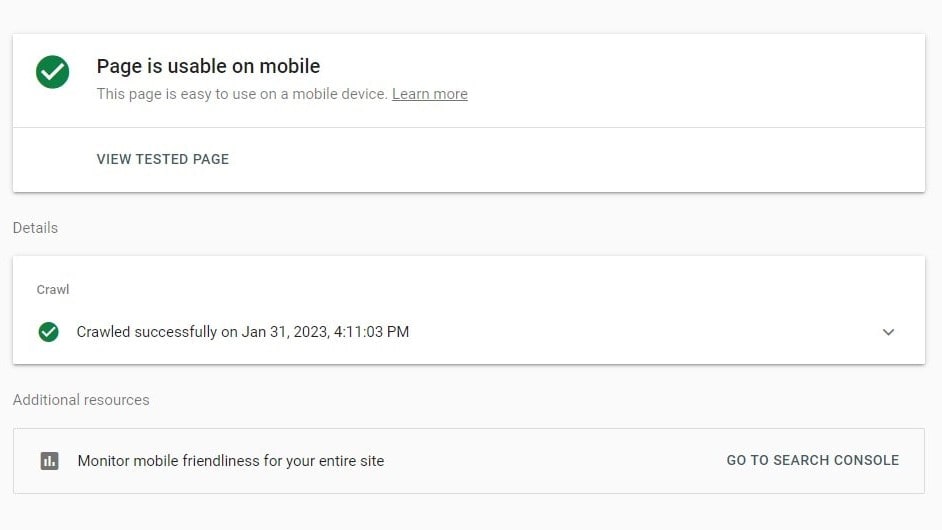 3. Include Title Tags & Meta Descriptions
When you're building a page on your website, entering in a title tag and a meta description will help Google Spiders (the terrifyingly named bots that crawl web pages for search engines) know what exactly the page contains and what keywords are relevant to it.
A title tag is what it sounds like: It's the title for your page, while the meta description is a brief summary of what information the page contains. Your title tag and meta description are also the items that will display for your web page in SERPs (Search Engine Results Pages). Nail these items and it will help entice searchers to visit your site!

In general, your title tag should be 50-60 characters long, while your meta description should be 155-160 characters long. Both should include the keywords that you're targeting with your page (read more about keywords in the next section). Most web builders will have a spot on the backend of your page where you can enter in a title tag and a meta description. Don't forget to fill those in!
4. Use Headings to Structure Your Pages
Headings are the title and subtitles that you include on your page to delineate different sections and help guide your readers. Headings come in 6 different sizes. H1 is the largest size and should be used for the title of your page; H2 is the second largest and should be used for your subheadings; etc.
When structuring the content on your page, always follow the proper order for your headings. Don't use an H2 for your title or stick a bunch of H3 subheadings underneath an H1 title. Any heading used should be one size smaller than the heading that it's sitting underneath.
If you take a look at this page, we start with H1, then H2s for our bigger sections, then H3 for subsections, and even some H4s for our sub-subsections. Structuring your pages properly will help Google's spider bots crawl and organize everything on your page.
5. Utilize Internal Links
Internal links are not only useful to search engines, they're also useful to users! If you mention an event or a program in your copy, link to the relevant page on your site. That way, a site visitor will be more likely to follow the link if they're interested and learn more about it.
Internal links help show that your site is authoritative in your chosen area—especially if you are careful to include specific keywords in the anchor text for your link. If you have a page that you want to rank for the keyword "food pantries in Charlotte," for example, then make the phrase you'll want to link from something like "Charlotte food pantry."
6. Create a Sitemap and a Robots.txt File
Sitemaps are lists of all the pages, files, videos, and images on your website. Just like the name promises, Google's bots will use this page as a map that lays out everything they need to know about your content.
A robots.txt file is similar to a sitemap, but it explicitly informs Google's crawlers which page they should crawl, and leaves out pages that they shouldn't. While robots.txt files don't "hide" pages from Google, they do let it know which pages to prioritize.
You can learn more about adding a sitemap in this article from Google, and you can learn more about creating a robots.txt file here.
7. Add a Google Maps Module
Most small or medium-sized nonprofits are focused on serving their local community. That means that showing up in searches related to their specific area is a big help! By adding a Google Maps module with your nonprofit's location to your "Contact Us" page, you'll be displayed in the search results for nonprofits in your area.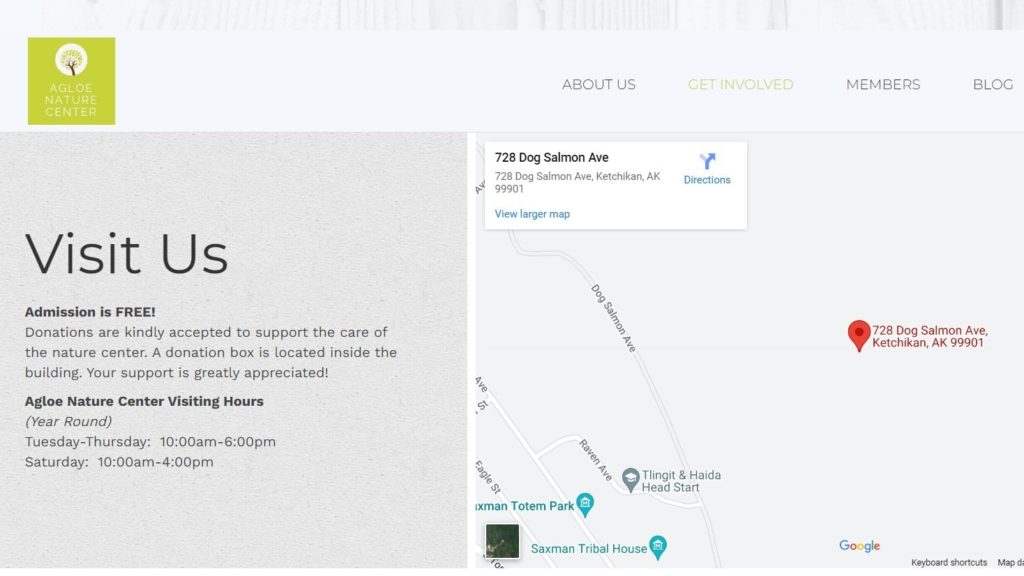 Make sure that you use Google Maps instead of a different module, even if you like the other one better. It's generally a good idea to use Google's own products when trying to improve your performance on their search engine.
8. Avoid Duplicate Content
This is important. Earlier in this article, we talked about what a big job it can be to create copy for a nonprofit website. But if your organization decides to cut some corners by simply reusing large chunks of text across different pages, you could end up paying a big price.
Too much duplicate content sends up a big red flare to Google that your site is engaged in spammy behavior, and it could lead to you getting penalized—which means barely showing up in search results, or even (in extreme cases) banned entirely.
So, while creating wholly unique content across your site's many pages might be a daunting task, the alternative could be disastrous. If you want to learn more, check out our article, Nonprofit SEO: 10 Tips to Optimize Your Website.
SEO for Nonprofit Websites, Part II: Content Strategy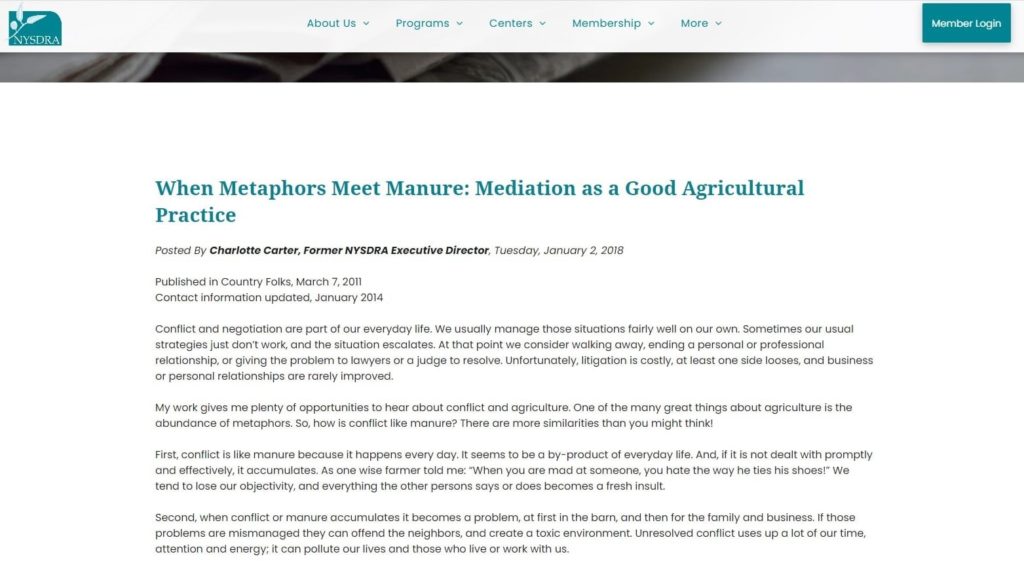 Now that we've covered technical SEO, we can move into content strategy. In order to perform well in search results, it's important that your website has awesome, unique content that answer's searchers' queries. While that might sound simple, a well-executed content strategy is anything but.
Content strategy starts prior to your website's launch, but it becomes even more important once your site is launched. That's because content strategy is going to help dictate how often you are posting new content to your site—and that new content is going to send signals to Google and other search engines that your site is valuable to their users.
4 Pillars of Nonprofit SEO Content Strategy
A well-thought out content strategy for your website is something that can set your nonprofit apart. A lot of small nonprofits and medium-sized charities have websites that are functional, but aren't exactly hubs for great content. And that's understandable! Content strategy takes a lot of time and energy, two things that many small organizations have little to spare.
But performing well in search results has many benefits! If your website is the first organization that's coming for searchers in your area when they're researching how to support your cause, that will signal to them that supporting your nonprofit is a great way to get involved.
In their 2023 report, Nonprofit Tech for Good found that 37% of nonprofits had year-round SEO strategy. That means that if your nonprofit employs an ongoing SEO strategy as well—you'll be setting yourself apart from the 63% of organizations that still don't have one.
Best of all, SEO is very cost-effective compared to other forms of marketing like direct mail, paid search, and social media ads. For nonprofits with limited resources, focusing on search can be a great way to stretch a thin marketing budget.
Okay, enough preamble. Here are four pillars that you should use to build your strategy:
1. Target Relevant Keywords
In order to rank well in search results, you'll first need to decide what keywords you actually want to rank for. What are keywords? They're the search phrases that searchers type into Google to let it know what they're looking for.
If you're a substance abuse clinic in Des Moines, for instance, three keywords relevant to your nonprofit would likely be "substance abuse clinic Des Moines," "addiction help near me," and "addiction support near Des Moines." By targeting those keywords on your website, you're more likely to have searchers discover your nonprofit organically and get in touch. Keep in mind:
The more popular a keyword is—often measured by its average number of monthly searches—the more competitive it will be, and the harder it will be to rank for it.
A great (and free!) way to get started on keyword research is by using Google Keyword Planner, which you can access by creating a Google Ads account. Once your site is up and running, you can also use Google Search Console to track which keywords are delivering traffic to your site.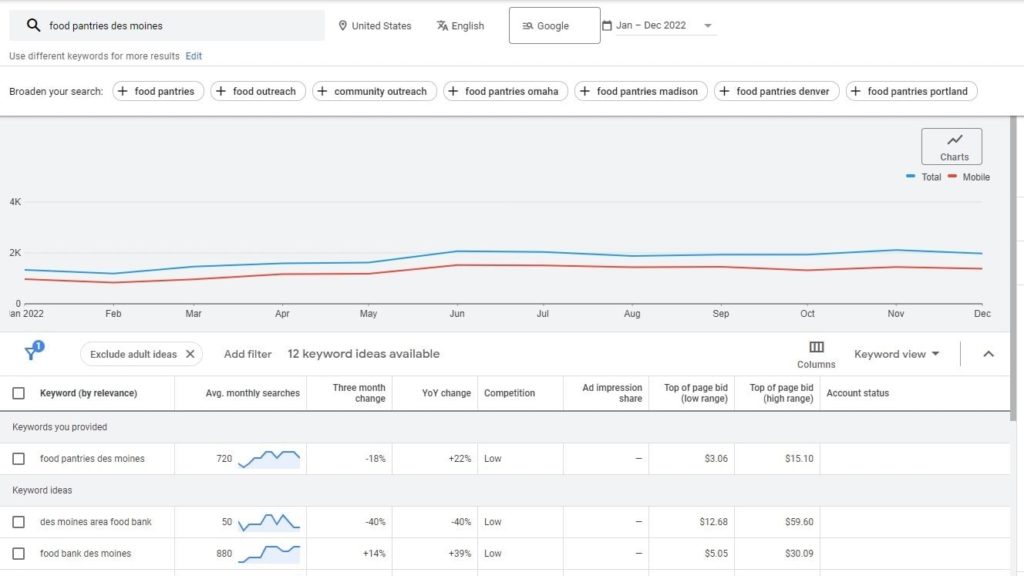 If you're serious about doing keyword research for your nonprofit, you should look at using a paid service like Moz, Semrush, or Ahrefs. But there are plenty of other free tools that you can use if you're just starting out and don't want to commit to a paid service. This list of free keyword tools from Ahrefs is a good place to start.
2. Quality Content Rules the Roost
Back in the early days of search, websites could pretty easily game search results by creating spammy, keyword-stuffed pages that looked great to Google's crawlers but made for a really bad user experience.
But in the decades since, Google and its fellow search engines have gotten very, very good at sorting the wheat from the chaff. If you're trying to rank for a given keyword, you can't just stick it in your heading and your intro paragraph and call it a day. You've got to create awesome, information-rich content that is clear, concise, and engaging.
While there are some particular rules you'll want to follow when creating your content—check out the final section of this article, 4 SEO Tips for Nonprofit Blogs, for more info on those—all of them are pretty straightforward. There's no gaming the system anymore. If you want to rank for a keyword, the best way to do it is to deliver the best content!
Use your organization's experience and expertise to write from a position of authority while keeping in mind that most readers aren't experts. SEO doesn't exactly play by Field of Dreams rules—just because you build it doesn't mean that they'll come—but you'll find every other part of your strategy is a lot easier when your content is already high quality.
3. Get Links From Other Websites
Google also takes into account the number of outside websites that link to your site, as well as the relative quality of those sites. If a number of legitimate, authoritative websites are linking to another site—or even a specific page on that site—it sends a signal to Google that this website is also authoritative and, thus, would make a great resource for its users.
This is not a process that occurs naturally. For your nonprofit to acquire these external links (also known as backlinks) from other legitimate websites, you're going to need to work for them.
Places where you can look for linking opportunities include:
Local listings that are relevant to your nonprofit
Your staff and board's professional networks
Organizations and publications within nonprofit's field
Journalists and influencers who cover areas related to your mission
If you use a paid SEO service, they will usually have some sort of authority ranking that lets you know how a given website stacks up. But, even if you don't have one, you can generally tell when a site is authoritative (a major regional newspaper) versus when it's not (your cousin's weird Phish blog). Whenever possible, look for opportunities to be listed or cited on government or educational websites (.gov and .edu) as those domains usually carry extra weight versus commercial sites.
Getting other websites to link to your content will be the most difficult part of your SEO strategy because it's the part that will be the least within your control. Don't get discouraged if progress is slow. And definitely don't let someone convince you that you can "buy" links by paying other sites to link to yours. Those sorts of underhanded tactics (the SEO industry term is "blackhat") will ultimately backfire.
Lastly, you can also provide free content to other publications and websites by offering to write a guest post on their blog. Within that post, you can then link back to your nonprofit's website as an expert source. Look for topics that your nonprofit's leaders can speak authoritatively on, and check out those same publications and blogs you were researching earlier for ones that might be a good fit. Your pitches will receive plenty of no's, but the yeses you receive will be invaluable.
4. Adding New Content To Your Website
This is the simplest pillar, which is why we saved it for last. Google will regularly re-crawl websites looking for any updates or fresh content. If your website hasn't changed at all since the last time it was crawled, that lets Google know that your content is a little stale. (Even if your content isn't actually stale, that's the signal it sends.)
This is why you should be regularly going through your website's pages and updating them! Obviously, if information is incorrect on a page, you should be correcting it. But it could also mean tweaking a paragraph, citing a new statistic, or swapping in a new image. While you don't want to be changing things for the sake of changing them, it's always good to keep things fresh.
But, more importantly, you should also be creating brand new pages filled with brand new content. That's the thing that will really let Google know how up-to-date and relevant your website is. If you wanna know the best way to do that, keep reading.
Use Your Nonprofit's Blog to Keep Things Fresh
When we discussed including a "News & Updates" section in your nonprofit website's primary navigation, we mentioned how, for many smaller organizations, this will probably be limited to your nonprofit's blog.
But even for larger organizations, having a blog should be an important part of your website strategy. A blog is not only the easiest place to put news and updates regarding your nonprofit; every new blog post is also a fresh page for search engines to scroll through, which will help your nonprofit perform better in search results.
There are many different kinds of stories that you can share through your company blog. Some of those stories include:
Organizational milestones
Client, volunteer, and staff spotlights
Event recaps
Campaign updates
Executive thought leadership
In case you're not familiar with that last item: Thought leadership is an annoyingly vague term that simply means demonstrating expertise in a given field. It's a great way for your nonprofit's leaders to position themselves as authorities on subjects related to your organization's mission. When creating a thought leadership article, remember to focus on originality: What is a unique insight your nonprofit leader or staff member has to offer that hasn't been offered before?
Think of your blog as the engine of your content strategy. By serving as the place where your website is consistently posting new content, it's driving your strategy forward and letting search engines know that your site is up to date. In other words: get ready to blog like it's 2007!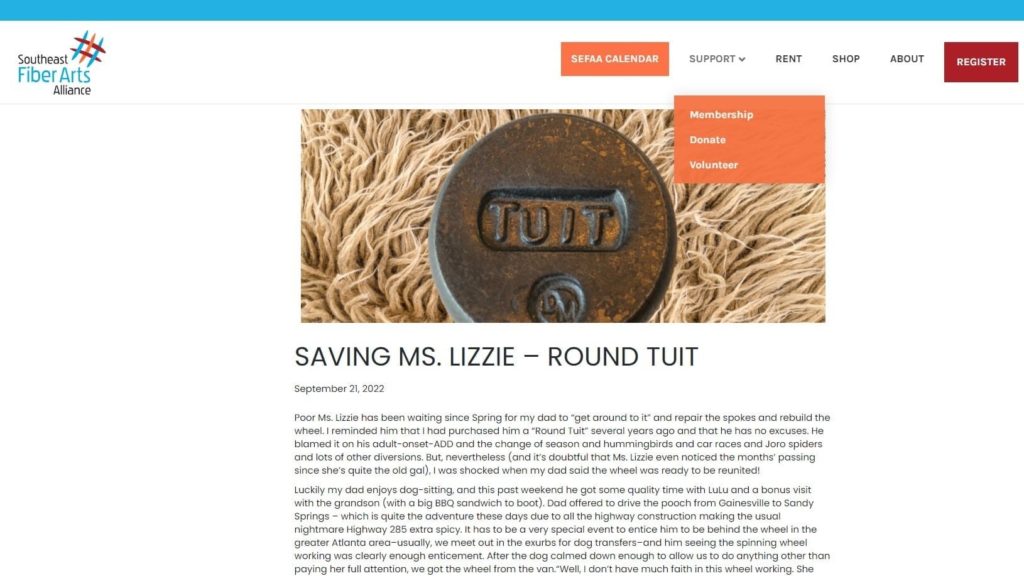 Writing Evergreen Blog Content
In addition to organizational news and updates, there's another type of content that is very useful for performing well in search: evergreen content. Evergreen content doesn't have a shelf life. Whereas an event recap might only be of interest for a few weeks following the event date, an evergreen blog topic isn't tied to a specific date: It's always relevant.
A good example would be a term like "animal shelters in Cook County." If your nonprofit is an animal shelter and wrote a post that rounded up all the animal shelters in Cook County, IL (including your own) then that piece would always be relevant for someone typing in that search query. Just make sure that someone is checking the post a couple times per year to update it!
That same nonprofit could also write evergreen topics around issues surrounding animal care like:
What kinds of regular vaccinations do dogs and cats require?
Tips for training pets
Dispelling myths around pit bulls
If these posts are well written and properly optimized, they could rank highly for searches related to those (very common) terms and bring new visitors to the nonprofit's site, visitors who could possibly adopt a pet there or become new donors!
4 SEO Tips for Nonprofit Blogs
While high quality content comes in all shapes and sizes, there are certain types of high quality content that perform better in search. Here are 4 best practices you can follow to make sure that your blog performs better in search results:
Include visuals: When you visit a web page and you're staring at a big block of text, it can feel a little discouraging. Break up your text with dynamic visual images that relate to the topic being discussed. This is a great place to use original images or photography created by your nonprofit, but you can also use more generic imagery so long as it ties back to the subject at hand. Sites like Unsplash and picjumbo have great libraries of totally free images you can use.
Keep your sections short: When writing a blog post or web page, try to use a lot of headings to orient the reader and keep them moving. As a general rule, try to keep any individual section to 150 words or less and use short 1-4 sentence paragraphs. Don't think of this as dumbing anything down for people. Instead, you're using simple, reader-friendly formatting principles to help people stay engaged.
Use lists whenever possible: Using bulleted or numbered lists are a wonderful way to break up text even further, keeping your posts feeling digestible and actionable for readers. Look for opportunities where a larger paragraph can be broken down into a simple list. This is especially helpful when laying out ways that people can get involved with your nonprofit. And if you are so moved to make your entire post a list, well, that's probably a good idea. People love listicles.
Invite guestperts: Featuring outside experts on your blog not only gives your readers a chance to hear from an industry authority, but they also provide a handy linking opportunity. A guest who features on your blog is likely to add a link to the article. You can even propose a content swap: You guest on their blog, they guest on yours. Everyone gets to share their expertise with a brand new audience while getting a nice backlink to boot.
In addition to the tips listed above, the same rules that apply to your nonprofit's other web pages also apply to your blog posts. So don't forget to compress your images, utilize internal links, and include both title tags and meta descriptions!
There's no silver bullet for SEO, but the best practices we've laid out in these past two sections—which we can briefly summarize as great writing, smart optimization, and a healthy backlink profile—your nonprofit website will be well-positioned to perform well in search results and stand out from the crowd.
Neon Websites: Nonprofit Website Management Made Easy
If you've made it all the way to the end of this post, it's probably clear to you how much time, energy, and thought go into making a great nonprofit website. It's a massive undertaking! And with Neon Websites, our goal is to make every step of that process easier.
Our platform offers mission-specific templates tailored to the needs of nonprofits like yours. Our simple, drag-and-drop builder will help you create your website quickly and easily, while our full suite of design features give you everything you need to make a sleek, branded website. And our SEO and analytics features will help you monitor your site post-launch to learn what's working, and what's not.
All Neon Websites packages start at $49 a month. And two of our packages offer build services from our in-house nonprofit web design experts for a reasonable one-time fee. If you want to learn more about Neon Websites, join a group demo or schedule a personal demonstration today.
Join the discussion in our Slack channel on connected fundraising