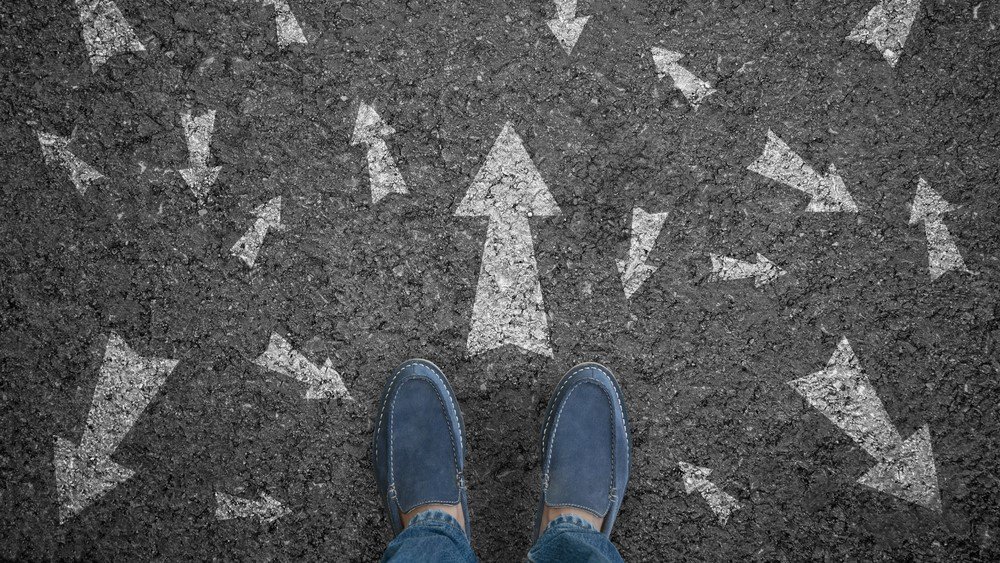 Engaging donors is no simple task. Building long-lasting fruitful relationships with your donors requires diligence, hard work, and careful planning. But if you follow the principles of the donor engagement cycle, you can use them as a framework around which to build the rest of your donor stewardship plan.
Ask, thank, report, and repeat—it's a simple but powerful way to manage your relationships. As long as you consistently strive to follow the best practices within that framework, you can drive repeat giving.
Building a Donor Engagement Cycle on Your Stewardship Framework
When creating your donor stewardship strategy—the process by which you usher first time donors to becoming repeat-givers—donor engagement is going to be a major plank. Once a donor's initial gift is made, you can't simply ignore them afterwards and expect them to give again. Donor stewardship is all about building relationships, and relationships, in turn, are all about engagement.
While there are tons of ways that your nonprofit can engage donors, following the basic steps of the donor engagement cycle—ask, thank, report and repeat—will forge a clear path that the rest of your stewardship strategy can follow.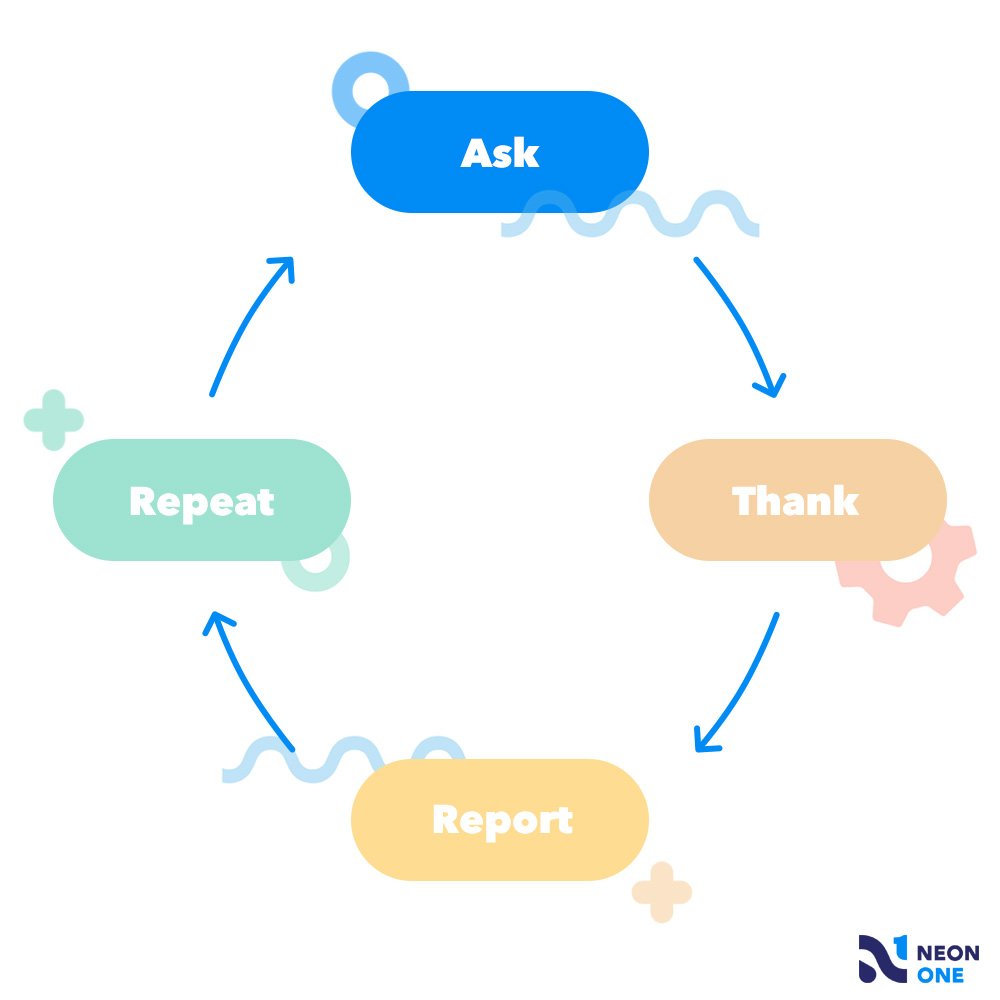 Ask with a Gentle "Prod"
Most of the time, the people that you reach out to have shown some interest in your cause. Sometimes all it takes is that gentle "prod" in order to encourage them to give—prod meaning personalize, recognize, offer, and demonstrate.
| | |
| --- | --- |
| Personalize the ask | In a study of email fundraising campaigns, we found that the emails with the highest engagement rates addressed the recipients by name and used "you" language, speaking directly to the recipient. This triggers a connection with the nonprofit that can reinforce commitment to the cause. |
| Recognize past support | There's a phenomenon in psychology called the "foot in the door" phenomenon. When someone has done you a favor in the past, they're more likely to do you one in the future. Reminding that donor of their past support also triggers a feeling of responsibility and commitment. |
| Offer specific options | Most advice will say it's important to give a specific amount when making a request. However, in a general fundraising campaign, that can be too inflexible. Instead, you should offer a range of options on your donation form, based on that person's giving history. For example, if they previously gave $50, you might give options of $40, $50, and $60 to encourage retention and increase giving. |
| Demonstrate impact | Specificity is key in demonstrating impact to donors. They want to know where their donations go and who it helps. Including those details as a definitive statement reiterates that impact. "Your donation of X will help X number of beneficiaries," shows a clear connection between their funds and your cause. Even better, show how their gift impacted one specific person, as studies have shown that helping one person is actually more psychologically impactful than helping many people. |
Balance Your Thanks with Their Support
It's important to thank your donors in some way, but it must be balanced. If you sent a thank-you card or made a personal phone call for every donor who gave you $5, not much time or energy would be left over for the cause!
Donor recognition should start with a base thank-you email for every donation regardless of size. Then, as the donation amount gets higher, so does the method of recognition. You taper off the most expensive and time-consuming recognition channels to the smallest group of donors.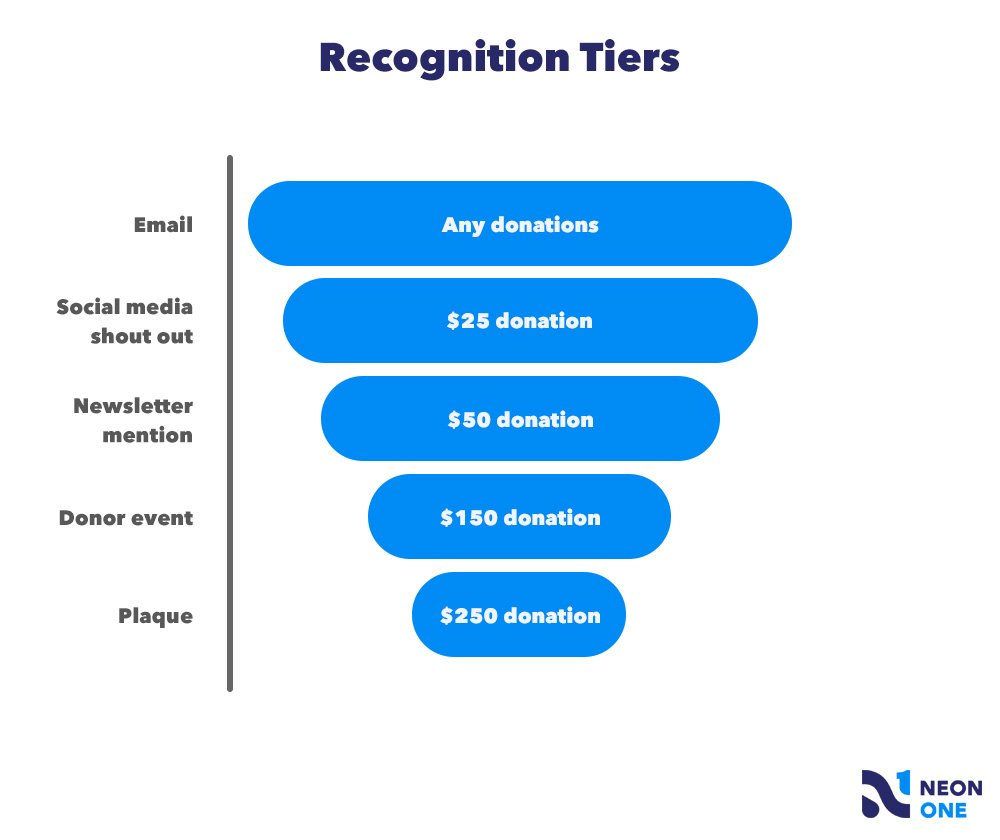 An organization could segment their donor data to follow that structure, narrowing the criteria as a donor gives more. If a donor gives anything at all they get a thank-you email; that email should be in addition to the donation receipt that they'll receive right after making their donation. At $100, perhaps a donor receives a physical thank-you letter hand-signed by one of your senior staff or board members; at $200, donors gets special shout-out in your organization's newsletter, and so on.
Of course, these methods will all depend on your nonprofit's specific donor base and your resources. If you have a number of large donors, then special events and impact reports are probably in order to recognize their support. If you have a broader base of small donors, regular shout-outs on social media or newsletter mentions might be a better way to go—especially if you have a small staff that's already stretched pretty thin.
Want to learn more about how you can recognize your donors? Check out our blog post that bakes down donor recognition strategies by different supporter tiers.
Report
To keep your donors engaged beyond their initial gift, you want to demonstrate all the awesome ways that your nonprofit is making an impact. Newsletters are great method for small or midsize nonprofits to report back and show donor's how their gifts have made a difference. If you maintain different supporter segments in your donor database, you can even create (and easily send) different versions of your newsletter for each segment.
Let's start by examining three different ways that organizations demonstrate impact in newsletters;
| Beneficiary Stories | Financial Impact Data | Progress Graphics |
| --- | --- | --- |
| These stories highlight individual benefits from your organization. For example, an animal shelter might highlight a story about a dog that was rehabilitated after being rescued or a humanitarian foundation may share the story of a refugee family it helped to resettle. | Some of your more analytic donors may prefer hard data. They want to know specifics on how your organization has improved society. An example of this might be a literacy foundation raising $X to help provide tutoring to X number of students. | Some of your donors may also be directly involved in the administration or volunteering with your organization. They may be more interested in your internal growth goals, like how close you are to reaching your annual fund. |
You can build out three different versions of the newsletter based on those components. Then, by looking at your donor's history, you could assign them a different version of the newsletter.
| Donor Name | Origin | Newsletter Version |
| --- | --- | --- |
| Alexander Kim | Store Purchase | 2 |
| Mia Robinson | Volunteer Application form | 3 |
| Matita Vallas | Jenna Robert's fundraiser | 1 |
| Stephanie Kane | Social fundraising donation | 1 |
| Eva Lagore | Event Registration | 2 |
| John Richardson | Volunteer Application form | 3 |
In choosing the newsletter to send, you look at how the donor or constituent came into your organization and draw conclusions. Someone who has made a store purchase or registered for an event may view your relationship as transactional, meaning they're more interested in the financial impact of your organization. Meanwhile, donors who have donated to specific campaigns or through social media may be more interested in beneficiary stories. As that constituent continues to interact with your organization, you can use that information to refine your newsletter mailing list.
Of course, not all nonprofits have the resources to do this. If you can only have one newsletter, it should be aimed at general audiences. You can use progress, financial, and beneficiary stories together to address the different ways donors view impact.
Repeat
Your repeat donors are some of the most valuable and engaged constituents your organization will deal with. In fact they are six times more likely to leave a legacy gift and have a retention rate of 90%. You repeat the ask, thank and report cycle in order to grow that base and to move someone from that one-time donor stage to recurring giver.
Of course, you don't repeat the same mistakes. During the reporting step, you learn from the errors you've made, and you take steps to improve your donor engagement. Then, you return to the cycle of asking, thanking, and reporting on your constituents.
Using Neon CRM to Manage Donor Engagement
A strong donor engagement cycle is essential for managing relationships with your donors. That cycle should be built on your stewardship framework of ask, thank report and repeat. With consistent communication, outreach and reporting, you build relationships that encourage repeat giving.
With Neon CRM, you can create a more efficient, effective and engaging experience for your donors. Our platform helps you follow the stages of ask, thank, report and repeat to build long-lasting relationships. Contact us for a demo.
Join the discussion in our Slack channel on connected fundraising