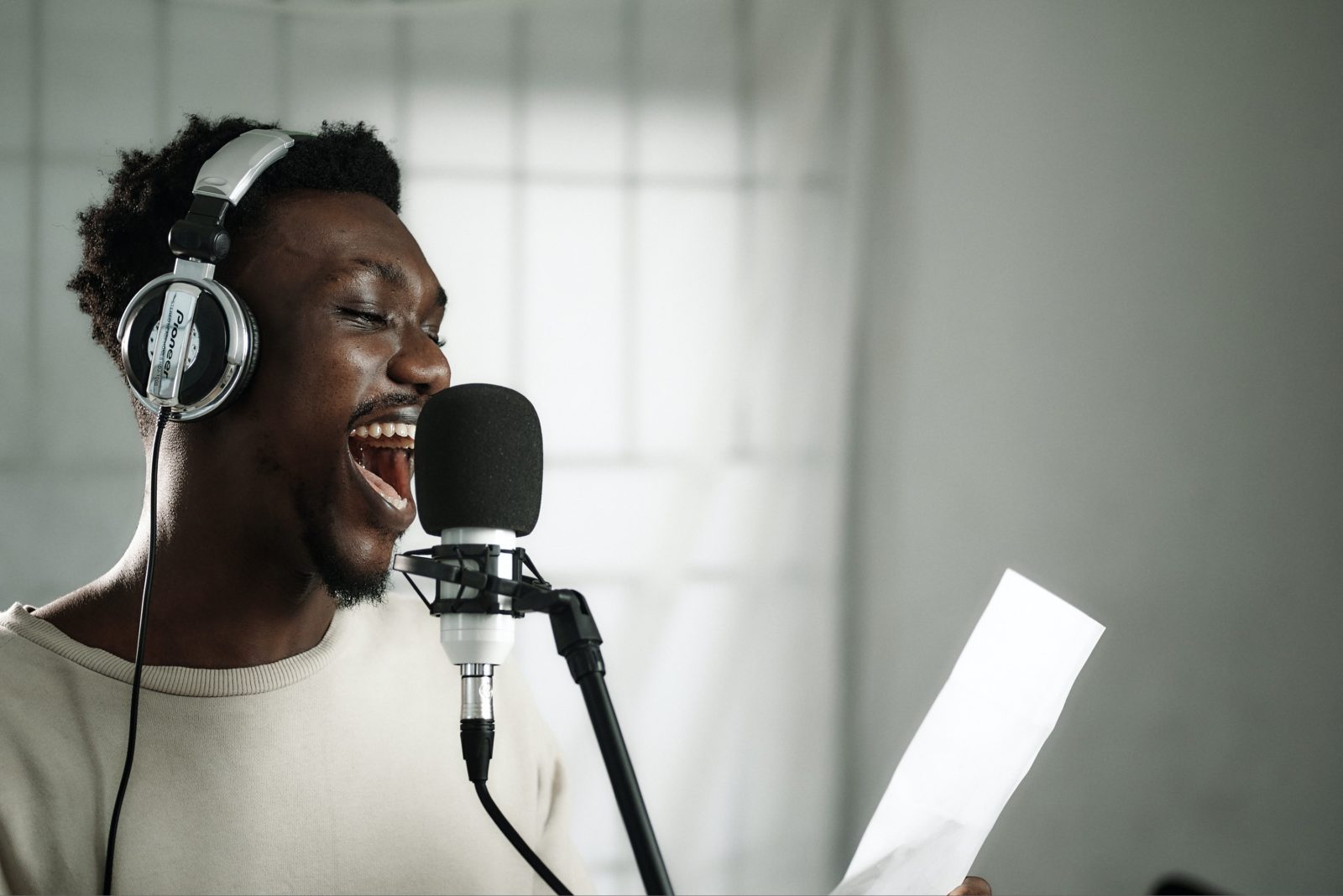 Having solid donor engagement strategies in place is important for any nonprofit that wants to inspire generosity in their community and build a base of lifelong supporters. But the world is a noisy place: Donors are bombarded with constant messaging that can drown out a nonprofit's attempts to reach them. How can you connect with your donors despite all the other ads, social messages, texts, and emails that are vying for their attention?
What Is a Donor Engagement Strategy?
Donor engagement is what your organization does to build and strengthen donor relationships and the methods you use to keep donors active and involved. The factors determining how engaged a donor is will vary from organization to organization, but engaged donors are typically the ones most responsive to your messages, most likely to attend events, the first to volunteer, and proud to share your mission within their networks.
Your donor engagement strategy outlines exactly how you'll reach out to donors and the KPIs you'll track to measure how engaged a donor is with your organization. Solid donor engagement strategies help organizations improve their donors' connection with their work, establish strong donor relationships, and retain their donor base.
The Donor Engagement Cycle
The donor engagement cycle is a process that every donor goes through and includes four steps: Ask, Thank, Report, and Repeat.
Ask: Send a personalized request for support that acknowledges the donor's past gifts and shares the impact their donation will make.
Thank: Always send a "thank you" message to every donor, no matter the size of their gift. Your donor engagement strategy may outline different recognition tiers by gift amount ($50 donations receive a shout-out in your newsletter, and $250 donations receive a plaque, for example).
Report: Report back to donors and share how your nonprofit is making a difference. Showing impact numbers and, more importantly, stories keep donors informed and engaged.
Repeat: As you repeat the Ask, Thank, and Report steps, you're building connections that help move donors from one-time donors to recurring donors.
There are many ways your organization can engage donors in each step—those details are unique to your nonprofit! But these four basic steps of the donor engagement cycle are key parts of your overall donor engagement strategy.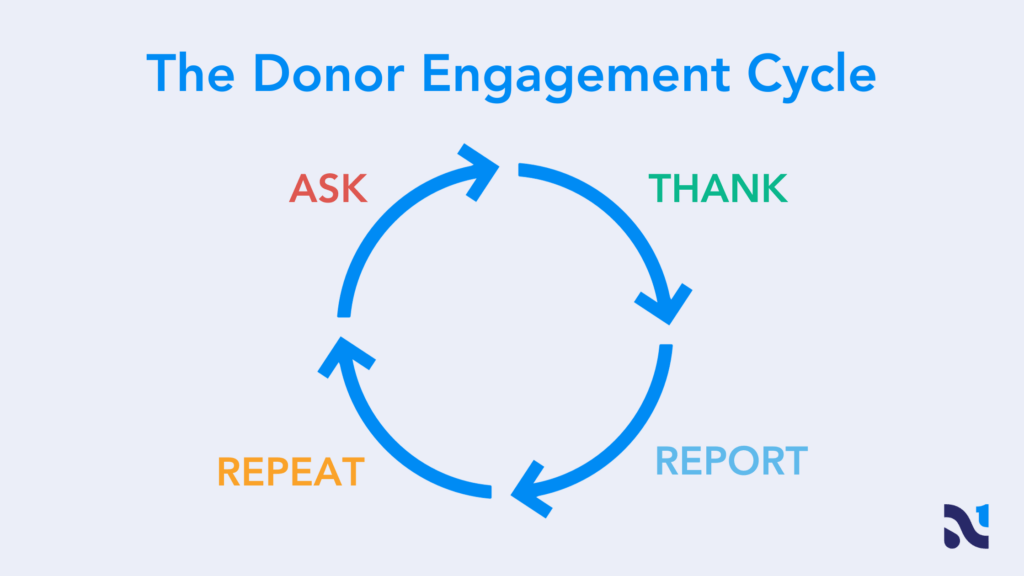 Practical Tips for Donor Engagement Strategies
As a fundraiser, you probably have a good feel for how your donors want to engage with you, whether it's on social media, through email, over the phone, or face-to-face. Knowing what channels to use—like whether you need to email donors versus posting on Facebook—is one thing. But knowing how to do so in a way that helps you stand out from the crowd is another.
Here are some tips you can use to help you break through the noise and connect with your donors.
1. Don't Forget to Be a Human
As you think through how you'll build a connection with your donors, remember the importance of being a human being.
That tip sounds kind of goofy, doesn't it? But communicating with your supporters can be intimidating.
It's easy to feel like you're the voice of your organization, and it's tempting to try to talk like you are that organization. As the intimidation factor ratchets up, you stop talking to your donors like human beings; instead, you end up addressing them like they're a mass of nameless, faceless people. Your humanity (and your donors' humanity) can get lost when you feel like you're an organization addressing a huge crowd. Those factors can make it hard to communicate authentically and effectively.
But remember: You're a person talking to other people. And not just any people! You're talking to people who have already indicated that they care about what you do and what you have to say.
So engage your donors by speaking like a person. Ditch the industry jargon and formal language when writing or speaking with your supporters. You don't have to write perfect 3.5 paragraphs in your emails. When posting on social media, skip the formalities and embrace your unique voice and tone. Relax a little bit when you call your donors or take them to lunch. You'll want to stay professional as you interact with your donors, of course. But the more personable you are, the more effective your message will be. Your humanity will make it easier for donors to connect with you, even when they're being inundated with other marketing messages. Check out this blog article on effective fundraising communications tips you can use as you talk with your supporters.
2. Talk With Your Donors, Not at Them
Look at the ads you see on social media or the emails you get from different companies or even other nonprofits. How many of them actually invite you to have a conversation with them?
All of us are marketed to, but few of us engage in real conversations with the nonprofits and brands we like. If you intentionally talk with people instead of at people, you'll stand out from the crowd. When you approach your donors as individuals instead of marketing targets, your messaging will feel friendlier and more authentic, and that invites people to engage with you.
But how do you talk with people when you're a nonprofit with a diverse audience? You can try:
Sending donor surveys. People love to talk about themselves. Inviting your donors to share more about themselves can be a great way to start conversations with them. It's also a great opportunity to collect valuable insight you can use in future fundraising campaigns. Ask for details you might be able to use later, like demographic information, how they first learned about you, why they decided to give, and how they want to communicate with you in the future.
Asking about donor motivations. Invite people to send you stories about why they got involved with your nonprofit. It's a wonderful way to get to know your supporters and tie them more closely to your mission. When a donor shares a great story, consider asking them to let you use it in a future fundraising appeal.
Encouraging conversations. Sharing conversation starters, polls, or even quizzes on social media can inspire lots of engagement. Ask donors questions about themselves, their passions, and their preferences, and savor the opportunity to get to know them better. You can use similar questions to start conversations with donors over the phone or during face-to-face meetings, too.
Host an "Ask Me Anything" session. Invite donors and other supporters to ask questions about your work, mission, and organization. This is a great way to have genuine conversations with your audience, get them more excited about working with you to make a difference, and even encourage camaraderie between different donors. Whether you choose to do this over a livestream video, as a post on social media, or in another format, consider having two people support this project. One person can field questions while the other answers them.
Taking the time to create individual relationships with donors using these strategies will help you achieve two goals. One, your audience will be used to hearing from you and will associate your communications with the conversations they've had with you in the past. That will make them more likely to open and read other messages in the future. And two, you'll gain great insights into your supporter base, which will help you understand how to talk to them, inspire them to give, and keep them involved for years to come.
How to Use Donor Data to Hone Your Messaging
If you use a donor management system like Neon CRM, you can use the tools in your account to segment your audience and send them even more relevant messaging. When you combine the insight you gain from your supporter base with the donor data in your CRM, you can create exceptionally powerful communications. Try combining messaging you know resonates with your audiences with references to your donor's history with your nonprofit.
For example, imagine you host an "ask me anything" session and learn that your supporters are deeply interested in your new summertime lunch program for students. When you send your next appeal, you could:
Ask one-time donors to consider setting up a monthly gift to provide lunches to students during the summer months
Ask recurring donors to consider upgrading their monthly gift so they can feed more children
Ask lapsed donors to read more about your summer lunch program and make a gift to support local kids
Thank donors who have supported your lunch program and share updates about how many students they helped feed
Using donor data to share information you know your supporters find compelling is an excellent way to raise more money and keep donors engaged long-term. Head over here to learn more about how to manage your data so you can use it in the future.
3. Find Ways to Be Valuable to Donors
Is there a brand whose emails you always open? What makes you look at their messaging? If you're like most people, you open those emails because they include something of value. Similarly, your donors will engage with you more regularly if you add value to their day.
"Value," in this context, doesn't have many (if any) financial connotations. Some of your communications may indeed have tangible value, like discount codes for your events or special offers on branded merchandise. But value can also mean any experience or information that adds something to your donors' day-to-day lives. A funny, uplifting story can add value to someone's day, as can an informative article about something they find interesting. There are lots of ways to create content your donors will find valuable.
Look for ways to add value to your communications by:
Making donors feel good. Positivity is a rare commodity these days! Share feel-good stories, cute pictures, uplifting impact updates, or funny anecdotes. When your communications are a bright spot in their day, they'll be more likely to look for and prioritize seeing what you have to say.
Teaching them something. Sharing useful information is engaging and will make donors more likely to pay attention to your messaging. Try teaching people a fun fact or statistic related to your work. Your donors have already proven they care about your cause—take advantage of that interest and educate them about important topics! You could also try teaching them a fun new skill. This is especially effective when that skill is related to your cause. If you're an environmental organization, you might try outlining how donors can compost their waste or identify plants in your area. If you work for an animal welfare organization, you could try sharing information about how to care for different pets.
Entertaining your supporters. Connect with your audience by entertaining them! Your donors constantly receive messaging aimed at getting them to buy a product or take an action. Give them a break by sharing something purely for entertainment purposes. Share a funny or interesting story, or give them a behind-the-scenes look at your work. You can entertain them and get them more engaged with your cause.
There are lots of ways to add value to your donors' lives. And, when they associate your communications with content they find important and enjoyable, they'll be more likely to prioritize engaging with your messaging in the future.
4. Embrace Analog Donor Engagement Strategies
When was the last time you got a card in the mail? Can you remember the last time you got a phone call that wasn't spam? How did you feel after those interactions?
So much donor engagement happens online. Emails and social media posts are some of the most common ways nonprofits interact with their supporters. But that doesn't mean analog channels aren't valuable! In fact, reaching out to your community offline can help you stand out from the hundreds of digital-only marketing campaigns your donors receive. Online spaces are noisy; analog channels can be easier to navigate.
Try combining your digital donor engagement strategies with analog options, too. You can experiment with:
Sending handwritten cards. Hardly anyone gets handwritten cards or letters anymore. Taking a few minutes to sit down and write a quick note to a donor will surprise and delight your supporters.
Calling to catch up or say thank you. Connect with your donors over the phone! Try calling a handful of donors to thank them for their last gift and learn a little more about them. Or, call the donors you know well: Ask how they're doing or solicit feedback about your work. When you take the time to connect with donors without asking for a gift, you'll make them feel valued and more connected to your organization. If your donor doesn't answer the phone, don't worry: Voicemails can make a big impression, too.
Connecting with donors face to face. Arrange an in-person tour, invite someone to lunch or coffee, or connect at a donor appreciation event. If donors prefer virtual options instead of an in-person meeting, feel free to go virtual. Try hosting a Zoom happy hour or coffee chat with a small group of donors so supporters can connect with you and each other.
Using traditional, non-digital communication strategies isn't a common technique for many of the companies and organizations that are competing for your donors' attention. If you're looking for a way to connect with them, try reaching out to them through their mailboxes, over the phone, and face-to-face.
Use Digital Tools to Manage Analog Tasks
Neon CRM's workflow tools can help you manage your outreach activities. Try creating workflows to automatically schedule tasks like phone calls or letter writing. Here's an example:
A new donor makes a $75 gift on your donation form
Your new donor workflow sends them an automated receipt, then sends a welcome email that tells them a little more about your work
The workflow also creates a task to write them a thank-you letter, which is assigned to someone on your staff
Two days later, your workflow also assigns someone a task to call the donor and learn more about why they gave
If you're interested in learning more about different types of workflows in Neon CRM and how to use them, you might like our Workflow Automation Recipe Book.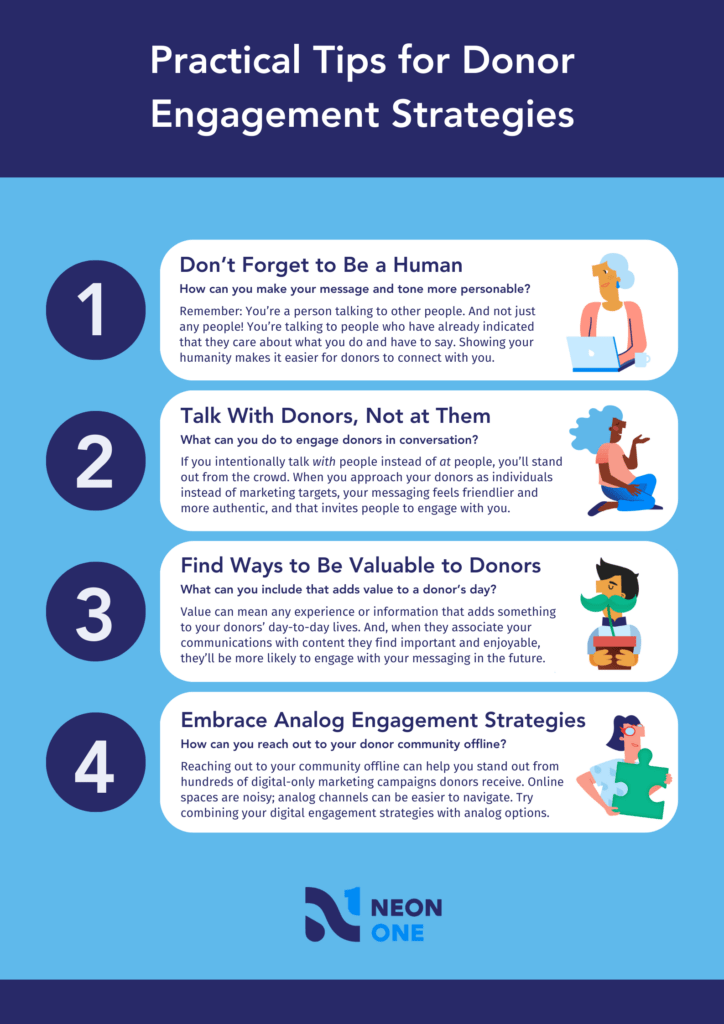 Use These Donor Engagement Strategies to Reach More Supporters
Connecting with donors in an increasingly noisy world is a big goal. These techniques can help.
Remember, you're not a faceless organization connecting with equally faceless masses of people. You're a human being connecting with other human beings, and you're all passionate about the same cause. Talk with people, not at people, and remember to talk like a human. Ditch the jargon and industry terms and focus on connecting with the people who care about your work.
As you connect with your supporters, look for ways to add value to your readers' lives by entertaining them, making them feel good, or teaching them something new. Embrace "old school" analog connections like direct mail, personal phone calls, and face-to-face gatherings. The more you prioritize making connections with your donors, the easier it will be to build relationships with them that will keep them involved with your work long-term.
Neon CRM is a full-suite donor management system that's chock full of features and tools that you can use to contact and engage your supporters—all while preserving your staff members' bandwidth by automating and simplifying repetitive, time-consuming tasks. If you'd like to learn more, reach out and schedule a personal demo today!
Join the discussion in our Slack channel on connected fundraising