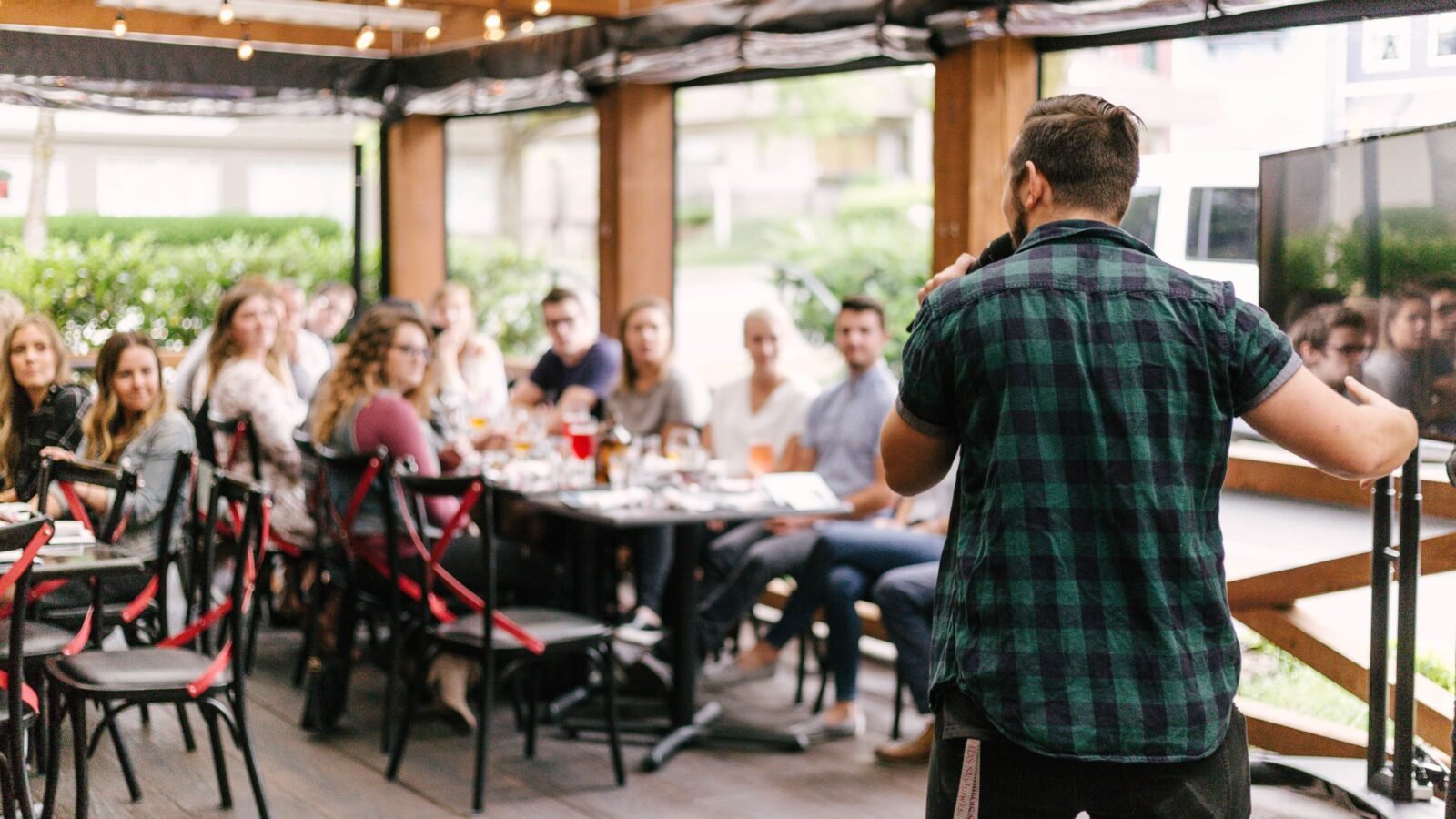 It's definitely possible to run a modern nonprofit event without employing any event management software—but it's not easy. If you want to handle event planning, ticketing, registration, communications, and fundraising by hand, we salute you—but you probably wouldn't be reading this guide to event management software for nonprofits.
But if you're a nonprofit that is holding events regularly or is looking to take your events fundraising game to the next level, finding an event management solution is a must. If you're still reading, then we figure you fall into that camp.
We're here to help! In this buyer's guide, we'll cover what event management software can do, what factors you should consider when buying a system, and 21 different event management solutions you can consider.
Sound good? Great. Let's go!
What Does Nonprofit Event Management Software Do?
Before we get ahead of ourselves, let's cover the basics. In this section, we're gonna lay out the key tasks that these software solutions can perform.
Event Planning and Scheduling
Features that help with event planning and scheduling are a core part of what nonprofit event management software solutions provide.
These features allow organizations to create event calendars, plan event logistics, and manage event timelines. You can set up one-time events, recurring events (or classes) and coordinate activities efficiently.
Registration and Ticketing
Registration and ticketing tools vastly simplify the process of attendee sign-ups and ticket sales for your event.
WIth the right event management platform, your nonprofit can customize registration forms and offer various ticket options, such as early bird pricing, discounts, and free admission for sponsors or volunteers.
These tools help streamline the registration process, track attendee information, and manage ticket inventory, leading to a seamless check-in experience on event day.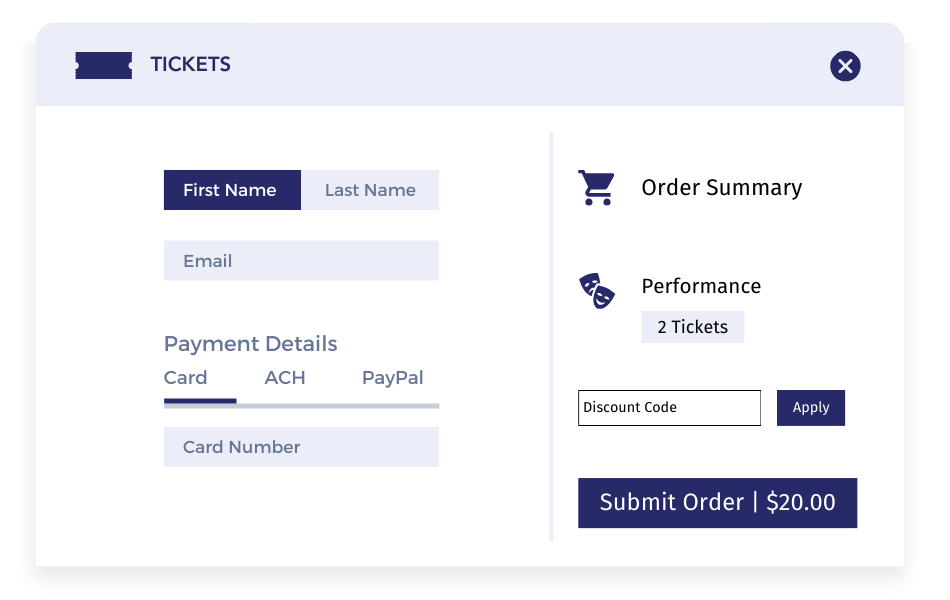 Fundraising and Donation Integration
Fundraising lies at the center of most nonprofit events, and finding an event management solution that includes fundraising tools will greatly streamline that process.
That's why nonprofit event management solutions often provide features for collecting donations, setting fundraising goals, and tracking donations in real time.
Nonprofits can use these features to connect their fundraising efforts with event attendance, making it easier to reach monetary goals and engage donors.
Communication and Marketing
If you're trying to get people to register for your event (and, if you aren't, then you should double check your strategy), effective communication and marketing are crucial.
Event management software assists nonprofits in creating and distributing promotional materials, sending automated event reminders, and managing email campaigns.
Many platforms also offer social media sharing features on their pages to help your event reach a wider audience and boost event participation.
Data Management and Reporting
Data management and reporting features will give you insight into your progress toward your event's goals, especially if you've set goals around fundraising, number of tickets sold, and other concrete metrics. They also really come into play after your nonprofit's event is over and done—tthey're important tools as you work to turn one-time attendees into long-term supporters.
Nonprofit event management software allows you to collect, store, and analyze data related to event attendees, ticket sales, and donations. If your event management software is part of your CRM, it can also help you understand how different event attendees support you in other ways, too, like making regular donations or volunteering with you.
Robust reporting tools give you insight into your event performance, which provides the data necessary for decision-making and refining future events.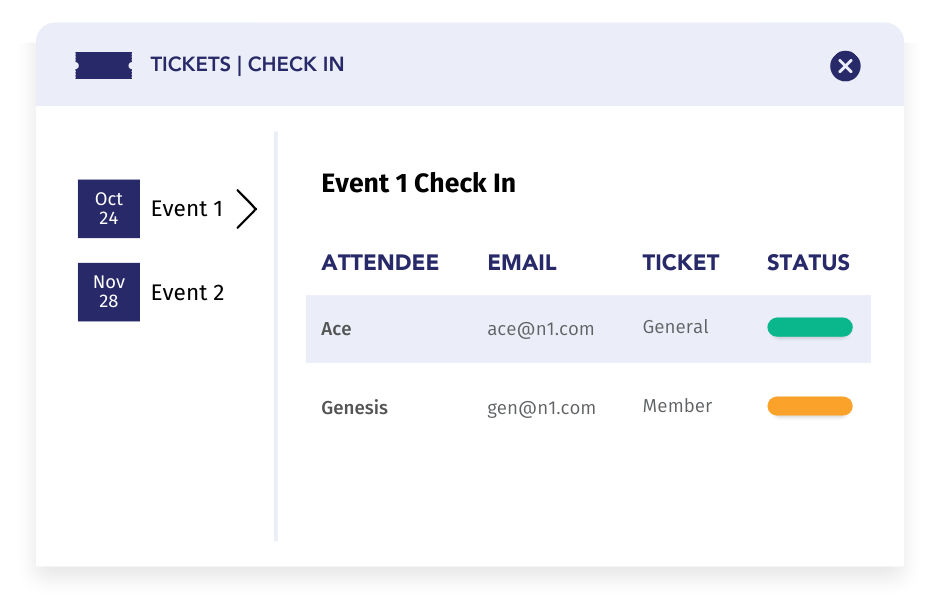 Choosing Nonprofit Event Management Software: 10 Factors to Consider
Before you can start using event management software to level up your nonprofit's fundraisers, you first need to choose which system you're going to use. This is an important decision, as your choice will inform how you manage events for the next few years.
Here are 10 important factors to consider when evaluating different event management solutions:
Event Type and Size: Begin by assessing the types and sizes of events your nonprofit typically hosts. Some software solutions are better suited for small workshops, while others excel at managing large-scale events like conferences or galas.
Features and Functionality: Identify the specific features and functionalities you need in your software, especially around registration, ticketing, marketing, and donor management. Make a checklist of must-have and nice-to-have features.
Customization: Look for software that allows you to customize event pages, registration forms, and branding to ensure a seamless experience for your supporters.
Ease of Use: User-friendliness is critical! An intuitive interface can save you time and reduce training requirements for your team. On the other side of things, an easy-to-use interface will give your attendees a more positive registration experience.
Cost Structure: Understand the pricing model of the software you're evaluating. Some charge a flat fee, while others use a percentage of ticket sales or donations. Be aware of any hidden fees.
Scalability: Consider how costs may scale as your nonprofit's events grow. Make sure the pricing remains manageable as your organization expands, and choose software that can adapt to your nonprofit's future needs.
Integrations: Ensure the software can integrate with the other tools and systems your nonprofit uses, such as CRM software, email marketing platforms, and payment processors. This integration is critical for data synchronization and reducing manual work.
API and Developer Support: If you have specific requirements or want to develop custom features, verify that the software offers APIs and developer support.
Training and Support: Evaluate the availability of training materials, documentation, and customer support. Consider whether the software provider offers live chat, email support, or phone support.
User Reviews: Research user reviews and testimonials to understand the experiences of other nonprofits using the software. These can offer valuable insights into user-friendliness and support.
By carefully considering these factors, your nonprofit can make an informed decision when choosing event management software. The right choice will streamline event planning, enhance donor engagement, and contribute to the overall success of your mission.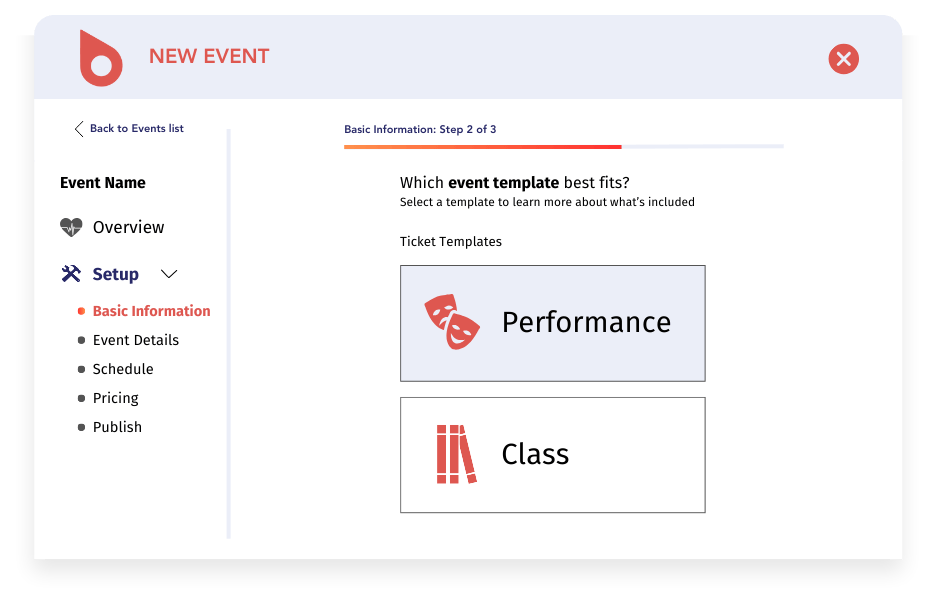 21 Event Management Solutions for Nonprofits
Okay, now that we've covered the basic functions of an event management platform and what factors you should consider when shopping for one, now we can turn to the main event: Actually picking an event management solution for your nonprofit!
The best solution for your nonprofit is going to depend on the specific circumstances of your nonprofit, so you won't find any one-size-fits-all recommendations in this post.
What we can do is help you get started. Here's a list of 21 event management solutions that your nonprofit might want to employ. And wouldn't you know it, the number one spot just happens to be filled by our personal favorite …
1. Neon CRM
Neon CRM (hey that's us!) is a comprehensive, all-in-one nonprofit management platform that lets you manage donors, fundraising, communications, volunteers, and events in a single streamlined solution.
Neon CRM's new and improved events module is perfectly suited for nonprofits who are holding classes or performances, and it includes a step-by-step event builder and templates that let you create multiple events with zero hassles.
That intuitive interface extends to the tools you'll use to manage ticket sales and exchanges, refunds, donations, seat assignments, and more. Neon CRM is a great solution for nonprofits who want to manage events and leverage donor data without having to integrate a whole new platform.
Want to learn more about Neon CRM's event management features? We don't blame you! You can check out this blog post or sign up for one of our group demos, which are a great way to get a full overview of the system without the pressure of a one-on-one sales call.
2. Arts People
Arts People (hey that's also us!) is an events management platform designed to support performing arts organizations with ticketing, fundraising, marketing, and membership features that combine for a comprehensive nonprofit solution.
Check out this page to learn more about Arts People, or sign up for a personalized demo by clicking the button below!
3. Eventbrite
Eventbrite is a popular event management platform that isn't designed specifically for nonprofits, but can still simplify event management, ticketing, and promotion for your organization. It offers tools for creating custom event pages, managing attendee lists, and selling tickets online. Eventbrite's features also include marketing, analytics, and check-in options.
4. Cvent
Cvent is an event management solution that supports nonprofits in hosting various events. It provides features for event registration, ticketing, and on-site management. With Cvent, your nonprofit can create event websites, design custom registration forms, and utilize attendee engagement tools.
5. Bizzabo
Bizzabo is a modern, general-purpose event marketing and management platform that empowers nonprofits to create and manage engaging events. It offers a suite of tools for nonprofits and for-profits alike that cover event planning, registration, and promotion.
6. GiveSmart
GiveSmart is a fundraising and event management platform tailored specifically for nonprofits. It supports silent auctions, charity events, and online fundraisers. Your nonprofit can use GiveSmart for event registration, ticketing, and donor engagement.
7. Aventri
Aventri is a platform that provides end-to-end event and meeting management solutions. It includes features for event registration, marketing, and analytics. Nonprofits can create and manage events of various sizes with Aventri's comprehensive tools.
8. Blackbaud's Luminate Online
Blackbaud is one of the most established names in nonprofit tech, and their Luminate Online software suite offers event management, fundraising, and advocacy tools. Luminate Online simplifies event registration, ticketing, and donor management while integrating with other Blackbaud solutions.
9. SimpleTix
SimpleTix is an online ticketing and event registration system suitable for small to midsize nonprofits. Its customizable ticketing solutions—which include timed ticket entry, attendee-initiated date changes, and a mobile app for your staffers—help streamline event management.
10. Eventzilla
Eventzilla is an event management and ticketing platform that provides event registration, promotion, and payment processing services, aiding nonprofits in hosting successful events.
11. Giveffect
Giveffect is a comprehensive nonprofit software suite with event management, volunteer tracking, donor management, and fundraising tools. It simplifies the planning, promotion, and execution of events.
12. iMIS
iMIS is an all-in-one association and nonprofit management system that includes event management, membership, and donor engagement features. It offers tools for efficient event planning and execution.
13. Qgiv
Qgiv is primarily a donation and event management platform that streamlines event registration, ticketing, and mobile fundraising for nonprofits. Its capabilities extend to managing events and donor interactions.
14. GalaBid
GalaBid specializes in event management for fundraising events and auctions. It provides interactive features for silent auctions and charity events.
15. RegFox
RegFox is a user-friendly event registration and ticketing platform, offering customizable solutions for conferences, camps, classes, and other types of events. Nonprofits can easily manage the registration process.
16. ePly
ePly provides event registration and ticketing solutions, particularly suitable for conferences, workshops, and fundraising events. It also enables mobile-friendly registration forms and can be used to create a branded conference app.
17. Bloomerang
Bloomerang is primarily a donor management software, but it also sports event management capabilities. It offers event registration, ticketing, and communication tools, making it easier for nonprofits to organize events and engage supporters.
18. Little Green Light
Little Green Light offers donor management with event planning and ticketing features. Nonprofits can efficiently plan, promote, and track events within the platform. Due to its streamlined feature set, Little Green Light is a better fit for small nonprofits.
19. DonorPerfect
DonorPerfect combines fundraising and donor management capabilities with event management features. It simplifies event registration, ticketing, and donor engagement for both virtual and in-person events.
20. Doubleknot
While Doubleknot is a donor management platform primarily built for cultural organizations like museums and zoos, it also offers event management capabilities. It provides tools for event registration, ticketing, and membership management, making it easy to plan events and engage supporters.
21. WildApricot
WildApricot is an all-in-one membership and event management software. It offers event planning tools that include registration and ticketing options. With its integrated event management features, nonprofits can more easily promote their events to their membership bases.
Manage Your Events (and Everything Else) With Neon CRM
There is no one-size-fits all answer to the question "which event management solution is right for my nonprofit?" That's because every nonprofit has different needs and capabilities. When shopping for event management software, keeping your specific needs in mind will guide you towards the best solution for your organization.
That's why the flexibility of Neon CRM's event management module makes it such a great fit for nonprofits of all sizes. The new event builder, templates, checkout and check-in interfaces, and ticket exchange capabilities are easy enough for even the least tech-savvy staffer but powerful enough to facilitate a major charity event.
But the best thing about Neon CRM is that it doesn't just manage events. It manages everything from donors and volunteers to fundraising, communication, and reporting. With Neon CRM, you have a powerful all-in-one platform that can help your nonprofit reach and engage new supporters.
Want to learn more about Neon CRM and its events capabilities? Sign up for one of our regularly scheduled group demos. These 30-minute sessions cover all the basic ins and out of the Neon CRM system—all without the pressure of a one-on-one sales call.
Just click the button below to find a group demo that fits your schedule and sign up. We can't wait to see you there!
Join the discussion in our Slack channel on connected fundraising