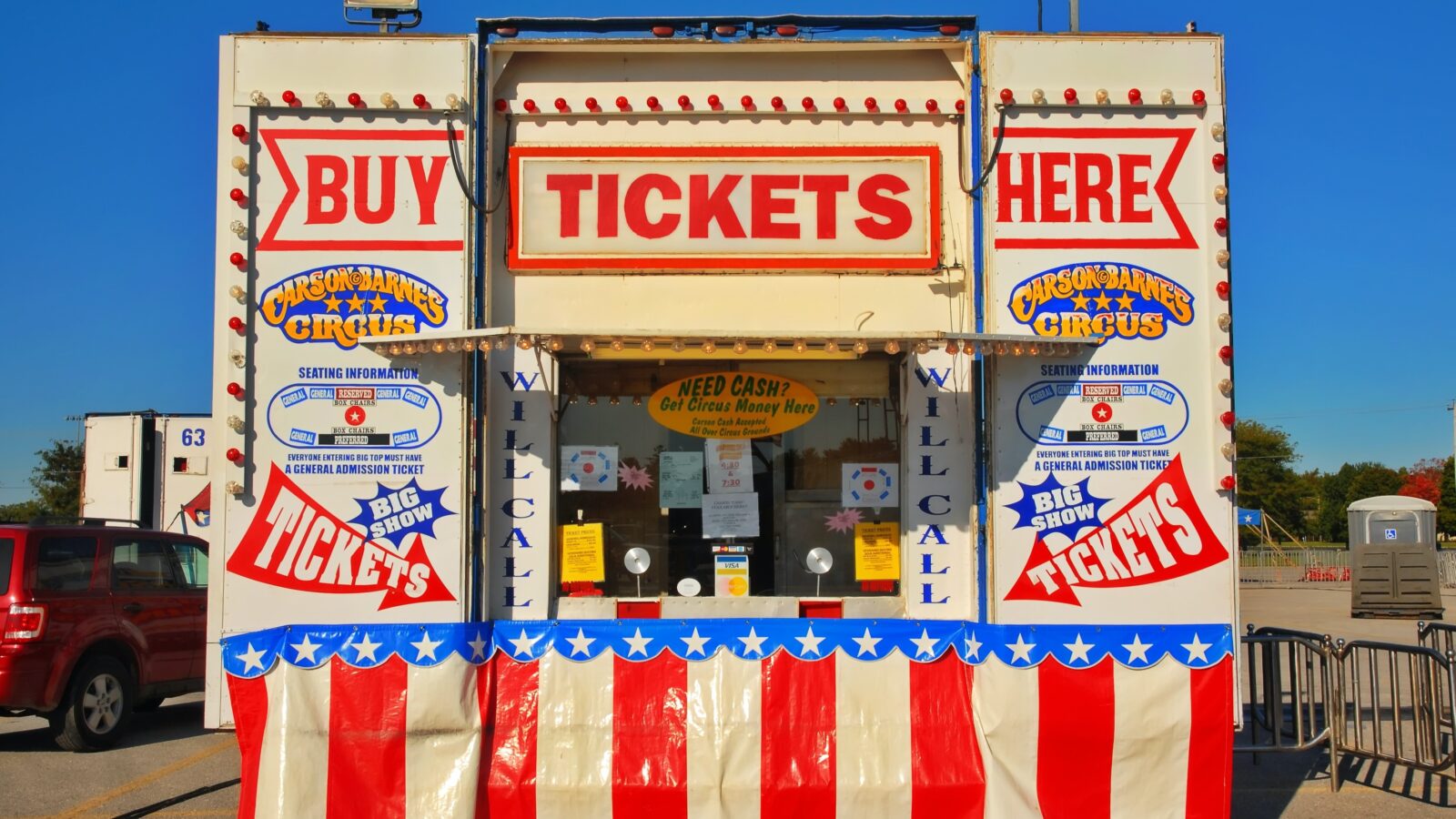 A well-run and well-attended fundraiser could be a game changer for your nonprofit. But the "well-attended" part of that equation is easier said than done. Even worse: There's no one right answer, no "one weird trick to sell fundraiser tickets" that stands head and shoulders above the rest.
To sell more tickets to your nonprofit's fundraiser, it's going to require a multi-pronged strategy. That's why we've collected 10 different ways that your nonprofit can increase your ticket sales. Use these to build your event ticketing plan and get selling!
1. Create Different Ticket Types
Your nonprofit's supporters are not a one-size-fits-all group. When it comes to selling fundraiser tickets, offering different ticket types and levels will help attendees pick the ticket that's right for them—boosting your overall sales along the way!
Here are several types of tickets you can consider offering, each with its unique advantages:
General Admission Tickets: These are the standard tickets that grant entry to the event. They cater to a broad audience and are often more affordable, making them an excellent choice for attracting a large number of attendees.
VIP Tickets: VIP tickets offer exclusive perks like early access, premium seating, or special privileges. These tickets can attract donors willing to pay a premium for an enhanced experience.
Early Bird Tickets: Early bird tickets encourage early commitment from attendees. By offering a discounted rate for those who purchase tickets well in advance, you can create a sense of urgency and boost initial ticket sales.
Group Tickets: These tickets are designed for groups of people attending together, offering discounts for purchasing multiple tickets. They incentivize social attendance and can boost your overall attendance numbers.
Donation Tickets: Some attendees may want to contribute more than the ticket price. Donation tickets allow them to do so easily, increasing both ticket sales and overall fundraising. Don't forget to make it clear how much of their ticket price is tax-deductible!
Raffle Tickets: If your fundraiser includes a raffle, selling tickets for it can serve as an additional revenue stream. Attendees may purchase these tickets alongside their event tickets. You'll also want to encourage raffle ticket sales during the event as well.
By offering a variety of ticket types, you cater to the diverse preferences and budgets of your potential attendees and supercharge your ticket sales.
2. Give Your Event an Online Home
An online event page is a powerful tool for boosting fundraiser ticket sales. If your event doesn't have a home anywhere online, you're almost certainly missing out on people who would like to attend but can't figure out where to buy a ticket.
That's why you should design a visually appealing, user-friendly event page on your website that highlights key event details, including date, time, location, and ticket pricing. Incorporate compelling visuals, such as event photos or promotional graphics, to capture attention.
Most importantly, you need to include a clear and prominent "Buy Tickets" button for easy access to ticket purchasing. And if your event page is synced with your CRM, all the information from attendees should flow right into your database.
For nonprofits who use Neon CRM as their donor management platform and Neon Websites as their website builder, creating an event page is a breeze! The partnership between these systems makes for event pages that are dynamic, optimized, and seamlessly integrated.
You can learn more about Neon CRM by joining one of our group demos (30 minutes long with zero pressure to buy) and you can learn more about Neon Websites by clicking the button below and touring the website builder.
3. Make Buying Tickets Easy
There are a lot of dire digital checkout experiences on the world wide web. And if your supporters are having a bad time just trying to buy tickets for your nonprofit's next event, they'll probably just give up right then and there!
It doesn't have to be that way. Here are a few steps you can take to create a streamlined, hassle-free ticket buying experience:
Ensure secure payment processing for online ticket sales: Offer multiple payment options and ensure your online platform is secure and user-friendly. A seamless payment process enhances trust and encourages ticket purchases.
Manage ticket sales and distribution effectively: For digital tickets, distribution is pretty easy. The attendee has their ticket emailed to them. But if you're selling physical tickets, designate convenient locations for sales and establish a clear distribution process. Train volunteers or staff members to handle these transactions efficiently.
Implement a system for tracking and analyzing ticket sales data: Utilize ticketing software or tools to monitor sales progress. Analyze data to identify trends, target event page improvements and marketing efforts, and make informed decisions that optimize ticket sales strategies.
When you're deciding on an event management solution to handle your next event, think about the points mentioned above. Find a solution that helps you do all three.
4. Maximize Your Digital Marketing Channels
Even if your event is taking place in-person, your marketing efforts should be primarily happening online. With everyone spending hours a day glued to their phones and computers, digital channels will be the best way to reach them.
Start by optimizing your organization's website for ticket sales: Feature the event on your homepage with a prominently placed "Buy Tickets" button. Provide clear event details, including ticket prices and benefits, to encourage immediate action.
Next, start crafting some engaging email marketing campaigns Segment your email list and send personalized invitations. Use compelling subject lines, appealing visuals, and a strong call to action to entice recipients to purchase tickets.
And don't forget to follow up with reminder emails and exclusive offers to boost conversion rates!
Lastly, promote your event on social media by regularly sharing content about your fundraiser, including visuals, event updates, and testimonials. Encourage followers to share the event details within their networks to expand your reach.
5. Use Old School Marketing Channels to Stand Out
This is the flip side of focusing all your event marketing efforts on digital channels: If you can break through with people in an offline setting, your message will really stand apart. And in order to do that, you're going to have to go old school.
Create eye-catching flyers, brochures, and posters to advertise your event. See if there is a local designer who could provide their services as an in-kind donation and make your materials really pop.
You can even create unique branding specific to your event, which will be especially helpful for annual or recurring fundraisers like charity runs. As your event's brand becomes more familiar, interest in participating will increase.
For broader reach, reach out to local newspapers, radio stations, and TV channels and pitch them on stories that highlight your fundraiser. By securing interviews, write-ups, or event listings, you can tap into their established audiences and gain wider exposure.
6. Tap Into Your Nonprofit's Network
When it comes to selling tickets for your fundraiser, it's all hands on deck!
Mobilize your organization's existing network by enlisting board members, volunteers, and supporters to help with ticket sales.
Encourage these dedicated individuals to tap into their personal connections, promoting the event and selling tickets to their friends, family members, and colleagues.
You can further incentivize these kinds of sales by creating a structured referral program that rewards those who bring in additional attendees.
Offer incentives such as special recognition, exclusive event access, or merchandise to motivate your network to actively promote and sell tickets within their circles.
If you have group tickets available for purchase (see Tip #1), you can encourage people to purchase those packages alongside their friends. That's what group tickets are there for!
7. Foster Local Partnerships
Collaborating with local businesses and organizations—including other local nonprofits—is a smart tactic to increase fundraiser ticket sales.
Seek out partnerships with restaurants, shops, or nearby companies that are willing to promote your event. In exchange, you can offer them visibility at your fundraiser or provide discounted tickets for their employees or customers.
You can also offer discounts to your event as a perk for their customers. You can create a discount code or a custom landing page and QR code that they then provide to their patrons.
With other local nonprofit groups, a mutual aid relationship might benefit both parties. If they promote your fundraiser to their network, then you will promote their next event in return.
Of course, there's one other way that businesses and local groups can support fundraisers: They can become event sponsors! In the article below, we cover everything you need to know about securing corporate sponsors for your nonprofit's next event.
8. Create Some Buzz
Creating buzz around your nonprofit's fundraiser is easier said than done. And even if you do everything right, there's no guarantee that people are going to get excited.
But you stand a better chance than if you did nothing at all! Here are two tips for building buzz around your nonprofit's fundraising event.
Set a launch date and build anticipation: Announce the fundraiser's date well in advance, generating excitement. Use countdowns and teasers to pique interest and ensure potential attendees mark their calendars.
Harness the power of storytelling: Share compelling narratives about your cause and the impact of the fundraiser. Emotional connections drive ticket sales. Illustrate how attendees contribute to positive change, inspiring them to be part of your mission.
On that last note, we just so happen to have a great webinar on the power of storytelling for nonprofits. You can check it out below!
9. Engage Your Attendees
Building excitement for your event isn't a one-way street. By engaging with your attendees and amplifying their excitement, you can start a chain reaction that (hopefully) translates into more ticket sales.
To start, keep your audience informed and engaged by consistently sharing event updates, guest speaker announcements, and behind-the-scenes glimpses. This will start to build anticipation and encourage attendees to spread the word themselves.
Next, you can start enhancing the ticket-buying experience by providing exclusive perks, such as early access, discounted merchandise, or special access to event content. These incentives entice potential attendees and reward early ticket buyers.
Lastly, you can continue fostering excitement by maintaining an active presence on social media and through email, encouraging conversations and interaction. Share user-generated content, run contests, and create polls to build a sense of community and excitement around your fundraiser.
Not only can these methods lead to more ticket sales, but they can build excitement that leads to more active engagement—more donations, more bids, more volunteer sign-ups—during the event itself.
10. Foment Some FOMO
Harness the power of "Fear of Missing Out" (FOMO) to drive ticket sales by creating a sense of urgency and exclusivity.
In your communications and marketing materials, emphasize limited availability, early bird discounts, or special access for ticket holders. Attendees should want to snag a ticket before they run out.
You can highlight the unique experiences attendees will gain, such as networking opportunities, exclusive presentations, or memorable moments. Share testimonials and stories from past attendees to showcase what others have gained from attending.
By conveying that your fundraiser is a must-not-miss event, you'll instill FOMO in potential attendees, motivating them to secure their tickets and be part of something extraordinary.
Sell More Tickets with Neon CRM
Here's one thing that all the tips we've included on this list have in common: They all benefit from having the right data at your fingertips. The more easily you can measure campaign performance, audience preferences, and ticket sales progress, the better (and faster) you'll be able to make decisions on what comes next.
That's why Neon CRM is a great fit for nonprofits of all sizes. It's an all-in-one donor management platform that comes with a robust suite of event management tools and capabilities. It lets you create events and class listings, sell tickets, send emails, and check in attendees—all within the same system.
Want to know more? We don't blame you! Join one of our Neon CRM group demos for a full, 360-degree look at everything the system can do. These regularly scheduled 30-minute sessions are hosted by Neon One's marketing team and come with zero pressure to buy.
Join the discussion in our Slack channel on connected fundraising