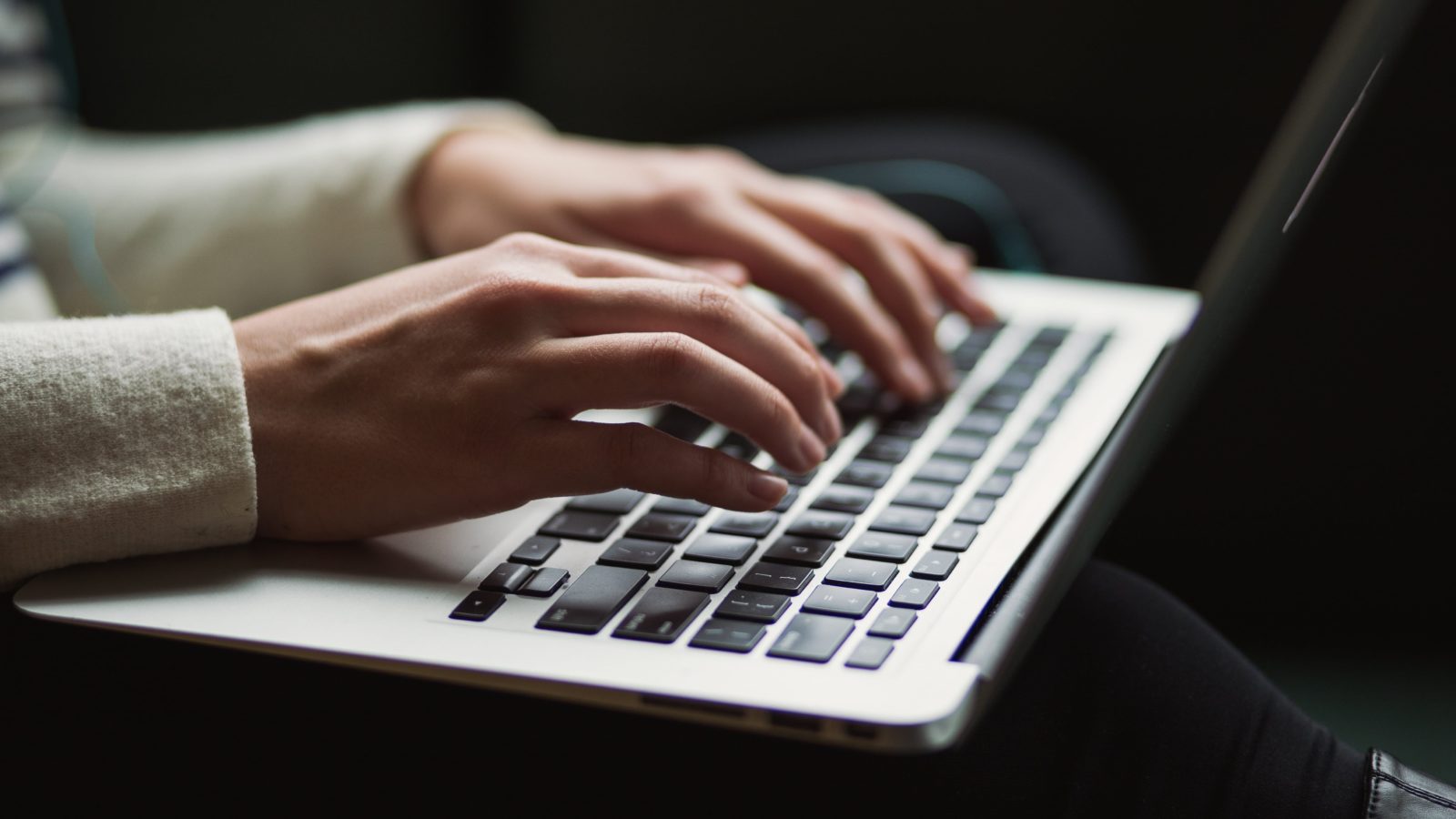 For many nonprofit fundraisers, GivingTuesday is like the Super Bowl. It's the moment they've been waiting for all year long, when millions of people across the world are ready and raring to participate in a global day of giving. The Super Bowl might include more fun commercials and plates of loaded nachos, but GivingTuesday definitely has the better overall vibe. On GivingTuesday 2022, donors in the U.S. alone gave over $3.1 billion!
With so many people primed and ready to support worthy causes on GivingTuesday, it's the perfect time for nonprofits to hold a standalone fundraiser or—even better—kick off their year-end giving campaign. And since the day has always been a digital-first event, email is going to be your most effective form of outreach.
So how can you maximize the effectiveness of your GivingTuesday emails and start your end-of-year fundraising with a bang? We're so glad you asked. We've created a series of GivingTuesday email templates that cover each stage of your campaign—and individual nonprofit sectors as well!
In this article, we'll provide three examples built using some of those templates and include some general tips and best practices you can use in your own messages.
Download Our GivingTuesday Email Templates
As a part of our GivingTuesday Toolkit, we've created a packet of five templates that you can use to craft your organization's email campaigns. We've included some examples built using those templates in this article. But if you'd like to download the full suite of templates, click the button below:
Are you a Neon CRM client? Good news! All of these templates are pre-loaded into your Neon CRM account!
Email #1: Save the Date
Your donors shouldn't be surprised when they receive a message on GivingTuesday asking them to donate. Your campaign should start in the weeks prior to the big day with emails that inform your supporters about GivingTuesday, build anticipation, and get excited about supporting your community.
Below is an example of a pre-GivingTuesday message from an (imaginary) nonprofit called Agloe Nature Center.
Save the Date Example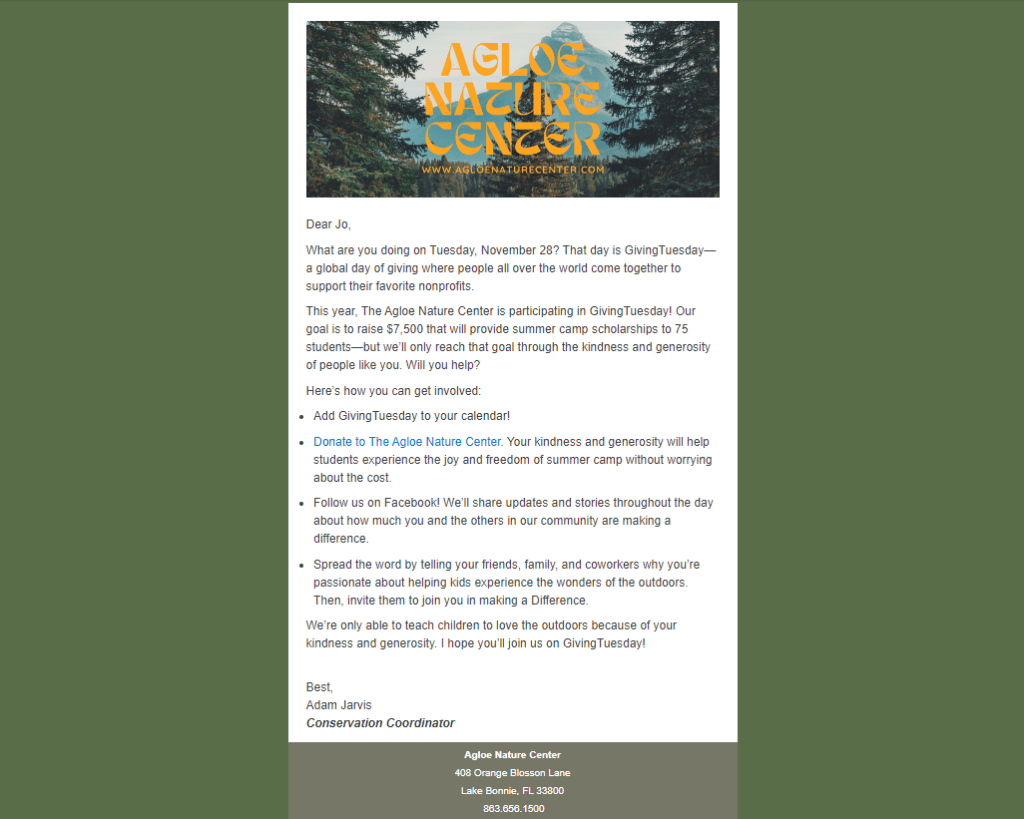 Subject Line: Join Us on GivingTuesday!
What are you doing on Tuesday, November 28? That day is GivingTuesday—a global day of giving where people all over the world come together to support their favorite nonprofits.
This year, The Agloe Nature Center is participating in GivingTuesday! Our goal is to raise $7,500 that will provide summer camp scholarships to 75 students—but we'll only reach that goal through the kindness and generosity of people like you. Will you help?
Here's how you can get involved:
Add GivingTuesday to your calendar!
Donate to The Agloe Nature Center [link to GivingTuesday donation form]. Your kindness and generosity will help students experience the joy and freedom of summer camp without worrying about the cost.
Follow us on Facebook! We'll share updates and stories throughout the day about how much you and the others in our community are making a difference.
Spread the word by telling your friends, family, and coworkers why you're passionate about helping kids experience the wonders of the outdoors. Then, invite them to join you in making a difference.
We're only able to teach children to love the outdoors because of your kindness and generosity. I hope you'll join us on GivingTuesday!
Tips & Best Practices
As you compose your initial GivingTuesday message, here are some tips and email best practices to keep in mind.
Give them all the details: GivingTuesday is always held on the Tuesday after Thanksgiving, but that date changes every year. Make sure you give your supporters information on when GivingTuesday is happening, what your campaign is raising funds for, where they can find more information, etc.
Use a special GivingTuesday donation form: A great way to help people follow through on their intent to donate is by creating a special donation form that carries GivingTuesday-specific branding! Plus, it'll help with post-campaign reporting, as all donations made through that form can confidently be assigned to your GivingTuesday campaign.
Include multiple calls to action: Even though this template includes a link to the Agloe Nature Center's donation form, the assumption is that most people will give on the big day. In the meantime, you should follow this example by asking supporters to take action by following your social media accounts for more updates and by spreading the word to friends and family.
Email #2: Give Today
When GivingTuesday finally rolls around on November 28, you plan on sending out multiple messages throughout the day. Shoot for one to two emails per each donor segment! These messages will be focused on encouraging donations and social media posts while also updating supporters on the progress of your campaign.
Here's an example of the initial email you should send.
Give Today Example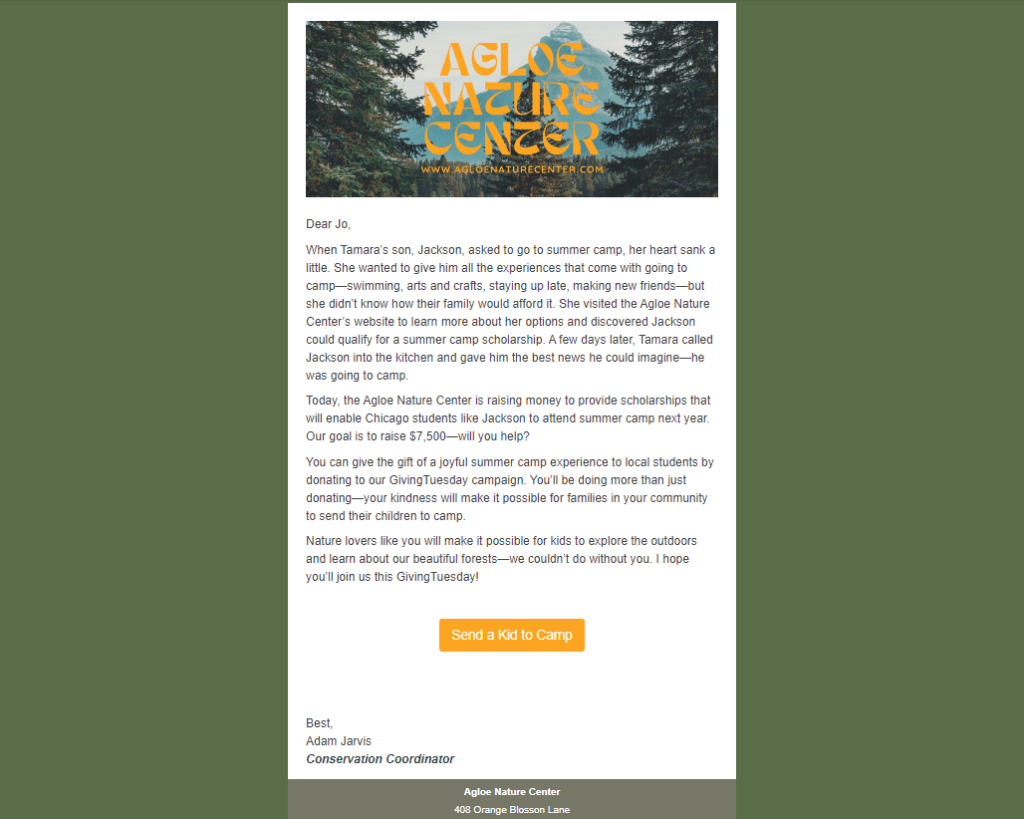 Subject Line: Will You Donate to Support Chicago Students?
When Tamara's son, Jackson, asked to go to summer camp, her heart sank a little. She wanted to give him all the experiences that come with going to camp—swimming, arts and crafts, staying up late, making new friends—but she didn't know how their family would afford it. She visited the Agloe Nature Center's website to learn more about her options and discovered Jackson could qualify for a summer camp scholarship. A few days later, Tamara called Jackson into the kitchen and gave him the best news he could imagine—he was going to camp.
Today, the Agloe Nature Center is raising money to provide scholarships that will enable Chicago students like Jackson to attend summer camp next year. Our goal is to raise $7,500—will you help?
You can give the gift of a joyful summer camp experience to local students by donating to our GivingTuesday campaign. You'll be doing more than just donating—your kindness will make it possible for families in your community to send their children to camp.
Nature lovers like you will make it possible for kids to explore the outdoors and learn about our beautiful forests—we couldn't do without you. I hope you'll join us this GivingTuesday!
Button: [ Send a Kid to Camp ]
Tips & Best Practices
Here are some tips for making your GivingTuesday appeal as impactful as possible!
Focus your appeal on an individual: You'll notice that this appeal centers around a kid named Jackson who will be able to attend camp due to the scholarships funded by this campaign. By focusing on a single person (whether they're real or a composite character) instead of the total number of people your campaign helps, you will tap into the "identifiable victim effect" which finds that people are more easily able to empathize with a single person than they are with a large group of people.
Use the word "You": This simple, one-syllable word is a great way to make your email appeal feel personal for your supporters. And it goes a lot further than trying to use their name multiple times throughout your message, which will quickly start to feel stilted and unnatural. Keeping the focus on your supporters—rather than on your organization—will make your appeal all the more powerful. And making statements that center around "you" is the best way to do that.
Follow up: As we mentioned at the beginning of this section, this shouldn't be the only GivingTuesday email that you send. You may want to consider sending a second appeal that updates people about your campaign progress and invites them to get involved. If you're feeling ambitious, you can also send a final update at the conclusion of GivingTuesday. In fact, we created a template for exactly that kind of message! You can download our GivingTuesday email templates suite to get it.
Email #3: Post-Event Update
You did it! GivingTuesday has wrapped and you've hit your campaign goal. But that doesn't mean the job is done. As a part of your donor management strategy, you should be capitalizing on this momentum with additional messages that encourage further engagement—especially from new supporters.
Here's our final example from Agloe:
Post-Event Update Example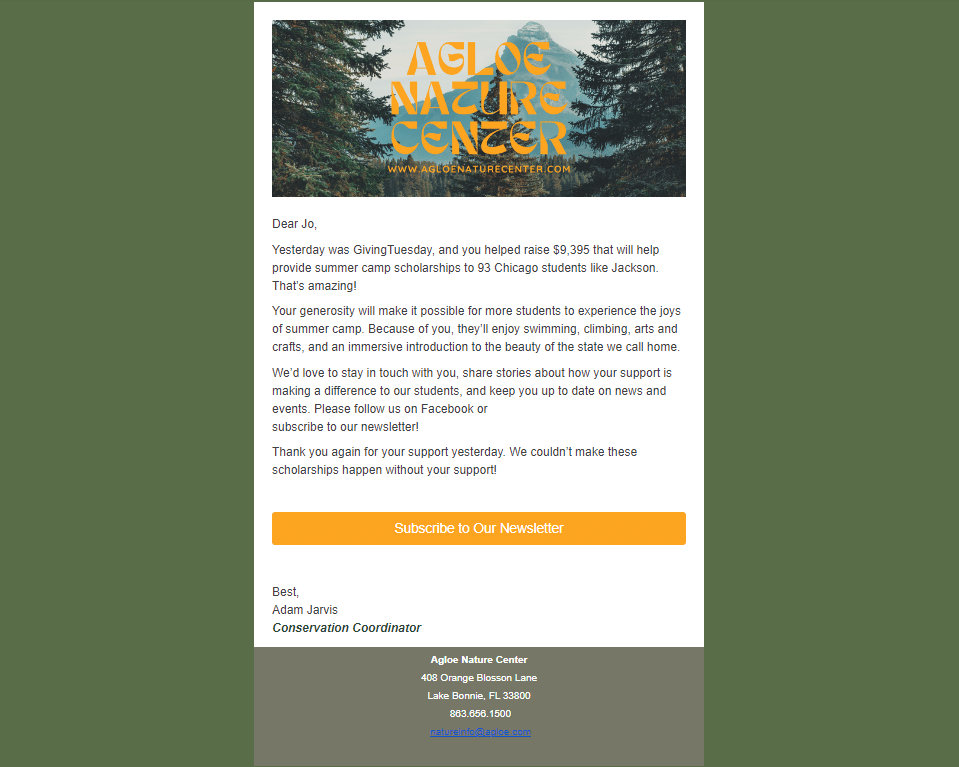 Subject Line: Here's How You Made a Difference Yesterday
Yesterday was GivingTuesday, and you helped raise $9,395 that will help provide summer camp scholarships to 93 Chicago students like Jackson. That's amazing!
Your generosity will make it possible for more students to experience the joys of summer camp. Because of you, they'll enjoy swimming, climbing, arts and crafts, and an immersive introduction to the beauty of the state we call home.
We'd love to stay in touch with you, share stories about how your support is making a difference to our students, and keep you up to date on news and events. Please follow us on Facebook or
subscribe to our newsletter!
Thank you again for your support yesterday. We couldn't make these scholarships happen without your support!
Button: [ Subscribe to Our Newsletter ]
Tips & Best Practices
This message isn't just about saying "thank you," it's about beginning to build a deeper relationship with your supporters. Here are some tips and best practices to help you do just that.
Don't skip the receipt: This post-GivingTuesday update should be sent in addition to a standard donation receipt. This way, you can focus on your overall impact statement without also having to provide folks with the details of their transaction. If you would like a template for a GivingTuesday-specific receipt, we've included one in our downloadable packet.
Include impact statements: Don't just tell donors how much you raised. Let them know about the very real difference those funds are going to be making in your community. Beyond this initial impact statement, you should also plan on sending more detailed updates as your program kicks into high gear.
Invite donors to engage further: The road from a first donation to a second donation can be a long one. But a good first step is inviting your donors to stay in-the-know by subscribing to your email newsletter or following you on social media. That's an easy call to action you can include in this message while people are still basking in the warm and fuzzy feelings from their GivingTuesday support.
Download Neon One's GivingTuesday Toolkit
Email is a hugely important part of GivingTuesday, but it's not the whole shebang. GivingTuesday started as a social media-first phenomenon, and social media still plays a huge role in the day. Plus, there's planning your overall GivingTuesday communications timeline and/or the year-end giving campaign that GivingTuesday is kicking off.
It's a lot! Luckily, we have you covered. Neon One's complete GivingTuesday Toolkit includes our email templates alongside social media templates, planning worksheets, and year-end resources as well. You can download the whole thing over at our GivingTuesday Resource Center.
Join the discussion in our Slack channel on connected fundraising