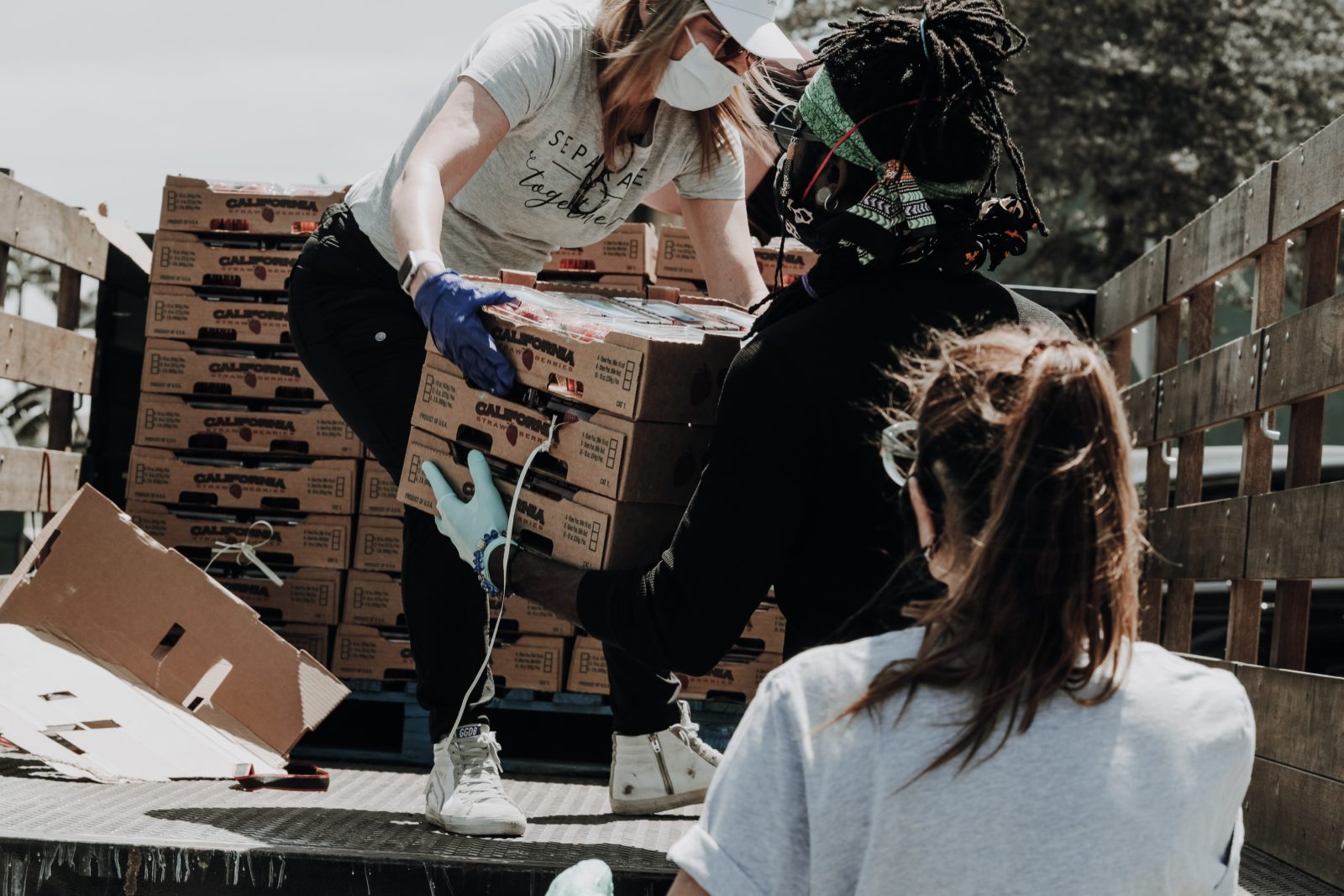 There's no denying it — statistics prove that GivingTuesday has become a worldwide phenomenon. What started as a grassroots movement meant to balance out holiday season spending is now a generosity-driving powerhouse.
Check out these GivingTuesday statistics sourced from the GivingTuesday 2021 impact report to learn more about the influence GivingTuesday has on the philanthropic sector.
1. GivingTuesday Revenue in the United States Reached Record Highs in 2021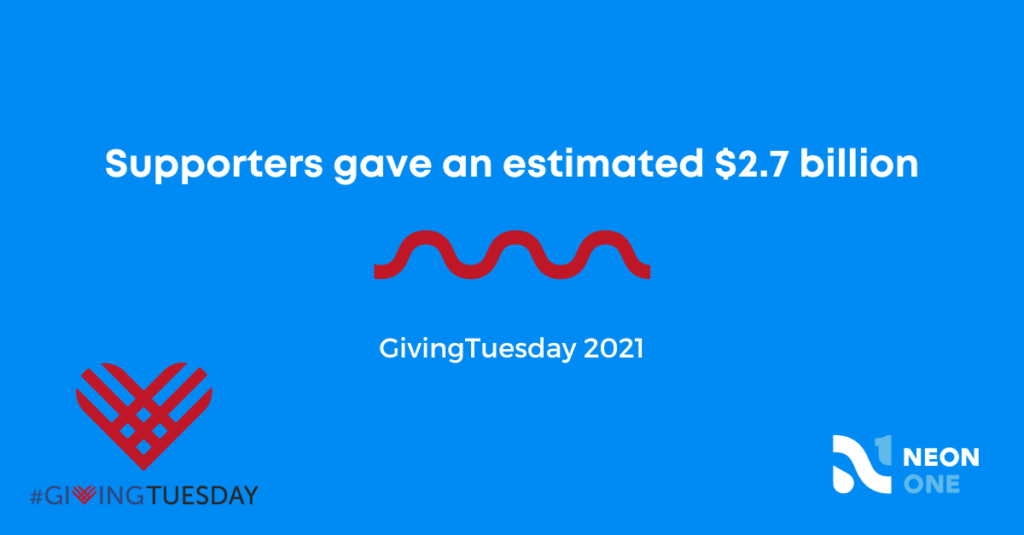 In just 24 hours, GivingTuesday 2021 shattered previous revenue records. Despite an ongoing pandemic, donors gave almost $3 billion last year. But financial contributions aren't the only way people got involved. GivingTuesday participants worldwide also volunteered, performed countless acts of kindness, and gave their voices, time, and goods.

Takeaway: Between the continued prevalence of COVID-19, global instability, and economic uncertainty, the thought of fundraising can be daunting. Don't be discouraged! The global financial strain of COVID-19 inspired those who could give to donate more last year. In times of crisis, donations surge: Don't be afraid to ask for support this year.
2. GivingTuesday Has Grown Into a Worldwide Movement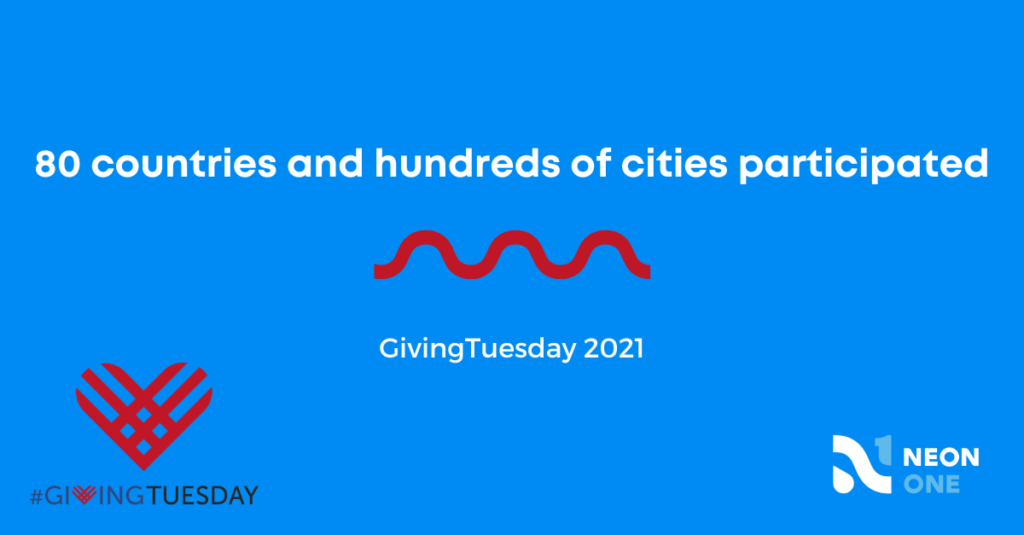 GivingTuesday may have its roots in America, but it's a global phenomenon. 80 countries now have their own GivingTuesday chapters! That means that thousands of organizations all over the world are inspiring generosity in their communities—and hundreds of thousands of donors are supporting their favorite causes on GivingTuesday.
Takeaway: GivingTuesday has an overwhelming global impact, inspiring generosity all around Earth. That's great news if you're looking for inspiration! Check out how other nonprofits are inspiring generosity in their own communities. Whether you look at GivingTuesday campaigns from organizations in your hometown or charities on the other side of the world, there's no shortage of nonprofits who are doing amazing things.
3. More People Are Participating Than Ever Before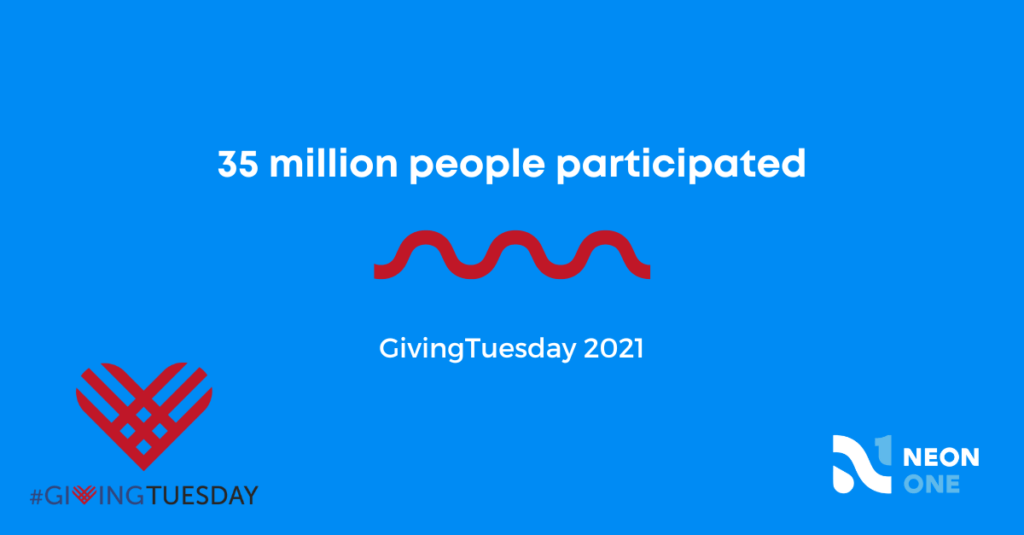 Millions of donors supported their favorite causes last year. A whopping 10% of the U.S. population participated in GivingTuesday in some way in 2021! Don't expect that percentage to level off any time soon—participation in GivingTuesday continues to grow every year.
Takeaway: If you haven't participated in a GivingTuesday campaign yet, this is a great year to get started. Americans who donate on GivingTuesday are slightly more common than Americans with green eyes, and that means there are millions of opportunities to reach new and existing supporters
4. Plenty of People Participate in GivingTuesday Without Donating Money.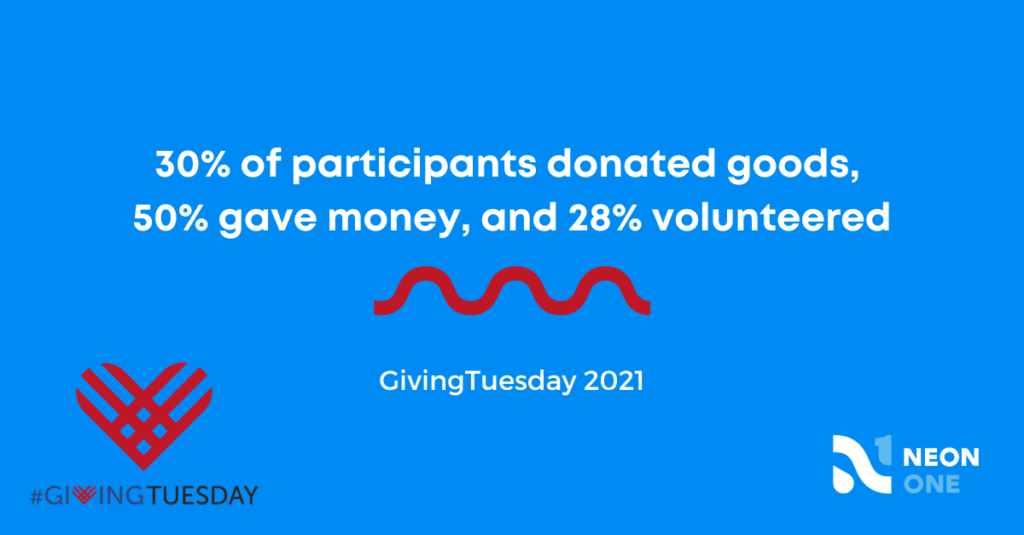 Donors don't just give money on GivingTuesday. They also donate time, talents, in-kind donations, and access to their social and professional networks. GivingTuesday is a global generosity movement, and this is a great reminder that generosity comes in tons of different forms.
Takeaway: If you're looking for ways to boost your GivingTuesday campaign, be sure to offer your supporters many ways to get involved in your organization. By offering many ways to get involved with your work, you'll see better results overall. Get your donors excited about GivingTuesday by organizing volunteer events, asking for in-kind donations, or inviting supporters to share your messaging.
5. GivingTuesday Participants Want To Be Part Of A Huge Group Of People Doing Good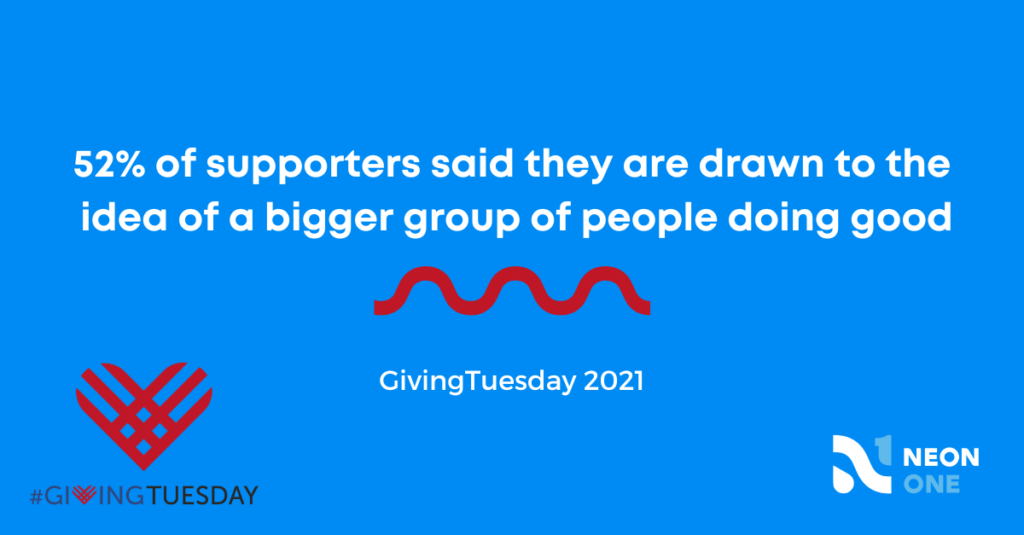 The success of GivingTuesday as a movement has a lot to do with its success at community building. People all over the world can do something together on this day to make the world a better place. That's pretty inspiring.
Takeaway: Consider weaving the theme of togetherness and community into your GivingTuesday appeal. People are drawn to the idea of the collective impact they can make together.
6. GivingTuesday Is the Time For Experimentation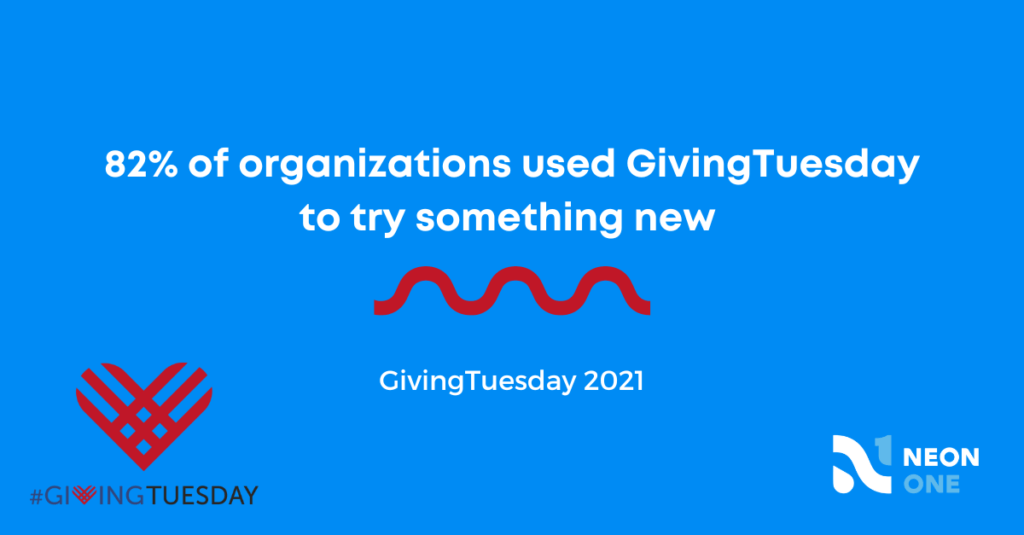 If you've been looking for the opportunity to try something new, GivingTuesday is the perfect time to get creative. A majority of nonprofits reported experimenting with new techniques last year, which could be anything from new tech tools to a novel strategy for reaching new supporters. The possibilities are endless!
Takeaway: Try something new! GivingTuesday is a one-day event where donors are actively seeking ways to support the organization and causes they love. The short timeframe and donors' motivation to give mean it's a perfect time to experiment with new tools or tactics. If you don't see the results you want, you can try something new next year. And, if your new strategy is a success, you're perfectly positioned to apply it to your year-end fundraising campaign.
7. GivingTuesday Inspires People to Be More Giving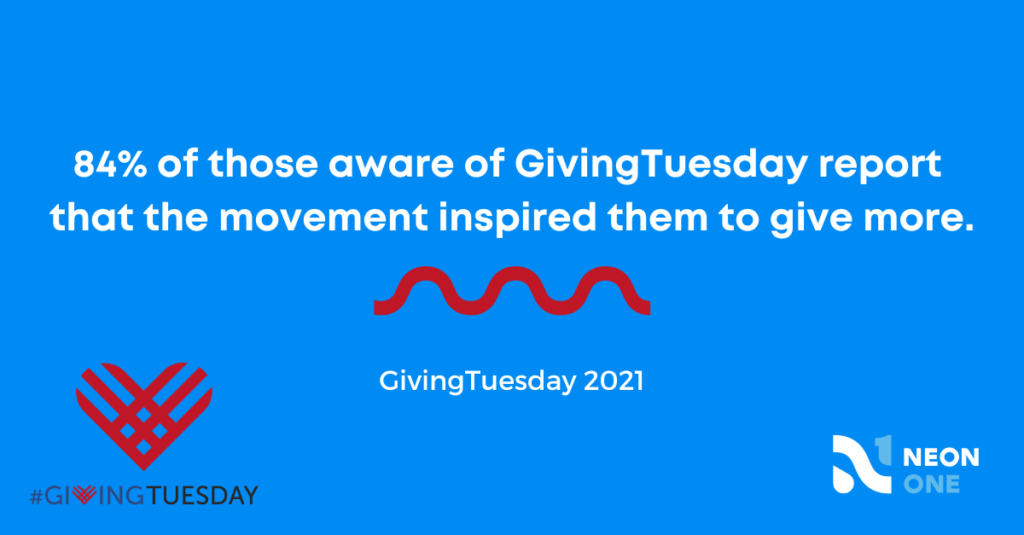 GivingTuesday is fulfilling its stated purpose: To get people around the world more involved in philanthropy. A large majority of people who gave on GivingTuesday inspired them to be more generous overall. That should be encouraging to any nonprofit that's looking to build a more engaged base of supporters.
Takeaway: Brand awareness of GivingTuesday is growing, and so is participation. Since donors report being motivated to give more, that means the number of people being inspired to be more generous grows every year. Capitalize on those feelings of goodwill by making sure you have a donor retention plan for GivingTuesday donors. A good retention strategy can keep those generous donors engaged with your organization year round.
8. GivingTuesday Gets Social Media Attention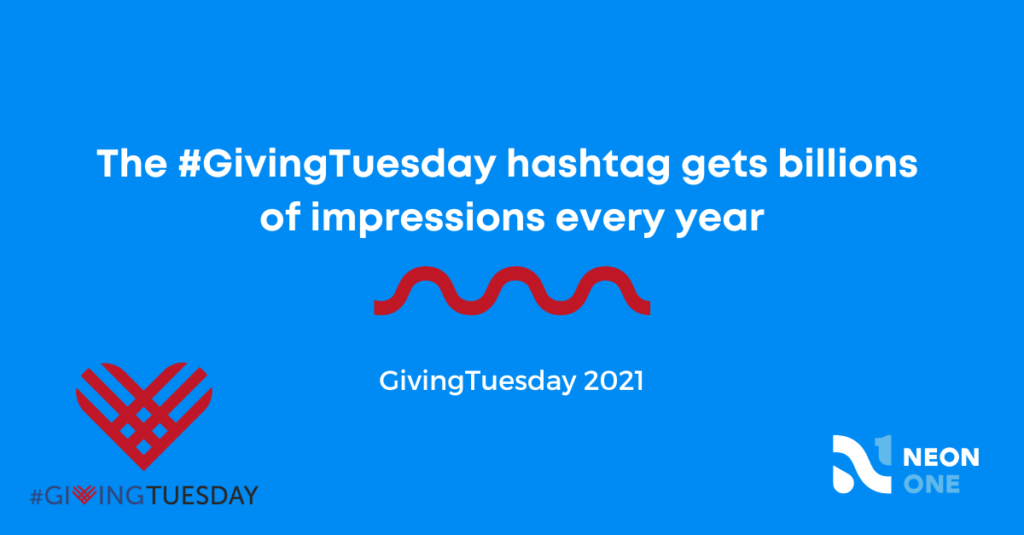 Since its inception in 2012, GivingTuesday has relied on digital channels to build a global community. Join the conversation! Using #GivingTuesday on social media is one of the best opportunities available to raise awareness about your work, grow your supporter base, and mobilize existing supporters to help your cause.
Takeaway: People are talking about GivingTuesday online. Use your social media channels to connect with donors who are actively engaged in supporting nonprofits that day. Add the #GivingTuesday hashtag to your posts, appeals, and updates to boost your visibility and gain some exposure on social media.
9. Those Who Know About GivingTuesday Participate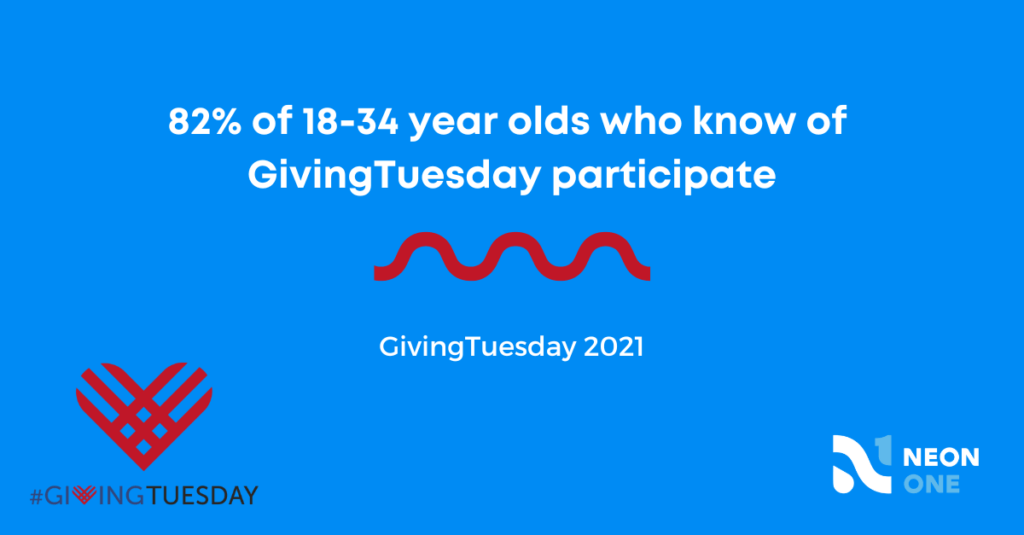 Not only does GivingTuesday have great name recognition, it has a great participation rate! A majority of young donors who are aware of GivingTuesday choose to support their favorite nonprofits that day. For nonprofits who are looking for ways to engage younger donors, running a GivingTuesday campaign can be an effective way to bring them into your base of supporters.
Takeaway: GivingTuesday engages donors of all ages. Don't let the age of your audience deter you from launching a GivingTuesday campaign! Create your appeals, social posts, and GivingTuesday donation form with younger audiences in mind. Try offering a range of suggested giving amounts, stay active on social channels, and encourage your younger donors to share your campaign with their friends and colleagues.
10. Shopping Slowed in 2021, but Giving Didn't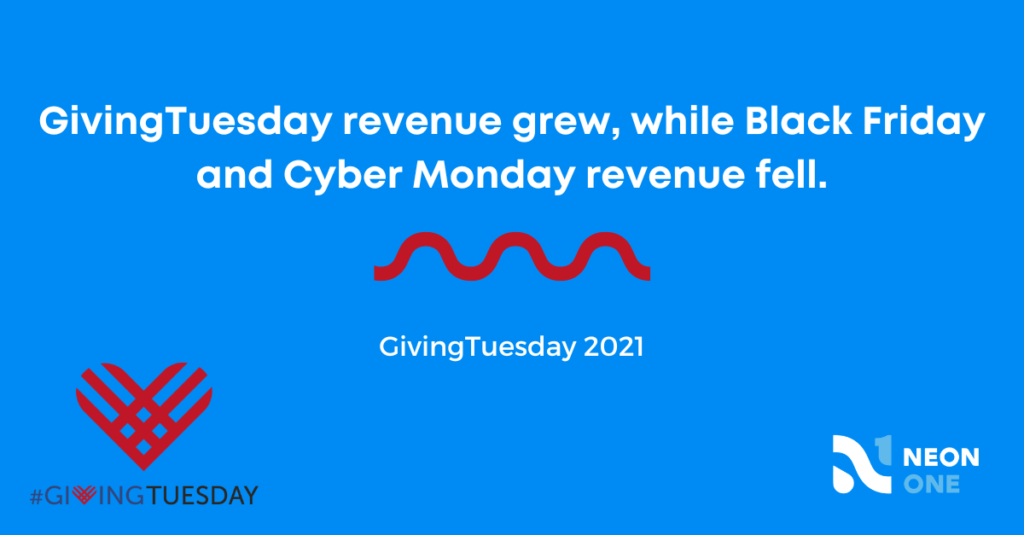 The amount of GivingTuesday donations in the US grew by 9% in 2021, while Black Friday and Cyber Monday online sales decreased compared to 2020 numbers. This is a powerful reminder that consumer spending and charitable giving are very different from each other. Even though people cut back on holiday shopping last year, they stepped up their giving.

Takeaway: Households see consumer spending and donations differently. A decrease in consumer spending doesn't always lead to a decrease in donations. Don't feel scared about trying to fundraise, even in times of uncertainty or hardship.
---
Do you find these GivingTuesday statistics to be insightful? If you're looking for more resources to get your GivingTuesday planning going, download our GivingTuesday toolkit below.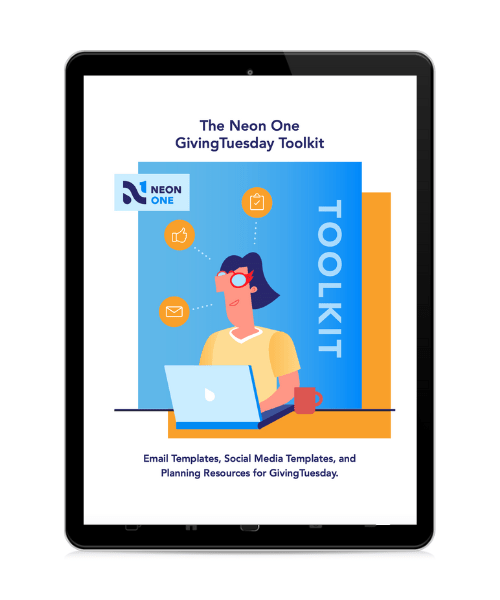 The Neon One GivingTuesday Toolkit
All the campaign resources you need in one place, including: email and social media templates, a communications timeline, planning worksheets, and more.
Join the discussion in our Slack channel on connected fundraising