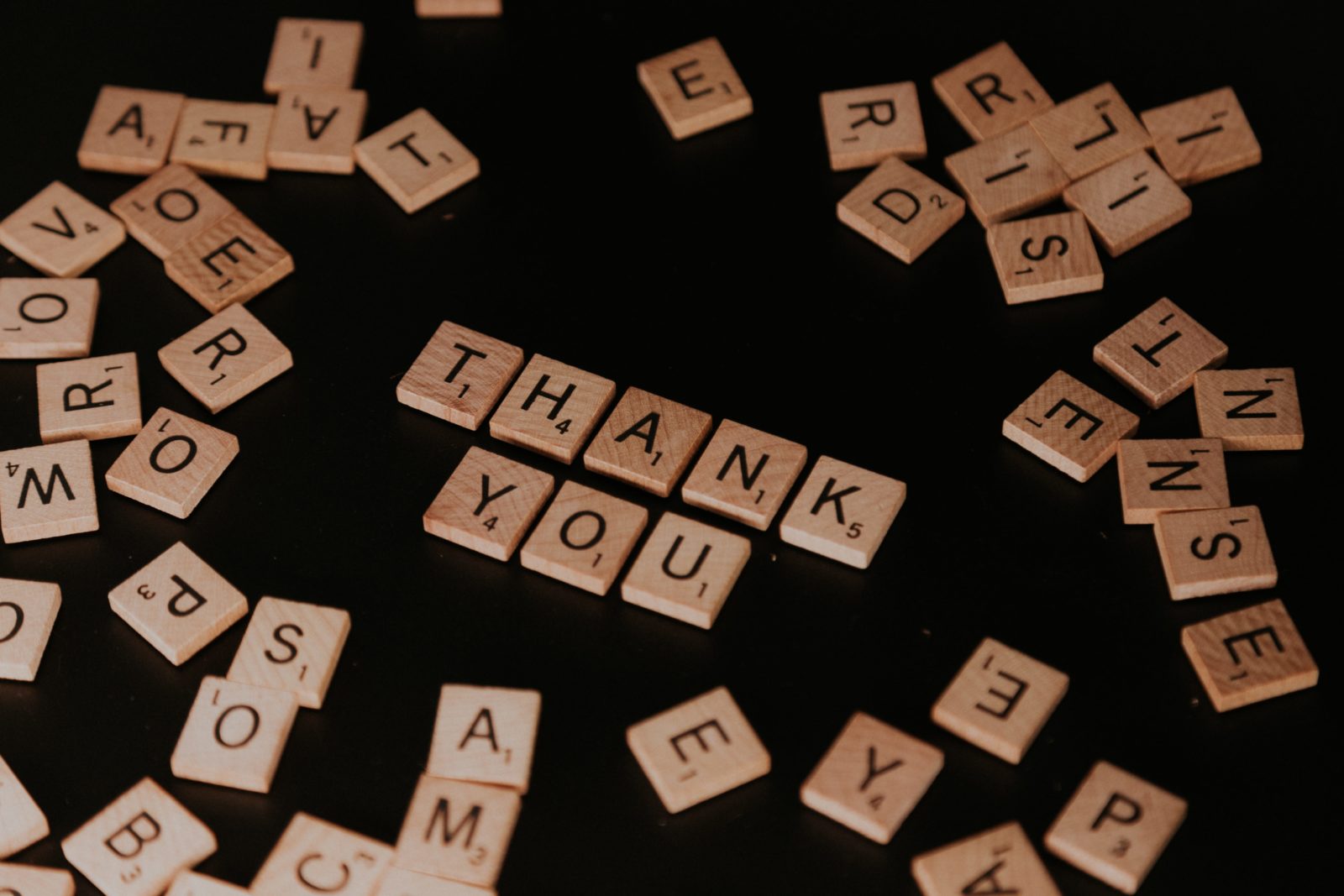 You're planning to send a GivingTuesday thank-you letter, right? Right??
We hope so! It's an important part of a good donor retention strategy.
Your GivingTuesday thank-you letter does more than simply thank your donors. Done well, this simple little letter will make your donors feel great about giving, help them understand their impact, deepen their connection to your organization and the community you serve, and set the stage for them to give again in the future.
But writing an email that will delight your donors can feel like a monumental task. Here are some tips for writing the perfect GivingTuesday thank-you letter.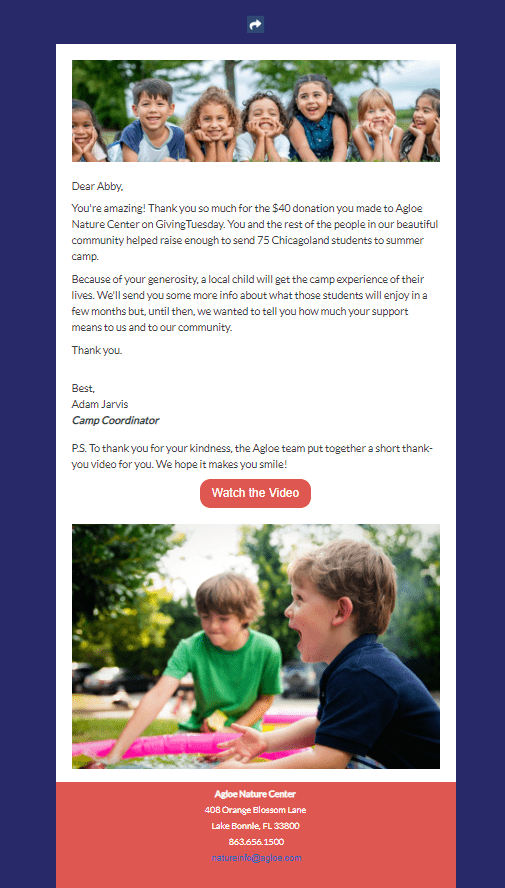 Start Your GivingTuesday Thank-You Letter With a Salutation
When your donor opens their thank-you letter—whether it's in their inbox or their mailbox—they should know immediately that the message was meant for them. That might sound a little silly, right? Why would they get a thank-you letter that wasn't meant for them?
Trust us! People love seeing their name: It's an important part of their identity, and using their name will catch their attention and make them more likely to read the rest of the letter.
To do this, use personalization tokens to address your letter to your donor by name. If you're sending this via email (which you almost certainly are), you can also add their name to your email's subject line or preview text.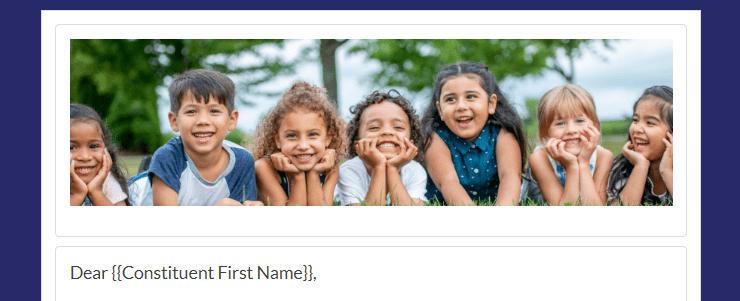 Get Specific About Your Donor's Impact
Pretend you gave your nephew $50 for a birthday gift. Which would make you happier? A thank-you note that just says "Thank you for the present?" Or a note that thanks you for your gift, tells you that he spent it on a new video game, mentions how hard and fun the game is, and includes a picture of him while he's playing the game?
You'd probably like the second one better, right? The same goes for your donors! Thanking a donor is great, but a simple "thank you" fades quickly from memory. Thanking a donor, telling them what they helped achieve, and driving the message home with a great image is even better.
Be as specific as possible! Mention their donation amount, if you can: Thanking someone for their $40 gift feels much more personal than thanking them for a nonspecific gift. You can also reference how much you raised overall and thank them for helping you get there, then talk about what specific outcomes will be possible because of your donor's support.
The more specific you can be, the better! In your letter, tie the donor's impact to your GivingTuesday appeal and the stories you used to support it.
A strong thank-you letter might say: "Thanks to your gift, local students will be able to attend summer camp."
A stronger thank-you letter might say: "Thanks to your $40 gift, 75 local students will be able to attend summer camp."
Looking for even more information? Check out this guide to writing donation thank-you letters that will blow your donors away (in a good way).
Invite Them to Connect
First things first: This is not the time to ask for another gift!
Your goal for your GivingTuesday thank-you letter should be to make donors feel great about their gift and to encourage them to stay in touch with your organization.
Give your donors another way to connect with you. This might be as simple as letting them know that you'll send them future updates about their impact. You could also:
Ask them to sign up for your newsletter
Invite them to an event, facility tour, or open house
Mention volunteer opportunities
Ask them to follow you on social media
There's a ton of room to get creative here. How can you invite your donors to connect with you?
Add a Little Something Special
Creating a great post-donation experience for your donors will make them associate your organization with good feelings and positive memories—and that's an important part of retaining them. What can you add to your GivingTuesday thank-you letter that will surprise and delight your supporters?
Here are some ideas:
Add a link to a thank-you video from your staff, board, volunteers, or other community members that celebrates your donors' generosity
Include related pictures that reiterate their impact
Try adding a handwritten note: You could write something short on a direct mail letter, or you could scan a handwritten note, save it as an image, and add it to your email
Get creative here, too! You probably donate to other nonprofits: What would you want to see in a thank-you letter? What would make you smile?
Here Are Two GivingTuesday Thank-You Letter Templates
Even with some pointers, writing a great GivingTuesday thank-you letter from scratch can be tough. These will get you started! Here are two templates—one for a receipt and initial thank-you note and one for a post-event update—you can use to jumpstart the writing process. A quick note: These image files are larger than they look! Click to open each one in its full size. You can also download a .PDF version at the link below.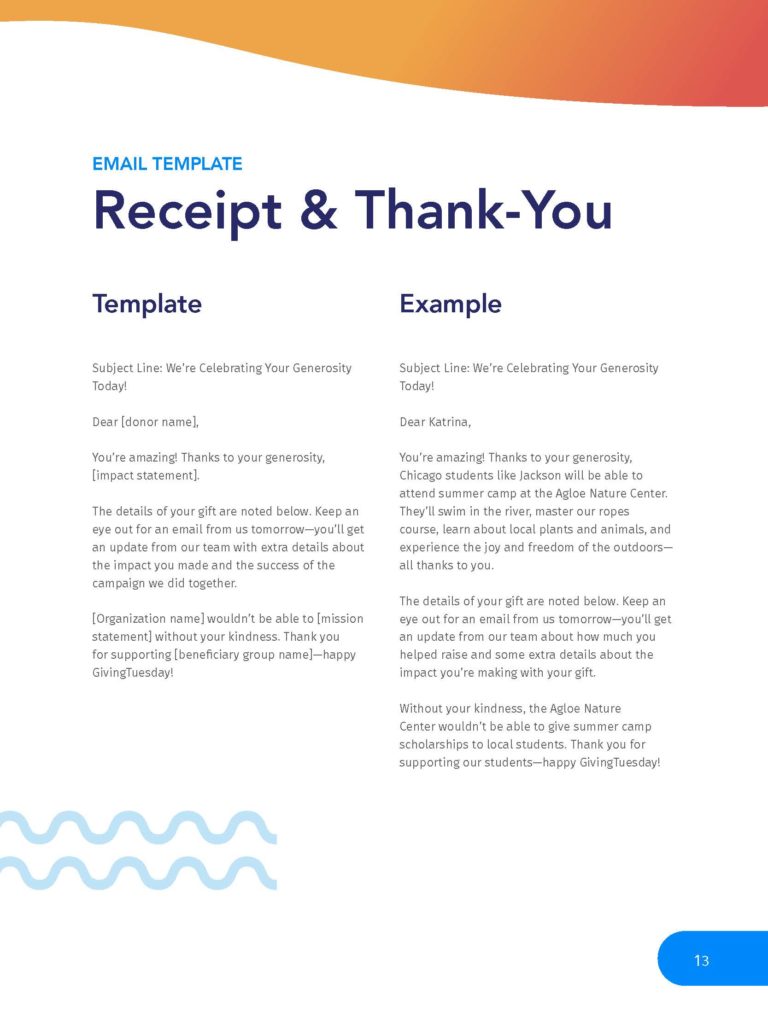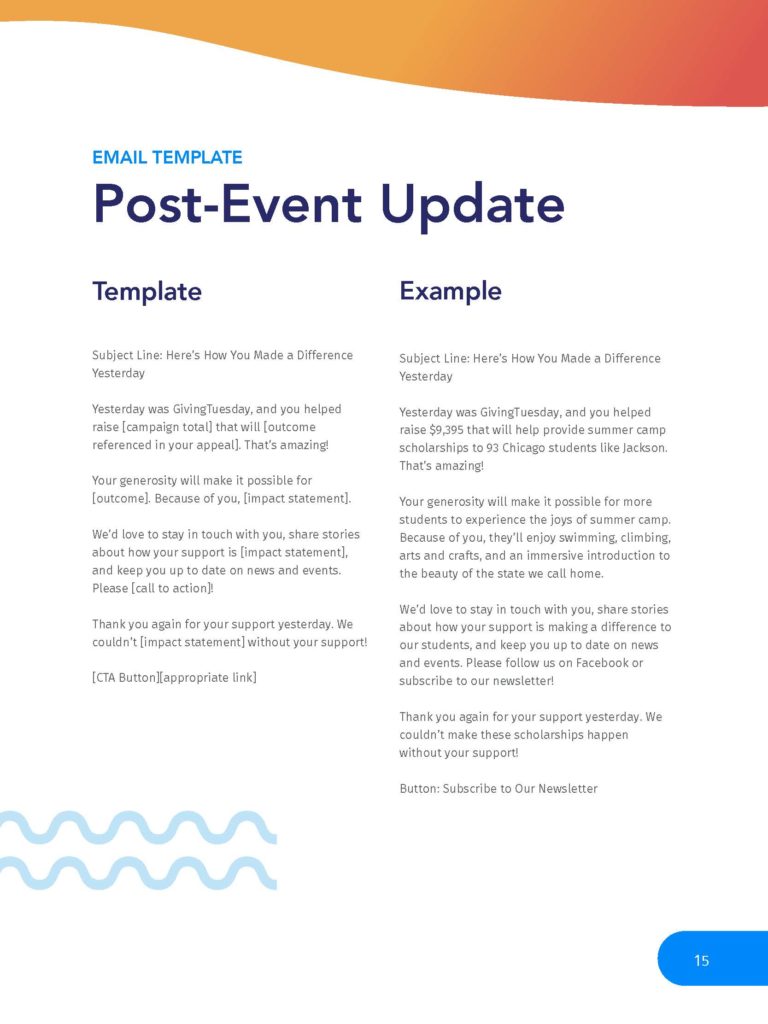 Looking for other ways to thank your donors? You could try putting together a welcome email series for new donors, or you might enjoy checking out these templates for receipts and thank-you letters.
Snag (Way) More Templates From Our GivingTuesday Toolkit
Our GivingTuesday Toolkit includes tons of email and social media templates you can use to reach your community before, during, and after GivingTuesday itself. You'll also find worksheets that will guide you through planning your campaign, communications calendar, and more. It's a great resource—grab your copy below!
Join the discussion in our Slack channel on connected fundraising