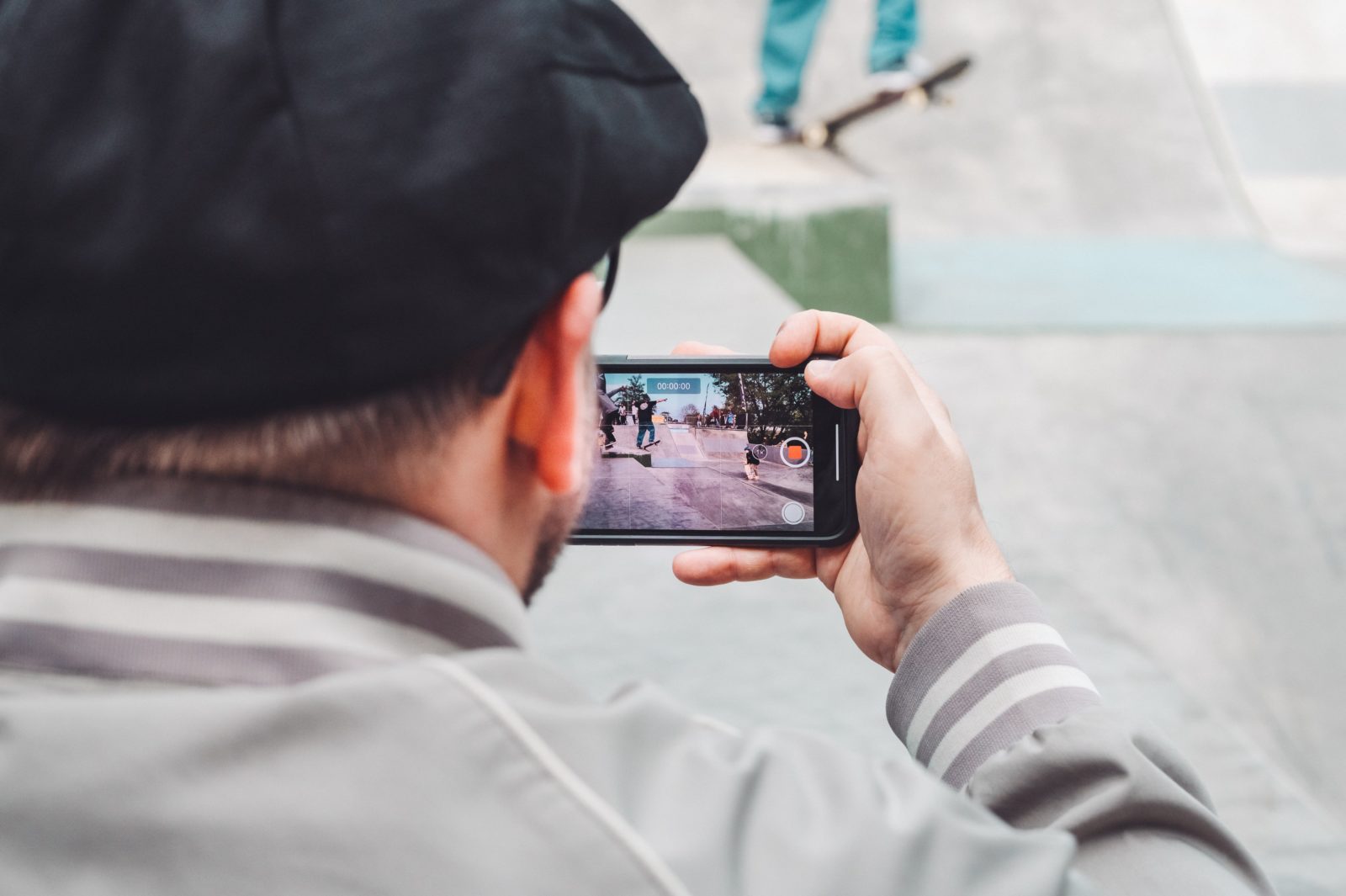 "I wish I knew what that nonprofit did with my donation. I would give again, but I don't know what they did with my money!" Have you ever heard these words spoken by a donor? What is your response if a supporter of your organization asks to see their impact?
2020 and 2021 transformed consumer and donor behavior as organizations were forced to reconsider their engagement strategies as a result of the COVID-19 pandemic. As the masses moved to digital engagement, the donor's expectation for personalization increased far more than most brands were ready for. Overnight, donors expected organizations to remember who they were, where they donated from, and why they gave.
This donor-centric shift has implications that accelerate the potential for connecting with people in meaningful ways. It's an amazing time to be a storyteller. There are more moments that matter and more ways to share those stories than ever before.
Personalized video is a powerful donor retention tool
Personalized communication is key to retaining and engaging our supporter base. Let's dive into what personalization is, why it's so important, and how we can do it for multiple donors at organizations of any size. But before we do, we're excited to announce our new certified integration with KindKatch.
KindKatch is a technology solution that empowers a brand to achieve personalized marketing and storytelling at scale. They make video communication engaging for your donors and easy for your organization. KindKatch is the industry's most powerful video communication tool, and we are bringing it to you with Neon One direct integration.
In this post, we will explain the why and how behind using video to communicate in a personal way with our donors and audience so you can retain them at higher levels, increase their average gift size, and keep them as lifelong supporters of your mission.
So what's the big deal about donor retention?
Did you know that donor retention today stands around 40% overall? It's even lower for a first-time donor—the average retention rate is approximately 19%. That means that, if you're like most nonprofits, you are likely losing 4 out of every 5 new donors you acquire.
In the most recent Fundraising Effectiveness Project data, we see that overall giving increased, small to medium-sized gifts increased, and the number of new donors increased last year. As you read on, however, you can see that donor retention rates decreased. The trend here: nonprofits are experiencing more giving but less donor retention.
You can find more data and strategies around donor retention, in this article on 7 Effective Strategies for Boosting Donor Retention. But, in the end, we know donors are being lost for an overwhelmingly recurring reason—lack of transparent communication.
Creating future budgets based on past revenues is a failing long-term strategy if we cannot engage and retain our donor base. Video can help. In a world where 250 million hours of video are consumed every day, we need to turn to this powerful tool to engage our audience. Personalized video communication that connects your donors to your mission in a personal way is a key piece to long-term retention and growth.
Is video really that dominant?
We live in a world where content marketing and storytelling are valued, but the actual practice of collecting and sharing content—especially video, and especially at scale—can be a daunting effort.
Brands that can deliver a personalized video content experience to capture attention will stand out in a donor's mind, yet many nonprofits lack an easy and affordable solution to harness the power of video.
As storytellers, it's your duty to connect people with your brand and mission through impactful moments that your work makes possible.
What separates the good from the great storytellers is the unflinching focus on the person you are communicating with. This dedicated focus shines through when you do one important thing—personalize your messaging.
When you keep your gaze on the person you are telling the story to and keep that story personal, you can win those moments and win supporters for life. This promise of personalized outreach has quickly become the status quo for retaining support, and personalized video has the power to bring moments to life.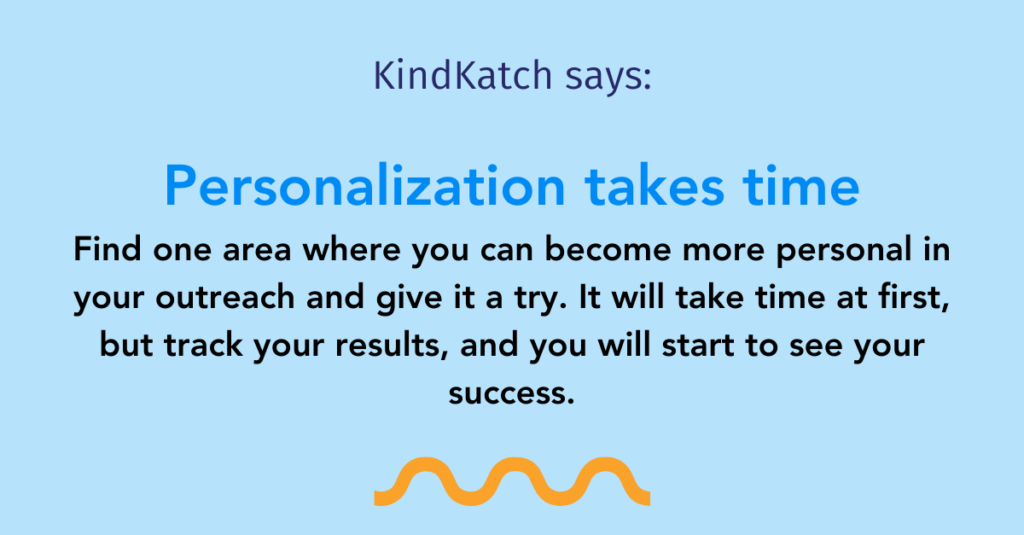 Is personalization really that important?
A highly-personalized donor experience is the primary means of driving donor loyalty and generating more financial support. Organizations today are in a battle for donor attention. You are competing against millions of other causes and campaigns around the globe, and nonprofits face a constant fight to stay relevant to their donors and get their messaging in front of the people that need to hear it.
In fact, nearly 60% of respondents in a recent survey said they'd donate up to 10% more if fundraisers could be more specific about where their money is going. Roughly 80% of donors worldwide (including 83% in the US alone) believe it is "important to know the real outcomes of their charitable donations or volunteer work with nonprofit organizations" (NPEngage). Donor loyalty is on the line. If nonprofits fail to offer their donors a personalized experience, 45% of those donors say they're likely to take their support elsewhere. (Segment)
How should I personalize communications?
It's important to get to know your donors based on their motivations and interest in your mission. This will help you communicate with them in a way that is relevant to their interests and provide personalized opportunities based on that data. You should be asking yourself, "how do I collect data about what my donors care about?"
Answering this question could be as easy as including a quick survey asking why someone gave, what they want to receive updates about, etc. Communicating in a way that's relevant to your audience includes choosing the right medium and the right message, so try collecting information about their communication preferences, too. Does the donor prefer text, email, or call? A donor who wants to text and receive updates about the wells you're digging in Africa would not be interested in emails asking for a gift to fund book programs in Australia.
You can find personalized opportunities to engage with your donors that are both action-centric on the donor side and impact-centric on the organization side. For example, you could create an updated workflow that personalized content to Donor A when they give their first gift vs. their third gift. You could also create a workflow that sends a personalized update to donors when they support a specific campaign with a goal instead of giving a general donation. On the impact-centric side, you can share stories with your donors about the difference they helped make with the funds they gave. But how do you tell these stories to your donors?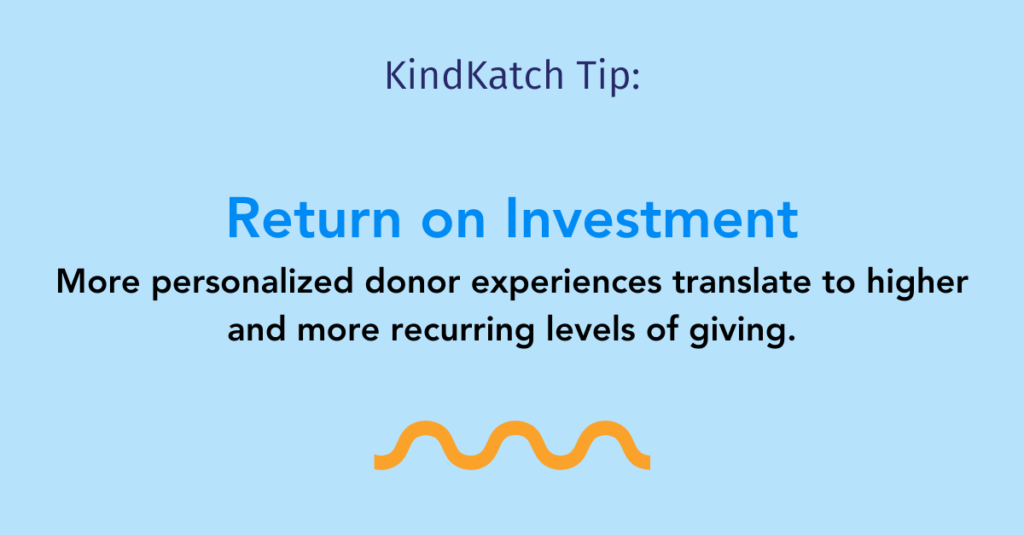 The answer is content! Content can play a huge part in storytelling and communicating donor impact. Collecting and sharing videos is a key piece of this puzzle.
Meet KindKatch
KindKatch is a technology solution that empowers nonprofits to achieve personalized marketing and storytelling to individual donors regardless of the size of their supporter base. The storytelling solution helps you collect, curate, and share personalized content in one easy-to-use mobile app or on your desktop, enabling you to capture more compelling stories via video and share them with personalized segments of your audience to drive further engagement.
For your organization specifically, KindKatch can provide a scalable ecosystem for ongoing organized content collection from a grassroots level to the top of the organization. It also provides content-sharing abilities that can deliver personalized stories directly to your donors by text and email in a matter of moments.
We knew we had to get involved, so we developed a simple and powerful integration into Neon CRM to benefit you, the community of nonprofit storytellers.
Here's how the KindKatch + Neon CRM integration works:
How do I get started?
First, a Neon CRM client obtains a KindKatch account by working with your KindKatch customer success representative. 
The KindKatch team will take you through how the solution works. 
Once your KindKatch account is set up, you will use an API key to link the direct integration between your Neon CRM and KindKatch accounts. 
What does the integration do?
Neon CRM remains your home base for contact information. KindKatch is the tool that connects to your Neon CRM account to automatically sync your data to their platform. This will help you quickly and seamlessly engage supporters (on a one-to-one or one-to-many basis) using the most real-time information.
After you log into KindKatch, you will notice an "Audience" tab on the dashboard. Once you complete the initial Neon One sync using the API key, your contacts will be "locked" in KindKatch to avoid double editing.
As you add and update contacts in Neon CRM, those changes will sync to your KindKatch portal for engagement.
You will continue to manage your database contacts inside your Neon CRM with confidence along the way that all of your Neon CRM contact data will flow automatically to KindKatch. You will not need to manage contacts in multiple databases.
Conclusion
Donors now expect highly-personalized communications from the nonprofits they support. Sending them communications that speak to their interests and motivations is a critical part of retaining donors, building relationships with them, and inspiring them to continue their support of your nonprofit. Since video is one of the most popular and widely-consumed communication channels, sending personalized videos to donors and other supporters is an important tactic for any fundraiser looking to boost their donor retention rates, raise more money, and engage their supporters.
KindKatch can help! Nonprofits can use their tools to collect, curate, and create videos that speak to their individual donors' motivations and interests. Now, Neon CRM's integration with KindKatch makes it easier than ever to identify what stories your donors want to hear and share videos where they'll make the biggest impact.
Interested in learning more about our integration with KindKatch? We'd love to talk to you about your nonprofit's needs, your communication goals, and how you can use Neon CRM and KindKatch to engage your supporters. Click here to get started!
Join the discussion in our Slack channel on connected fundraising