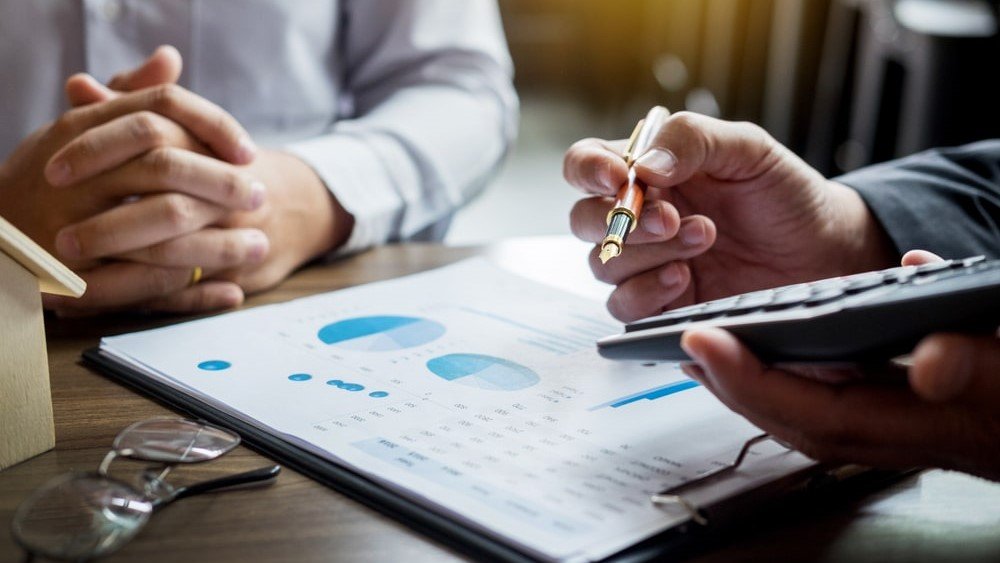 Nonprofit leaders have to weigh a lot of different factors when they're looking for a CRM for their organization. A lot of options are specifically designed for the commercial sector—and they're priced accordingly. They may also come with a lot of features that don't work for you. At Neon One, our nonprofit CRM pricing and the platform itself are designed specifically with organizations like yours in mind.
Neon CRM's Revenue-Based Billing Model
Many CRM providers bill based on the number of donor accounts or records you need to manage. However, the number of records you have in your database doesn't necessarily correlate to the amount of revenue you earn. Many nonprofits find they need to grow and manage a base of potential donors that's larger than their actual supporter base. Others may need to use their CRM to track and manage other types of constituents that aren't really tied to revenue, like clients or volunteers. When you're locked into a record-based billing model, you may find that the system becomes unaffordable as you grow.
Neon CRM takes a different approach: We bill based on your overall revenue, not on the number of accounts or records in your database. That means that your platform cost follows your fiscal growth rather than your database size, so you can easily scale as needed. You can build your email lists, track potential donors, manage volunteers, and more without worrying about accidentally going over your allotted number of records.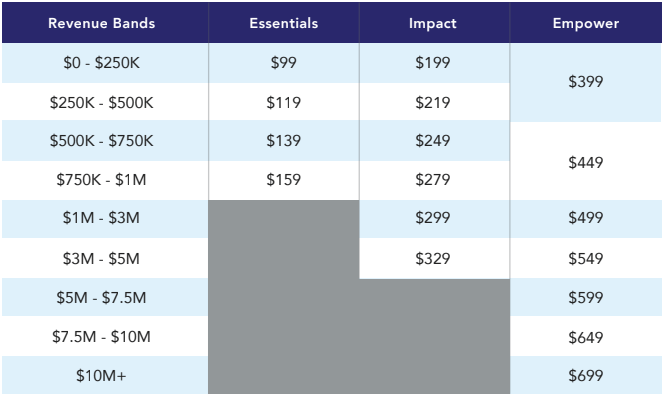 We offer three tiers of service, but all of them come with unlimited records, users, emails, forms, reports, and fundraising campaigns.
Unlimited Offerings
| Records | Users | Emails | Reports | Fundraising Campaigns |
| --- | --- | --- | --- | --- |
| Track all your supporters, potential donors, volunteers, and contacts in one user-friendly system. | Ensure everyone in your organization has access to the records and reporting they need. | Keep in contact with your constituents with effective, personalized email campaigns. | Get the insight you need to make decisions about the future of your organization. | Create high-impact, effective campaigns that inspire donations and support. |
Neon CRM's Three Pricing Tiers
Neon One offers three pricing tiers based on your organization's total revenue. These tiers make it easy to upgrade as you grow while keeping our nonprofit CRM pricing predictable and affordable.
Essentials
Impact
Empower
For organizations with total revenue of $1M and under
For organizations with total revenue of $5M and under
For organizations with revenue over $5M
Starts at: $99 per Month

Our Essentials package provides all the basic tools that a growing organization needs to manage its database and fundraising.

Specific features include:

Donor management

Grant management

Peer-to-peer fundraising

Activity tracking and prospecting

One active workflow
Starts at: $199 per Month

Our Impact package takes your program to the next level with operations automation tools, volunteer and events management, and additional integrations.

Top features include:

QuickBooks integration

Volunteer management

Events management

Open API

15 active workflows
Starts at: $399 per Month

Empower—our most comprehensive package— does just that. You receive access to our full range of premium support services so you can be empowered to operate and get the most out of your CRM.

Empower clients enjoy:

Priority support

Radius Search

Monthly consultations

Unlimited active workflows
All Plans Include
Contact management

Task management

Household & relationship tracking

Constituent login portal

Automated receipting

Letter creation

File storage

Peer-to-peer fundraising
Tributes

Surveys

Custom SSL

Pre-built and custom reports

Customizable queries

Executive financial reports

Moves management
Email and marketing automation

Grant tracking

Daily back-ups

Unlimited email customer support

Neon One Academy access
Assistance in Implementing Your New Nonprofit CRM
Very few organizations come to us with no existing records. Often, new users have been using a wide range of databases, spreadsheets, and other manual methods that don't give them a single unified picture of their data. Formatting can also vary across different documents and platforms, which can make it challenging to combine different types of information and import it into your new database.
You don't have to do it alone! We work with your organization to bring all that information into your CRM, then clean it up by merging duplicate records and streamlining data. To support organizations of all sizes, we offer four different Implementation and Data Migration Packages: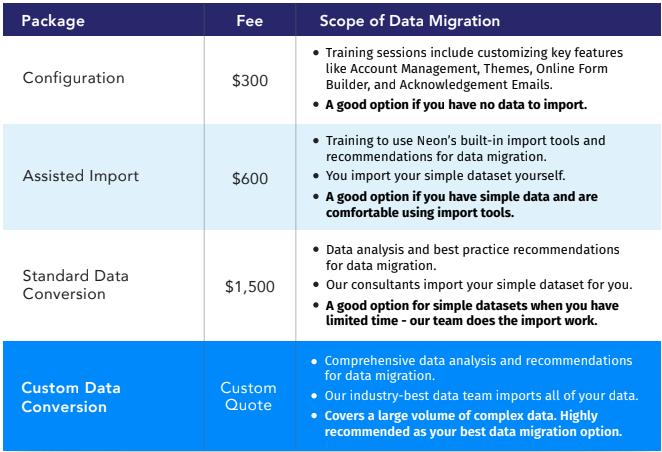 Training and Support
Teaching your people how to use Neon CRM is the best way to make the most of your system. After all, it's the people on your fundraising, operations, and marketing teams that know the tools and features that would be the most useful to them. Our support empowers them to confidently work with Neon CRM.
All Neon CRM Implementation and Data Migration packages come with a two-week, four-course orientation period. During that time, you'll learn about system features including account management, themes, online forms, acknowledgment emails, and data exports. Some clients choose to add additional support and ticketing services, while some options come standard with higher-tier packages.
Essentials
Impact
Empower
Unlimited Ticketing Support

All members of your organization can submit an unlimited number of support tickets to our team via email
Included
Included
Included
Live Chat & Phone Support

You'll receive up to two hours per month of live chat and telephone support for rapid resolutions.
$50 per month
$50 per month
Included
Monthly Consultations

Gain access to expert guidance with 60 minutes worth of screen-sharing training per month.
$100 per month
$100 per month
Included
Extended Training & Consulting

Maximize your skills and knowledge with in-depth assistance from a Professional Service Consultant who can guide you on topics like events management, reporting, integrations, and more.
$150 per hour
$150 per hour
$150 per hour
Ready To Get Started?
Your nonprofit CRM pricing should be able to grow with you, not penalize you for growth. That's why Neon One has developed a platform and billing model with scalability and growth in mind. To make sure you get the absolute most out of your investment, we also take an active role in training your team on its use while streamlining your existing data. With a CRM that can improve your donor relationships and make operations more efficient, you can rest assured you're making the responsible decision to support your organization.
Neon One's nonprofit CRM pricing offers the transparency and scalability you need and the features that will help deepen your relationships. To see how it works, request a demo today!
Join the discussion in our Slack channel on connected fundraising