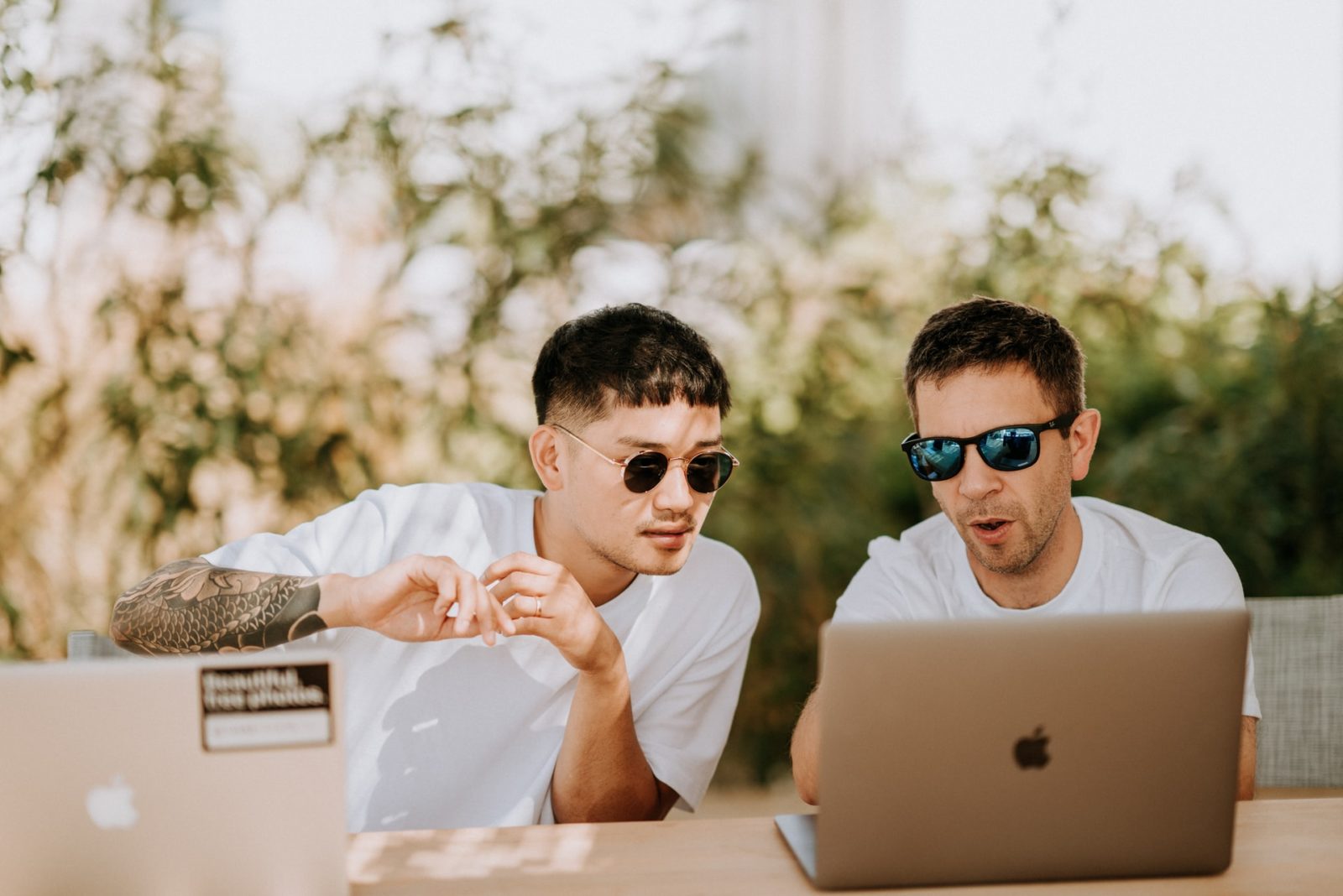 You may have heard the terms "nonprofit crowdfunding" and "peer-to-peer fundraising" thrown around as techniques for reaching a broad group of potential donors. While many people use the terms interchangeably, they are actually two separate fundraising techniques. Both crowdfunding and peer-to-peer fundraising have some similarities, but there are a few important differences you'll want to consider as you decide which is best for your nonprofit.
These campaigns usually run in addition to your annual campaign, and choosing the right strategy will be an important part of your fundraiser's success. Let's take a look at the differences between crowdfunding and peer-to-peer fundraising.
What is Nonprofit Crowdfunding?
Crowdfunding is a fundraising technique that can be used by both individuals and nonprofits. It makes use of social networks and social sharing and brings communities of people together around a single cause. Some common examples of crowdfunding you may already have encountered include:
Kickstarter campaigns where someone raises money to fund a new product, business, or project
GoFundMe campaigns where someone raises money to pay for medical bills or other major expenses
Independent campaigns, like grass-roots fundraisers where money is collected by Venmo, CashApp, or other payment apps
Nonprofit crowdfunding, like other crowdfunding types, often involves raising money through many smaller transactions. Crowdfunding usually works best when it's used to raise money for specific expenses—like a new product or a medical bill. Similarly, nonprofit crowdfunding is most effective when raising money for a very specific program or project.
How Individuals Use Crowdfunding
In our example, Lee needs to raise money to pay for his wife's medical expenses. He sets up a crowdfunding campaign using a platform like GoFundMe. His campaign must have an end date and a financial goal, and Lee is required to write a description of why he's raising money and how he'll use it. He can also add photos and videos to support his appeal for help.
Once his campaign is built, Lee shares his fundraising page on social media sites like Facebook and Twitter. He may also send emails to his friends and family members.
These messages all contain a link to Lee's crowdfunding campaign. His friends and family members can then donate to his crowdfunding campaign, leave messages of support, and share the campaign with their own networks.
Throughout the campaign's duration, Lee can post updates, photos, and videos to keep campaign supporters up to date. He may choose to share how his wife is feeling, how much they've raised, and what his family will do with the money people have given.
Once the campaign is over, Lee sends thank-you emails and letters to let everyone know how much he and his wife appreciate their donations.
How A Nonprofit Uses Crowdfunding
Like Lee's individual campaign, nonprofit crowdfunding campaigns are typically tied to a tangible event or project. In our example, The Agloe Community Center needs to raise money to build a new gymnasium in their community.
They'll set up their own crowdfunding page and include information about the project. Depending on the fundraising platform they use, the fundraising team may choose to create a donation form dedicated to the campaign, or they may opt for a traditional crowdfunding platform like GoFundMe instead. Either way, the team decides to use a campaign thermometer to help track their progress toward their fundraising goal. They'll also upload photos and videos to support their appeal. Pictures may include renderings of the new gym, construction updates, and stories and photos of individuals who will benefit from the project.
Then, the Community Center will share their campaign across their social media profiles and on their website. They'll also send emails to their current donors and prospects asking for support. As people donate, their fundraising thermometer fills up, demonstrating how close they are to their goal.
During the crowdfunding campaign, the team at the Agloe Community Center sends receipts and thank-you notes to their supporters. They also provide updates as they move closer to their goal, and they alternate between thanking those who have already donated and inviting others to get involved. Once the campaign is over, they'll acknowledge all of its supporters with personalized thank-you letters and send occasional updates about the new gym's construction.
A Typical Nonprofit Crowdfunding Campaign
Nonprofit crowdfunding campaigns usually work like this:
The organization sets their fundraising goal, defines how long they'll raise money, and creates a dedicated donation form to support their campaign
Organizers share their donation form with their audiences, usually through social media or email
Donors may choose to share the crowdfunding campaign with their own networks if they're especially passionate about the cause
The campaign closes once the organization reaches the end of their fundraising period
Here's an example of a nonprofit crowdfunding campaign: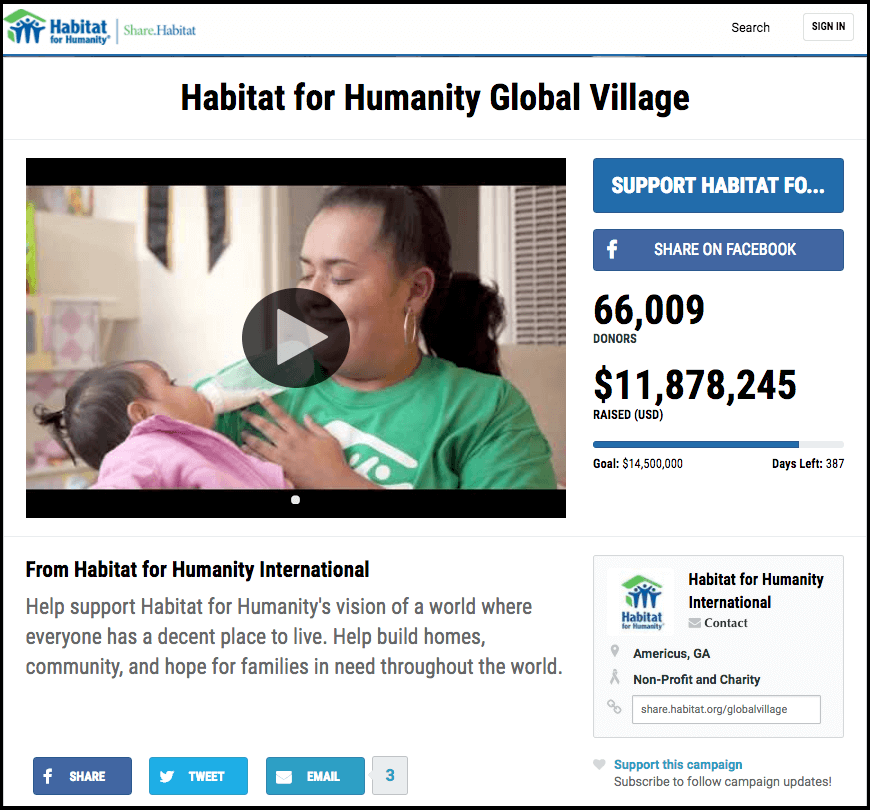 This campaign from Habitat for Humanity Global Village is an outstanding example of a nonprofit crowdfunding campaign. They do a great job of including visuals and a detailed description to encourage people to support their cause. The campaign is raising money for a specific project—building homes—and has a definitive fundraising goal. The crowdfunding page includes large social sharing buttons and a fundraising thermometer, both of which make it easy for donors to track their progress and encourage others to support the cause.
What is Peer-to-Peer Fundraising?
Peer-to-peer fundraising, sometimes referred to as social fundraising, is a technique only used by nonprofits. Organizations enlist the help of loyal supporters who fundraise on the nonprofit's behalf. Whereas crowdfunding campaigns involve a single entity asking a large audience for support, peer-to-peer fundraisers involve many individuals asking their own networks for donations.
Usually, the organizing nonprofit will create a campaign site that includes individual pages for each participating fundraiser. Participants can update their page with personal stories, images, and appeals before sharing it with their networks.
Peer-to-peer fundraising is versatile and can support a number of different campaign styles. They're often tied to an event, like a walkathon or marathon: Participants raise money before participating in a 5k or other event. Other campaigns are entirely virtual and don't involve any activity at all. Some nonprofits have even used peer-to-peer fundraising tools to encourage board members to raise money using their own fundraising pages.
A Typical Peer-to-Peer Fundraising Campaign
What are the usual steps for planning a peer-to-peer fundraising campaign?
A nonprofit chooses a peer-to-peer platform, sets their overall fundraising goal (plus a goal for individuals and teams) and creates an event page
The organization reaches out to engaged supporters to see if they'd be interested in participating
Interested supporters create their own individual fundraising page using a template included in the main event page
Participants share their pages and ask for donations from their friends and family members, who give on that person's unique page
Each participant's individual progress is tracked in a personal fundraising thermometer, and the collective total raised by all participants is displayed on an event-wide fundraising thermometer
Once they've reached their deadline or goal, the nonprofit may host a culminating event (usually an active one) and thank their supporters and donors
Here's an example of what a peer-to-peer donation form might look like.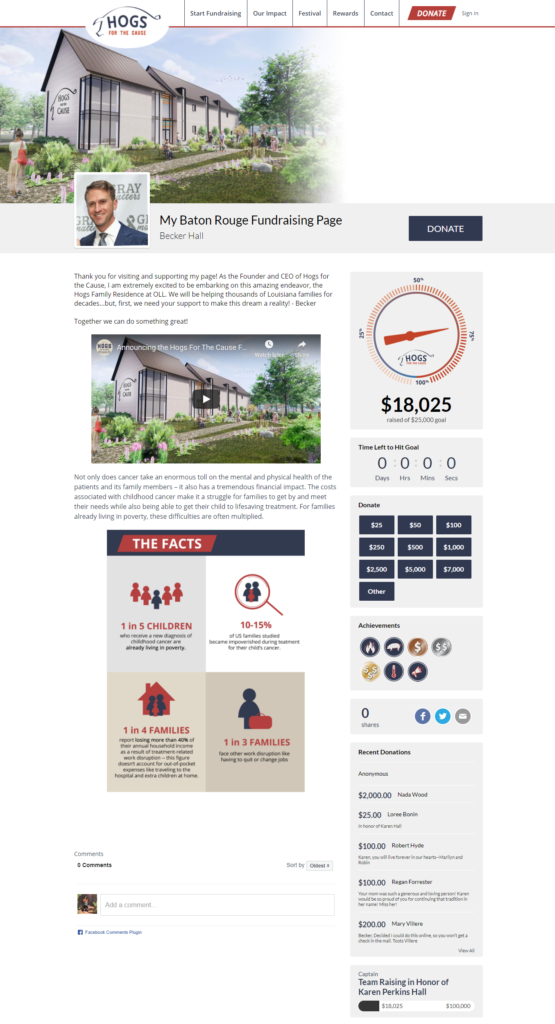 As you can see in the example, this personal fundraising page belongs to an individual participant, not the organization as a whole. The form is short and concise, and it includes a personal message from the supporting fundraising. The page also includes a fundraising progress bar that shows donors how much that person has raised so far.
Nonprofit Crowdfunding vs. Peer-to-Peer Fundraising
Here's a side-by-side comparison of these two fundraising strategies.
Nonprofit Crowdfunding
Set fundraising goal
Typically time-bound
One fundraising entity
Organizer sends appeals to large audiences of potential supporters
Progress tracked with thermometers
Often relies on donors sharing the organization's campaign
Not usually tied to a culminating event
Peer-to-Peer Fundraising
Set fundraising goal
Typically time-bound
Multiple individual fundraisers
Individuals send appeals to their own personal networks
Progress tracked with thermometers
Relies on individual fundraisers sharing the overall event
Often tied to a culminating event
Both fundraising strategies can be very successful for nonprofits! But how do you decide whether a crowdfunding campaign or a peer-to-peer fundraiser is the best fit for you?
When to Run a Nonprofit Crowdfunding Campaign
A crowdfunding campaign may be a good strategy if you:
Need to raise money for a specific expense
Don't yet have a group of highly-engaged supporters who will raise money for you
Want to avoid managing multiple individual fundraisers
This is an exceptionally useful strategy, especially for nonprofits with small fundraising teams.
When to Run a Peer-to-Peer Fundraising Campaign
A peer-to-peer fundraiser may be a good fit if you:
Have a base of highly-engaged supporters who will raise money for you
Are able to dedicate staff time to supporting your participating fundraisers
Have access to a fundraising platform that can accommodate your campaign
Want to expand your donor base by empowering existing supporters to share your message with their networks
Peer-to-peer fundraisers require more time and resources than crowdfunding campaigns, but they're valuable opportunities to build relationships with your supporters and reach new ones.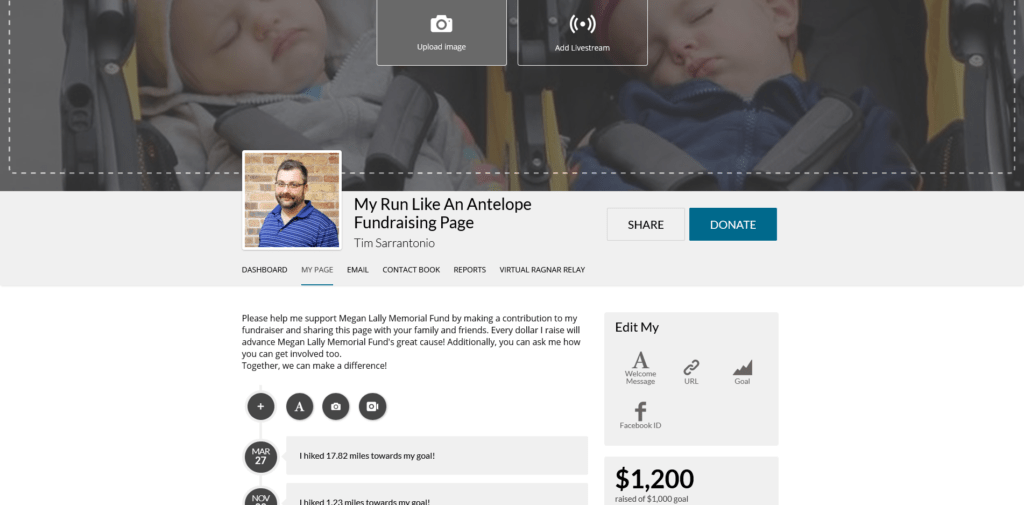 Nonprofit Crowdfunding and Peer-to-Peer Fundraising Are Both Great Options
If your nonprofit is looking to host an exciting fundraising campaign that runs alongside your annual campaign, you may want to launch a nonprofit crowdfunding campaign or a peer-to-peer fundraising campaign.
Crowdfunding involves a single entity (your organization) raising money to reach a fundraising goal. That goal is usually reached by recruiting many donors to give relatively small amounts. If donors are exceptionally invested in your campaign, they may choose to share your crowdfunding page with their friends and family. Your progress is tracked with a fundraising thermometer, and donations usually stop once you've reached the end of a predetermined fundraising period.
Peer-to-peer fundraising involves your nonprofit recruiting and organizing multiple individual fundraisers. You'll create a fundraising goal for your overall campaign, but you'll also create fundraising goals for individual participants. Your supporters will personalize their own fundraising pages, which they'll share with their friends and families. Progress is tracked both on an individual level and on an event-wide level, and donations often stop once you've reached the end of a predetermined fundraising period. Since this fundraising method is relatively versatile, you may choose to use it to build excitement around a culminating event or to support long-term campaigns like board fundraisers.
Use Neon One for Both Nonprofit Crowdfunding and Peer-to-Peer Fundraising
Both of these fundraising methods can help you raise money for important projects or programs, and both give you the opportunity to reach new donors. With the right tools, you and your nonprofit can effectively raise more money and grow your community of supporters. Whether you need a straightforward crowdfunding page (complete with thermometer and social sharing buttons) or a solid peer-to-peer fundraising campaign, we've got you covered. Contact us to share your idea and learn more about the tools you can use to succeed.
Join the discussion in our Slack channel on connected fundraising