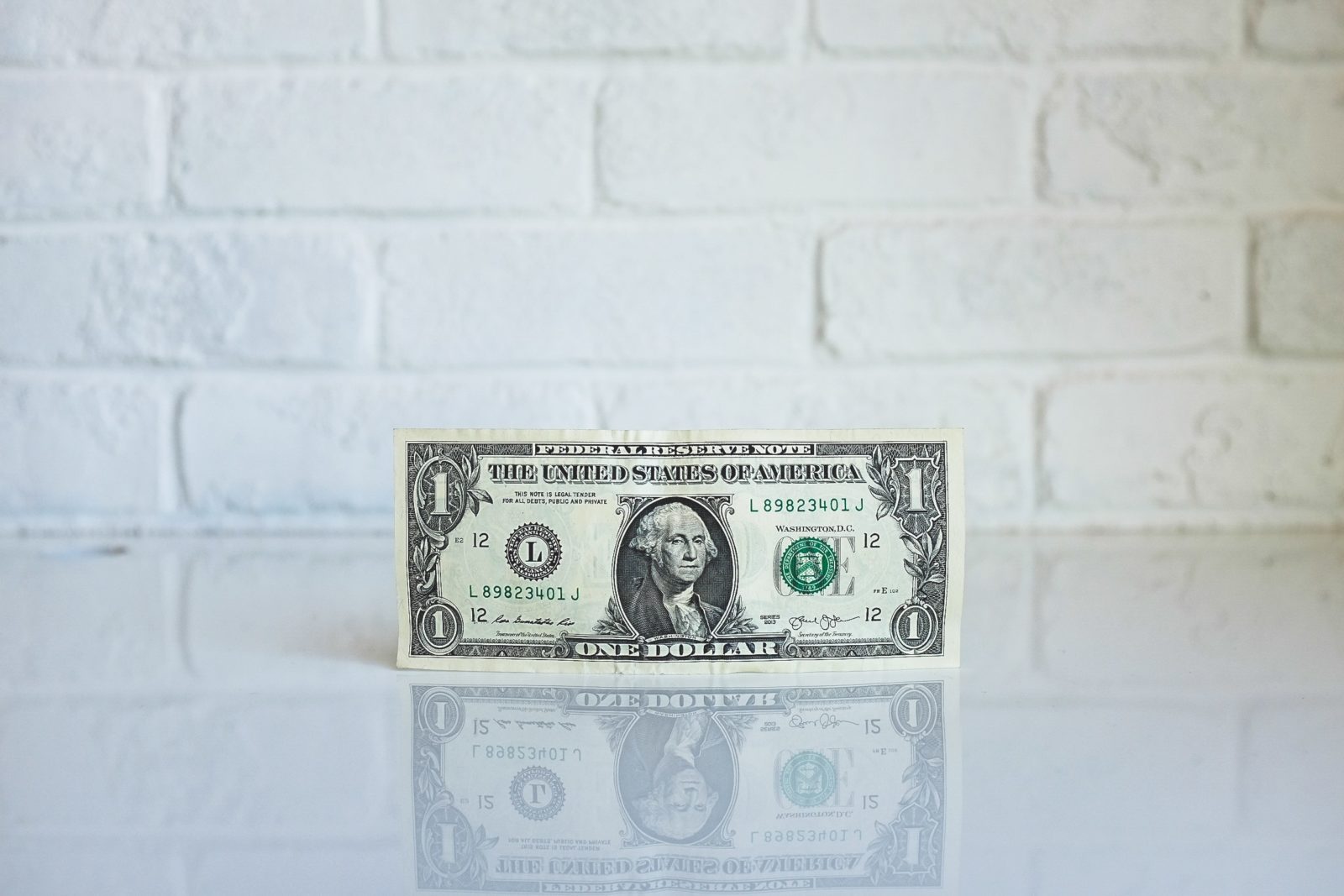 It can be tempting to focus all your nonprofit's resources on finding major donors that can help fund a huge chunk of your expenses. But it's also important to spend time finding, maintaining, and optimizing your fundraising strategy for small donations.
This is important for two reasons. Small-dollar donors help to diversify nonprofits' donor bases and lower the risk of losing revenue in times of crisis. Small donors are often easier to retain, which is more cost-effective than constantly acquiring new ones.
In this article, you'll learn strategies for acquiring small donors and for retaining the donors you already have.
The Benefits of Small Donations
Are small donations really valuable? Let's take a look.
Accepting Small Donations Broadens Your Donor Base
Almost everyone has $5. Across socioeconomic classes, a majority of Americans have $5 they can spare to donate. You just have to convince them that $5 to your nonprofit is a better use of the money. By accepting small donations, your nonprofit allows anyone to act on their generosity, no matter their income level.
An individual nonprofit that is funded primarily by small-dollar donations can focus more on mission-centered decision making instead of catering to large donors. You'll have more freedom to make operational decisions that you feel to be in the best interest of your beneficiaries instead of focusing on keeping major donors happy or fulfilling the legal obligations associated with grants.
Additionally, having a diverse donor base is incredibly helpful in order to help improve the inclusivity and accessibility of your nonprofit's programming. Having a constituency of people of all different backgrounds, ages, and economic circumstances can help you learn how to successfully reach demographic groups with whom you may not have a lot of experience. It can also help you get insightful feedback about how your programming and services could better serve and accommodate diverse populations.
Small Donations Make Your Nonprofit More Sustainable
Along with the ability to make mission-focused decisions, emphasizing small-dollar donations will make your fundraising strategy more diverse. You'll be less restricted with what to do with your revenue, but you also won't have to worry about losing a big chunk of revenue at once.
If your nonprofit's revenue is solely reliant on the success of an event or on the wealth and loyalty of a few major donors, you could end up losing a big chunk of money during unforeseen circumstances. If you lose a big major donor, or if they take a year off, you may have to make some tough operational choices that could require you to cut programming or staff.
Take the coronavirus pandemic, for example. Many nonprofits had to cancel their events in response to the pandemic, or they had to make their events virtual. This had a negative effect on events as a source of revenue for some nonprofits. The same happened to many organizations that relied on gifts from major corporate donors. In a recession or period of uncertainty like the pandemic, a corporate donor at risk of losing money will probably end up scaling back on their donations.
On the other hand, data shows that small donors are the ones who show up for causes the most in times of crisis. In 2020, giving significantly increased at all amounts. Smaller gifts led the way, growing by 15.3% compared to 2019. Larger gifts ($1,000 or more) only increased by 10.4%.
Although both small donors and major individual donors tend to give more during a crisis, major gifts aren't guaranteed. An individual major donor may change their mind at any time about the causes and nonprofits they support. If a nonprofit relies heavily on a major gift from a handful of donors and one of those donors decides to give elsewhere, that can be devastating.
During the pandemic, 40% of donors reported being negatively financially impacted, but they still increased their philanthropic support by giving larger donations to more nonprofits. This proves how valuable a coalition of small dollar donors can be during times of crisis.
Small Donors Will Help Improve Your Donor Retention Rates
GivingTuesday's data commons research uncovered promising information about retention rates of donors who give $1-100 gifts.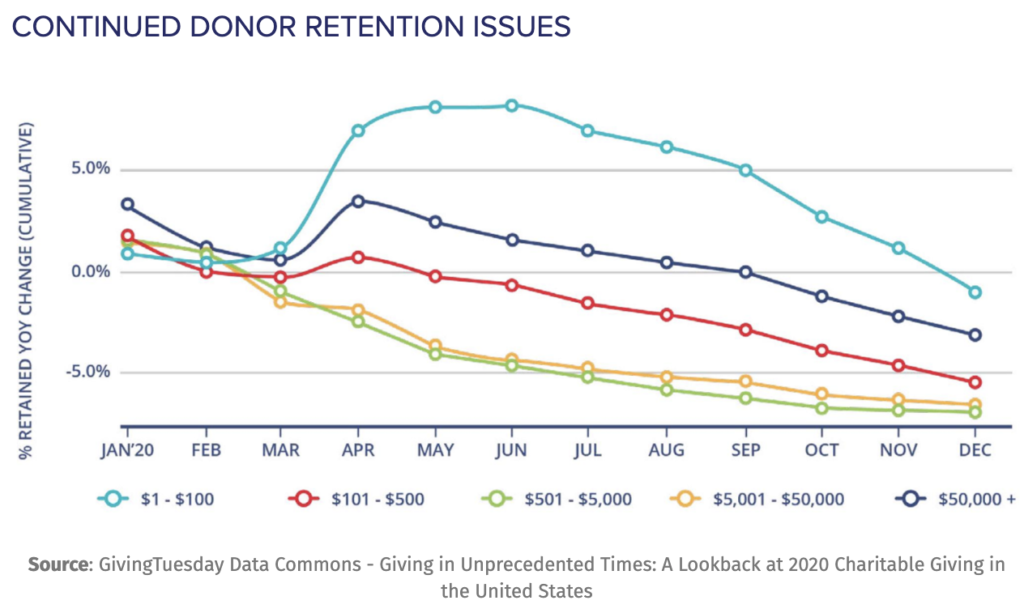 Throughout 2020, donors who gave $1-100 showed the fastest-growing donor retention rates.
You can see in the graph above that, although donors who gave over $500 have been better retained in the past, their retention rate has not changed much year over year. Meanwhile, retention rates for the two lowest levels—$1-100 and $101-500—showed the most growth.
How Does This Benefit Your Nonprofit?
It's more cost-effective to retain donors than it is to constantly acquire new ones. Building a base of small donors and keeping them engaged with your organization will save you time and money. Small-dollar donors are easier to retain than other groups of donors. That means that their donor lifetime value may be greater than a one-time donor who gives a little more.
Although your $1-100 a year donors may not ever have the resources to give you major gift-level money, steward them well! They have the potential to be monthly givers who can break a larger gift total into smaller monthly pieces.
Here's an example: Abby is a $20 donor. She gives $20 twice a year. Dave is a $100 donor, but he only gives once before he stops supporting your nonprofit. Over 5 years, Abby will have given $200 while Dave will only have made his initial $100 donation.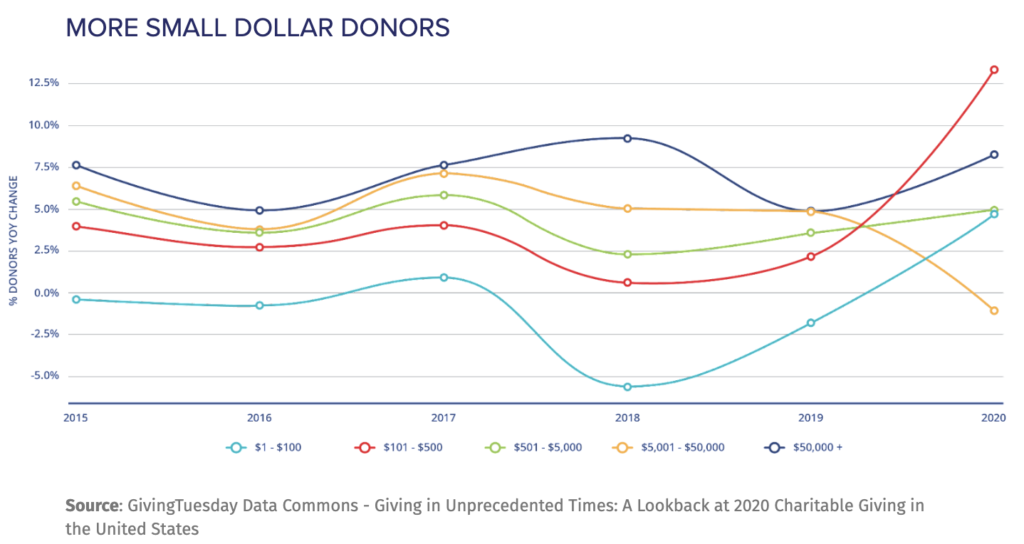 How to Connect with Small Donors
Now that you understand the power of small donations, here are some ways your nonprofit can connect with smaller donors.
Optimize Donation Forms for Small Donations
Try including pre-suggested dollar amounts to your donation forms. Not only does it cut the time and mental energy it takes to fill out your donation form, but it communicates to prospective donors that they can make an impact no matter how big or small their donation is. 
This is an opportunity to get creative. You can tailor the amounts to the exact cost it takes to offer specific products or services. Share exactly why each suggested amount means something to your organization. This helps donors understand their potential impact right away.
One example of specifically tailored donation amounts comes from I Support The Girls. Donors can see exactly what their gift will do if they choose to give. In this case, if a donor wants to give a smaller donation than the amounts listed, they may choose to give $12 to cover the cost of 3 periods instead of 7.  
By including suggested donation amounts and impact statements, potential donors can imagine the exact impact of their donation. This helps donors visualize what their gift will achieve, which makes donors feel more satisfied and confident in their donation to you.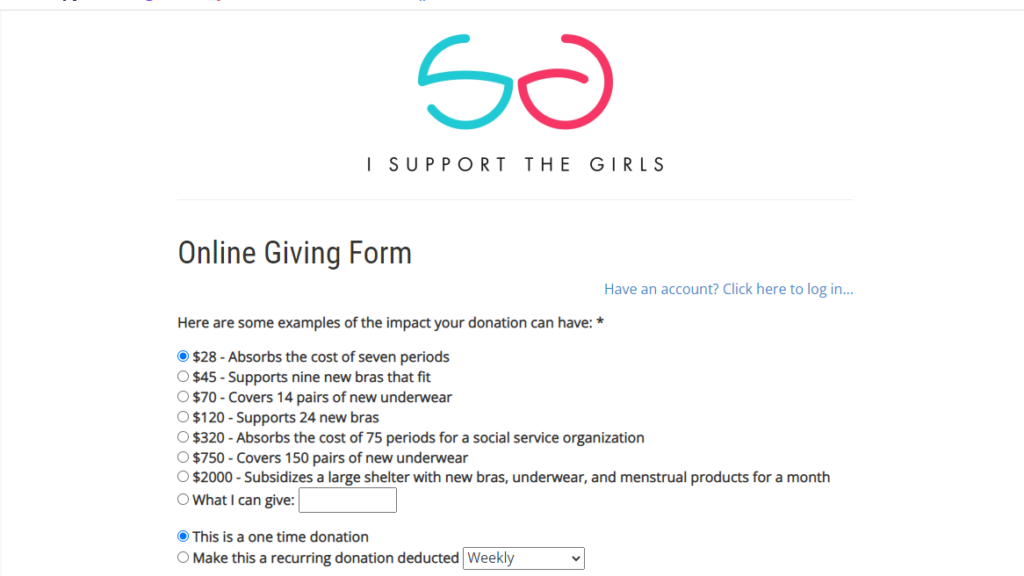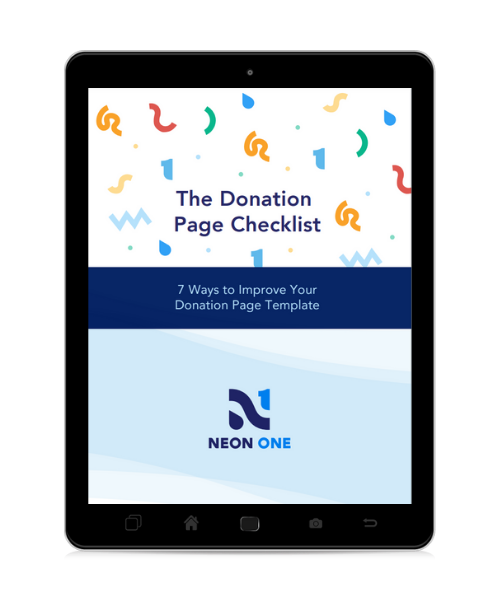 Donation Pages Checklist
Check out this checklist for more ways to optimize your donation pages.
Include Non-Financial Donation Opportunities in Donation Receipts
When thanking donors in your receipts, be sure to mention non-monetary ways donors can get more involved with your organization. Try including volunteering opportunities and references to any in-kind donations your organization may need. This helps show donors that your organization values non-monetary contributions.
Learn How To Set Up Automated Receipts Here
Personalize Your Appeals for Small Donors
One way to captivate small donors in your appeals is to tie giving levels to an everyday expense. For instance, an appeal could mention that the cost of a $5 cup of coffee could go towards funding the arts.
Another tactic is to help donors imagine working with other small-dollar donors to make a difference. Let's say a donor is told, "If just 5 people gave up one morning coffee a month, we can provide one student with all the school supplies they need for the year." The potential supporter who only has $5 to give will be able to see how their gift adds up and makes an impact, especially when made alongside their other small-dollar donors.
In Neon CRM, it's very easy to segment small donors and send them unique communications. 
Small-Dollar Donors Are Worth It
Investing in small-dollar donors helps reduce your dependence on major donors, diversify your fundraising strategy, and widen your base of supporters.
To recruit and retain small-dollar donors, optimize your donation forms and tailor your appeals and donation receipts to welcome small donations and show how they make an impact.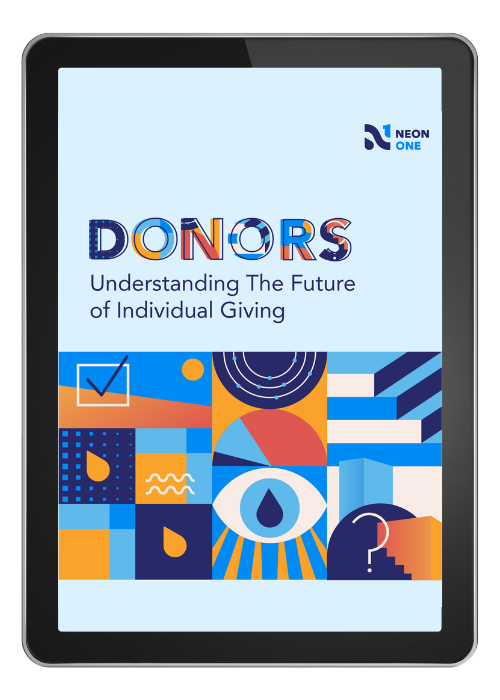 Donors: Understanding The Future of Individual Giving
For more insights on how impactful individual donors can be for nonprofits, download a copy of our donor report.
Join the discussion in our Slack channel on connected fundraising