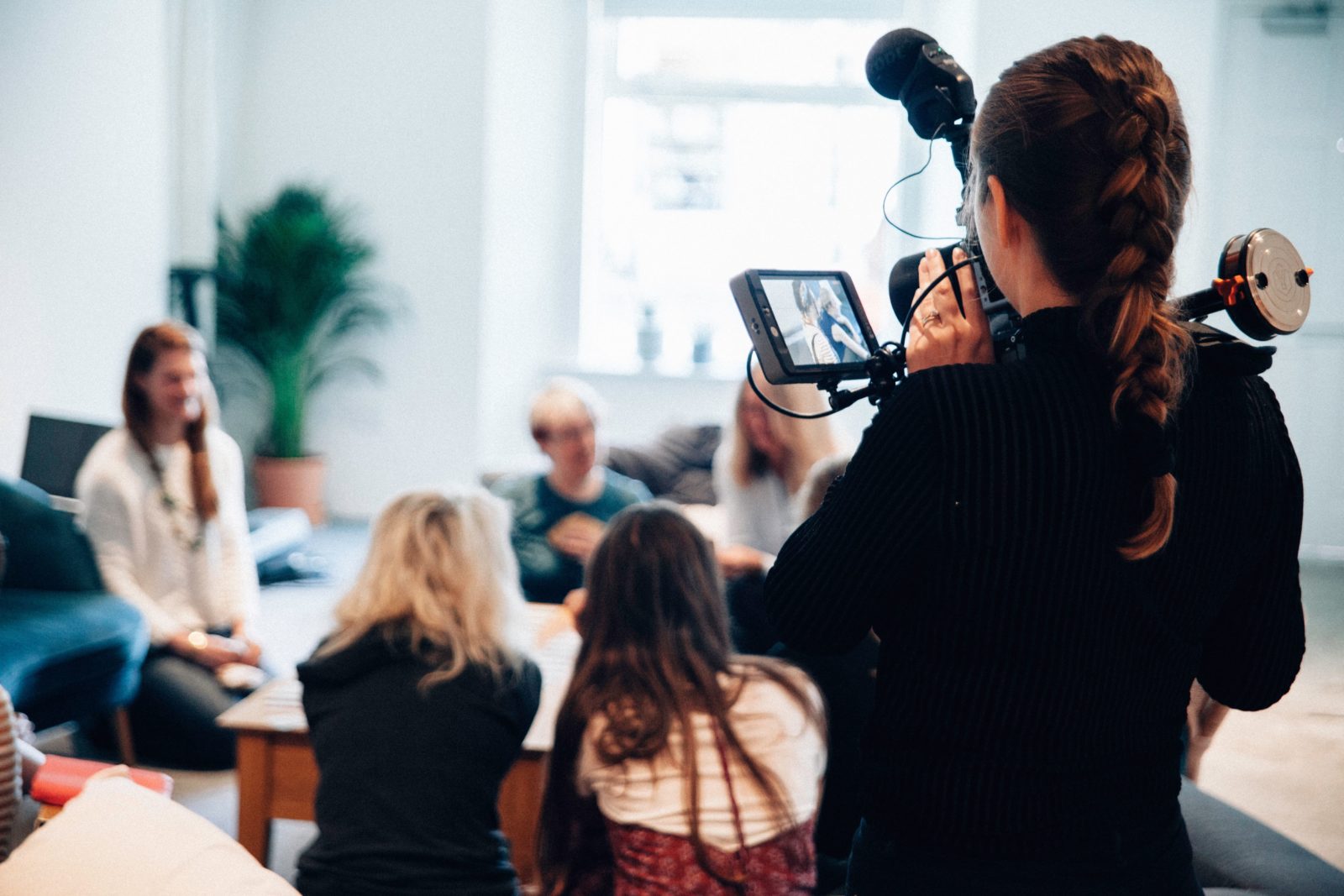 Video is one of the most popular forms of media out there. In 2022, the average internet user is predicted to spend around 100 minutes per day watching online videos. If you want to get in front of your donors, creating videos for your nonprofit is the way to do it. Below we share how to get started, including several tips for video storytelling and how you can use videos to engage your supporters.
Let's take a look.
Is Nonprofit Video Right for You?
If you're looking to reach and acquire new donors, video will be an important tool. Response rates to videos are high; a 2013 Google study reveals that 57% of people who watch a nonprofit video go on to make a donation. Email appeals, in contrast, have a .1%-.25% response rate. While using video doesn't guarantee a very high response rate, it can certainly help. And, since video can be used to support any online fundraising activities including email, social media channels, and your website, it's an important part of fundraising online.
You can also use video to share your donors' impact. A different study, also from Google, found that 75% of donors use video to understand the potential impact of their donation. Once someone donates to your organization, they'll look for videos that help them understand how you used their money and what it accomplished. An impact-focused video will show existing donors that their support made a difference, and it will signal to potential donors that any gift they make to your organization will be used wisely.
Plan Your Nonprofit Video's Format and How You'll Use It
Before you start filming, take a few moments to think about all of the options you have. Discuss the following questions with your team:
Who are we creating this video for? Existing supporters or people new to our nonprofit?
How do we plan to use this video? Will we use it as one long video that tells a cohesive story, or will we cut the story into shorter segments?
What are our goals? Engagement, education, donations, or driving volunteer sign-ups are all possible.
Where do we want to share it? Will it go on our website, social media, or directly to supporters?
How should you format your video? Each platform has different recommended aspect ratios and other specs that you'll want to keep in mind. What are the posting regulations for sharing channels? How big of a file can you upload?
Are we creating one video that's pre-recorded and shared on multiple platforms? Or will we create different variations instead?
Do we want to try livestreaming? If so, on which channel?
You have many options when it comes to creating and sharing your video. Make sure to establish a thoughtful strategy that addresses who you're targeting, what you hope to achieve, and how you will share your creation. This will help you save time and resources in filming and editing and help you reach your audiences as effectively as possible.
Once your team has answered these questions, it's time to start planning the content of your video itself.
Start With Your Story
Whether you're trying to acquire donors or retain the ones you have, you'll want to tell a powerful story that will help people understand your mission and how their money makes a difference. Make your story as effective as possible by focusing on individuals, not on huge groups of people or the statistics around your nonprofit's work.
Think about it this way: An animal shelter creates two videos. One tells the history of the animal shelter and includes lots of statistics about the number of animals they served. The other shares the story of an abandoned dog that received lifesaving care and was adopted by a loving family. Which would you find most compelling?
A Handy Formula for Nonprofit Video Storytelling
There are lots of different ways you can tell a story in your video, but here's a simple formula you can use to get started:
Introduce your character. What challenges do they face? Why did they turn to your nonprofit? What help do they need?
Explain how your nonprofit helped the character. What was the solution to their problem? After the received help, what happened to your character?
Tell your audience how donors made a difference. How did their money or support help your character?
Invite your viewers to get involved by sharing information about how they can help others like your character.
As you're creating your video, resist the urge to fill it with statistics. There are certainly ways to use statistics in your video, but they should be used sparingly as a way to reinforce your story. People connect most easily to other people, but they have a hard time connecting with statistics. An appeal that includes the story about an individual person will be more compelling to your readers than an appeal that mentions hundreds or thousands of people. Focus on connecting your viewer to the people you help; telling individuals' stories is the best way to do that.
Use Your Nonprofit Video to Focus on Impact
Make sure you tell viewers how your donors make a difference. Focus on establishing that donors—not the organization itself—help the people in your story. Your goal here is to help existing supporters see how their money was used and to show potential donors how they can make a difference by giving. The emotions you inspire with your video will make it compelling to everyone who sees it regardless of their history with your nonprofit.
If you want your video to help you acquire new donors, focusing on impact will address their motivations for giving. In our recent report, Donors: Understanding The Future of Individual Giving, we explore how donors are motivated to give by an emotional connection to their preferred nonprofits' work. If you're working to connect with potential donors, it's important to tell "motivational and emotionally engaging stories about the impact of [your nonprofit's] program on real people."
Impact-focused narratives are important when retaining donors, too. A recent study asked donors why they stopped giving to a nonprofit they'd supported long term. Some of the top reasons included:
Not feeling connected to the mission any more;
Never being told how their money was used; and
Feeling like their gift didn't matter
Sharing donors' impact in your video will address those three reasons for donor turnover. Stories that reiterate how someone's contribution makes a difference are valuable in appeals, but they're also valuable when you're working to retain your donors.
Keep Your Video Short
A 2020 study found that the most engaging videos are short. The top 100 most engaging videos referenced in the study were 69 seconds on Facebook and 52 seconds on Twitter. Keeping your video succinct will help you get your message across before viewers scroll away.
But how on earth do you create a video that's both short and compelling? By following the steps of a narrative we talked about earlier! Make your video as impactful as possible by sticking to your story outline, adding engaging details, weaving your audience into the solution, and filming powerful imagery.
By the end of your short video, your viewer should understand how their support will help real people in their community overcome the problem you've presented. That formula will help you make it happen.
Include Captions in Your Nonprofit Video
Adding captions to your video is, first and foremost, an important step toward accessibility. Your deaf and hard-of-hearing viewers should be able to understand your message as easily as your donors who don't have any hearing impairments.
Captions are important for other reasons, too. A study from Verizon found that 92% of consumers view videos with the sound off on their mobile devices, and 80% are more likely to watch an entire video if it includes captions. This is especially true for people who will see your video in their social media feeds. YouTube users probably browse with their sound on, but few social media users have their volume up as they scroll through their favorite platforms. Adding captions is one of the most effective ways to grab peoples' attention and inspire them to watch the rest of your video.
Use Your Video to Tell People How to Get Involved
If one of your goals is to drive donations, make sure you include information about how people can get involved. Your heartwarming story about someone who's benefitted from your donors' generosity is wonderful, but it will have the most impact on your mission if you include a clear call to action telling your viewer how they can provide support.
Think through how you'd like your audience to act after seeing your video. Would you like them to donate? Are you asking them to volunteer? Do you need community advocates? Explicitly tell your viewers what you'd like them to do and why it's important.
Then, make it as easy as possible for them to take the next step. If you want them to donate, include a link to your donation form. Appeals for volunteers should include a volunteer signup form. Videos focused on raising awareness should include a link to your website so viewers can easily find more information.
Video Is an Important Tool for Nonprofits
If you haven't added video to your fundraising and communications strategy, it's time to start. Video can help you ask for donations, thank your supporters, and show your community how their support makes a difference. Once you've identified where and how you'll share your content, create a short, story-driven video that shows donors how their support will help solve problems in your community. Make sure you're using captions to increase the likelihood of your audience watching and acting upon your video, and remember to include clear instructions on how they can get involved with your work.
Looking for more information about how to connect with your supporters? Download our report below to explore more ways to reach your donors.
Join the discussion in our Slack channel on connected fundraising