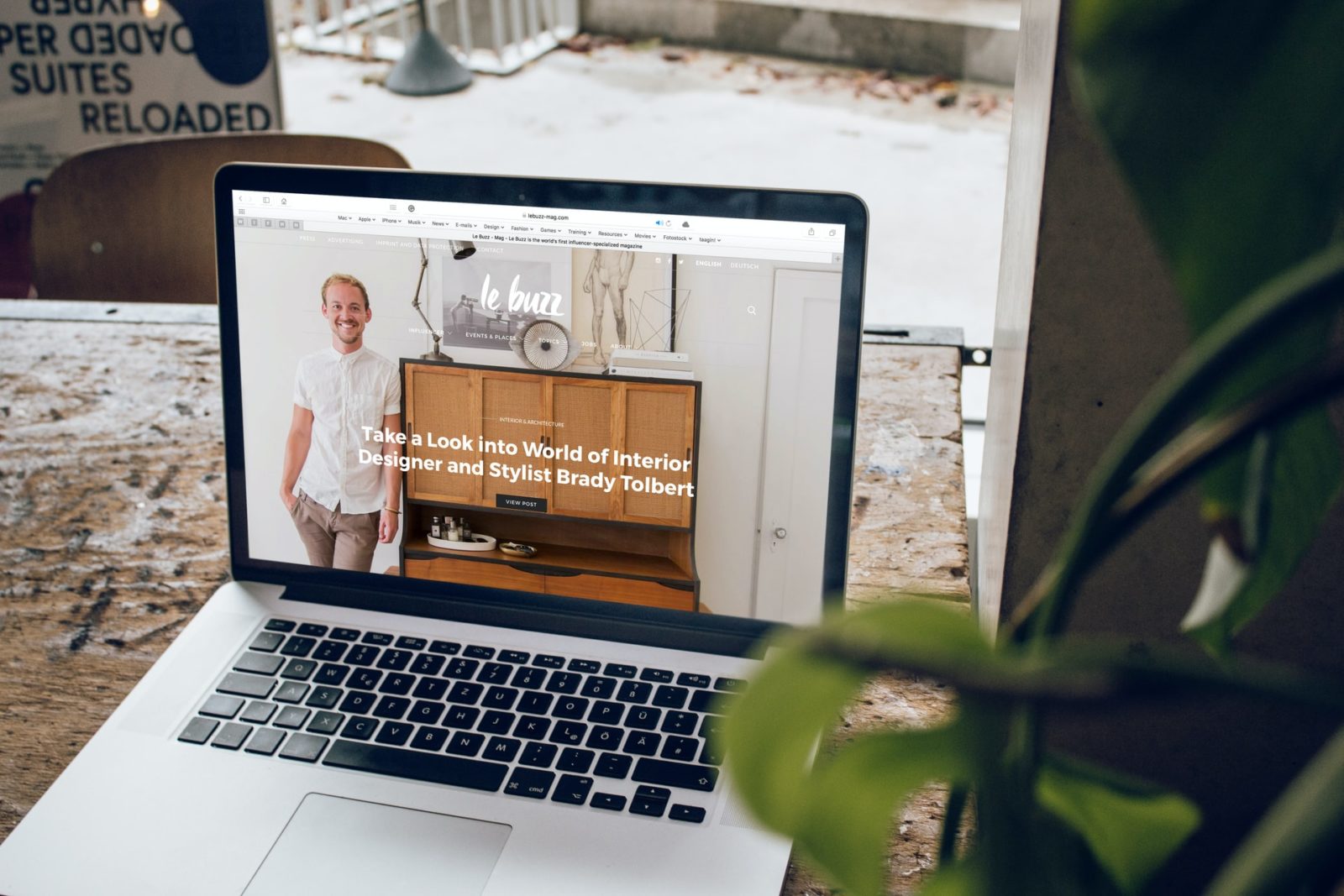 The most engaging websites are attractive, intuitive, and easy to navigate— the same goes for nonprofit and charity websites.
Even more importantly, charity websites reflect the nonprofit's unique brand and mission. Donors should know the minute they land on the website that it belongs to a nonprofit and what that nonprofit is all about!
To help your organization design a compelling website, we've laid out six outstanding examples of charity websites from nonprofits just like yours, designed by our in-house experts at Neon One!
Here are the organizations we'll look into:
We'll walk you through each organization's mission and why their charity websites are such a success.
1. Erie Neighborhood House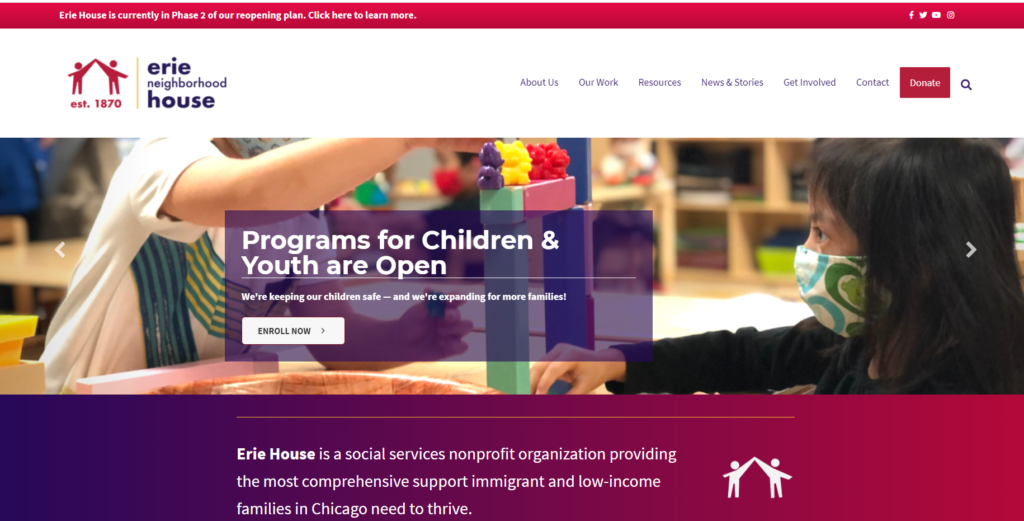 Who They Are
Erie Neighborhood House is a Chicago-based nonprofit that provides immigrant communities with legal services, ESL classes, mental health services, and more.
What Makes Their Charity Website Awesome
They make it clear what they do.
On Erie Neighborhood House's home page, they give a clear and brief explanation of their organization and their services. Then, in the next block, they divide all their service offerings into five categories.
What's great about this layout is that anyone could stumble onto this website, and in a minute or less, they would be able to easily understand who this organization is and what it does.
They keep their charity website updated for current events.
The announcement module at the very top of their website keeps their constituents informed on their reopening plan. Additionally, the slideshow of images includes Erie's Black Lives Matter statement, their most recent annual impact report, and the enrollment link for their reopened Child and Youth programs.
Keeping charity websites updated is very important — this is the place your constituents will likely go to first for updates from your nonprofit. Try to find a place on your homepage to share announcements and updates.
They make it clear how to donate.
The top navigation includes a "Donate" button designed in a standout color that can be accessed from any page.
By making this incredibly clear on every page, they reduce any potential roadblocks to receiving a donation.
Neon One Tip: Once a visitor clicks the "Donate" button on your website and moves onto your donation form, don't try to replicate the look of your website. Include your organization's logo and colors, but get rid of your website's navigational elements as they can prove distracting. For Neon CRM users, the system's branded donation form templates come with best practices built in—and they integrate seamlessly with Neon websites.
2. Concrete Safaris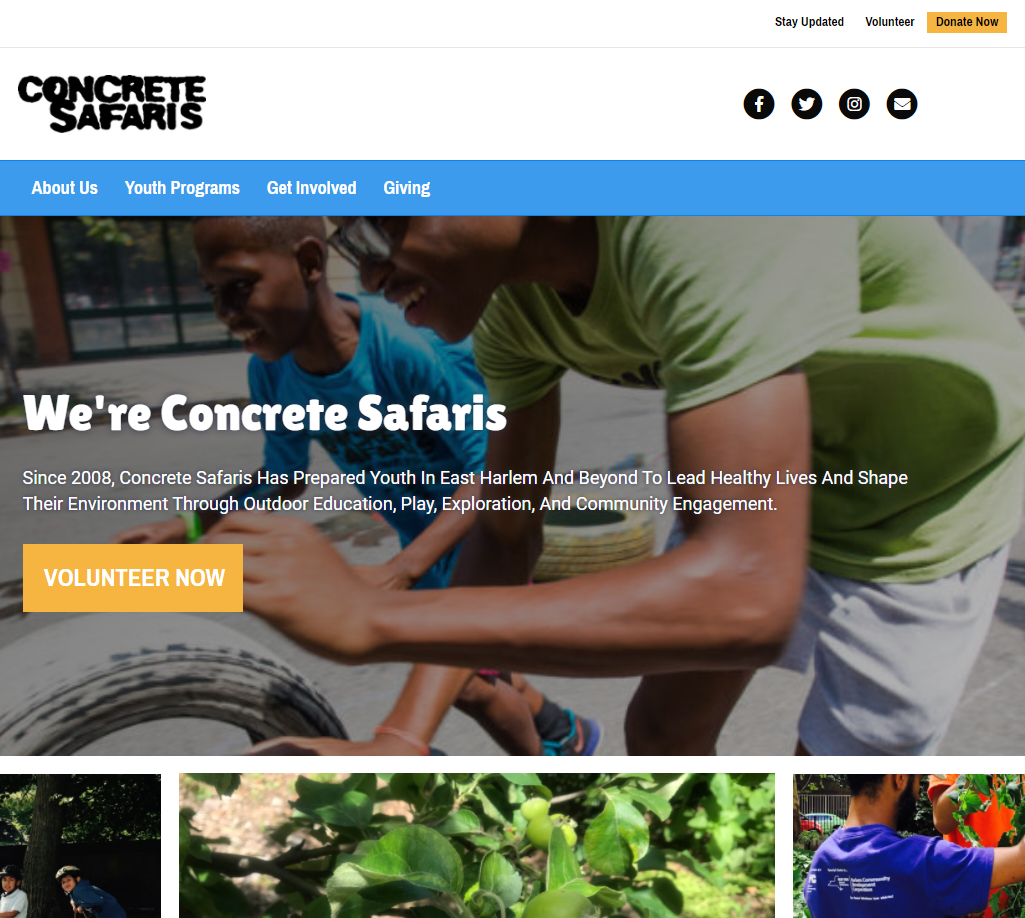 Who They Are
Concrete Safaris is an organization in Harlem that provides engaging active outdoor after-school programs for children grades K-5. They also offer paid internships and leadership opportunities for young adults.
What Makes Their Charity Website Awesome
They use a compelling hero image.
Their images represent their program in action. This gives potential donors and volunteers a window to what Concrete Safaris' programs do and what they accomplish.
Active pages that emphasize the important things
On most of Concrete Safaris' pages, there are active page elements that add some interest. On their homepage alone, you can scroll down to see different text boxes appear as you scroll.
The data block that shares member and volunteer participation numbers have visual animations that rotate around the page.
Branding and Colors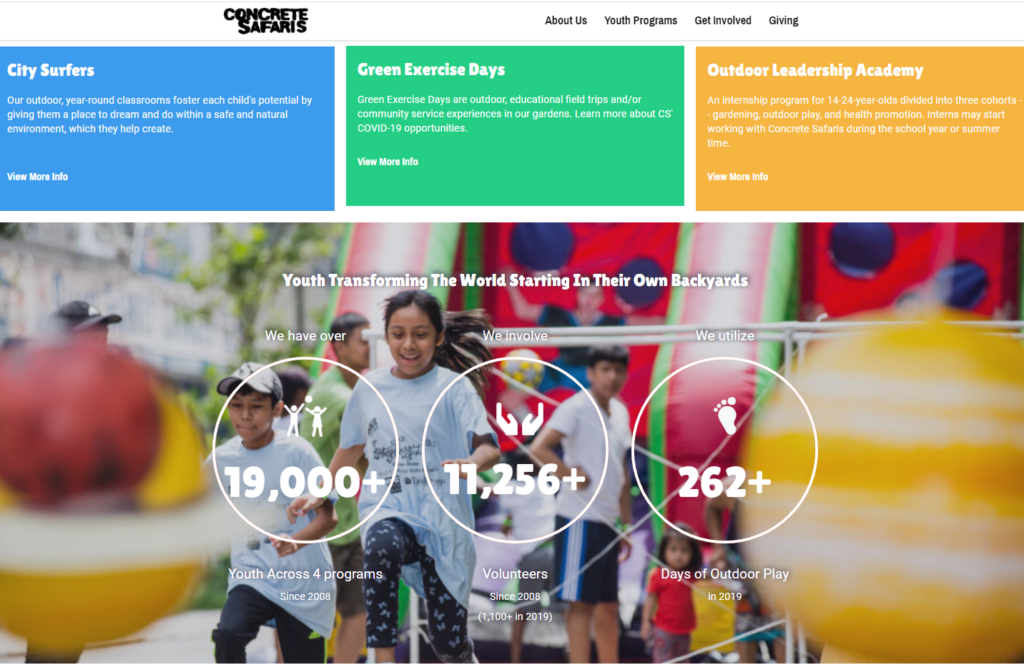 As seen above, Concrete Safaris has chosen blue, green, and orange as their brand colors. The logo was made using a unique and memorable font.
By selecting colors representing their program's environmental and outdoor focus, a snappy organization name that encompasses what their nonprofit is all about, and a unique, eye-catching logo, they've done excellent branding work.
If your nonprofit's brand could use a refresh, the experts at Neon Websites can work with you to design a new visual brand complete with three logo proposals. To get started on a rebrand, check out our Better Branding for Nonprofits eBook.
Download Better Branding For Nonprofits Ebook
3. Lakewood Service League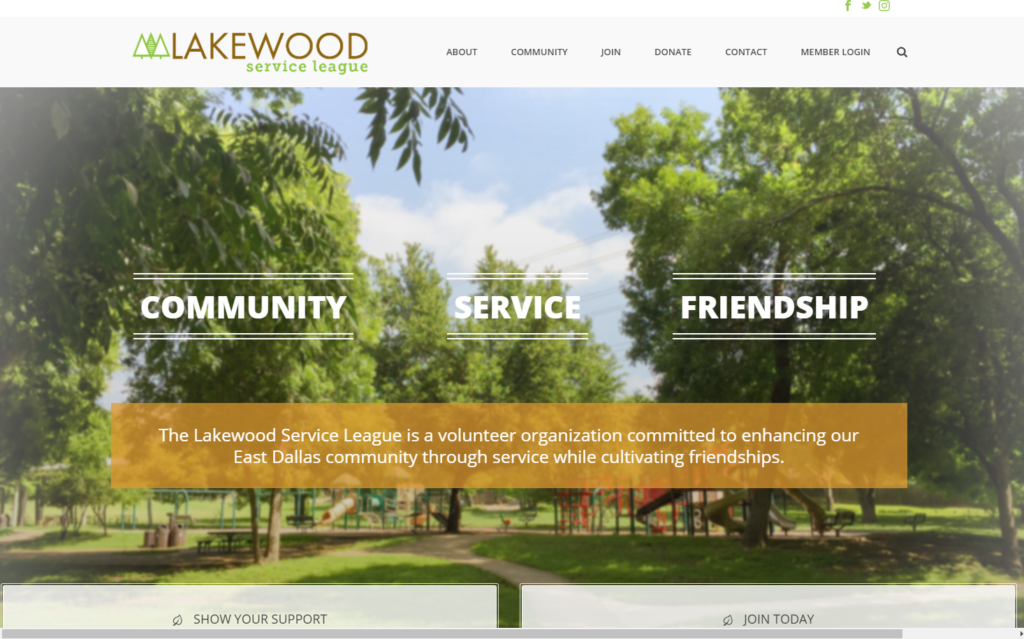 Who They Are
The Lakewood Service League is dedicated to improving many different facets of the Lakewood and East Dallas community, from the economy to education to cultural and civic conditions. They do so by mobilizing their members to complete projects around the community andneighborhood donating to other charitable organizations in the area.
What Makes Their Charity Website Awesome
Their mission is at the forefront.
The very first thing you see under the logo and navigation are the Lakewood Service League values. Community, Service, and Friendship. They are clear with their values. Anyone can understand and relate to these values and the right words to inspire the right target audience to get involved.
They include social sharing buttons.
The Lakewood Service League features icons at the top of their homepage that their supporters can use to share information with their networks at just the click of a button! Because of this feature, the organization receives more new donors and members from social media.
It is all about making it easy for your supporters to spread the word!
It's designed with simplicity.
This website doesn't need a bunch of bells and whistles to look attractive! Instead, Lakewood Service League has simply included a navigation bar, logo, mission, and what they do.
This simplicity highlights their crucial content and makes their website more accessible for users to navigate.
Neon One Tip: A good nonprofit website is optimized for mobile as well as desktop, ensuring that your supporters always get a superior experience no matter what device they're using. If your nonprofit is using a Neon website, no need to worry—all our websites are optimized for mobile.

4. International Neighbors Charlottesville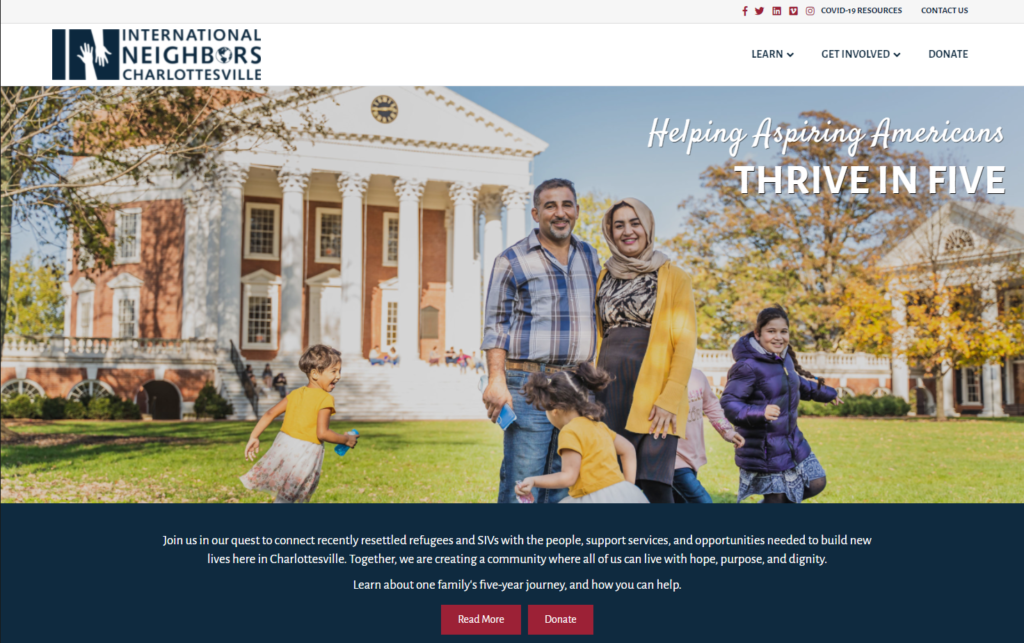 Who They Are
International Neighbors Charlottesville is a nonprofit that helps refugee immigrants acclimate to America, get the skills they need, and find success, including employment assistance, navigating the US healthcare system, and providing families with donated necessary goods.
What Makes Their Charity Website Awesome
Catchy Tagline
Just below their navigation bar in the top right corner of their hero image, they include their tagline, "Helping aspiring Americans thrive in five."
The great thing about this tagline is that it's not only catchy it also quickly explains the work their nonprofit does: to help immigrant families prosper in less than five years.
They're people forward.
The design of the website reflects the organization— it's people first. You can see images and stories of families helped by INC on almost every page.
They also spotlight volunteers on their site and make them feel valued and recognized. You can tell the team at INC really has strong relationships with their volunteers.
This is a great example of how to illustrate the value of a charitable program.
Their navigation is intuitive.
There's a navigation bar at the top of the site that can be accessed from every page. It includes short, clear titles so that users will never have any doubt about how to find the pages they're looking for.
5. Islamic Scholarship Fund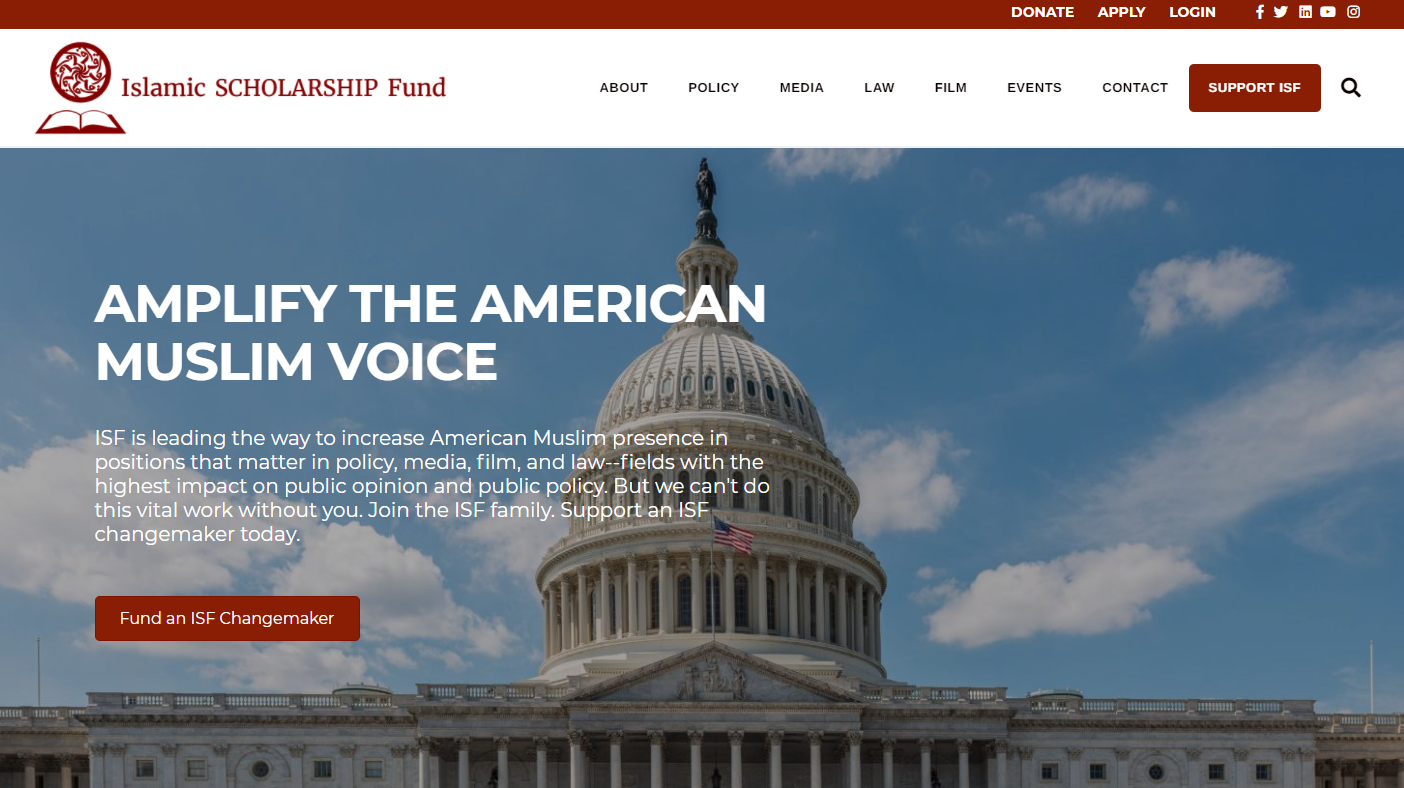 Who They Are
Islamic Scholarship Fund strives to find and support the next generation of American Muslim leaders and get them a seat at the table in policy, law, media, and film positions.
What Makes Their Charity Website Awesome
They provide many ways to give.
Islamic Scholarship Fund gives their web pages content that inspires and prompts visitors to donate. Additionally, their donation button in the navigation bar shares all the ways you can support them in the subpages: a standard donation, stock donations, or through their endowment fund.
As a bonus, they include a matching gift research tool on their donation form brought to you by Neon CRM partner Double the Donation.
By providing their potential donors with many options, the donor is more likely to find a way that works for them and be more inclined to give.
It motivates with powerful calls to action.
The opening line, "Amplify the American Voice," reels you in and lets you know what the Islamic Scholarship Fund is all about. The button prompts you to donate in a way that stands out and explains exactly what the donation goes toward: Funding an ISF changemaker.
Their logo is in the top left corner.
It's a standard web design practice to include your logo in the top left corner of the site and link back to the homepage. Islamic Scholarship Fund does this with a logo that summarizes the organization precisely.
Neon One Tip: Our partnership with Double the Donation and their 360MatchPro platform, allows Neon CRM users to automate their gift matching fundraising and gain actionable insights. Learn more about our integration with Double the Donation in the Neon One Partner Directory.
6. Women in Toys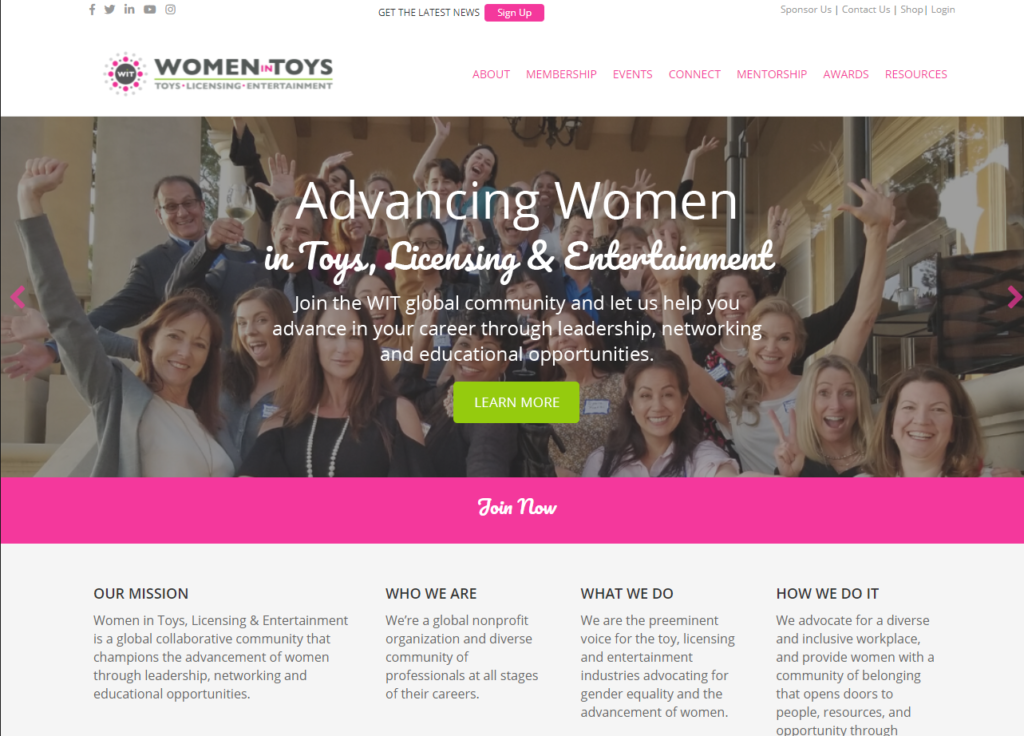 Who They Are
Women in Toys brings together professional women in the play industry (toys, licensing, and entertainment) from all around the world with networking and career opportunities, seminars, and forums. Their mission is to empower, inspire, and promote women in these careers to help them advance in the industry and achieve professional and personal success.
What Makes Their Charity Website Awesome
It's clear what they do.
Their first line is "Advancing Women in Toys, License, and Entertainment." That's exactly it, in clear terms.
Just below, they have short sections: our mission, who we are, what we do, and how we do it. This straightforward approach to their website will prove to visitors that this organization is action-oriented and delivers on the promises and vision they've set.
The branding is strong.
The Women in Toys brand is prevalent and recognizable throughout this page.
Their logo is in the top left corner.
Their name is featured front and center.
The colors throughout the page coordinate with their green and pink color scheme (even the chairs in the hero image match!).
There's no doubt about it: this is WIT's page!
It includes social sharing buttons.
The social sharing buttons in the top left corner to allow members and other visitors to quickly share Women in Toy's content with their friends on Facebook, Twitter, LinkedIn, and YouTube. Including social sharing buttons is a surefire way to expand the organization's social media presence.
And, there you have it, six charity websites that convey their organization's mission, vision, and impact in a clear and well-designed way.
Reimagine Your Website with Neon
A well-designed, well-functioning website is critical for the modern nonprofit. With Neon Websites, your organization gets a full partner that's invested in your mission's success.
From design, to construction, to continuing support, the experts at Neon Websites can help your nonprofit redefine its online presence.
If you'd like to know more, schedule a consultation today.
Join the discussion in our Slack channel on connected fundraising