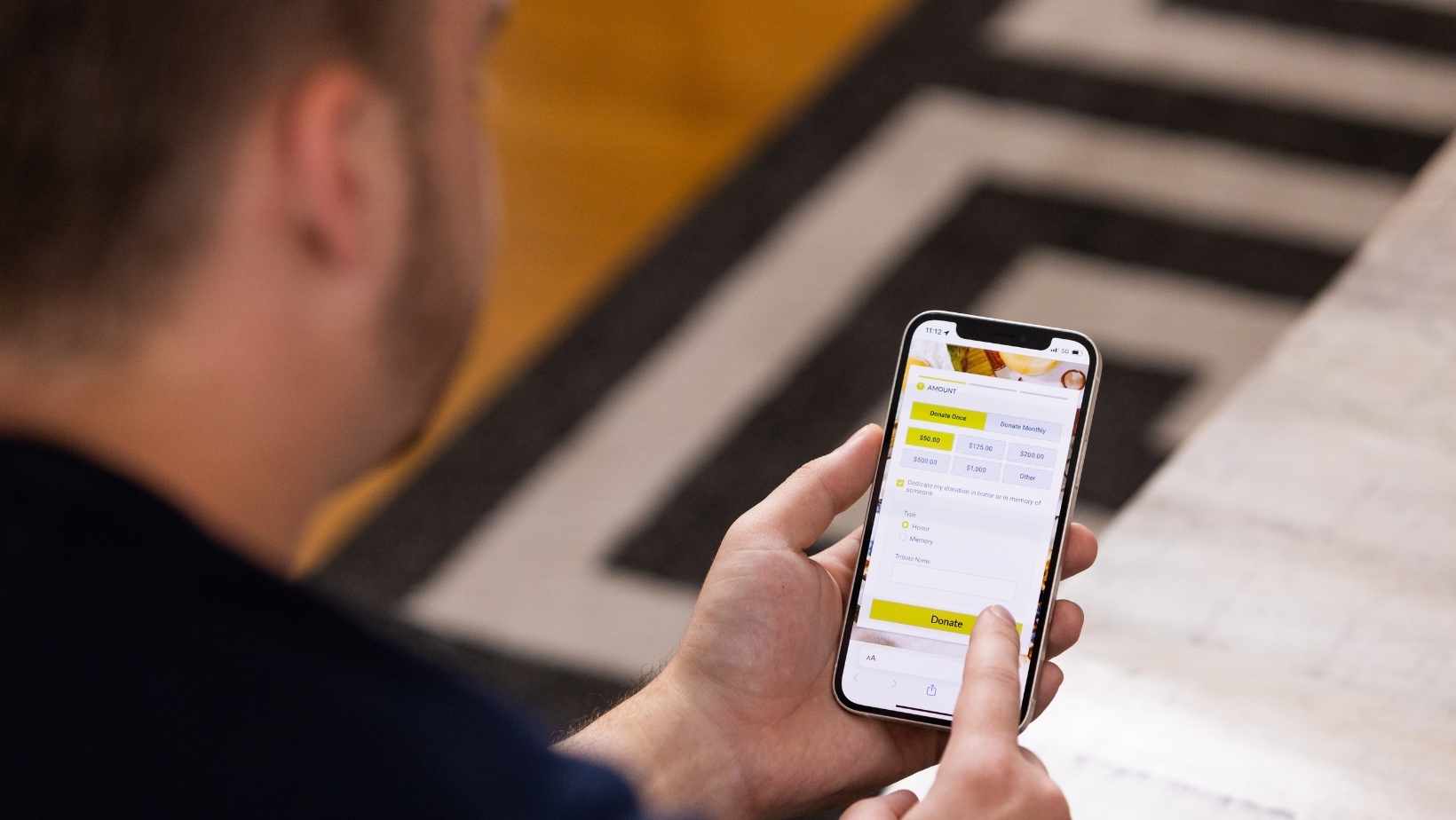 Nearly 80% of people who visit donation pages do not give, according to the 2020 M+R Benchmark report. This means most organizations are only realizing 20% of their potential online revenue because the majority of potential donors don't complete the donation form. That's A LOT of money left on the table!
Our team set out to design new donation forms with best practices built in so you can increase your conversion rate through a better donor experience.
Donor Experience Still Drives Page Conversions
Most potential donors are deterred by poor donor experiences, specifically in the area known as "donor friction." Any time a donor has to stop and think about what they're doing, are confused by a question, or get frustrated during the giving process, they're experiencing friction. When you set up your donation page, look for elements that may disrupt your donor's experience.
According to research from our friends at NextAfter, most donors drop off for a few specific reasons: Too many steps, asking for too much non-essential information, and distractions on the donation page (such as multiple calls to action) can all lead to donor friction.
We built our new donation forms to increase conversions through a better donor experience and reduce moments of donor friction. Let's dive into the details of nine big enhancements that will help you build better donor experiences, and, in turn, more donations to your nonprofit.
Donation Form Best Practices in Neon CRM
We'll unpack all the donation form best practices you'll find in Neon CRM's donation forms:
1. Three-Step Donation Form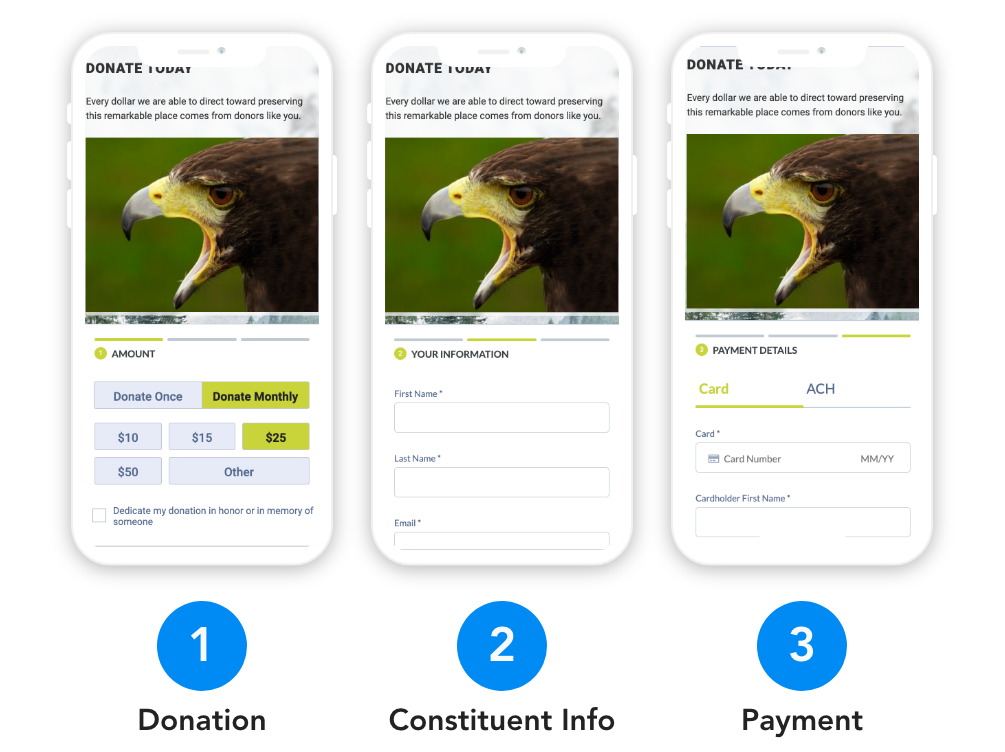 Research from NextAfter found that visually shorter forms increased conversions by almost 40%. Forms which appear easy to fill out have higher completion rates. Breaking a donation form into a few separate steps instead of having all fields visible at once makes it appear shorter, even if it's not. You can also increase conversions by removing unnecessary fields from your form: Asking for non-essential information, such as a phone number, can also decrease conversion rates.
This best practice converts more of your visitors into donors because it breaks the form into bite-size pieces which makes it seem like a less complicated process. Once you've set up your multi-step form, go back through it and remove any extra fields. Consider asking for non-essential information through post-donation surveys or through other channels to make your donation form as short as possible.
Additionally, the donation experience plays a heavy role in creating a stronger emotional connection between the donor and your organization. Notice the first step on the image above asks for the gift amount. This prompts the donor to commit to giving at the start of the experience, not the end. When the donor is asked to choose a gift amount at the end of the donation process, all the other fields on the form feel like obstacles they have to get through before they can give. But, when they choose their gift size at the beginning of the process, completing the form is just a formality. They've already committed to giving—they just have to finish filling out the remaining fields.
Three-step donation forms also give you more freedom to add pop-up donation widgets to other areas of your site. Adding a pop-up form to a heartwarming story or powerful impact update can be a compelling way to inspire your donors' generosity when they're most actively engaged with your content online. Long forms with lots of fields would make overwhelming, intimidating pop-ups; showing your donors a shorter, more manageable-feeling form is a much better option.
2. Optimizing For Recurring Giving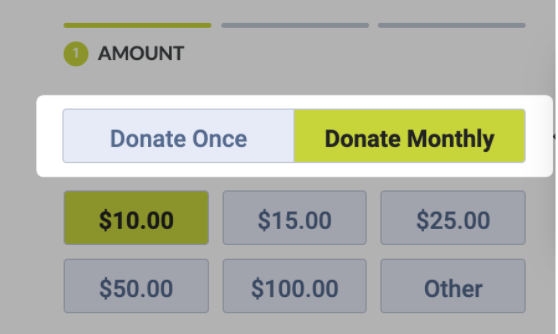 Monthly gifts are perhaps the best way to generate reliable revenue from your constituents. According to a study on Neon CRM data, it was discovered that, on average, 15.4% of our clients revenue came from recurring donations.
An easy way to increase your monthly revenue is through a simple design tweak. A test by NextAfter found that having the monthly gift tab highlighted as the default increased recurring donor conversion by 366%!
To encourage recurring gifts, we included the option to highlight "monthly giving" as the default gift type, including pre-filled suggested giving amounts. Personalize the experience by tailoring the gift amounts between one-time and recurring gifts.
To learn more about how to grow your recurring giving program, check out the resource below.
3. Expanding Payment Choices, Including Mobile Payments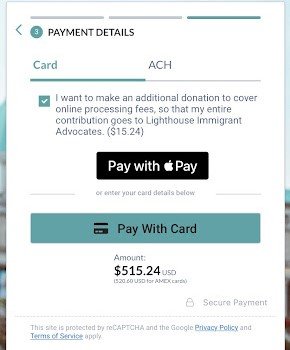 Reducing donor friction also means providing the user with popular payment options. A poll from PayPal showed that 40% of donors would not have given to a nonprofit if PayPal wasn't an option. With mobile donations on the rise, it's critical to offer a seamless way to accept mobile gifts.
Neon CRM's donation forms offer popular payment options such as PayPal, ACH, Apple Pay, and Google Pay.
4. Donation Form Design that Reinforces Reasons to Give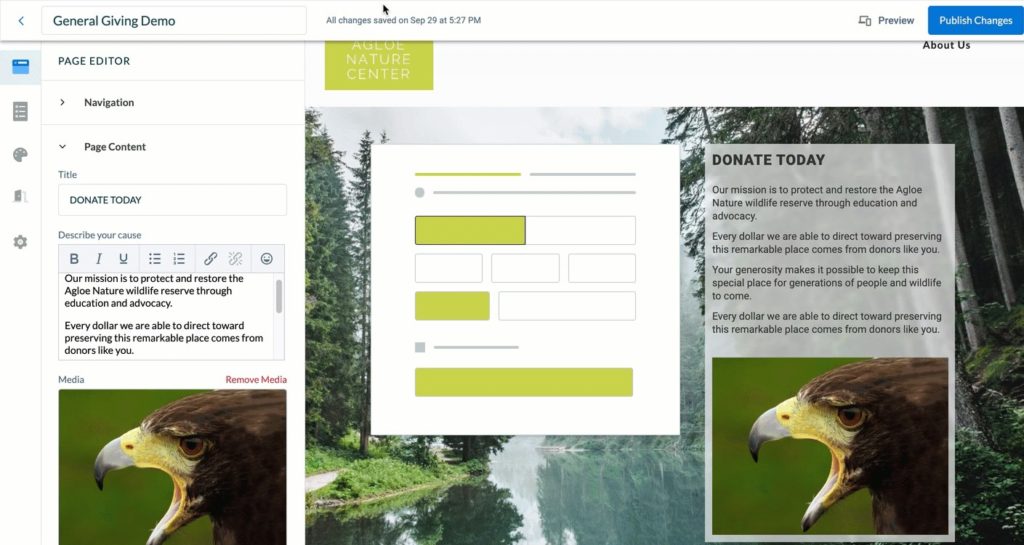 Did you know that adding thoughtfully-written content that answers the question of why the donation is needed has been shown to increase the amount of donations received? NextAfter's test saw a 150% increase when the organization added language to their form that told donors why their support was important!
Help your supporters cross the finish line by reminding them why they are about to give. Remember to provide content that directly supports the decision to give: Save content about other forms of support, unrelated campaigns, or information that doesn't directly encourage the donor to make a gift for other communications.
Our drag-and-drop form builder includes a dedicated content box, background image, and video to help you tell your unique story.
For more tips on storytelling to drive donations, check out the recorded webinar below.
5. Interactive Donation Form Elements
Some donation form best practices vary based on the kind of campaign you're running. For goal-oriented campaigns—like GivingTuesday fundraisers or capital campaigns, for instance—helping donors visualize your fundraising progress can be especially helpful. People love meeting goals! Adding a goal meter to your campaign donation form can help get donors excited about giving to your cause. Seeing that meter inch closer to your goal after they've submitted their gift is satisfying. These widgets can help you create more compelling appeals, too. Include your progress in appeals on social media or email, then ask your supporters to help you meet your goal.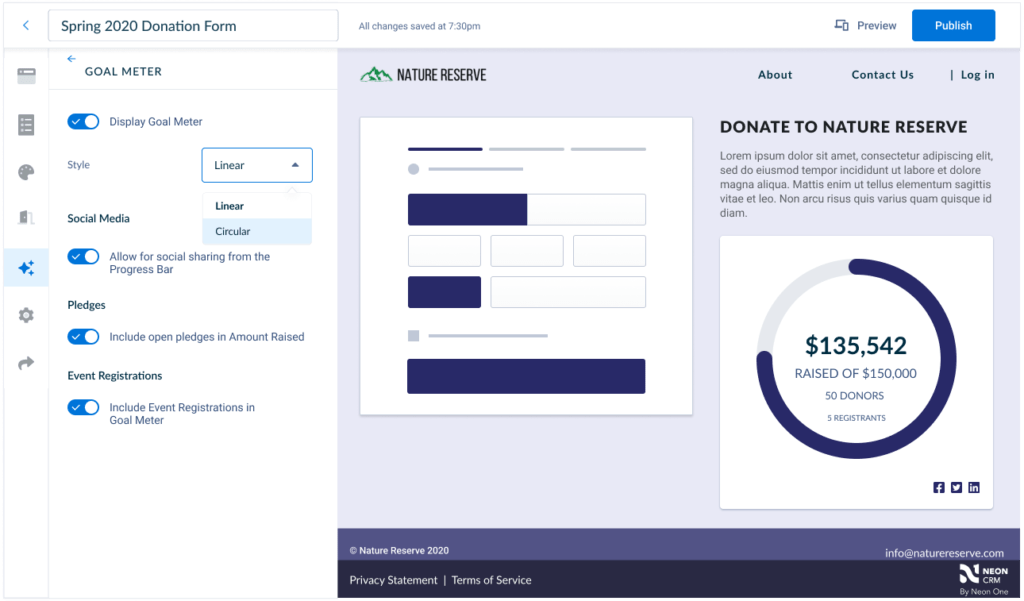 You can also use interactive donation form elements in other ways, too. If you're looking for a way to inspire your supporters to give to a particular campaign, consider adding widgets that show off your most recent donations or your top supporters. There's a reason these design elements are so prevalent on crowdfunding sites like GoFundMe: People enjoy seeing their names on leaderboards. If you're looking for a fun way to encourage your supporters to give to your cause and share your form with their networks, adding these interactive elements could be a great way to build some buzz around your campaign.
6. Donor-Covered Fee Capabilities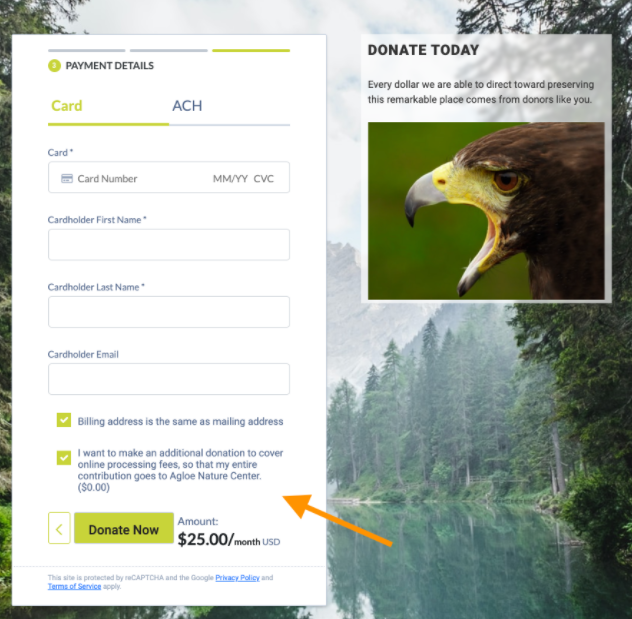 The modern donor gets it. They understand there are real-world costs to achieving your mission. They also likely tip someone—like servers, baristas, or barbers—every week, if not daily. Your donors are happy to chip in to help offset their gift's processing fees, but they'll only do so if asked.
While a tip doesn't necessarily increase conversions, it will help you secure more dollars. When presented with the option to cover processing fees, we found that 42% of visitors opt to cover the fee. Neon CRM's donation forms help you raise more by giving donors a choice to cover processing fees. Personalize the experience by controlling if they see the options to cover transaction fees.
7. Mobile-Friendly Experience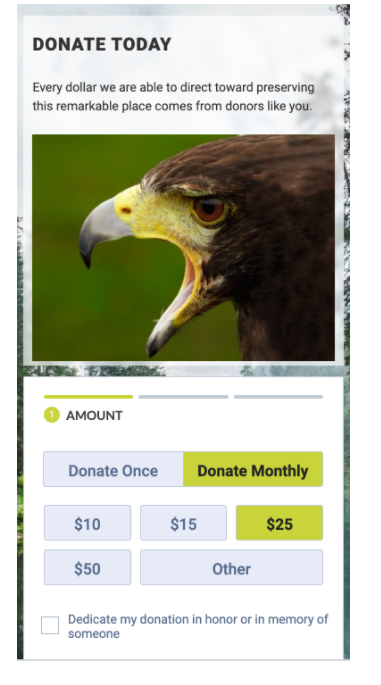 If you're like most nonprofits to more than half of your gifts are made on a mobile device or tablet. For Neon CRM customers, 55% of donation form visitors use a mobile phone or tablet. Donor friction tends to be amplified on mobile devices because of the smaller screen size and users' tendency to want to get things done faster.
Each Neon CRM donation form is 100% mobile responsive, which offers a consistent, reliable experience on any device. Our donation forms automatically adjust to your donors devices, so you can avoid donor friction due to a poorly formatted page on a mobile device.
8. Accessible Design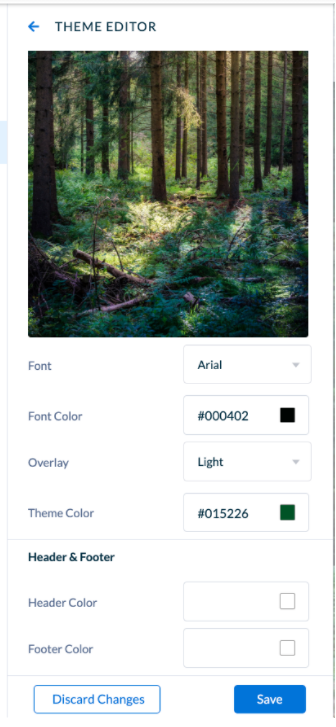 In addition to optimizations for mobile devices, fundraisers must also consider visitors with accessibility needs when building their donation forms. While accessibility is sometimes considered in the context of visitors accessing a website with assistive technologies, it is often not enough. Ethical design benefits all users by implementing best practices that make positive donor experiences accessible to everyone.
Neon CRM's donation form prioritizes ethical design best practices, including smart recommendations for color contrast on buttons and other user interface elements, labels and references on HTML tags for screen-reading devices, optimizations for keyboard navigation, and more. Expect our future product updates to deliver a better, more accessible experience to your audience.
9. Personalized Campaigns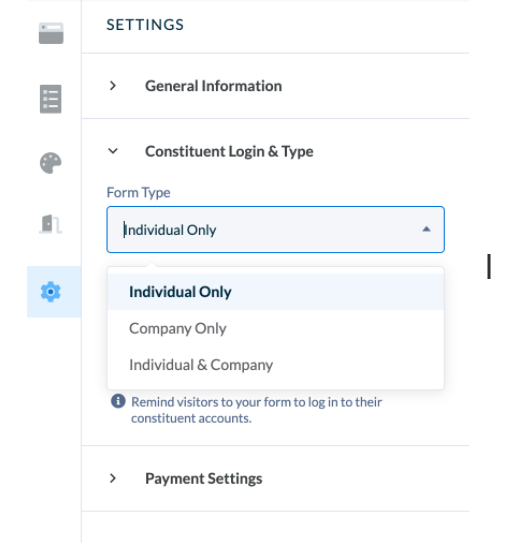 A popular request from our customers is the ability to create personalized donation pages for the same fundraising campaign. Imagine offering different end-of-year fundraising pages specifically for individuals, companies, or both individuals and companies combined.
10. Straightforward, Branded Templates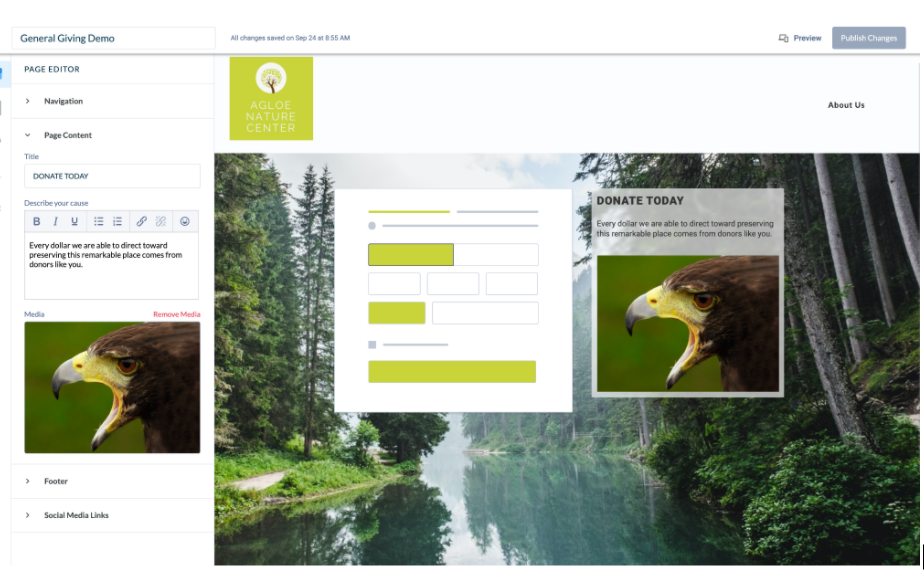 Confusion and distraction are primary reasons people abandon the donation process before completing their gift. A top offender is the navigation bar, which is commonly included on a donation page in an attempt to make that page look exactly like the rest of your website. It's understandable why so many nonprofits still use this approach: Leaving the navigation bar on your donation page used to be a best practice.
But donation form best practices have changed. Research from NextAfter found a 200% boost in donations when one organization removed the navigation bar from their donation page. Additionally, including other calls to action (like prompts to learn about volunteering, links to social media channels, and invitations to watch videos or read articles) and content unrelated to donating can add to users' confusion.
Easily create donation forms using our drag-and-drop functionality and built-in templates, including a library of stock images. Rather than trying to recreate your site's navigation bar to make donors feel like they're still on your website, use your brand's color and logo on your donation form. The look and feel of your main website will be extended onto your donation form, but donors won't be distracted by links and other design elements while they make their gift.
Use These Donation Form Best Practices to Raise More Money Online
Around 20% of people who land on your donation page won't go on to make a gift. While that percentage will never get all the way down to zero, you can improve your conversion rates by following some simple best practices.
Focus on creating a donation form that matches your organization's branding, reminds donors why their support is important, and makes it easy to complete a donation. Your donation form should be short, accessible, and easy to complete on any device. Giving donors the option to cover fees, create one-time or recurring donations, and pay using their preferred method will make donating a simple, enjoyable experience.
Neon CRM's donation forms are built with these best practices in mind. Whether you're looking to build a simple form for your annual campaign or want to create unlimited personalized forms for your supporters, we've got you covered.
Want to learn more? Take the self-guided tour: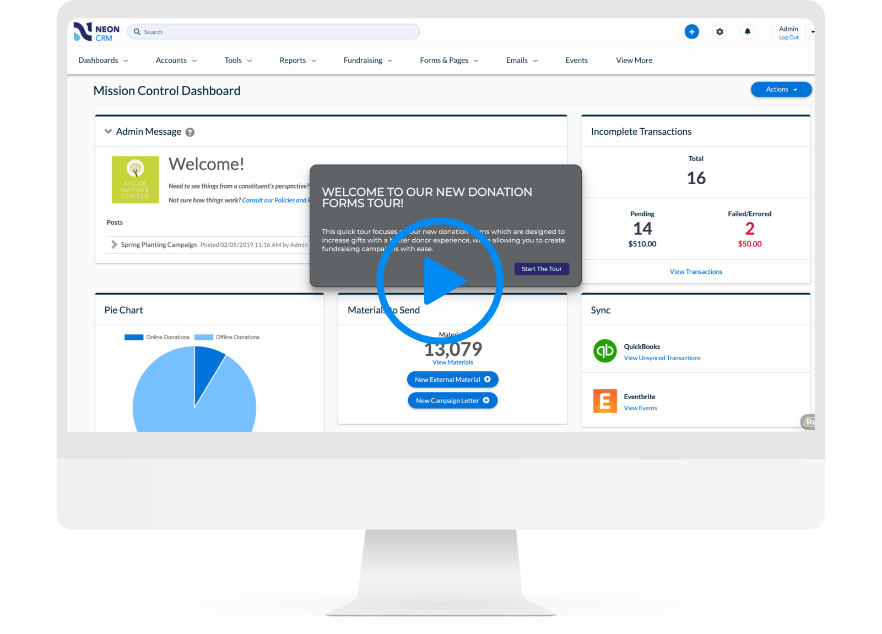 Join the discussion in our Slack channel on connected fundraising