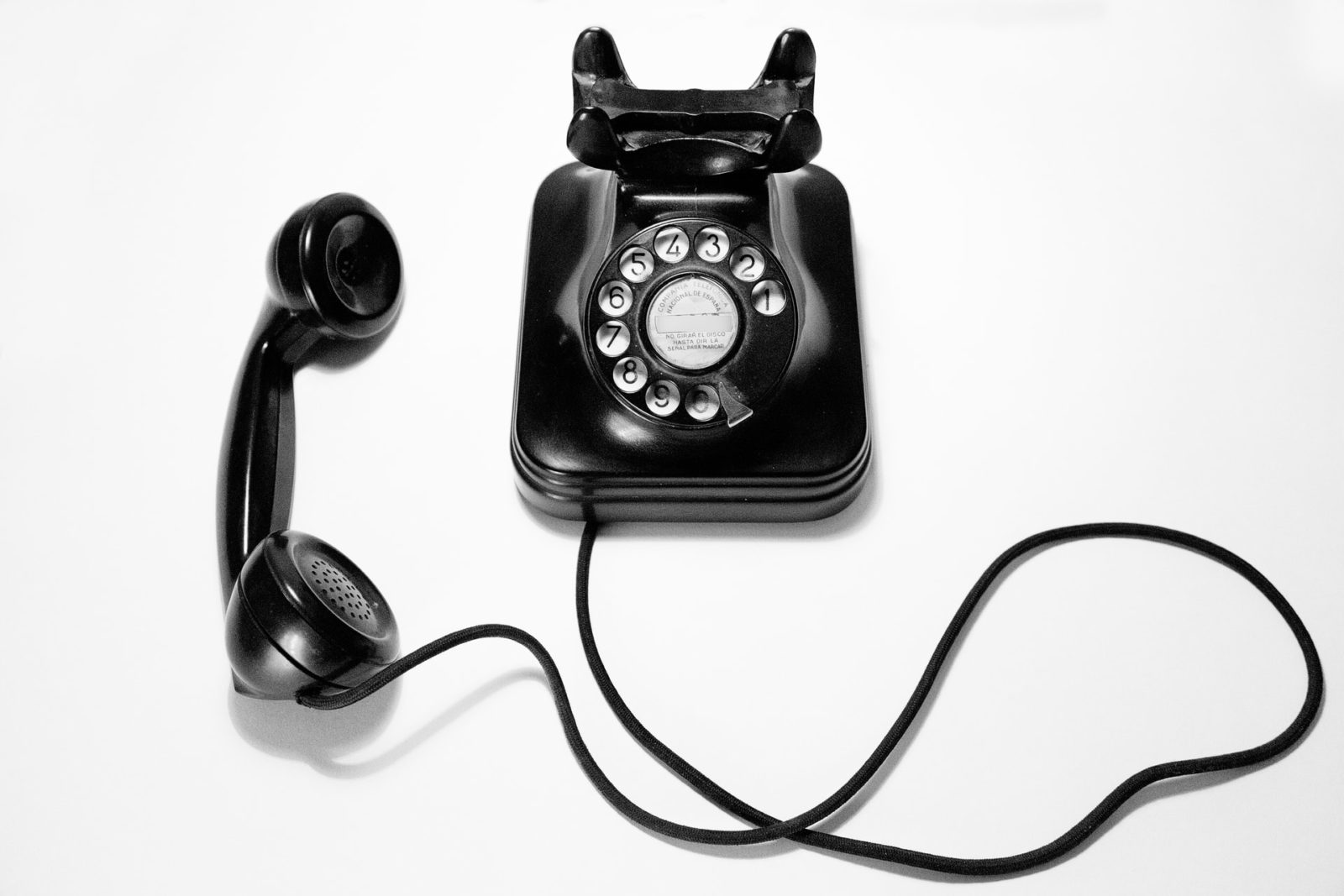 If you aren't calling your donors, you're missing a crucial engagement opportunity to connect with them. In a world where communications are largely limited to digital channels, something as personal as a phone call can be a valuable way to build real relationships with the people who support your cause. Calling to thank donors for their support after they give a gift to your organization is especially important. By giving donors a thank-you call, you begin to build a personal relationship with them. That strengthens their connection to your nonprofit, which can increase your donor retention rate. Calling donors is one of the simplest and most impactful things you can do to strengthen relationships and improve donor retention.
The Impact Of Calling To Thank Donors For Their Support
Most research supports the idea that prompt thank-you calls make a significant impact on donors' future involvement with a nonprofit. For example, research conducted by fundraising expert Penelope Burk suggests that first-time donors receiving a thank-you call from board members within 24 hours led to a 39% increase in the size of that donor's second gift.
Bloomerang also has research to support this. Their study of 3,729 nonprofits with 1.9m total donors found that, if one or more phone calls are made to a new donor, they make an average second gift of $100. In comparison, donors who didn't receive any phone calls only made an average next gift of $50.
Additional insights from this study reveal that the retention rate for first-time donors who did not receive any phone calls from their nonprofit was 33%. Meanwhile, donors who received one phone call had a retention rate of 41.24%, and donors who received two or more phone calls within 90 days had a retention rate of 58.21%.
The average timing for a second gift is impacted by calls, too:
On average, a donor who received no phone call made their next gift in 261 days.
Donors who received one call made their next gift in around 217 days.
Donors who received multiple calls made their next gift in around 53 days.
The importance of calling donors after a gift is well-supported by this research. But how should you actually go about calling your donors?
How You Should Call Donors For Best Results
There are lots of things to take into consideration when setting up your donor thank-you calls. For best results, donors should be called anywhere between 24-48 hours.
Who You Should Call and Who Should be Calling
Board members and volunteers are well-suited for this type of call. They are passionate about your mission and may put the donor at ease that they won't be asked to donate. However, this may not be feasible for every nonprofit. Donor thank-you calls can also be conducted by development staff and other employees—just make sure they know not to ask for a second gift while thanking donors for their first one.
The most important thing to note when planning your thank-you calls is that you should respect your donors' privacy. Only call people who have given you their number. Do not look up phone numbers for donors who didn't provide you with that information. Failing to respect your donors' boundaries can hurt your relationship with them—that's the opposite of what you're trying to achieve with thank-you calls.
The next thing to consider is deciding which donors you'll call. In the past, many nonprofits made the strategic decision only to call people they thought would pick up, which often meant only calling donors who were older or made major gifts. Today, we know that younger donors and small-dollar donors also appreciate phone calls. It's also important to note that voicemails are an effective way to thank donors, too, and that donors of all ages listen to them even if they don't answer the phone. According to 2021 data from Data Axle cited in Neon One's Donor Report, 20% of donors aged 18-29 and 18% aged 30-44 say they have donated in response to a phone call from a nonprofit.
Ideally, your nonprofit will call to thank all donors any time they make a new donation. But, if you have to condense your list, there are certain donor types that should take priority. Calling major, first-time, and recurring donors is essential. But this article by The Nonprofit Academy suggests there's one other important donor segment you could be missing in your outreach: donors who have recently increased their donation amount.
This segment of donors is one to prioritize because increasing their gift amount signifies their deepened commitment to your mission. That commitment is something your organization should be celebrating, and a phone call to say "thank you" is a great way to show your appreciation.
Now that you know who should be calling donors and which donors you should call, here's what to say on a donor thank-you call.
What to Say on a Donor Thank-You Call
The cardinal rule of donor thank-you calls is that they are for thanking only. Yes, one of the purposes of calling to thank donors for their support is to build relationships that will make them continue giving down the road. But you don't want to make your thank-you call seem less genuine by asking for a second gift right away.
Here's a simple formula for a thank-you call. Start by saying your name, the nonprofit you're calling for, and ask if now is a good time to chat before continuing. This will help you avoid any awkwardness with donors who are caught off guard by your call. If a donor isn't able to chat, express your thanks while you end the call.
When you're in a call with a donor who wants to talk and is able to continue the conversation, take this as an opportunity to learn more about your supporter. Ask if they'd be willing to answer some questions about their donation to your organization.
Some ideas for questions you may want to ask these donors include:
What inspired you to give?
Why does this cause matter to you?
What interests you most about our organization?
What expectations do you have of us?
How often do you want to hear from us?
Would you like to be involved with us in other ways beyond being a donor?
These questions are beneficial for a few reasons. Your donors' answers can better inform your messaging as you appeal to new and current donors. They can also help you learn how best to continue a relationship with this specific donor and how to inspire them to get more involved in your organization. As you conduct more and more thank-you calls, you'll get valuable insight into how you can engage the rest of your donor base.
Managing Donor Calls in Neon CRM
As you're making donor thank-you calls, you'll need a tool that will help you track which donors you've called and a place to record how they responded to your questions. This is where your CRM comes in handy.
In Neon CRM, you can track call outreach using the "Activities" feature. You can create an activity, assign it to a system user, tie the task to an account you want to call, set the due date or time of the task, and change the status to indicate when the task has been completed. Beyond phone calls, you can use this tool to record and track any interactions with constituents.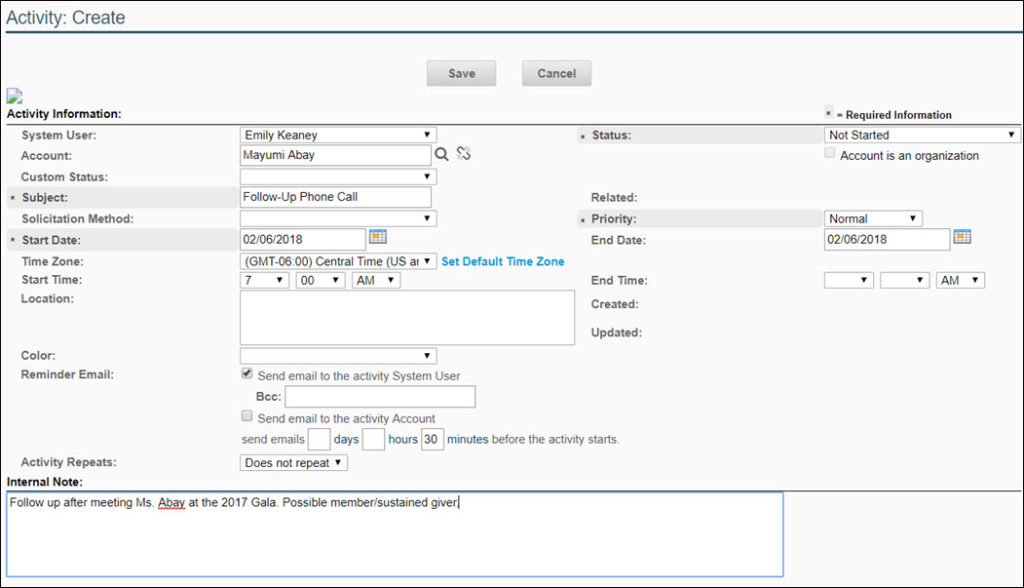 For more information about using Neon CRM to track conversations with your donors, check out this support article below.
Calling Donors Successfully
Now that you're equipped with all the practical knowledge you need to call donors, you're ready to start making thank-you calls! Recruit board members, volunteers, and staff to call your donors. If you can't call every donor, prioritize reaching out to new supporters, major donors, and people who have set up recurring gifts. You may also want to focus on calling people who have recently increased their donation amount. While you're calling, remember to thank your donor sincerely without asking for a second gift, and be sure to track your interactions in your CRM.
For more information about how to connect with donors and how to engage them, check out our moves management guide below.
Join the discussion in our Slack channel on connected fundraising