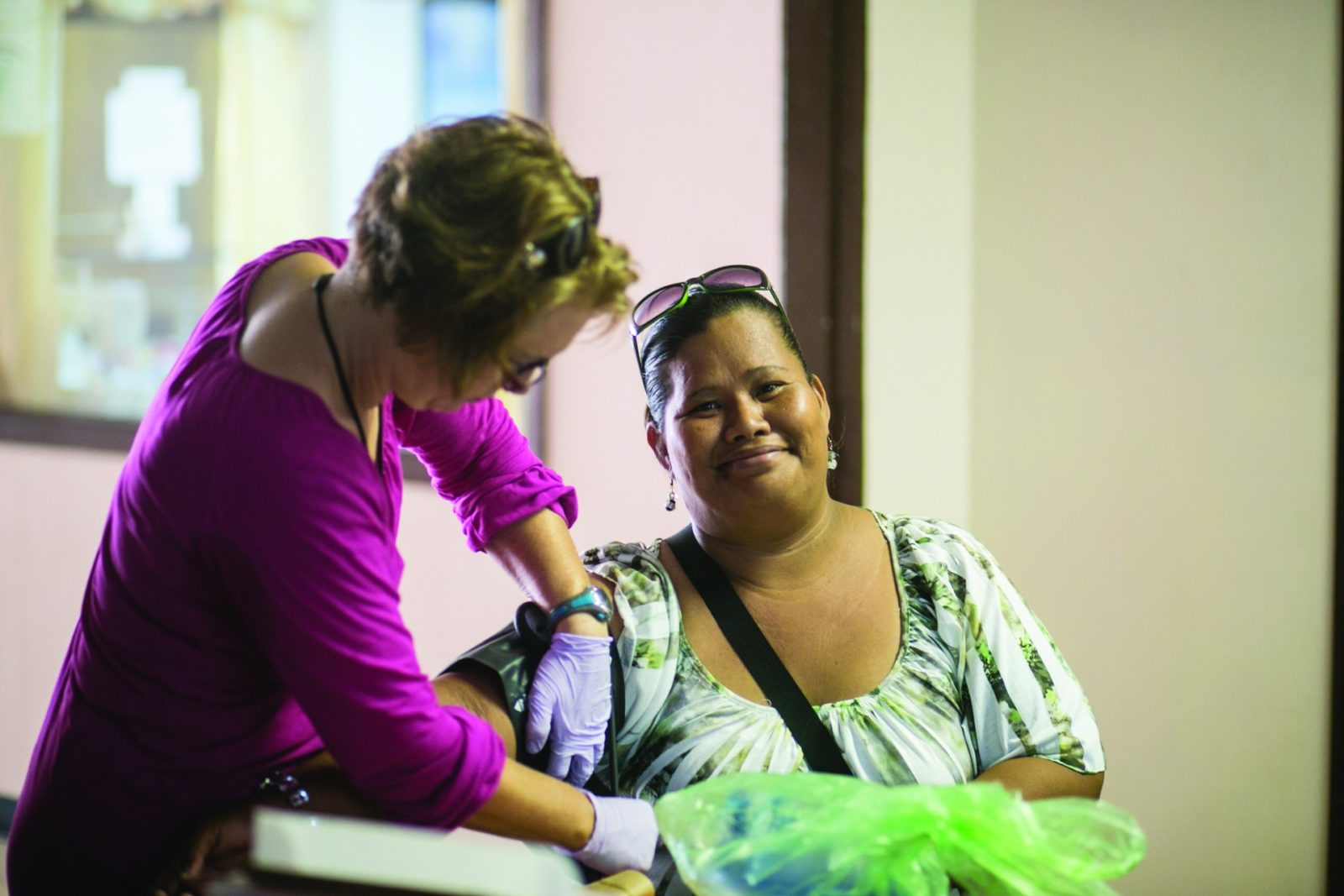 At Neon One, we have the opportunity to work with thousands of nonprofits who do amazing work. But each month we spotlight one of our clients doing something particularly exciting!
This month, we're honored to spotlight Canvasback Missions — a nonprofit founded in 1981 to provide health care and health education to the Islands of the Pacific. In 2016, they were able to provide over 4600 medical procedures.
What They Do
Canvasback Missions was founded in 1981 by Jamie and Jacque Spence. They set aside their professional careers to devote their lives to helping the incredible island people.
Seeing the great need for specialized medical teams in the tiny local hospitals of the North Pacific, they began to mobilize skilled doctors to meet the island people's needs.
In 1981, the ministry began on a 71-foot catamaran, a multi-hulled boat, sailing to the islands. The professional services were eventually moved to on-island hospitals once more requests for services began flowing in from the local governments.
Today Canvasback provides much-needed health care for the island people, continuing education for island health care workers, and medical supplies and equipment, and to help the hospitals when possible.
Canvasback serves people throughout Micronesia, a subregion of Oceania that comprises of thousands of islands.
Canvasback focuses on the islands within 1) The Federal States of Micronesia which includes islands such as Yap, Chuuk, Pohnpei, and Kosrae; 2) the Government of the Marshall Islands which includes the Islands of Majuro, Ebeye, and several smaller islands; and 3) Palau. To find these islands on a map, look north of Australia and east of Indonesia in the North Pacific Ocean.
Why It Matters
Canvasback believes "that all people deserve a high quality of life through access to healthcare and health education. We address this by providing free and otherwise unavailable specialty healthcare in the Micronesian islands through surgeries and diabetes treatment programs, which provide resources and supplement existing healthcare systems."
Canvasback sends 5 to 8 specialty teams each year, reaching over 2100 individuals. Through their education programs, they are able to reach 3,500 children, 160 mothers, and 190 teachers per year. They are providing communities with not only medical care but also resources and education to prevent and reverse the effects of diabetes and to improve overall health.
How They Do It
When Canvasback began the process of looking for a new database, they began with a checklist of features they needed. But Linda Sue Martin, Technology Director, explained that her "most important goal was to figure out how to incorporate 35 years of data into the new system."
Canvasback has many donors with a long history. 15% of their donors actively supported their work since before 1990. As she was evaluating systems, Linda Sue's primary questions were, "How robust is the import? How clean will the data migration be?"
While the functionality of the database was important, it was critical that they would be able to cleanly transfer and take advantage of decades of data. During the sales process, Linda Sue was impressed with the "level of attention that Neon One gave to [the data] during the proposal time," something she felt she didn't get from other companies.
Prior to coming to Neon CRM, Canvasback was working in a system that made reporting very difficult. In order to pull a report from their system, they would need to contact a consultant or programmer and often wait extended periods for the report to be available.
Their previous system was not designed for data extraction. This prevented them from analyzing and building on their data. With the built-in reporting features of Neon CRM, Canvasback is now able to get immediate report results, keeping their fundraising on track.
Through Neon CRM, they were able to identify that 15% of their donors, who were supporters from before implementing Neon CRM, contributed 28% of their total revenue.
But the new donors that they have added in the last 5 years now account for 40% of their donations. Even more impressive, they have a strong 58% donor retention rate. Reflecting on such growth, Linda Sue explained, "Building these short and long-term relationships requires good communications and investment of time and involvement with our donors. Our donor base is the cornerstone for building this type of relationship. Neon CRM allows us the ability to record and track this kind of relationship-building data."
They admit that, while Neon CRM is a more robust system, more time is spent on data entry. However, that is because they are now able to capture more data than before towards improving fundraising.
The staff is small: usually 6 to 8, many of whom work part-time. Therefore the database is a vital tool to maintain communication between the team and with donors.
As Linda Sue describes, "Neon CRM makes it easier than ever to keep up our relationships with donors, volunteers, and supporters who make our work possible. The capacity to streamlined fundraising and volunteer management means that we can focus on our work in the Pacific islands."
Join the discussion in our Slack channel on connected fundraising