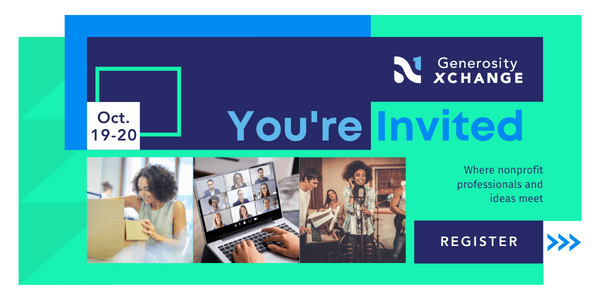 Have you heard? Neon One's Generosity Xchange is happening October 19-20, and registration is now open! This is a great opportunity to catch great educational sessions, connect with other nonprofit professionals, and celebrate generosity.
Read on to learn more about Generosity Xchange, what to expect, and how to participate.
What Is Generosity Xchange?
This two-day virtual conference is an opportunity for fundraisers to learn from industry thought leaders and Neon One experts, hone their fundraising skills, and enjoy networking with other nonprofit professionals.
Whether you're looking for industry best practices and inspirational sessions, want to connect with other fundraisers, or are looking for practical tips on how to leverage the tools in your Neon One account, you'll find exactly what you're looking for.
Are you excited already? Snag your spot below!
What Will I Experience at Generosity Xchange 2022?
There are tons of great sessions and experiences in store for attendees of this year's event. We're still planning activities and events—keep an eye out for even more details in the days and weeks to come!
Outstanding Speakers
You'll learn from some of the coolest, smartest, most inspiring voices in the industry. Check out sessions from Cherian Koshy, Erica Waasdorp, Mallory Erickson, and other nonprofit leaders! You'll take away best practices and tactical advice that will help you plan fundraising campaigns, inspire generosity, and engage your supporters.
Plan on attending the keynote with Edgar Villanueva, author of Decolonizing Wealth, and Denise Barreto, Founder of Relationships Matter Now. In most keynotes, the speaker talks at you, not with you. Not this one! Think of this as less of a keynote and more of a "fireside chat"—come ready to cast a vision for a world where racial equity is the norm, philanthropic work is reimagined to follow the lead of Indigenous and Black-led organizations, and we have narratives and practices to uplift a generation toward healing our nation and our world.
If you're a Neon One client—or if you're interested in Neon One and what our suite of software tools can do for you—there are lots of opportunities to get an insider's look at our platform. Sessions will include hands-on workshops and how-tos for Neon One clients, an update from our VP of Product Management (including a sneak peek at the tools and features we're developing), and more.
Insights from Other Nonprofits
One of the best parts of conferences is connecting with other nonprofits. This conference might be virtual, but that doesn't mean you won't hear from your peers! Generosity Exchange will create spaces for you to celebrate others' fundraising wins, learn how they succeeded this year, and get insights and pointers they learned along the way.
You can also expect plenty of networking during the event. There will be lots of opportunities to talk with other nonprofit professionals, exchange ideas, and connect with affinity groups full of like-minded individuals.
The 2022 Changemaker Awards
Celebrate your fellow nonprofits' accomplishments at the 2022 Changemaker Awards. Learn about how other Neon One clients are doing amazing things in their communities, celebrate their accomplishments, and get inspiration from the tools, strategies, and campaigns that made them successful.
Do you know of an organization that deserves to be celebrated? Nominate them for this year's Awards!
How Do I Attend 2022's Generosity Xchange?
There are two ways you can participate in this event. General admission is free, or you can take your experience to the next level with a premium ticket. Here's what's included in each option.
General Admission
Get access to all sessions, networking events, and affinity group activities—for free! Our amazing sponsors have made it possible for anyone to attend. You don't need to be a Neon One client to enjoy this conference, either; there's a ton to learn even if you don't attend a product-focused workshop or session. General Admission tickets also include access to the session recordings, too, so you won't have to worry about missing anything.
Premium Ticket
Take your Generosity Xchange experience to the next level with a premium ticket. For $199, you'll receive access to all sessions, networking, and affinity group activities, plus:
An exclusive Neon One swag box that includes a cozy Sherpa blanket, Neon One mug, a copy of Decolonizing Wealth by keynote speaker Edgar Villanueva, and other goodies
Access to an all-day donor retention workshop, hosted by Michael Buckley, CFRE, to be held on December 13, 2022
Access to a special social event held to inspire that end of the year fundraising push
Don't Miss Out on Generosity Xchange 2022
Generosity Xchange is a two-day virtual conference where fundraisers and ideas meet—and we'd love to see you there. Learn from top-rated speakers, celebrate generosity, and connect with other fundraisers this October by registering below.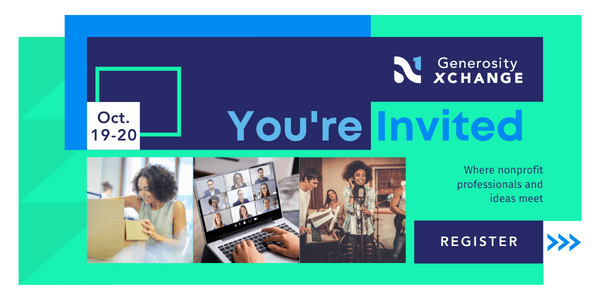 Join the discussion in our Slack channel on connected fundraising