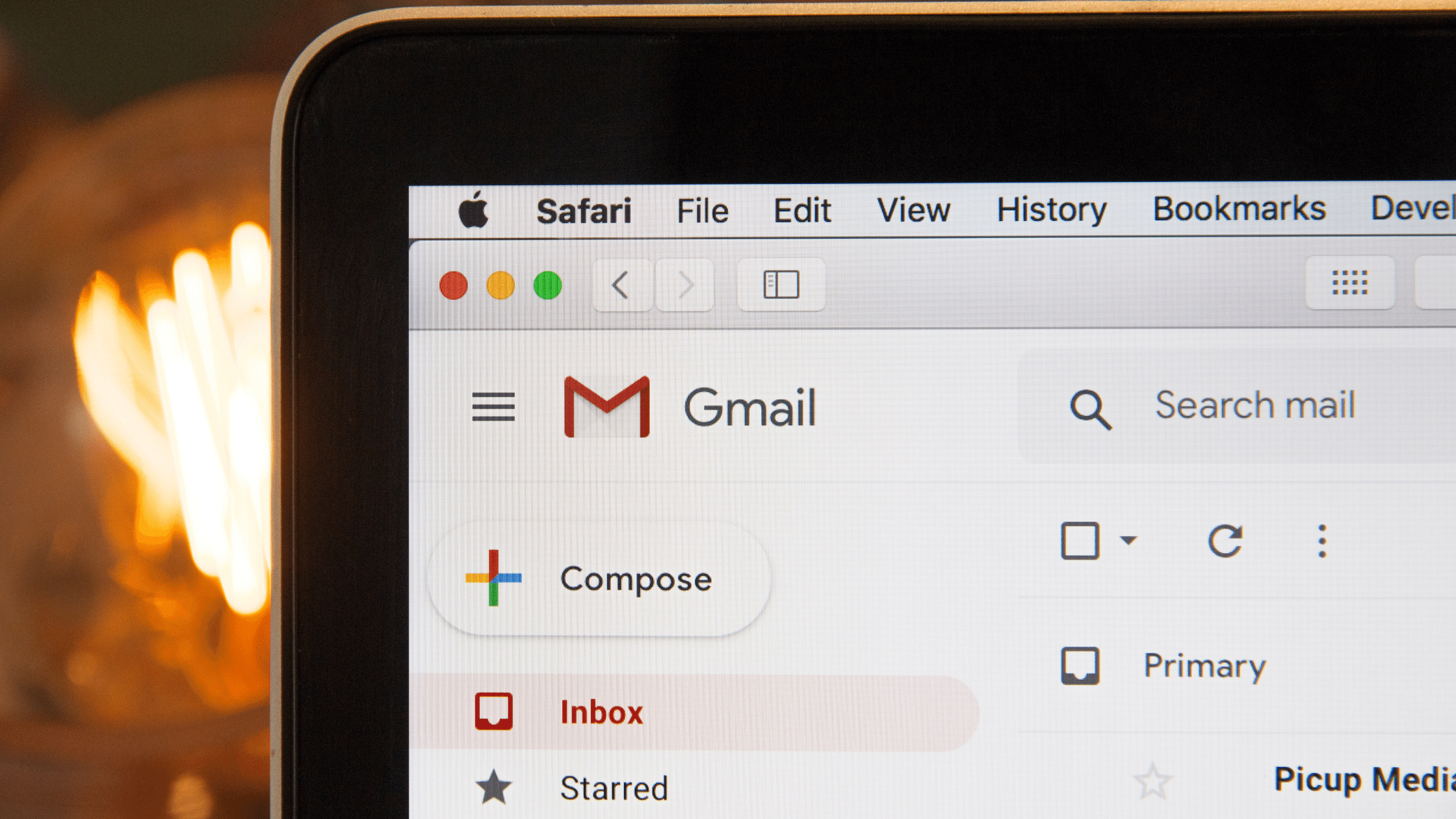 Planning your GivingTuesday emails can feel overwhelming. When do you talk to your donors? What kind of emails should you send on the big day? How should you reach out to your supporters afterward? And how can you create emails that will grab peoples' attention and inspire them to give?
This article will answer all your questions.
First Things First: What Is GivingTuesday?
GivingTuesday is an international day of giving that's meant to inspire people to support their favorite causes during the holiday season. The event always falls on the first Tuesday after Thanksgiving, and it's the philanthropic equivalent of Black Friday, Small-Business Saturday, and Cyber Monday.
This article will help you understand what GivingTuesday is and how you can participate. The big takeaway is that it's an important day for fundraisers—and having a great email strategy is a big part of a successful campaign.
GivingTuesday Email Best Practices
GivingTuesday email best practices are very similar to standard nonprofit email best practices. As long as your existing strategy covers all the basics (i.e., an engaging subject line, readable design, informative copy), your emails should help you raise awareness and excitement about your fundraiser.
Looking for more details about how to get your message in front of your supporters? Head over here to learn more about writing subject lines for your nonprofit's emails.
While you plan your GivingTuesday emails, plan on customizing your standard email templates to reflect your GivingTuesday campaign. Small touches—like incorporating GivingTuesday's logos, including images related to your campaign, and helping readers understand the significance of donating to your cause—are all very compelling to your donors.
Let's take a look at the three types of GivingTuesday emails you'll want to send: announcement emails, day-of-event promotional emails, and thank-you emails.
The 4 Types Of GivingTuesday Emails You Need To Send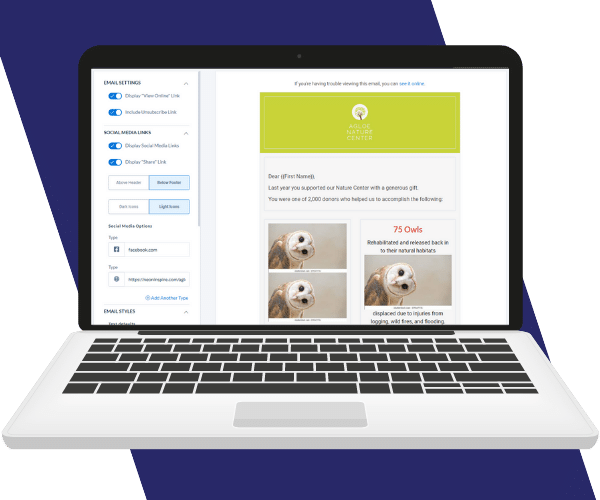 1. Before GivingTuesday: Announcement Emails
Imagine planning a birthday party and waiting until the day of the event to invite your friends. How many people do you think would attend? Probably not many.
Similarly, you don't want to plan a GivingTuesday campaign and wait too long to invite people to participate. Plan on sending a few emails announcing your campaign and sharing some details about what your organization plans to do with the money.
Sending a few emails instead of just one will help ensure you reach as many of your supporters as possible. Remember, the average nonprofit has a 24% open rate on any given email. That means more than 75% of your contact base may not receive your message if you only send a single announcement. Consider scheduling between three and five emails that go out in the month leading up to GivingTuesday. That way, you'll ensure your audience is aware of your upcoming campaign.
Your initial outreach emails should:
Inform donors about your fundraiser. Let donors know GivingTuesday is coming up and give a brief explanation of what it is (and isn't). Remind them that GivingTuesday isn't exclusively monetary donations—they can give time, skills, and other resources, too. Kathleen Murphy, Director of Digital Communication for GivingTuesday, noted, "Of the 2018 GivingTuesday participants, 28% gave money, and 37% gave in other ways (donating food, clothing drives, and other non-monetary giving such as volunteering). 35% did both." Include a note about the different ways your readers can support you.
Include details about what donors' gifts will support. Share your campaign goals with your audience. What are you trying to accomplish? How can they support your cause? What will their donations help achieve? Remind them that by helping your nonprofit, they'll be taking part in a worldwide event and helping their community at the same time. Providing that context can be what incentivizes your contacts to give.
Thank donors for their past and future support. Let your audience know that they've been an integral part of your organization and that you appreciate their dedication to your cause, then include a note asking them to consider supporting you this GivingTuesday. Gratitude is critical at all points of the appeal process.
Three ideas for your initial GivingTuesday outreach email's subject line:
Are you ready for GivingTuesday?
What Are You Doing This GivingTuesday?
Tomorrow Is GivingTuesday! Will You Join Us?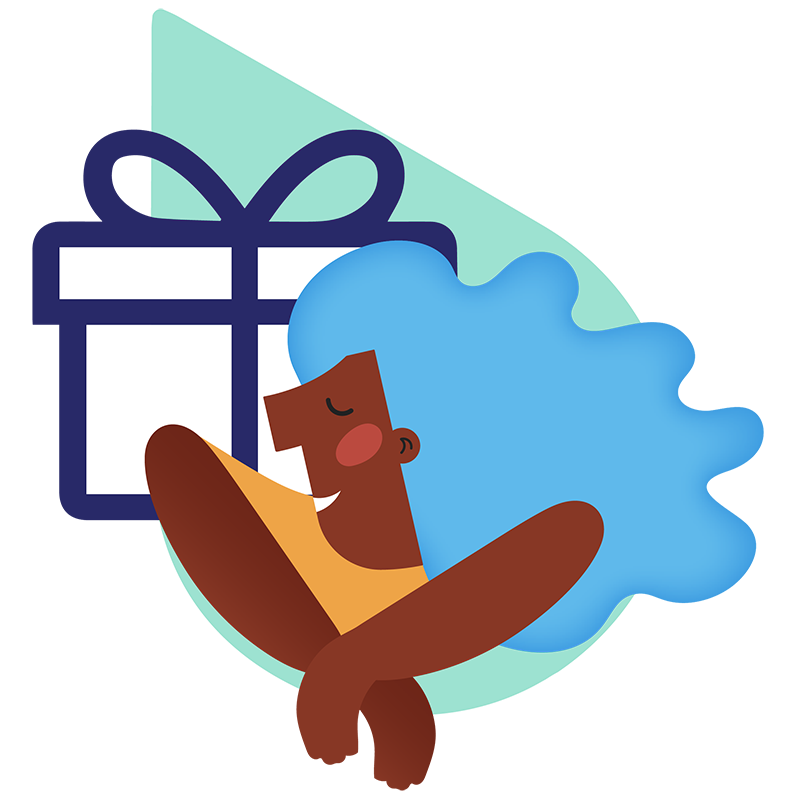 Want more great content like this?
Join our monthly newsletter community to get insights right in your inbox.
2. Day of GivingTuesday: Promotional Emails
The GivingTuesday emails you send on the day of the event should be focused on building excitement and encouraging donations. Timely communications can make supporters feel like they're right there with you, so we suggest preparing 2-3 emails to send throughout the day.
Your day-of-event promotional emails should:
Get potential donors excited about supporting your cause. Start with a kick-off announcement that restates your fundraising goal and shares some information about what that money will achieve. Your messaging is going to be crucial here. Use energetic words and phrases to generate enthusiasm. Think about using phrases like, "Today's the day!" or "The biggest giving day of the year is here!"
Share great stories that inspire your supporters. Stories can emotionally connect your donors to the people you'll be able to serve as a result of your GivingTuesday campaign. Include a brief excerpt from one of your success stories to motivate your audience and add some transparency to your campaign.
Include a call to action. Once you've shared a success story, make sure you ask people to make similar success stories possible for your other clients.
Encourage. Get your donors to promote your fundraiser by telling them to forward the email to their friends and family. Small nudges like this can do wonders to boost reach.
Three ideas for your day-of GivingTuesday email's subject line:
Today's the Day! Can You Help Us?
Celebrate GivingTuesday with Us!
Join the Movement this GivingTuesday!
Don't forget to include a link to your GivingTuesday donation form in your email!
3. Day of GivingTuesday: Post-Donation Receipt
Your online fundraising platform should include the option of sending an automated email receipt to anyone who makes a donation. Make the most of that receipt by adding a few elements that will delight your supporters.
In your receipt, be sure to include:
Celebratory language that makes donors feel good. Donors feel good when they give. Keep the good feelings going by including some celebratory language (and a great thank-you message) in your receipt. Thank donors for their generosity, celebrate their kindness, and tell them how much your support means to you and the people you serve.
Some campaign-specific imagery and language. You've inspired your donors to give by sharing a great story and a compelling appeal. Include callbacks to the campaign that inspired your donor to give—it will create a great sense of continuity for your supporters. Include a photo of one of your clients, reference their impact, and tie it all back to the appeal that prompted the gift in the first place.
Your donor's transaction details. While including celebratory language and impact statements in your receipt is important, it's important to remember it's still a receipt. Be sure you include your supporter's donation details so they can keep track of their gift.
Three ideas for great GivingTuesday receipt subject lines:
Thank You for Your Generosity!
Woohoo! Thank You for Your Support!
We're Celebrating You Today!
If you're looking for more pointers on how to write a great receipt, you'll like this article: The Do's and Don'ts of Donation Receipts.
4. After GivingTuesday: Thank-You Email
Show your GivingTuesday donors you appreciate them and value their support by sending a prompt and sincere thank-you email. When done correctly, it can be a cornerstone of donor retention. Send this email a day or two after GivingTuesday, and focus on celebrating your community's generosity, communicating donors' impact, and inviting them to stay involved with your organization.
Your thank-you email should:
Be sent promptly. The best time to send this kind of email is a day or two after GivingTuesday. When you send an email during this timeframe, your campaign will be at the forefront of your donors' minds, which will improve the likelihood that they open and engage with your message.
Be as personal as possible. Include their first name (no "Dear Valued Donor") and, if it works well in your copy, their donation amount. Make your email extra personal by making it feel like it comes from a real person who works at your organization. Sign off on your thank you email as an actual team member rather than on behalf of your organization.
Include impact updates and next steps. During your campaign, you asked donors to support your cause and shared some insight into the difference they'll make when they give. In this email, update them about how much they helped raise and what that money will achieve. If your appeal was for gifts of $50 that will feed a family for a week, share how many families your community helped feed. Or, if you were working to raise $10,000 for facility renovations, share how much your donors raised and what renovations they made possible. If you can, share what next steps your organization will take to advance the program your donors supported.
Invite donors to engage with your nonprofit. Invite participants to follow your organization on social media to stay updated on the successes of your campaign. #GivingTuesday has organized a #MyGivingStory social media contest to boost generosity for this year's 2020 event: Try asking your participants to share a story about how or why they give back to their community. Alternatively, you can invite them to subscribe to your newsletter, visit your facility, or share your mission with their friends and family.
Three ideas for your post-GivingTuesday thank-you email's subject line:
Look What You Made Possible!
You Made This Possible
GivingTuesday 2022 Was a Success!
As you write this email, remember your goal: You want to update your donors, get them excited about the work they made possible, and encourage continued engagement. After your update, give them the opportunity to continue to interact with you: Keeping them engaged in the days after your campaign is much easier than trying to connect with them weeks or months later.
Looking for GivingTuesday Email Examples?
Communicating with your supporters before, during, and after GivingTuesday will be an important part of your campaign's success. These best practices will be helpful!
If you're looking for a little extra help, we've got you covered. Our GivingTuesday Toolkit includes email templates and examples, social media post ideas, campaign planning worksheets, and fundraising tips you can use during your campaign. Get your copy of the GivingTuesday Toolkit today!
Join the discussion in our Slack channel on connected fundraising