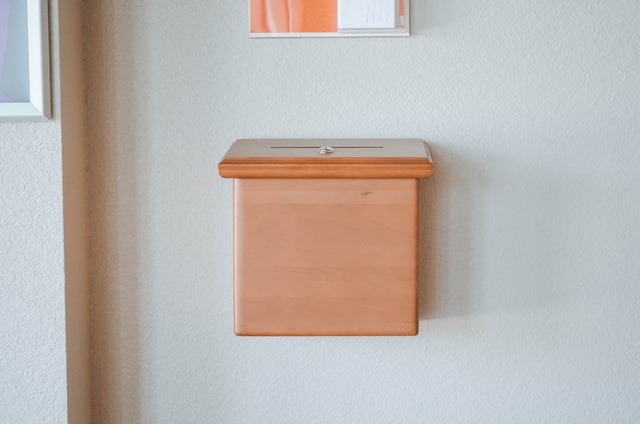 Creating a monthly giving program for your nonprofit will help increase total giving and promote financial stability—but it's about more than just the numbers. A successful monthly giving program will also foster deeper relationships with your most dedicated supporters. And those are the people who can help take your nonprofit's mission to the next level.
In this article, we'll lay out the basics of how monthly giving programs work, why they are important for nonprofits like yours, and how your organization can choose the right best practices to make your monthly giving program a success. Let's get started!
What is a Monthly Giving Program?
Monthly givers are donors who've committed to giving an organization a set amount of money on a regular basis. While they might want to give on a monthly basis (hence the name), a recurring giving program should also include options for bi-monthly, quarterly, and even annual giving.
The most common way for monthly donors to give is by automating a regular transaction on their debit or credit card. If the transaction isn't automatic, donors will have to remember to make a donation every month. That's a lot of work for them—and it's even more work for your staff, who will be tasked with reminding them (and reminding them, and reminding them again).
That having been said, smaller nonprofits that are starting a monthly giving program should also include an option for donors (almost certainly older donors) who prefer to give by check. While it will mean more hassle for your staff—possibly a lot more hassle—it will likely be worth it.
Why is Monthly Giving Important?
Your nonprofit organization may want to create a monthly giving program for a few reasons. For one, monthly donors have a lot of financial benefits for a nonprofit. On an annual basis, recurring donors give more than three times what new donors give.
Aside from the clear revenue boost your organization will get from having a monthly giving program, the donors themselves have a higher retention rate than other types of donors. The Fundraising Effectiveness Project found that the retention rate for recurring donors in 2022 was three times higher than the retention rate for new donors.
Monthly giving programs also help create financial stability for nonprofits. With a dedicated group of monthly (or quarterly, or annual) donors, you can more easily map out your programming and expectations for a given fiscal year. That will be a huge help to the communities you serve—and to your staff as well.
Additionally, having a public monthly giving program provides your organization with credibility. For a new person researching your nonprofit, it shows that others in your community trust your organization's ability to deliver on their mission. They will have faith that their donation has the power to make a difference if it's in your organization's hands.
8 Tips for a Successful Monthly Giving Program
But turning brand new donors into recurring monthly donors isn't easy. You have to make a concerted effort to get and retain a donor who will commit to giving monthly. Creating a monthly giving program will help steward these donors and hold your organization accountable to maintain relationships with monthly donors by providing them value.
Make your monthly giving program a success by implementing these eight tried-and-true best practices.
1. Build Community
An important aspect of monthly giving programs is forming a community. Through branding, stewardship, and outreach, you can create a monthly giving program with a strong sense of community.
Your monthly donors are a part of your organization's family, and you should treat them as such. In your emails to monthly donors, it is vital to show your gratitude and include personal touches that make them feel included, welcome, and appreciated.
We have created a series of free Monthly Giving Program Email Templates that will help your team leverage expert advice to create emails that encourage monthly donors to keep on giving.
2. Give Your Program a Name
Every family has a name. Your program should follow suit. A title for your recurring givers is an easy way to create common ground with your recurring donor base. Although the program's name itself isn't going to be the driving force behind donations, it's a nice personal touch. One great example comes from PAWS Chicago titled "Lifeline Monthly Giving Program."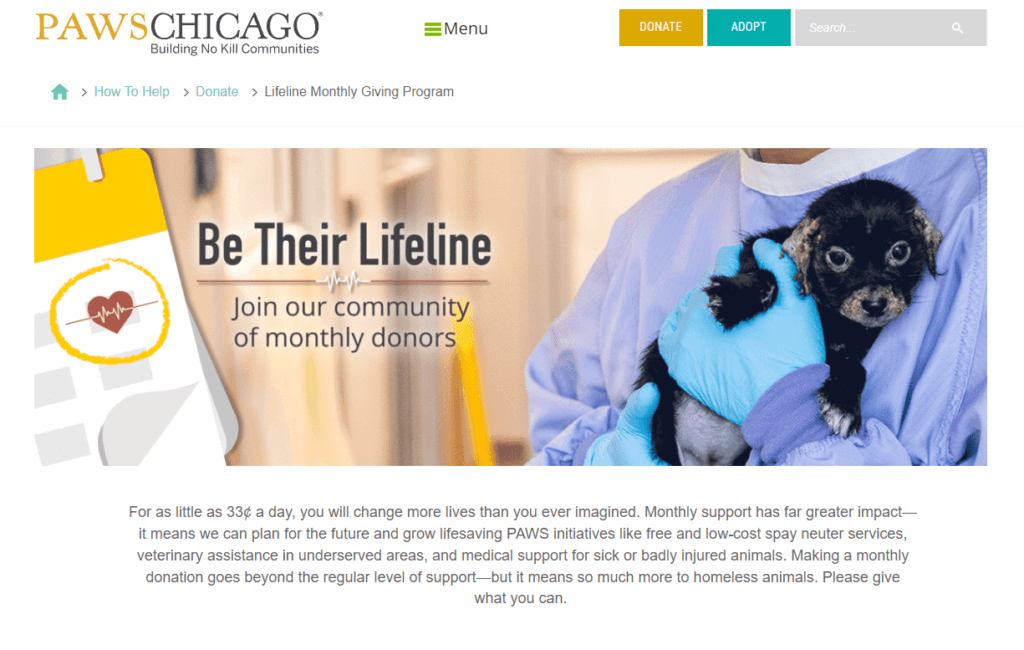 3. Create a Stewardship Plan
Build a special donor communications plan for stewarding your monthly givers, including welcomes, thank you messages, prompt receipts, and donor-exclusive updates on the happenings at your organization.
4. Encourage Growth
Donors that are currently giving to your organization on a monthly basis are going to be your best advocates. They strongly believe in your mission and trust you to put their money to good use. Having current donors spread the word is a really solid way to build a donor base.
But you want it to make it as easy as possible for them. They are the pillars of your organization, and you don't want to be asking them to do too much work on your organization's behalf for free.
What you can do is write calls to action that they can use to share on social media, send via email to friends and family, or even make a template they can use to create a peer-to-peer fundraiser.
By doing the writing for them, you can ensure your supporters share your message and mission the exact way you want them to. This alleviates the obstacles that would make this a bigger ask. All they have to do is click send.
5. Create Multiple Campaigns
One way to market your monthly giving program is by branding it into multiple giving campaigns.
If you are an arts nonprofit, for example, you might have several different classes and programs that need support. By marketing different programs to different segments of donors—sending some an email about your pottery class for adults while another segment receives messages about your filmmaking for kids program—you get donors excited about aspects of your mission that speak directly to them.
You can even take this a step further by allowing donors to earmark their donations for specific projects. You can add these different options to your donation form, or you can create individual forms for each project. While adding a bunch of individual forms to your website might cause confusion, they can be very handy for outreach campaigns where donors are provided with the exact link they need to contribute.
Another way to do this is to customize donation forms with suggested amounts that illustrate what your nonprofit can accomplish with each amount. For example, a food pantry may want to share how many families they can feed at each giving level.
By offering financial transparency and a choice of initiatives to support, your nonprofit will curate a more engaged donor base who fully understand your mission, believe in your vision, and trust you to provide tangible benefits to the communities you serve. To learn more about how donation form best practices can help donors follow through on their desire to give—and even encourage larger overall gifts—check out the article below:
6. Use Up-to-Date Data
Implementing a donor portal can help alleviate donor losses due to credit card expiration. If your donors can update this themselves and receive email reminders to do so, you can ensure you don't lose donors due to clerical errors. A nonprofit CRM can help your data management efforts through automation.
7. Point of Contact
Your program needs a single point of contact for donors. If any issues arise, your donors having a person in the organization that they can reach directly helps ensure you are keeping your donors happy. Just make sure they know how to get in touch with you!
8. Make Donation Frequency Clear
When it comes to creating your donation forms, there are practices that you can implement to encourage monthly donations. One of the best ones is to make the "monthly" option on your form the default option. According to a study from NextAfter, this had the effect of increasing recurring donor conversion by 366%!
However, it is vital that you make it extremely clear on your donation forms whether a user is giving one time or monthly. Clarity and effective communication build trust. If your supporters are "tricked" into giving monthly, they will lose trust in your organization.
To get around this, try setting the default frequency to monthly on one of your forms and linking to it and time you ask for recurring gifts or share public updates about your monthly giving program. Your standard donation form can still default to one-time gifts. You get the best of both worlds.
There you have it. All the tools and tips you need to build an effective monthly giving program. If you want to do a longer deep dive into monthly giving, check out our webinar with monthly giving expert Erica Waasdorp.
Neon CRM Can Help Boost Monthly Giving
When creating a monthly giving program, you want to get donors excited about all the ways their support can impact your mission. By giving your program a catchy name, tying dollars given to direct impact, and using up-to-date data, you can create a community of dedicated supporters and evangelists that will help your organization grow.
But before you launch your program, you should make sure your nonprofit CRM software has the capacity to handle it. And if you're not sure that it can, you should definitely check out Neon CRM. It's a full-suite donor management platform with unlimited donation pages, powerful analytics tools, email marketing and segmentation features, and workflow automation that will make implementing your monthly giving program a snap. 
Want to learn more about Neon CRM? Check out one of our regularly scheduled group demos. You'll get a comprehensive 30-minute walkthrough of the system—all with zero pressure to buy.
Join the discussion in our Slack channel on connected fundraising