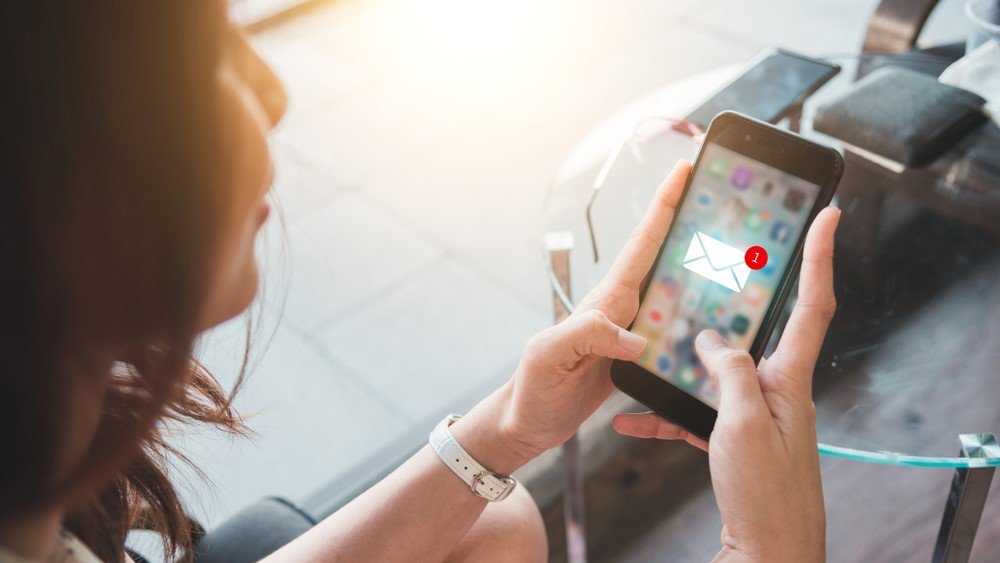 Effective nonprofit newsletters are all about building your community. It's easy to make the mistake of treating them as mere bulletins and forgetting to add the human touch that will engage your supporters. By following best practices like repurposing compelling content, focusing on progress and impact, and creating new connections, you can build a newsletter that your nonprofit's supporters will look forward to.
Here are five nonprofit newsletter ideas that you can put to work today!
1. Repurpose Existing Content for Your Newsletter
When coming up with ideas for newsletter content, you don't have to start from scratch. You can take content your organization has already created and re-work it into stories for your newsletter.
Your nonprofit's blog is a great place to start! Just follow these steps:
Identify a target post: When selecting a good blog post for your newsletter, choose ones that are recent or evergreen—that way the content won't be dated by the time it reaches the reader. You'll want adaptable, highly engaging content. For example, if you ran a literacy organization and you had a blog post about how one of your former beneficiaries just became the poet laureate for a nearby city, that would be an excellent candidate.
Reframe it: You don't just want to copy and paste your content. You need to reframe it in a way that makes it work as part of a cohesive theme. So, using the poet laureate blog post in question, you establish a theme around building young people's engagement in poetry.
Rewrite it: You're not rewriting the entire post. Instead, you're writing a two to three-sentence summary of that post focused specifically on the theme of your newsletter. So as you summarize the post for the poet laureate, you'd include a mention of their plans to engage young people with poetry.
Add visuals: An image or graphic next to the summary can make it more eye-catching and help it stand out in the newsletter. This can also be an image repurposed from the blog post itself. For example, you may have a picture of the poet laureate being honored at a ceremony that you include as a small thumbnail image in the newsletter.
Link to the content: Instead of rewriting the content entirely, at the end of the short summary you would include a small call to action with a direct link so your reader can go to the original blog post.
Here's an example of how the blog post can be consolidated into a compelling blurb in your newsletter.
Old Blog Post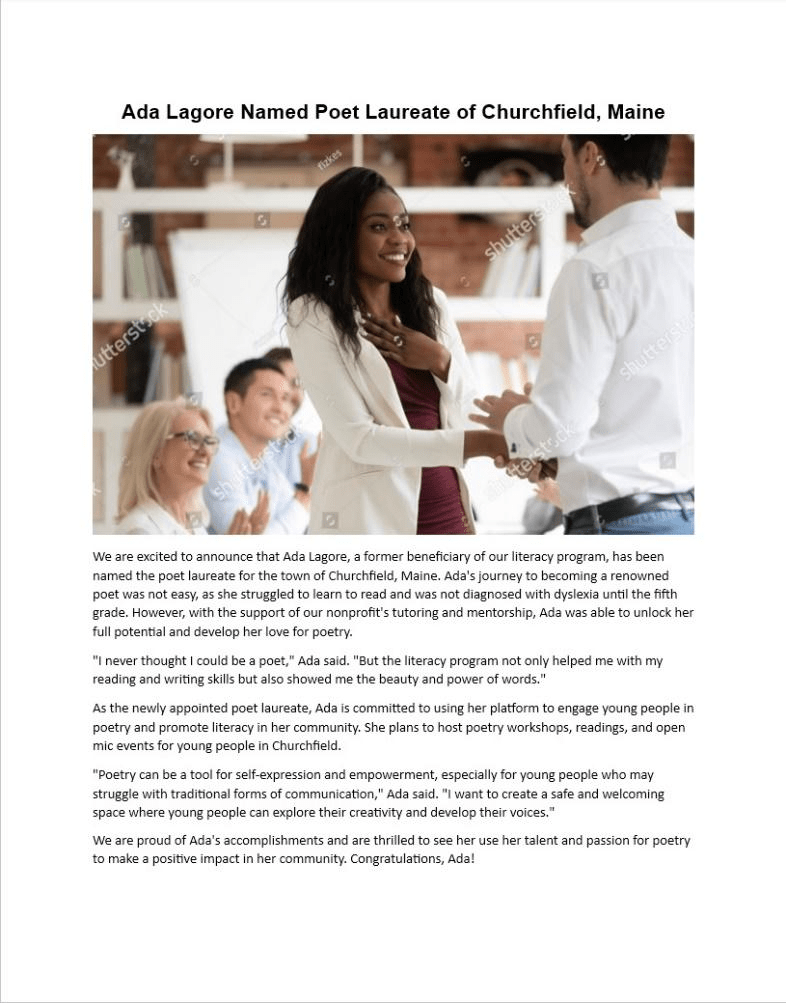 New Blurb

This strategy makes the most of the blog posts you create, gives individuals the basic information they need, and allows them an easy way to read the full story. This can be a great way to build out the content for your newsletter while getting more views for your nonprofit's blog.
2. Include a Section to Show Your Progress
A nonprofit newsletter is designed to share just that with your supporters—news. Of course, you don't want to fill it with dry content but you do want to hit the high points. A good way to do this is through visual aids. For example, you could include a section on your annual fund and how close you are to reaching it, with a thermometer showing your progress.
To make it even more impactful, you would frame your progress in a way that shows how donations have helped. For example, the literacy foundation might say "contributions of X amount have helped us support X number of at-risk young people so far this year."
The progress section is also a place to reiterate your appreciation for your supporters, thank them for helping you reach your goals, and include a call to action about how they can support you even more.
3. Spotlight Staff to Create an Emotional Connection
It's been found that having a personal connection within a nonprofit is a key motivator for giving. To create that, you have to let your donors get to know your staff. Using a spotlight section in your newsletters can help create an emotional connection between your readers and the person it highlights.
You'd tie your spotlight into your theme by asking the person being covered questions about it. For the literacy foundation in our previous example, you may decide to do a short interview with one of the volunteers who originally worked with Ada. They could discuss their experience with her and talk about how they helped her and others to discover poetry.
This follows the theme, shows the impact of the nonprofit, and helps to create a more personal connection with the reader.
If you're starting a brand-new newsletter from scratch, then you should check out the free nonprofit newsletter template that comes with our downloadable ebook on perfecting your nonprofit newsletter:
4. Establish an Exclusive Community
Another nonprofit newsletter idea is to use it to offer exclusive experiences to specific groups of donors. Recurring donors are a good example. When a donor enrolls in a recurring gift program, they should also get the opportunity to become part of an exclusive club. The literacy nonprofit talked about above might name their recurring donors their "Bookworm Brigade."
Inclusion in that group would come with special communications, program updates, access to exclusive communities, and a subscription to their monthly newsletter "The Bookworm Brigade Bulletin." Then, only donors who participate in the recurring donation model would receive a copy of this bulletin.
You can create exclusive newsletters for all different types of supporters based on how they participate in your organization. You may have a newsletter just for volunteers or one designed specifically for individuals who both volunteer and donate. It all depends on the data you track.
Keep in mind that multiple newsletters can be a drain on your resources. Many nonprofits don't have quite enough to do much more than send one. If that's the case, you're better off aiming it at all your possible supporters rather than a single group.
5. Track the Right Metrics With a CRM
Your newsletter should be ever-evolving. You should track its engagement to see what's working and what isn't. Here are a few metrics that you should use:
Open rate: This is the percentage of people who open your newsletter compared to the number that receive it. Low open rates mean that your subject line isn't engaging or you're being written off as spam.
Clickthrough rate: The clickthrough rate will tell you how many people are actually engaging with the content in your newsletter. What they click on is just as important because it can help tell you what your readers like the most.
Conversion rate: Your conversion rate is based on how many people take a specific action, whether it's giving a donation, requesting info about volunteering, or some other goal.
Unsubscribe rate: Your unsubscribe rate is important because people are actively taking action to not receive your content anymore. They're not just ignoring it or letting it go to spam. That could indicate you're annoying recipients.
Bounce rates: This measures the percentage of emails that were undeliverable. A high bounce rate may indicate that your email list needs to be cleaned up or that your emails are being marked as spam.
Keeping track of those five metrics will help you understand how your newsletter is doing. A constituent relationship management (CRM) platform can be a major benefit, as you can use it to keep an eye on all of these metrics in a single space. It will show you what your newsletter is doing wrong and how you can improve.
Neon One recently published a whole trove of data and analysis on nonprofit email, with findings drawn from almost 1,500 Neon One customers—with a special focus on small and mid-size organizations. As you're building out your nonprofit newsletter, the insights contained in this report will be invaluable. Download it today!
Using Neon CRM to Manage Newsletter Engagement
The best nonprofit newsletter ideas are simple and grounded in relationship building. Create a sense of community by using your newsletter to connect with your supporters. Your CRM is a valuable tool because it will tell you what's important to them. With the metrics it helps you track, you can create compelling content that keeps them engaged.
Neon CRM can support your nonprofit newsletter ideas with metrics and actionable insights into your donor engagement. To learn more, contact us for a demo.
Join the discussion in our Slack channel on connected fundraising